10 More Favorite Anime Holiday Episodes to Enjoy!
Guest Post by Louis Toms (owner of Carolina Comic Geek, a Pinterest board which catalogs birthdays of anime, cartoon, comic, and manga characters).
---
Another holiday season is upon us, so what better way to get into the holiday spirit than binging festive anime episodes. The range of genres available means there is something for everyone's tastes.
After last year's holiday list success, we expanded the selection to include ten more holiday episodes to watch this season. I am confident that our list will provide a couple of Holiday episodes you will find enjoyable.
RELATED: Top 12 Anime Characters Born in December
Season's Greetings!
---
10. How Heavy Are the Dumbbells You Lift?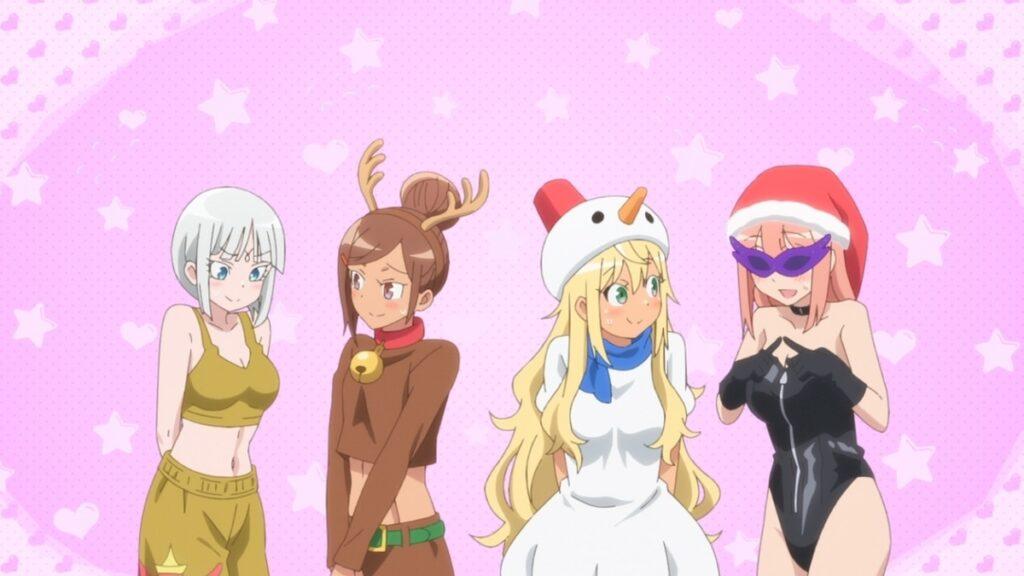 Ep. 10 – Do You Like Christmas? (2019)
Genres: Comedy, Ecchi, Slice of Life, Sports
Following a day of merriment, visiting the gym is probably the furthest thing from everyone's mind. This anime episode may be the inspiration needed.
For the uninitiated, the series is about Hibiki Sakura and her friends who desire to keep fit by joining Silverman Gym. While following the young ladies' workouts, the anime includes segments where it provides information about how to properly strength train.  
The Silverman Gym is having a holiday party, with invitations to all members. Initially, the young women decline the invitation but quickly change their minds upon hearing college athletes are attending. Dressed in holiday cosplay, the young ladies unsuccessfully mingle with the male party guests. The final party activity is the holiday raffle, where the trainer flexes to reveal the winning numbers. Their efforts to get a boyfriend fall flat, except for one.
The remainder of the episode follows the group's antics around Akemi Souryuuin's date with Naruzou Machio, Silverman Gym's trainer.
---
9. Flint the Time Detective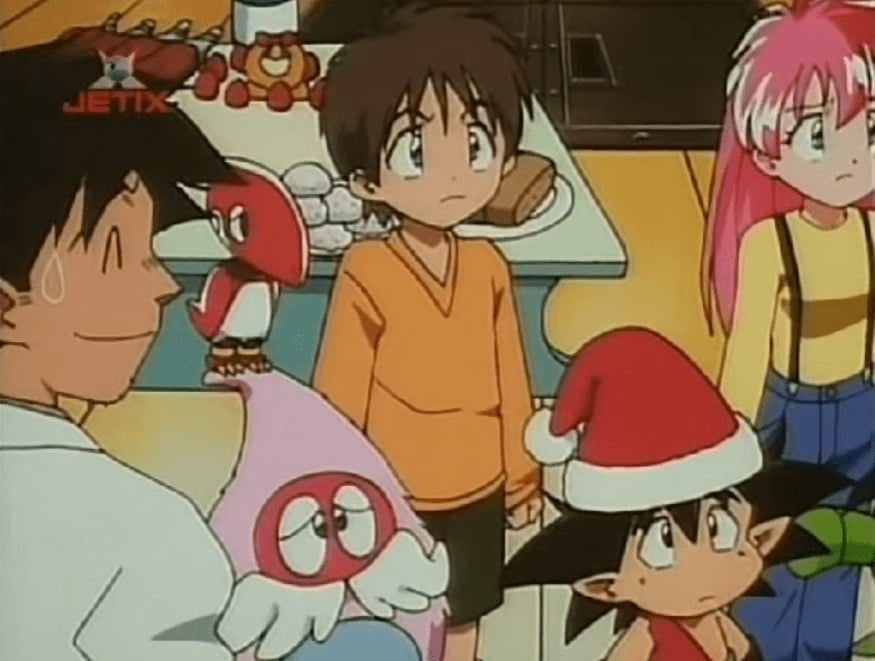 Ep. 13 – Caveman's Christmas (1998)
Genres: Adventure, Comedy, Fantasy, Mystery, Sci-Fi
Are you looking for a holiday anime featuring a time-traveling caveman? Well, this might be the episode for you!
The story begins with Genshi decorating for the holiday season with Professor Yomato's children, Sora and Tokio. Their festivities end abruptly after receiving a mission from the Time Cops Headquarters. Professor Yamato's children and Genshi must time travel to locate the Elfin.
The trio arrives in 17th Century France and successfully locates the Elfin. With an elf-like appearance, the magical creature is busy creating toys for a lonely girl. Missing since the war, Maria's only wishes for her mother's safe return. The Time Cops travel further back in time to locate Maria's mother. They prevent her mother's death before returning to the girl's timeline for their reunion. The group battles Petra Fina's forces before returning to the present and enjoying Christmas.  
---
8. After School Dice Club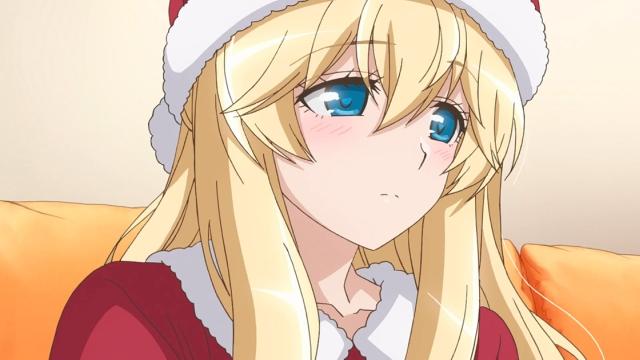 Ep. 10 – Happy Holy Night (2019)
Genres: Comedy
Aya Takayioshiki and her older sister are awaiting their father's arrival at Tokyo's airport. A photojournalist, Kenji's busy overseas schedule leaves little time to participate in his daughter's life. The girls are overjoyed, as they get to celebrate the holiday with their dad. Almost immediately, Kenji accepts his publisher's offer to photograph bears but he will need to leave the next day. Angry and frustrated after hearing the news, Aya storms out of the house and arrives at the board game café "Saikoro Club."
With the assistance of the older daughter, Kenji locates Aya. After an emotional exchange, the café's manager suggests that everyone play a board game. The game lowers the emotional tension to give the father and daughter an understanding of the other's viewpoint. Crisis adverted, the balance of the episode covers the After School Dice Club's holiday party, playing board games, and exchanging gifts.
---
7. Sakura Quest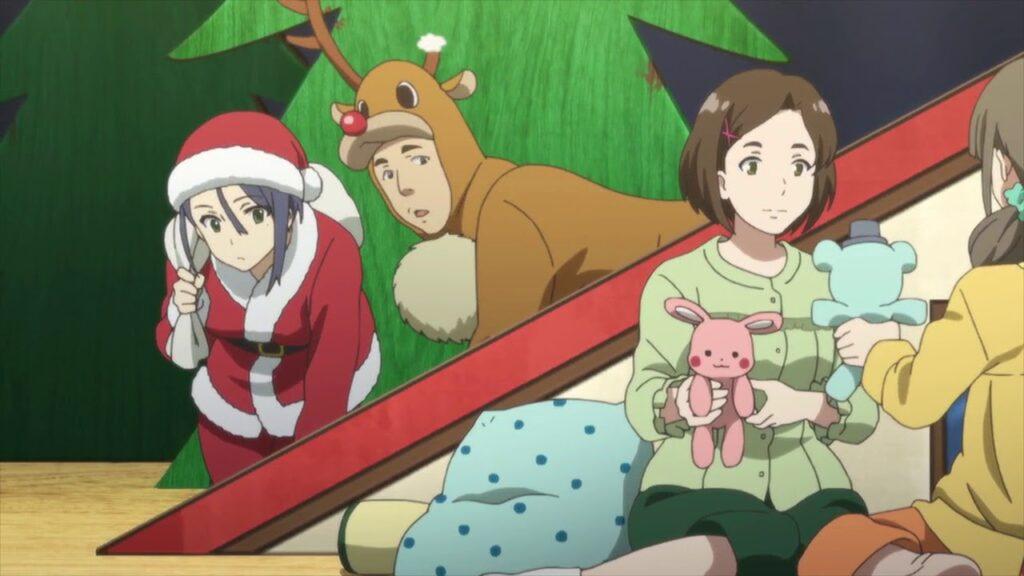 Ep. 20 – The Phoenix in the Holy Night (2017)
Genres: Comedy and Slice of Life
This seasonal episode finds the Manoyama Tourism Board's "Kingdom of Chupakabura" Queen and her court retiring from an aging middle school. Initially, the Board hopes the school's retirement ceremony will inspire former students to return and spend money in the community. Meanwhile, the winter decline in tourism is more impactful than a one-off event can support. Manoyama needs a long-term solution to this financial downturn. The Kingdom of Chupakabura's Queen feels the community can renovate the school and turn it into a community center, where artisans and performers could teach others.
The Manoyama Tourism Board intends to solicit donations from the school's reunion attendees to invest in the dream. The rest depends on how well the audience receives the school's holiday pageant. The Kingdom of Chupakabura's court turns to the group's resident actor to freshen up the school's play. After some failed professional auditions, Maki Midorikawa questions her passion and abilities for acting. She works tirelessly to write, direct and act in the updated telling of Santa's Christmas visit to Manoyama. The play is a success and Maki gains the confidence to lead the community theater troupe. 
---
6. Dr. Stone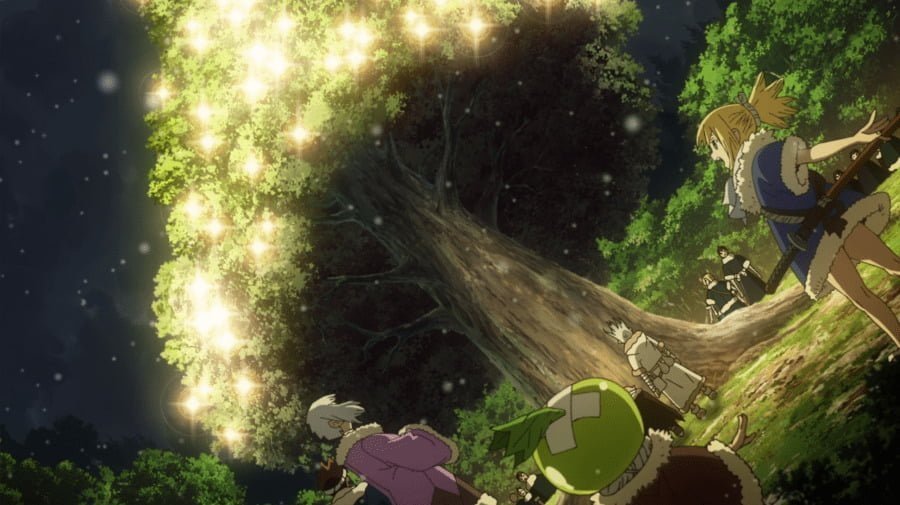 Ep. 21 – Spartan Crafts Club (2019)
Genres: Adventure, Comedy, Sci-Fi
Are you looking for a holiday episode, with a little science sprinkled in for good measure?
"Spartan Crafts Club" follows the Nation of Science's activities over Christmas and New Year's season. A post-apocalyptic Stone Age, Senkuu and friends work tirelessly to bring Ishigami Village into the modern era. With Kaseki and Chrome's crafting skills, Senkuu creates the filament lightbulb. Senkuu invites the villagers into the woods to a big tree, where he introduces them to their first Christmas tree lighting.
The story progresses to the villagers celebrating the New Year. Their holiday tradition dictates everyone gather atop a hill to witness the year's first sunrise. With everyone gathered, a rock Suika is carrying begins to glow. Senkuu identifies the rock as scheelite, a rare mineral needed to forge tungsten. The episode concludes with Chrome leading an expedition to locate more of the valuable rock.
---
5. The Duke of Death and His Maid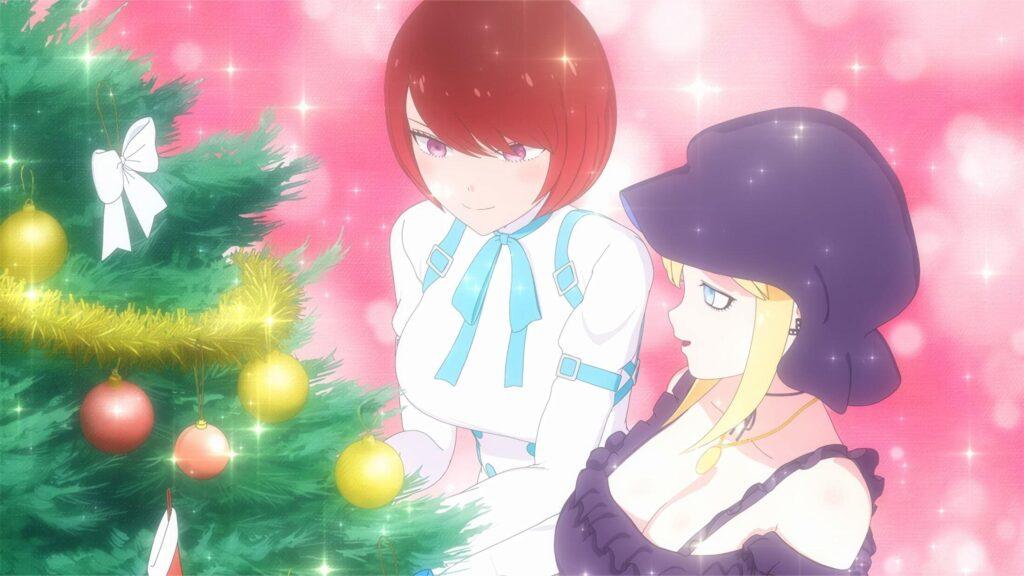 Ep. 9 – The Duke, Alice, and the Christmas Eve Vow (2021)
Genres: Comedy, Drama, Romance, and Supernatural
This holiday installment is fun for anyone who enjoys supernatural romances.
Sitting in Bocchan's study, Viola ponders what to give Rob for Christmas. The 'Duke of Death' makes several unsuccessful recommendations but Alice saves the day by recommending a handkerchief. Liking the idea, Viola immediately sets her holiday gift-giving plans in motion. Caph and Zain arrive, with a Christmas tree and everyone begins decorating Bocchan's room. Excited, Caph wants to meet Santa Claus.
Walter dresses up as Santa, leading to Caph's misunderstanding. Her enthusiasm lends itself to some funny antics. Eventually, Walter is unmasked but this does not dampen everyone's joy for the holidays. Everyone comes together to enjoy the holiday feast before calling it quits for the evening.
The episode concludes with Alice and Bocchan walking together. They confess their devotion, as the snow falls.
---
4. My Senpai is Annoying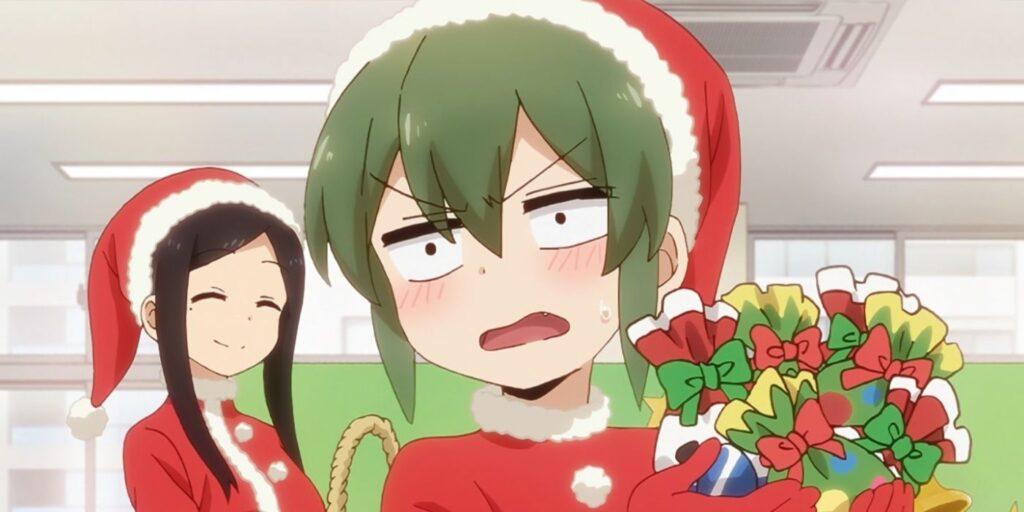 Ep. 3 – And Then, Its Christmas (2021)
Genres: Comedy, Romance, Slice of Life
On a cold winter morning, the story's protagonist walks to work. Futaba Igarashi sees a young girl, crying. The girl lost her scarf, resulting in Futaba donating hers to the child. Sniffling, the cold weather brings instant regret as she continues the walk. Meanwhile, her senpai witnesses the exchange and her struggle to stay warm. His observations become fodder for workplace gossip and a major source of her embarrassment. Insult to injury, Futaba also losses the office lottery and must dress up as Santa to hand out gifts to co-workers.
Futaba wishes to give her senpai a special holiday gift. She goes holiday shopping and purchases him a necktie. Futaba's insecurities and Harumi Takeda's schedule conspire to prevent them from exchanging Christmas presents. The co-workers must wait until after the holiday to exchange their gifts. Humuri receives the tie and Futaba gets a scarf. The co-workers cherish their gifts and friendship.
---
3. Itsudatte My Santa!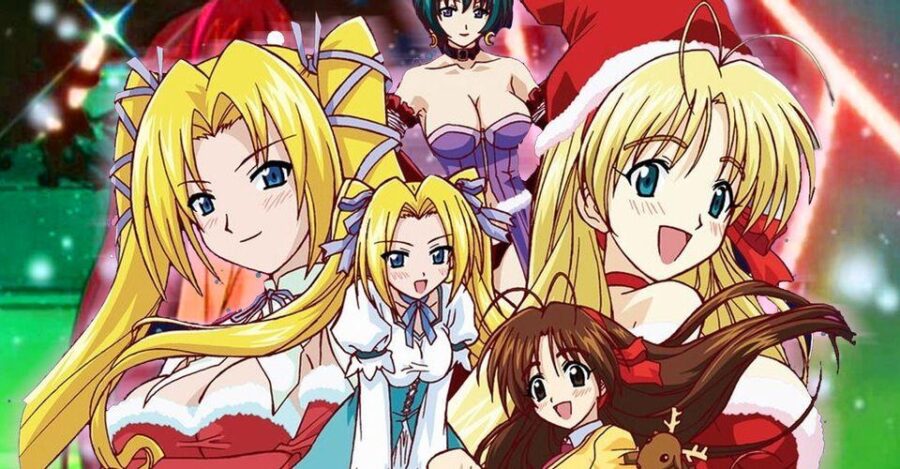 Ep. 1 – My Santa (2005)
Genres: Comedy, Ecchi, Fantasy and Romance
Born Christmas Eve and named Santa, the protagonist spends many holidays alone. His parents' work keeps them away from the holidays. Their absence over the years results in Santa dismissing the season's festivities. His views change following a chance encounter with Mai, a Santa Clause Academy student. She has come to cheer him up so he can find the spirit of Christmas. If she is successful, Mai will magically transform into a beautiful woman with the ability to deliver presents to children.
The episode spends its runtime with Mai's antics to bring holiday cheer to the teen. Her behavior results in several misunderstandings, leading to some fun but ecchi situations. Ultimately, Santa comes to understand Mai cares for him. His love for her causes Mai to transform into a voluptuous woman. The pair deliver children's presents and Santa understands why his parents' work keeps them away.  
---
2. Chrono Crusade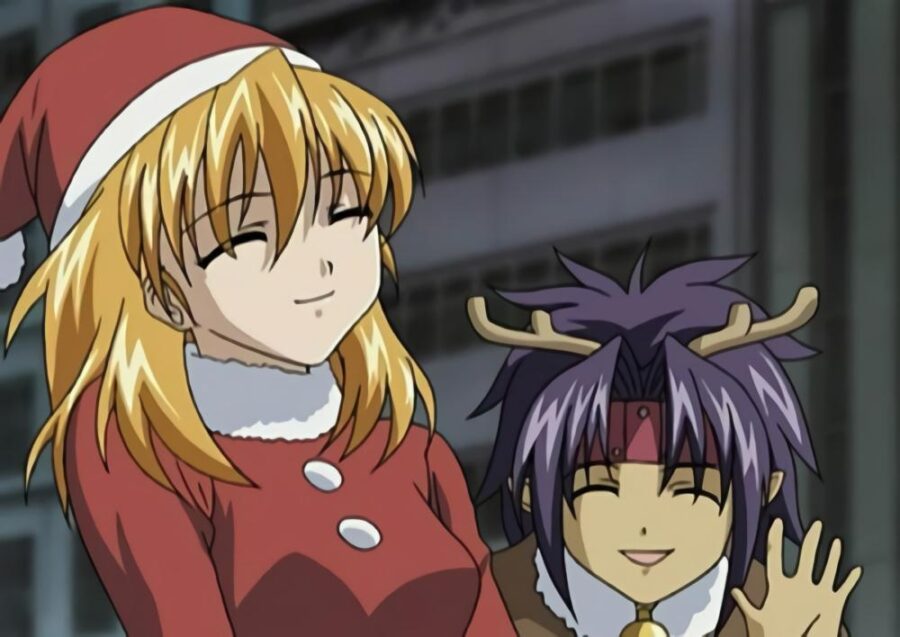 Ep. 12 – Holy Night (2004)
Genres: Action, Romance, and Supernatural
America's Roaring Twenties is the backdrop for this holiday episode. Azmaria Hendric, a member of the Order of Magdalene, reminisces her childhood holiday experiences. Abused and neglected, the shy girl had never experienced a Christmas celebration. This fact has not jaded her desire to give others a wonderful experience. This includes finding the perfect gift for her friends, Chrno and Rosette Christopher.
This endeavor leads Azmaria to purchase a store's last snow globe. With no other snow globes available, another holiday shopper leaves the store empty-handed. Azmaria gives the man the snow globe. Meanwhile, the Order of Magdalene is preparing for their annual holiday play and orphanage gift giving. The episode ends with Azmaria celebrating her first Christmas while Chrno and Rosette exchange gifts. 
---
1. Kimi ni Todoke: From Me to You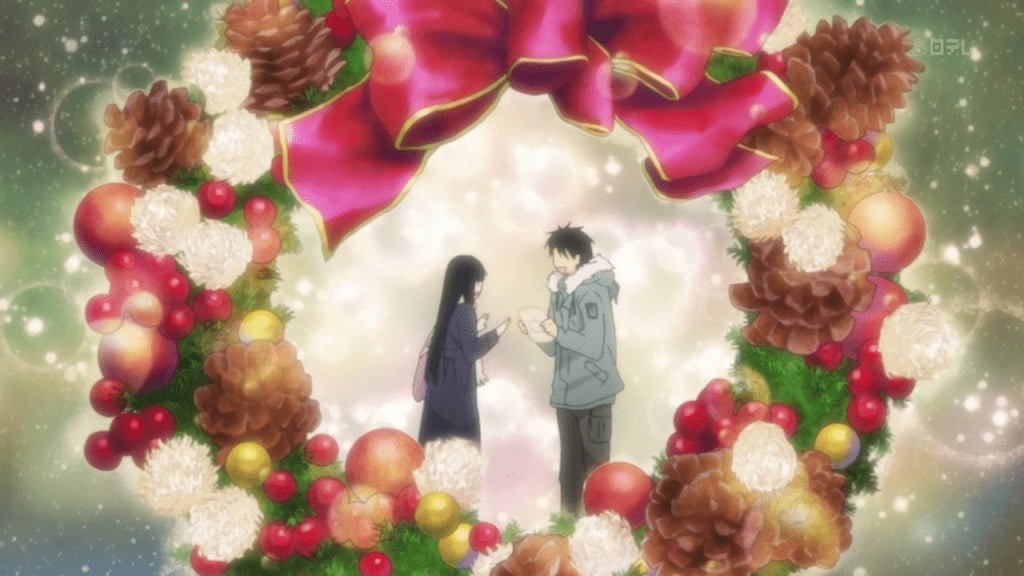 Ep. 22 – A Christmas (2010)
Genres: Romance
Sawako Kuronuma is a timid and sweet high school girl. Invited to a classmate's holiday party, she worries about disappointing her parents and declines their offer. Her decision also means that she may never have a better opportunity to give Shouta Kazehaya his present. The choice not to attend the party weighs heavy upon the young teen's heart.
On the big day, the Kuronuma family celebrates the holiday by exchanging gifts and cooking a large meal. The day seems to be going well until Sawako takes a call from her friends. Her mother overhears the call and realizes their daughter's sacrifices. Given her parent's permission, Sawako rushes out the door to the party but arrives too late and the party is over. Her effort was not in vain as Shouta stayed behind to wait for her.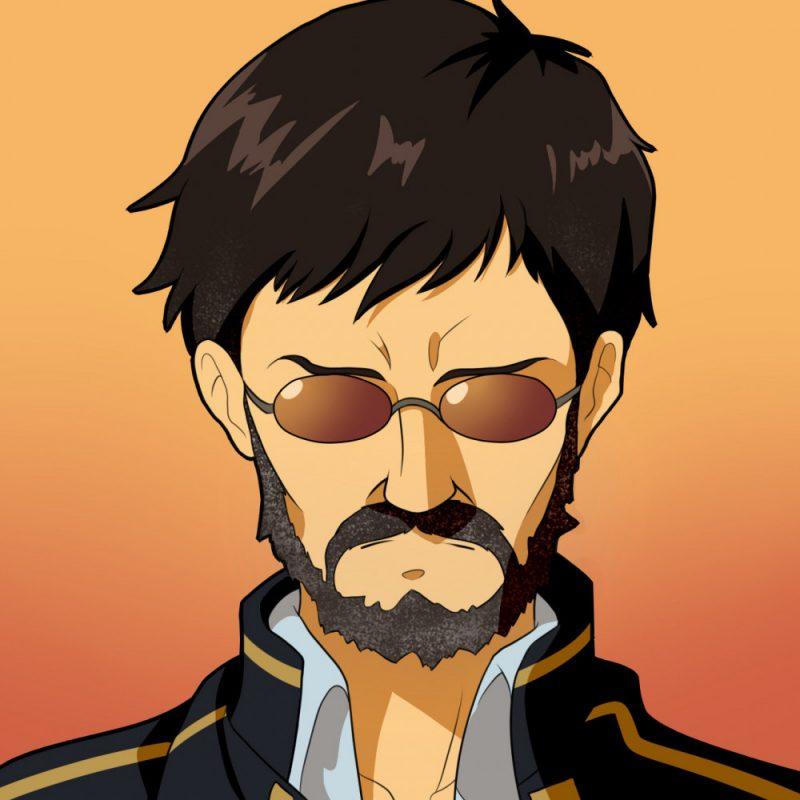 Hey, everyone, I'm Louis or Carolina Comic Geek as I'm known by my Pinterest subscribers. A longtime anime fan, my first introduction was with Genesis Climber MOSPEADA. I enjoy writing and honestly was stoked to be a guest writer for 9 Tailed Kitsune.