As the holiday season draws near, there is no better way to get into the holiday spirit than watching a festive anime film or episode. Slice of life, supernatural or traditional Santa Claus story… anime has a holiday-themed show for almost every interest.
Therefore, to celebrate the season of giving, I created a top ten inventory of my picks for the best holiday anime to watch this season. This list is sure to have you smiling, laughing, and celebrating the spirit of the holidays all month long.
It is time to heat up some hot cocoa, nestle up on the couch, and bask in the glow of your television or tablet screens. Enjoy!
Disclaimer: This list includes plot descriptions for episodes and films so readers can expect spoilers.
10. Gaikotsu Shotenin Honda-san
"Merry Christmas, Mr. Bookstore / It's Time to Close" (Season 1, Episode 12)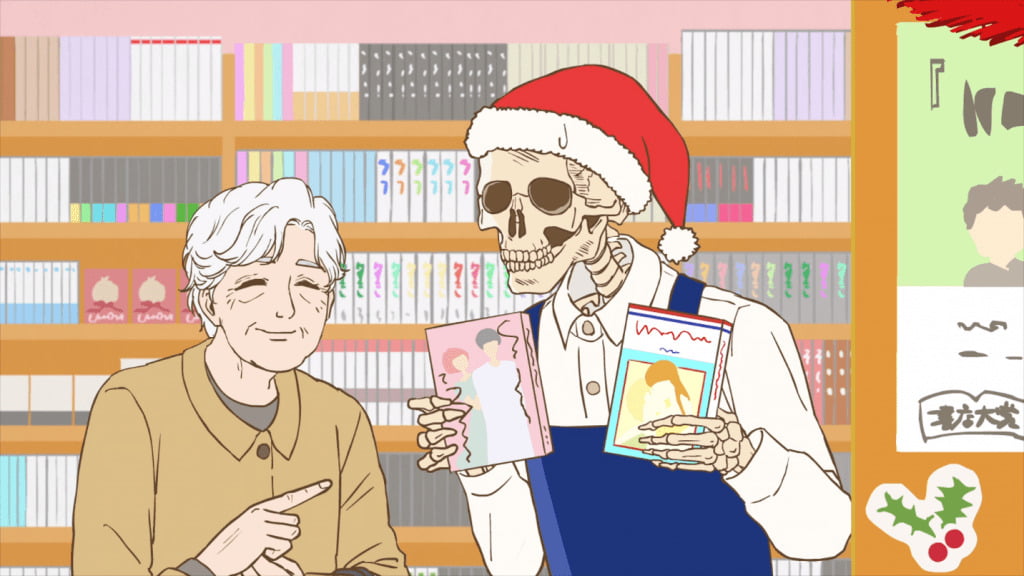 Coming in at number ten, my first holiday anime entry comes to us from Gaikotsu Shotenin Honda-san by Honda or the Skull-faced Bookseller Honda-san.
Tokyo MX aired the "Merry Christmas, Mr. Bookstore / It's Time to Close" episode on 24 December 2018.
Divided into two 7-minute segments, this episode follows Honda and his co-workers during the Christmas and New Year's Eve holiday shopping seasons.
Within the "Merry Christmas, Mr. Bookstore" storyline, Honda and co-workers must up their sales game on Christmas Eve. The employees must cope with the demands of management and customer service while looking for the sweet relief of closing time.
The episode's second installment finds management assigning Honda to a new shift on the eve of New Years'.
"It's Time to Close" does not have much to do with the holidays but instead focuses on completing the workday without screwing up. The quirkiness of Gaikotsu Shotenin Honda-san may not be everyone's cup of tea but folks who work retail may find "Merry Christmas, Mr. Bookstore / It's Time to Close" relatable.
9. Log Horizon
"Christmas Eve" (Season 2, Episode 5)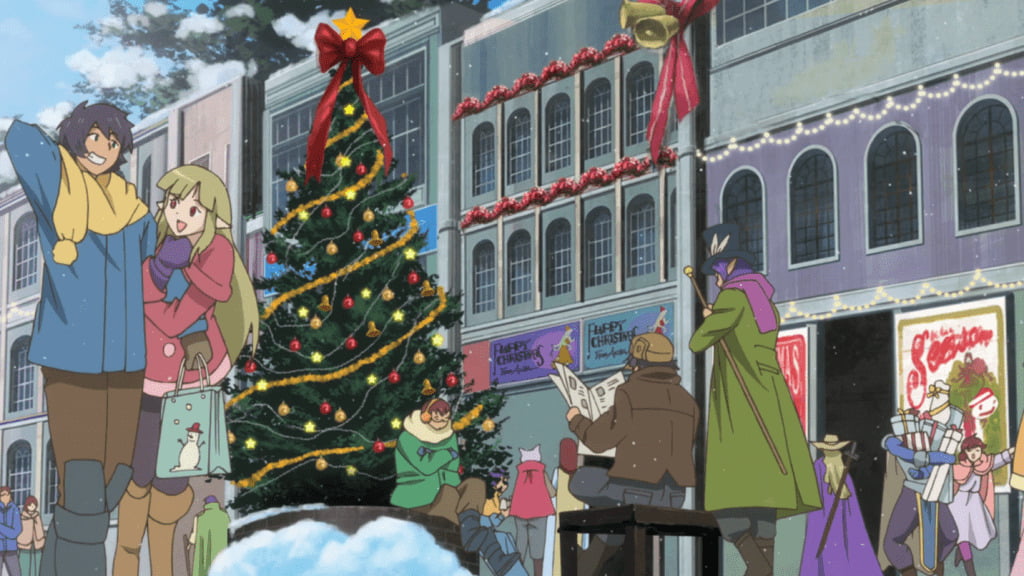 A holiday countdown would not be complete without identifying at least one isekai anime. My choice goes to Log Horizon's "Christmas Eve" episode.
Typically, Christmas anime extol the virtues of family and friends getting together to spread merriment and to reflect upon life's blessings. Well… Log Horizon's "Christmas Eve" throws these sentiments out the window. Instead, viewers get an otherworldly fighting anime set around Christmas.
Enbart Nelles, a Person of the Earth Samurai, is on the loose and threatening to derail Akihabana's holiday celebrations. The Guild Council desires to keep the people safe and puts a plan in place to thwart the assassin's plans. Their efforts culminate in a boss battle with Soujirou Seta and Akatsuki pitted against Enbart. Meanwhile, the story's protagonist and fellow guild members are up to their necks battling monsters in the Depths of Palm.
Where the episode lacks in traditional holiday anime beats, it definitely excels at over-the-top fighting.
For this reason, I cannot rate Log Horizon's "Christmas Eve" episode any higher than the number nine on this list.
8. Santa Kanpanī – Christmas no Himitsu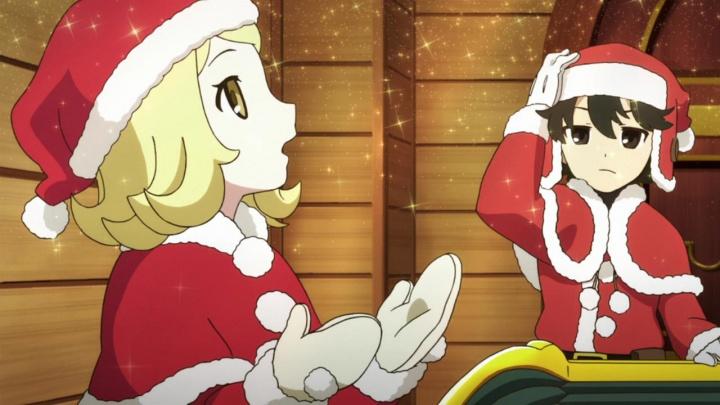 The next installment to my holiday anime viewing list comes from Kenji Studio. Santa Kanpanī – Christmas no Himitsu, a crowdsourced anime movie, follows a young girl's adventures at the Santa Company (i.e., Santa's workshop) in Finland.
After attending the company's introductory class, Noel sets out to become a full-fledged Tonttu or Scandinavian mythological elf-like being. Noel learns that she must know the most important task for the Santas in order to pass the exam and become a Tonttu.
On Christmas Eve, the Santa Company receives a last-minute gift request but it comes in too late for Santa's delivery. Noel must bring together her new friends and one tough reindeer if they hope to present the gift to the child. Over the course of their mission, the fellowship experiences several setbacks but overcome them through friendship and diligence. Through selfless action and giving, Noel becomes a Tonttu.
I think that Santa Kanpanī – Christmas no Himitsu is the perfect anime for family viewing.
NOTE: Kenji Studio also releases a thirty-minute version of Santa Company. The shortened story cuts out the background inspiration for Noel's desire to become a Tonttu.
7. Powerpuff Girls Z
"All Ken Wants for Christmas" (Season 1, Episode 26)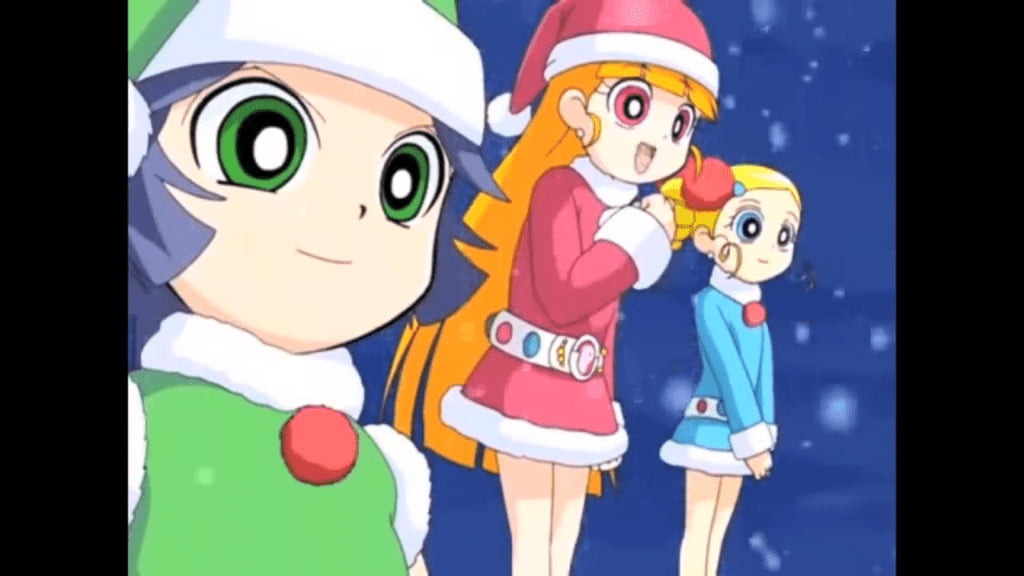 Coming in at number seven, I present this hidden gem ideal for fans of Craig McCracken's Powerpuff Girls. Co-produced by Cartoon Network Japan and Aniplex, Demashita! Pawapafu Gāruzu Zetto, lit. (They're Here! Powerpuff Girls Z) ran for fifty-two episodes. On 23 December 2006, "All Ken Wants for Christmas" aired on TV Tokyo.
The episode begins with the magical girl trio decorating for the holidays and writing letters to Santa Claus. They encourage Ken, Professor Utonium's son, to partake in the festivities but to no avail. He is certain that Santa does not scientifically exist.
We come to understand that Ken's humbuggery originates from the family's inability to get together for this holiday due to his mother's career obligations. Meanwhile, Mojo Jojo attempts to kidnap Santa and steal the children's toys. The Powerpuff Girls Z are able to foil Mojo's plans but their efforts dramatically cut into the time Santa has to deliver toys to Tokyo City's children. The trio is able to save the day while also restoring Ken's belief in Santa's magic.
"All Ken Wants for Christmas" is a fun stand-alone holiday episode for children and fans of the Powerpuff Girls.
6. Usagi Drop
"Dear Santa" (Season 1, Episode 3.5)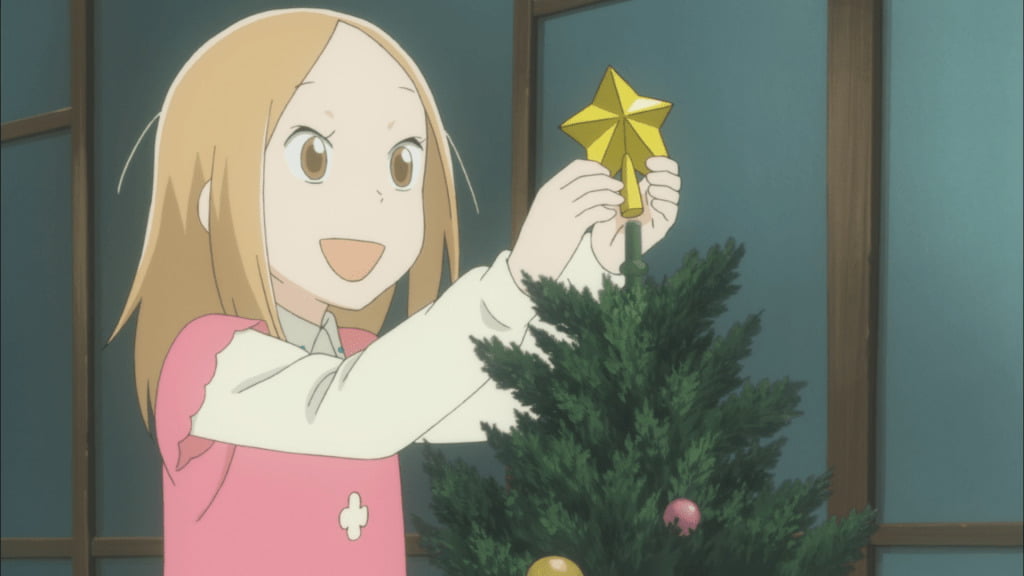 Are you looking for a short slice-of-life Christmas anime you can squeeze in before the relatives' visit? Well, we have the perfect episode for you!
My number sixth entry is the six-minute holiday special from Production I.G's Usagi Drop. "Dear Santa" aired in Japan on 25 November 2011.
The story follows Daikichi Kawachi and Rin Kaga as they prepare for Santa's visit on Christmas Eve. We experience a loving father attempting to make the holiday special for his daughter and the wonderment of a child experiencing the season.
With the shortened runtime, you should check it out without me giving away too many spoilers. Unless you are a Grinch, I hope that you will agree that Usagi Drop's "Dear Santa" makes for the perfect holiday viewing.
5. Tegami Bachi: Letter Bee
"Red and Green Ribbon" (Season 1, Episode 12)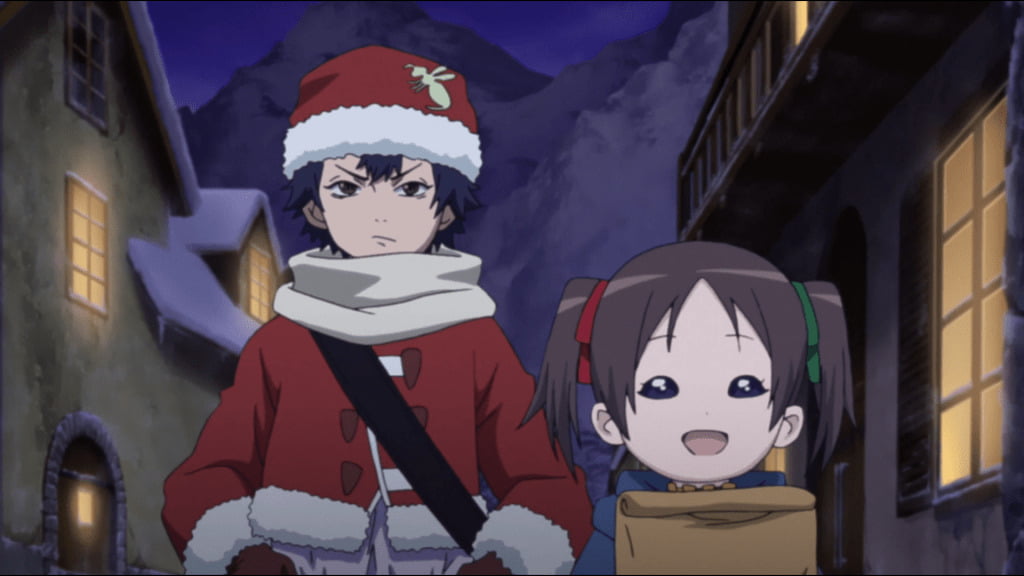 My number fifth selection is Tegami Bachi: Letter Bee.
This anime follows the letter-carrying protagonist, Lag Seeing, as he travels across the land of AmberGround.
The "Red and Green Ribbon" episode aired on TV Tokyo, TV Osaka, TV Aichi, and affiliates on 19 December 2009. Lag and fellow Letter Bee, Zazie, become "Holy Night Messengers."
This Christmas-like holiday has the Letter Bees dressing up as Santa and granting wishes to recipients of their mail. Lag and Zazie meet Sonja. A Gaichuu, a centipede-like monster, killed the young girl's parents and now the townspeople believe she is a monster magnet so they fear her. The reality is that the Gaichuu's appearance is due to the village's Sei-naru Yoru celebrations.
The Letter Bee duo dispatch the bloodthirsty monster and the town's folk realize the error of blaming Sonja for the beast's rampage. As a memento of friendship and token of thanks, Sonja gives Lag and Zazie her red and green hair ribbons.
If you are looking for monster fights as part of your holiday anime, we highly recommend you check out the "Red and Green Ribbon" episode from Tegami Bachi: Letter Bee.
4. Gochuumon wa Usagi Desu ka?
"The Girl Dons a Red Coat and Drives a Team of Rabbits Across the Christmas Eve Night Sky" (Season 1, Episode 11)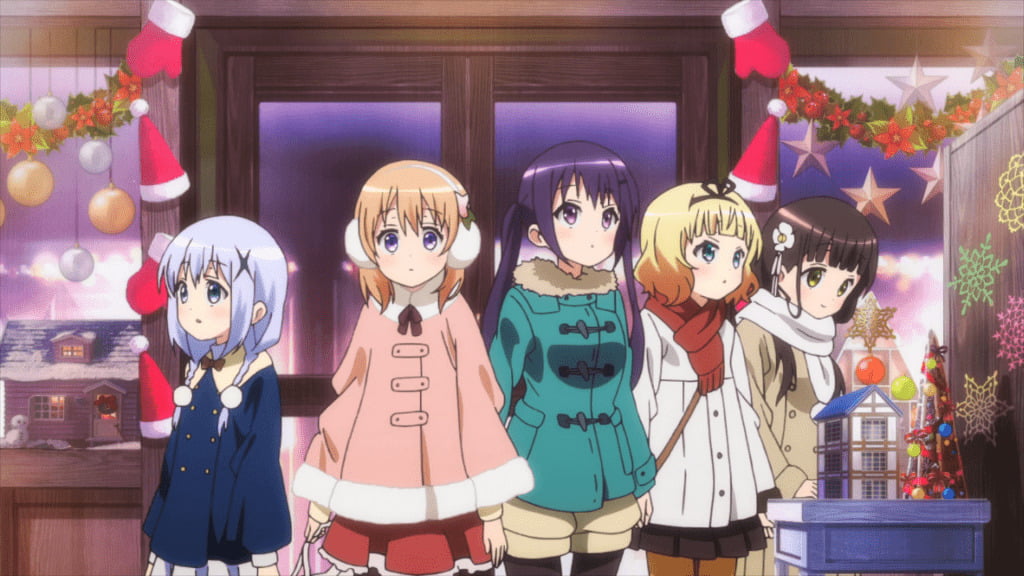 Gochuumon wa Usagi Desu ka? or Is the Order a Rabbit? "The Girl Dons a Red Coat and Drives a Team of Rabbits Across the Christmas Eve Night Sky" holds my number four spot.
Airing on 19 June 2014, the episode begins with the Rabbit House girls purchasing ornaments at the Christmas Market and preparing for a holiday party. Before they can enjoy the festivities, they must work at the Rabbit House. The restaurant is extra busy as the patrons gobble down Christmas pancakes.
Upon finishing work, the girls retire to enjoy a Christmas get-together and exchange gifts. Cocoa Hoto takes up the mantle of portraying Santa Claus and tries to deliver presents by stuffing Chino Kafū's gift under her pillow. However, Cocoa's routine that day finally catches up to her as she falls asleep mid-gift delivery. Chino delights at the present and Cocoa's efforts.
Is the Order a Rabbit? Christmas' episode is a very sweet slice-of-life anime and well worth the watch.
3. K-On!
"Christmas" (Season 1, Episode 7)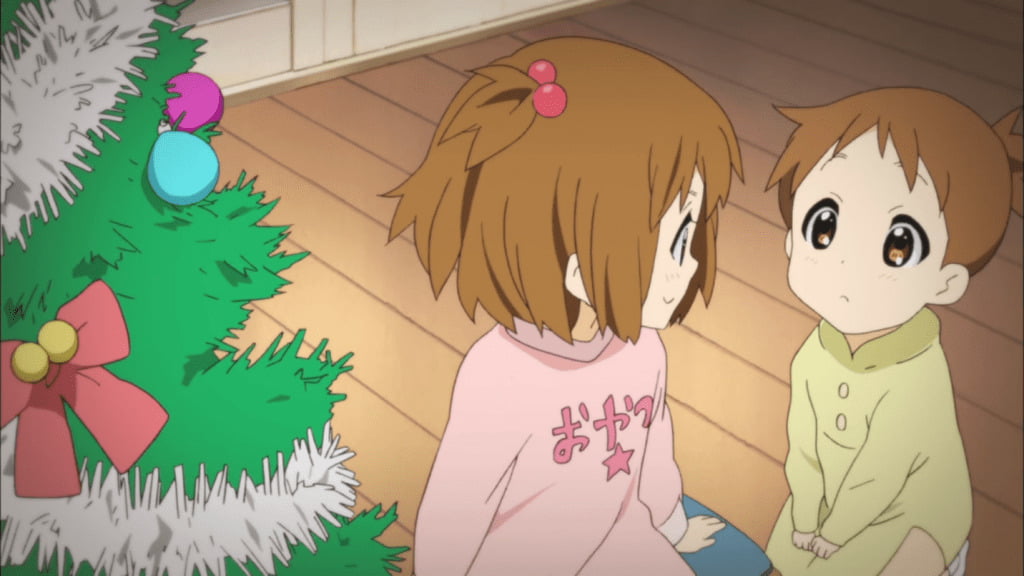 My next entry continues a comedy, slice-of-life holiday anime theme.
Released by Kyoto Animation, the K-On! "Christmas" episode first aired in Japan on 15 May 2009.
This story opens with Ui Hirasawa, Yui's sister, reflecting on a past Christmas. Specifically, Ui recalls how Yui pulled the cotton stuffing from a pillow to decorate a tree outside. Through the younger girl's eyes, the fluffy textile gave an illusion that snow came to Christmas.
Cut to the present day, Yui agrees to hold a Christmas party for the music club. The sisters host a wonderful dinner with some minor disruptions from Sawako Yamanaka. The festivities conclude when the sisters and music club exchange holiday gifts. As the partygoers leave for the evening, snow begins to fall in a call back to Ui's childhood Christmas. The episode concludes with the music club traveling to a local shrine to give their New Year's blessings.
K-On! "Christmas" is a perfectly contained, feel-good episode for holiday anime viewers and praiseworthy at the number three spot on this list.
2. Toradora!
"Mercury Retrogrades at Christmas" (Season 1, Episode 17); "Under the Fir Tree" (Season 1, Episode 18); "Christmas Eve Festival" (Season 1, Episode 19)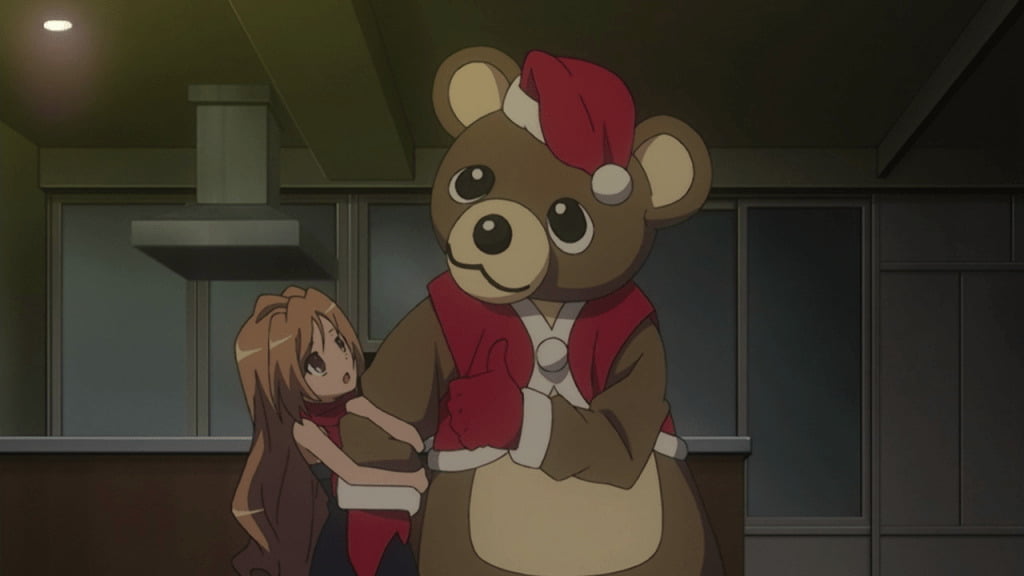 The three-episode Toradora! Christmas arc lands this anime at my number two slot of must-watch holiday anime shows.
This story originally aired on TV Tokyo between 1 January and 12 February 2009.
"Mercury Retrogrades at Christmas" is the establishing episode for the show's holiday season.
Taiga Aisaka sets out to assist Ryuji Takasu in hooking up with Minori Kushieda. The perfect opportunity presents itself when the school council agrees to hold a Christmas party. However, Minori makes it clear that she has no intention of showing up to the celebration.
The "Under the Fir Tree" episode begins with the students decorating the school's gymnasium. Taiga presents a precious glass star for the school's tree topper. With this token, we get a glimpse into why the holiday is so special for Taiga. Through a freak baseball accident, Minori unintentionally breaks Taiga's star. Upset over this calamity, Minori uses the incident as an excuse to stay away from festivities.
The arc comes to a head with the "Christmas Eve Festival" episode. Taiga and Yusaku Kitamura perform a song at the dance to get the party started. Following the duet, Taiga leaves to go home to wait for Santa Claus. Ryuji, knowing she is alone, dresses in a teddy bear costume and visits Taiga in an effort to cheer her up. Taiga urges Ryuji to return to the party and await Minori. The episode concludes with a heartbreaking revelation that Minori does not love Ryuji.
Regardless of how things end, the three-episode Toradora! Christmas arc provides an excellent narrative and subverts the traditional anime holiday tropes.
1. Tokyo Godfathers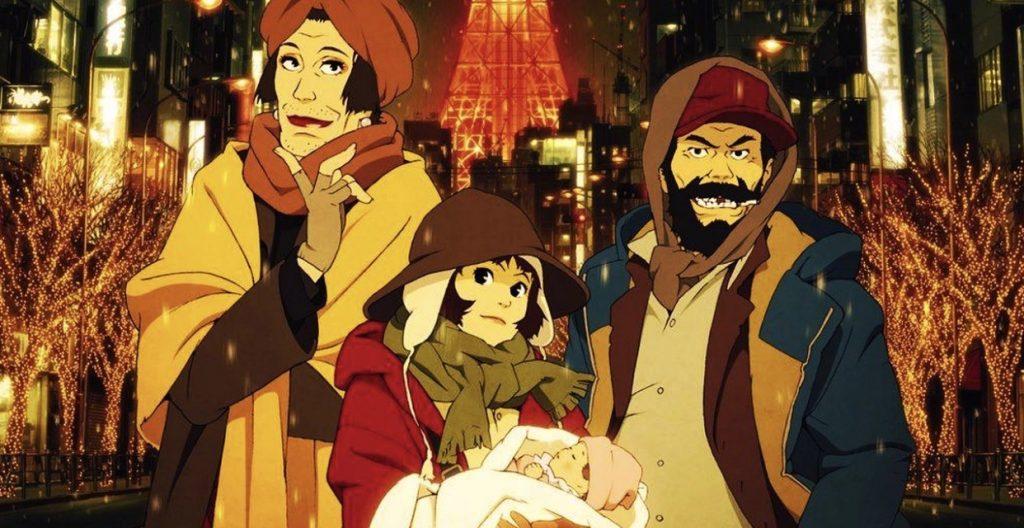 Satoshi Kon's Tokyo Godfathers is my number-one pick for holiday anime viewing.
Before jumping into the narrative, I want to make it clear that this movie contains adult themes and may not be suitable for some audiences. This tragicomedy anime loosely mirrors Peter B. Kyne's novel Three Godfathers (1913).
The story begins in the aftermath of a nativity play on Christmas Eve.
Three homeless people—an alcoholic named Gin, a drag queen named Hana, and a teenage runaway named Miyuki—rummage through the garbage for gifts where they locate an abandoned newborn. Named Kiyoko by Hana, the trio set out to locate the baby's parents.
Their odyssey leads the trio through some of the seedier sides of society and humanity. Through their journey, the characters open themselves to one another and the audience. We get to learn about their backstories and the circumstances that lead each to become homeless. Gin, Hana, and Miyuki are able to unite the child with her rightful parents to become Kiyoko's Godfathers.
Tokyo Godfathers is a perfect holiday anime for viewers to self-reflect and appreciate the successes—large and small—in our lives.
Honorable Mentions
Cardcaptor Sakura – "Sakura's Wonderful Christmas / The Third Element" (Season 1, Episode 13)
Gintama – "Santa Claus Red is Blood Red" (Season 4, Episode 50) & "Everybody's a Santa" (Season 4, Episode 51);
Love Hina – "Christmas Special – Silent Eve" (Movie)
Sally the Witch – "Here Comes Santa Claus (Season 1, Episode 3)
Sword Art Online – "The Red-Nosed Reindeer" (Season 1, Episode 3).
Do you agree with my picks or is there another holiday anime I should have included? Please let me know in the comments below. I really want to hear what you have to think.
Merii Kurisumasu! 🎅🎄🎁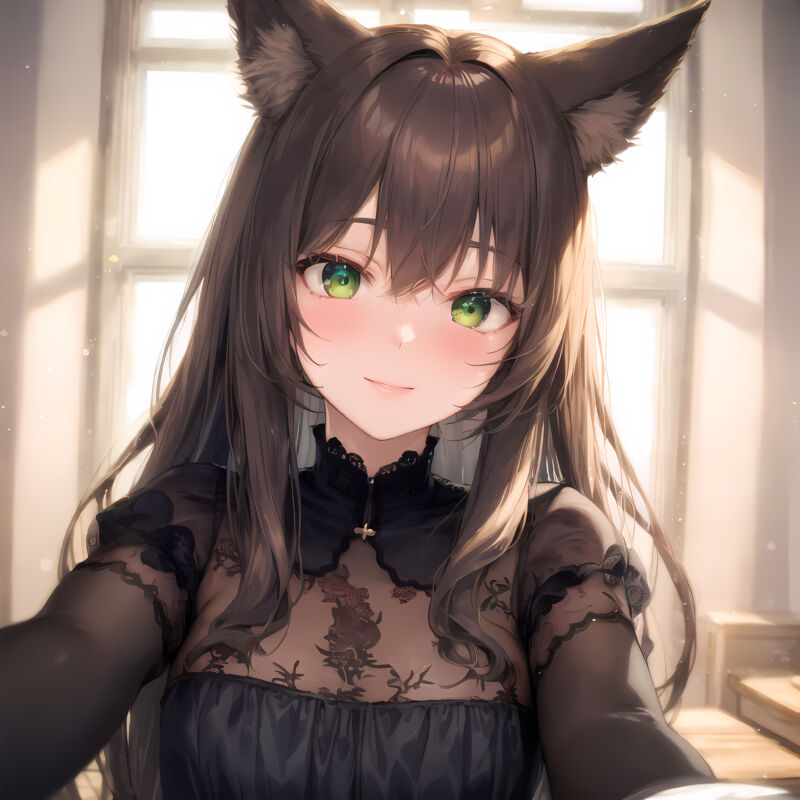 BEFORE YOU GO...
Thanks for reading my article!
If you enjoyed it, please consider supporting me on Patreon. As a Patron, you'll gain access to exclusive perks like stunning AI artworks that are not shared anywhere else, personalized AI-generated art pieces, and the ability to shape the future of this blog by suggesting topics you'd like me to cover.
Your support means everything to me and enables me to keep creating content that I'm passionate about. ✨

Also, you're welcome to join our 9 Tailed Kitsune Anime Discord community. We'd love to have you there! 🙌