Otome Game Sekai wa Mob ni Kibishii Sekai desu is an isekai anime series with a protagonist who ends up reincarnated as a mob character in an Otome game (Dating Sim).
I have already written about how hard it is to invent something new in the isekai genre. But honestly, this show is pretty good at incorporating something new into it and has a good amount of suspense and unpredictability.
This new world the MC lives in is the otome game he had been playing before he died, so he has broad knowledge about it, which makes his life easier (but not too easy). And he knows that it's hell for ALL men, let alone for a mob! The world is completely dominated by women, which leaves no room for any mistakes for a mob male who is trying to succeed by societal standards and live a peaceful life.
Let's dive into 10 Anime Like Otome Game Sekai wa Mob ni Kibishii Sekai desu!
Disclaimer: This post contains affiliate links. If you use these links to buy something, I may earn a small commission, without any extra cost to you. As an Amazon Associate, I earn from qualifying purchases. Thank you!
---
10. The Eminence in Shadow
The Eminence in Shadow is an upcoming October 2022 anime.
In this show, great heroes and diabolical villains are the types of characters that people long to be—but not Cid Kagenou. He longs to become the true mastermind behind it all, pulling the strings, and having his machinations drive the entire story. In his previous life in modern-day Japan, he was not able to achieve his goals. But now, reborn into a world of magic, he will show the true eminence of shadow!
As Cid pretends to be just another average mob character, he recruits members to his (fake) organization Shadow Garden, aiming to take down the mysterious cult that lurks in the shadows. With plenty of ad-libs, Cid leads his (fake) organization against the foul (yet surprisingly real) Diabolos Cult.
(Source: MaL)
Both shows are parodic isekai and have overpowered MCs who try not to draw too much attention since they are trying to be "background characters". However, they end up standing out and attracting a lot of female characters.
---
9. Combatants Will Be Dispatched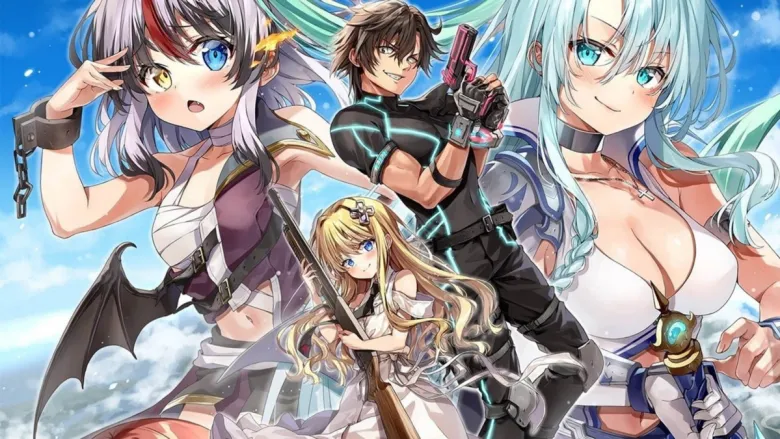 Made by the creator of KonoSuba, Combatants Will be Dispatched has a similar MC, engaging character interactions, and crude humor that we can find in Otome Game Sekai wa Mob ni Kibishii Sekai desu.
The series is a story about a scum, perverted, and arrogant main character who is given a mission to spy on the kingdom of grace by his organization that is set on conquering the entire universe.
He is accompanied by a high-spec android in the form of a young girl to successfully carry out his mission, where he successfully infiltrates the kingdom, joins the honorary knight position, and gets closer to its inner circle. His mission is to help the kingdom defeat the demon lord.
---
8. Cautious Hero: The Hero Is Overpowered but Overly Cautious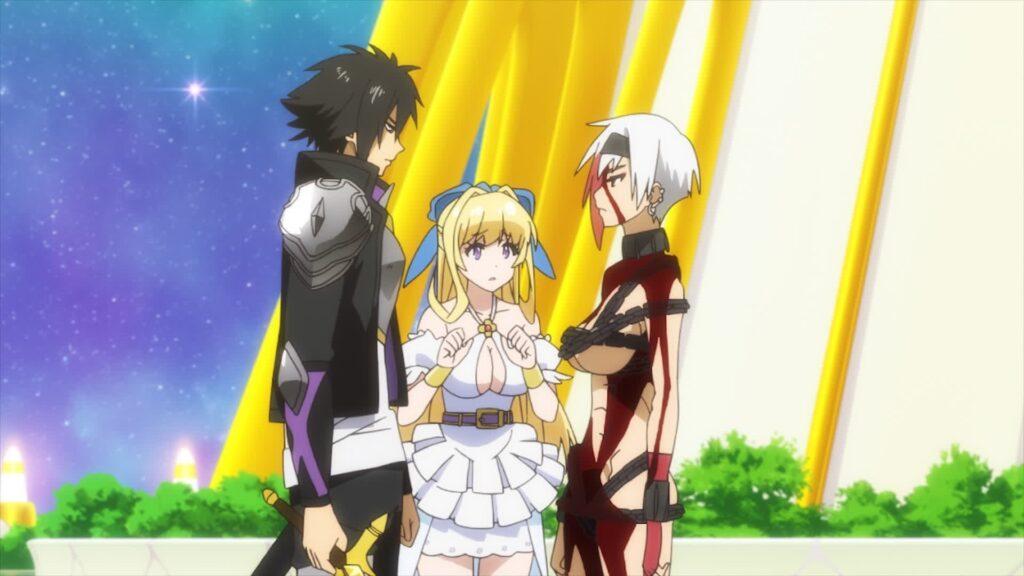 This series is another parodic isekai with a savage MC who ends up in a fantasy world. But instead of being trapped in a dating sim, the MC's purpose is to defeat the demon king with the aid of a useless goddess.
If you love hilarious comedy scenes that will knock you dead, make sure to check this anime out!
---
7. The Fruit of Evolution: Before I Knew It, My Life Had It Made
One day, a whole school full of students gets transported to a mysterious fantasy world with an RPG system.
One of them is Seiichi Hiragi, a high schooler bullied to hell and back for being fat and ugly. While everyone else was transported in groups, he was the only one secluded which caused him to end up in a different location. When he accidentally eats "the Fruit of Evolution," his life as a successful champion begins!
You can't take this series seriously when the best girl is a gorilla. The show pokes fun at the cliché isekai tropes and the OP lead gets all the girls. With its chill vibes and comical moments, it will make sure to bring a smile to your face just like Otome Game Sekai wa Mob ni Kibishii Sekai desu.
RECOMMENDED: 7 Anime Like The Fruit of Evolution
Stream it on Amazon
---
6. Fantasy Bishoujo Juniku Ojisan to
Fantasy Bishoujo Juniku Ojisan to is an isekai romantic comedy between an old guy and someone who used to be an old guy.
Both series have a protagonist who is transported to another world but you won't find any cliché noble goals there. Instead, both anime put a parodic spin on isekai, which makes it refreshing and hilarious at the same time.
---
5. Miss Kobayashi's Dragon Maid
If living in a dating sim is strange, imagine living with dragons. That's Kobayashi's Dragon Maid for you!
Both are outlandish comedies about living a strange life. The show carries over a lot of the same themes about adapting to a new world and having new friends.
---
4. Outbreak Company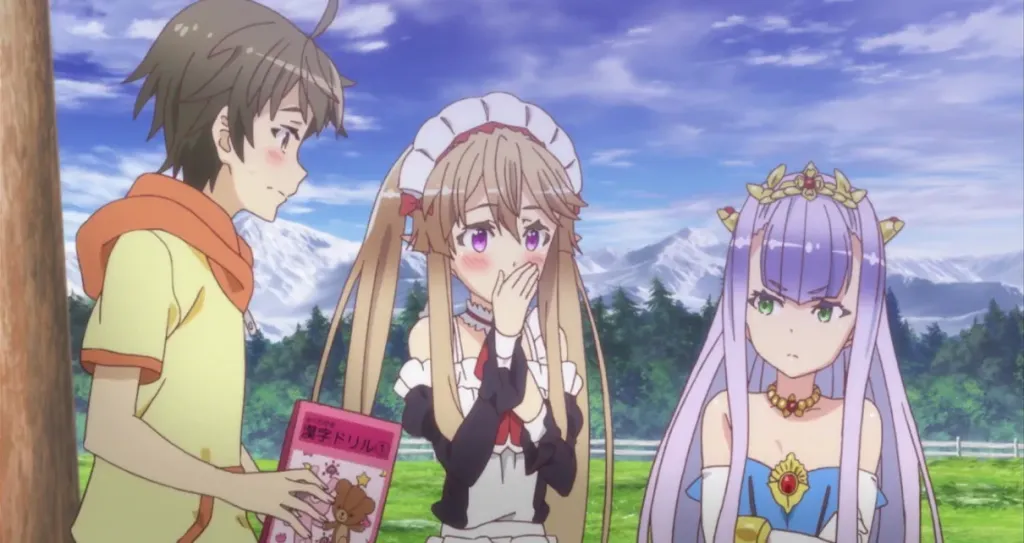 So you want a genuinely funny isekai with a decent amount of comedy and gags like Otome Game Sekai wa Mob ni Kibishii Sekai desu? Then make sure to watch Outbreak Company where the MC is an otaku neet tasked with spreading his love of anime, video games, and manga to a foreign culture!
---
3. Grand Blue Dreaming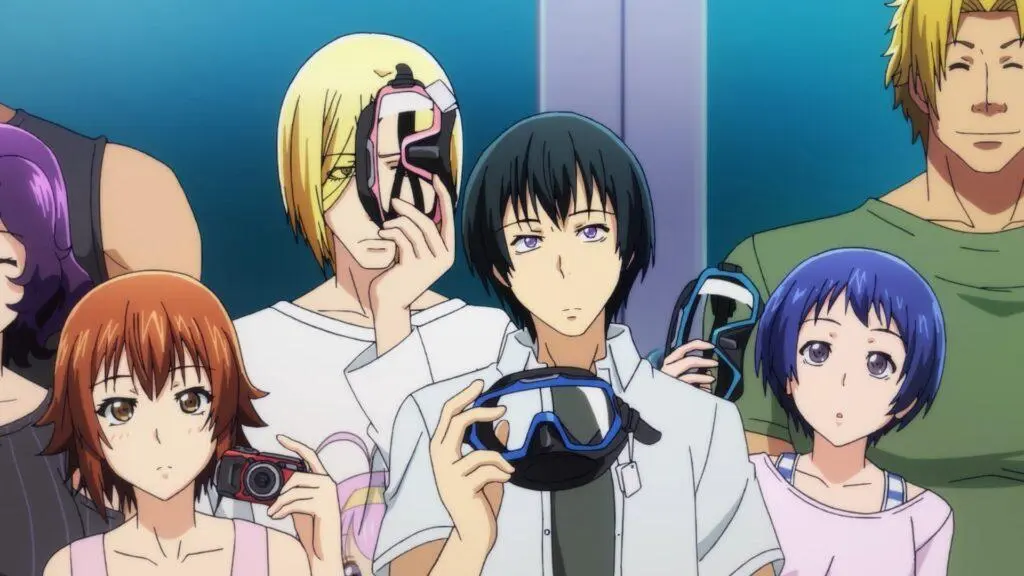 Lori Kitahara has been invited to join Izu University. He is excited about the opportunity, but he has no idea what awaits him. Among his first scenes at the university is a series of hardcore parties. The few friends he has made have joined the bandwagon. He falls into temptation and parties all night. 
Lori wakes up in the morning with a nagging hangover. He is also stuck naked in the middle of the university campus. His judgmental cousin does not spare him. The event becomes one of a series of encounters he will have to deal with before graduation.
Lori is determined to salvage his reputation. Without taking the right steps, he will be stamped as the college party machine. The people pushing him into parties are also scuba divers. They also want him to try. It appears that his life at Izu University will differ from what he ever imagined. Still, it is an exciting adventure, beyond his imagination.
While the world and story are very different, if you like comedy then you're very likely to enjoy both of them.
---
2. KonoSuba
Konosuba has a very similar feel to Otome Game Sekai wa Mob ni Kibishii Sekai desu with its lighthearted take on the isekai genre.
In this show, a teen boy dies a shameful death and is brought before the goddess Aqua who offers him a new life with his memory intact. However, there is one catch—he will be reincarnated in a magical world with the task of defeating the demon lord!
In both shows, there is a smug & cynical protagonist who is isekai'd to a fantasy world. After that, all sorts of ludicrous situations ensue!
If you want to have a good laugh while enjoying yourself, give it a go. 🙂
---
1. My Next Life as a Villainess: All Routes Lead to Doom!
A young girl accidentally bumps her head and regains memories of her past life as an otaku. She quickly realizes that she was reborn in the world of Fortune Lover—one of the games she had used to play! Unfortunately, the character she was reincarnated into is the game's main antagonist!
As expected, both shows don't take themselves too seriously. In both cases, the main character is reborn in a world of otome game where they know the characters & plot very well because they played it in their previous life.
The shows rely mainly on the characters to carry the show & contain tons of hilarious moments that will make you roll on the floor laughing. Be aware that Villainess is a reverse harem.
RELATED: 8 Anime Like My Next Life as a Villainess: All Routes Lead to Doom!