The steady stream of seasonal anime pales in comparison to the vast library of manga and light novels deserving an adaptation. MyAnimeList lists approximately 45,250 manga series, of which roughly 27,150 have an anime adaptation. This means nearly 40% of all manga never make it to the small screen. Historical manga is no exception to these sad statistics.
There are many reasons why a popular manga may not receive an anime adaptation. A brilliantly written and illustrated tankōbon may appeal to a niche audience, such as Shūzō Oshimi's Chi no Wadachi. A series may remain unfinished due to something unforeseen, like Osamu Tezuka's death before completing Hi no Tori. Then there are manga that languish in purgatory, where popularity seems to have no impact on it becoming an anime.
Whatever the reason, there are still tons of manga deserving the small-screen treatment. Over the coming months, we will identify manga by theme needing an anime. Here is our list of ten historical manga worthy of an anime adaptation.
As you review the post, please let me know your thoughts and feelings about the choices. I welcome your recommendations for any other interesting historical manga deserving an anime adaptation.
---
10. Green Blood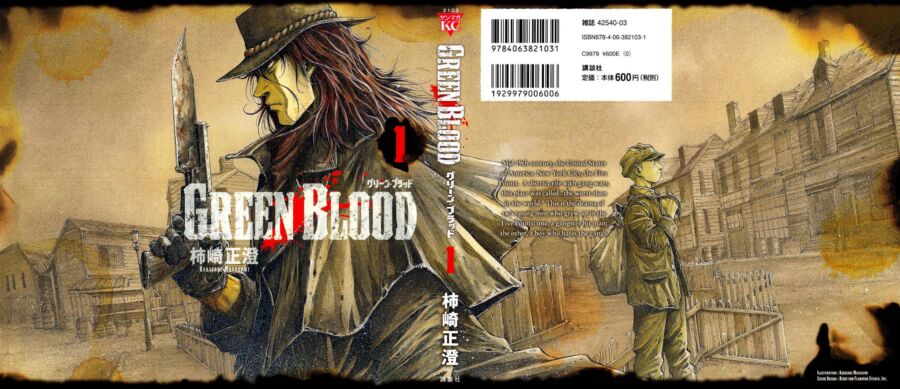 Published: June 2011 – May 2013
Theme(s): Historical, Psychological
With a flair for historical crime fiction, Masasumi Kakizaki writes and illustrates the manga series Green Blood or Gurīn Buraddo. Kodansha's Weekly Young Magazine serialized the work from 2011 to 2013. Although a great work, the story never seemed to gain wholesale traction among readers due to several pauses in the manga's production.
A 300-square-mile lawless wasteland, New York City's Five Points immigrant community is easy prey for mobsters. Luke Burns, an honorable man, desires to break free of avarice while his brother embraces the opportunities offered by the seedy underbelly. Unbeknownst to Luke, his brother is a mob hitman known as the Grim Reaper. Circumstances would see the brothers join forces to pursue and eliminate their father and leader of the Crimson gang, Edward King.
Green Blood is a psychological, crime drama set during America's Reconstruction period. Masasumi Kakizaki adapts the core themes seen in his previous works, such as crime, family, poverty, and revenge. A successful manga series in spite of its several publishing delays, Gurīn Buraddo has the potential to become a captivating anime series.
---
9. Horus no Hitomi: Dansou no Joou no Monogatari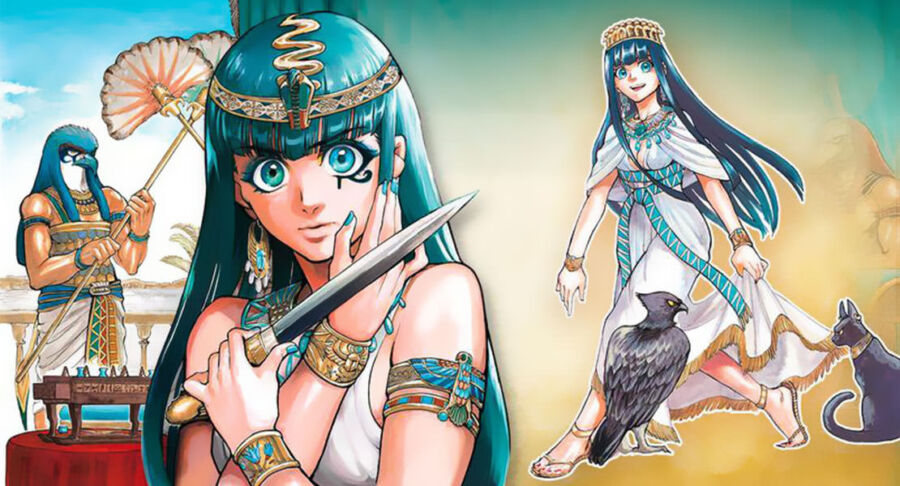 Published: December 2014 – April 2021
Theme(s): Historical
Chie Inudo wrote and illustrated the seinen manga, Horus no Hitomi: Dansou no Joou no Monogatari or The Blue Eye of Horus. Kadokawa featured this tale of ancient Egypt in its monthly manga magazine Haruta. Nearing the end of its run, Inudo's The Blue Eye of Horus became a bi-monthly installment.
Horus no Hitomi gives a fictional account of young Hatshepsut's life. The young heir apparent is the eldest daughter of Pharaoh Thutmose III and Amouse. An intelligent woman, royal tradition prevents her from assuming the throne. Therefore, Thutmose must give his daughter's hand in marriage to her brutish, half-brother. Masquerading as the dutiful wife, Hatshepsut aspires to one day become ancient Egypt's first female pharaoh.
The dynastic history of ancient Egypt is fascinating. Chei Inudo masterfully weaves historical elements into the reimagined narrative of Hatshepsut's rise to power. AdaptingHorus no Hitomi: Dansou no Joou no Monogatariis a must for anime fans, who also enjoy a rich historical narrative.
---
8. Issak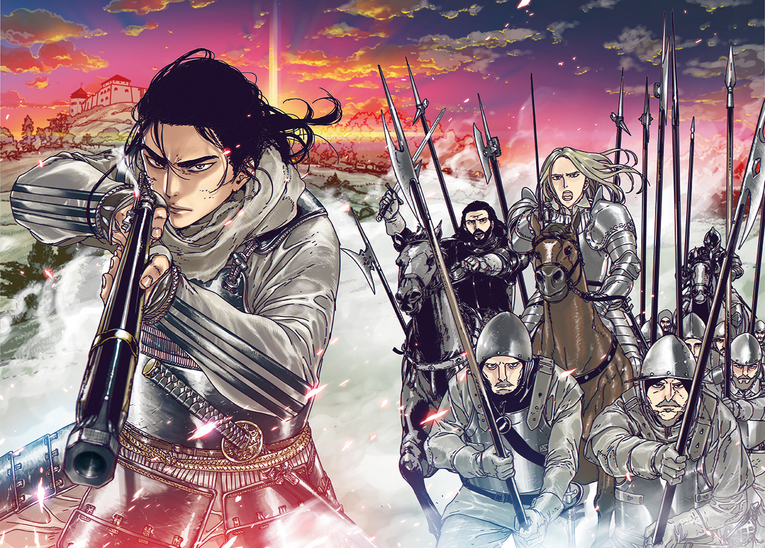 Published: January 2017 – Present
Theme(s): Historical
Issak is a seinen manga written by Shinji Makari and illustrated by Double-S. A prolific action-suspense writer, this series serves as Makari's introduction to a historical-themed story. Kodansha's Monthly Afternoon began serializing Issak on January 25, 2017, with the first tankōbon volume published in July 2017.
The Thirty Years' War is underway, the Netherlands dispatches forces to bolster the Holy Roman Empire's armies. The Dutch military complement deserts their post, leaving behind a solitary Japanese man. On the heels of a murderer, Issak becomes a mercenary believing the killer joined the opposing forces. He must survive bloody engagements long enough to find his nemesis and recover the precious item stolen.
Shinji Makari and Double-S have created a rich and original narrative that captivates the reader's interest. Issak would achieve critical success, with it becoming a Jury Recommended Works at the 21st Japan Media Arts Festival and recipient of the Saito Takao Award. A violent military narrative, an anime adaptation of Issak could achieve the same success enjoyed by Berserk.
---
7. Isabella Bird in Wonderland: Unbeaten Tracks in Japan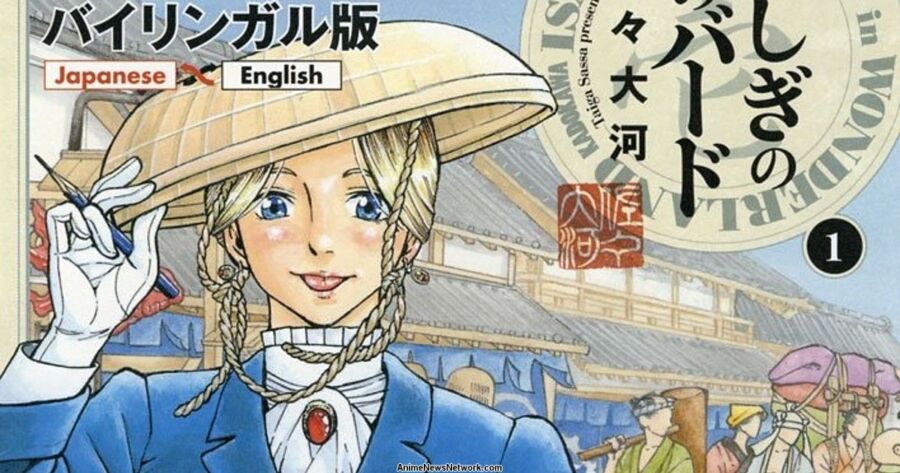 Published: March 2013 – Present
Theme(s): Historical
Published by Kadokawa, Fushigi no Kuni no Bādo is a bilingual manga intended to assist Japanese readers to learn English. Taiga Sassa wrote and illustrated the series. The Japanese seinen manga magazine, Harta published this fact-based story.
A nineteenth-century Scottish explorer, Isabella Bird wrote of her travels throughout Asia and North America. The manga focuses on her explorations of remote areas of Japan. Witty and curious, Isabella gives a snapshot of Japanese society transitioning from a period of foreign isolation to embracing openness. She would become the first Westerner to travel to Hokkaido to study the Ainu.
Isabella Bird in Wonderland is a wonderful story, supplemented with lush artwork to bring Isabella's journey alive. The work also provides additional insight into the culture of the Ainu people. Fushigi no Kuni no Bādo, although a bit obscure, is ideal for adaptation into a slice-of-life anime.
---
6. Gunka no Baltzar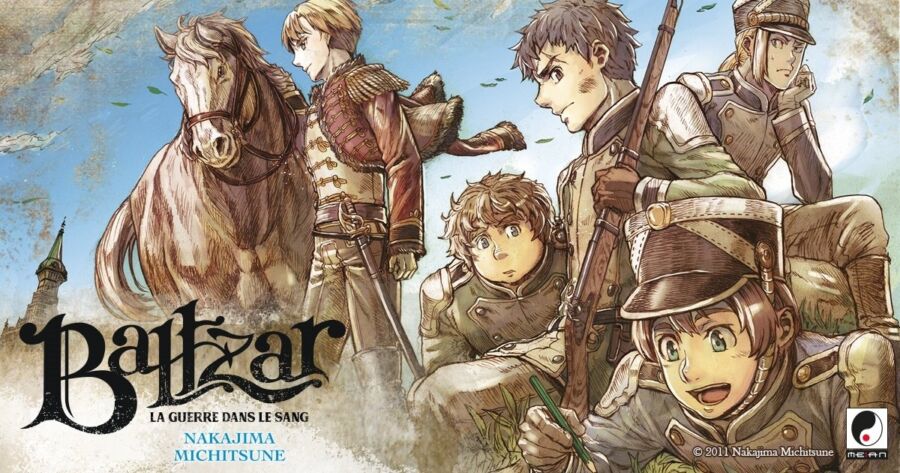 Published: January 2011 – Present
Theme(s): Historical, Military
Written and illustrated by Michitsune Nakajima, Gunka no Baltzar is an alternative universe seinen manga. The military-themed narrative draws inspiration from the geopolitical wrangling of nineteenth-century Europe. Shinchosha's Monthly Comic @ Bunch continues to publish the manga.
A fierce warrior and rising star, Major Bernd Baltzar of Weissen finds himself transferred to the newly-allied state of Baselland. The Major must train the ally's military, which he personally views as a demotion. Baselland's conservative nature, poorly equipped military, and political strife call into question the country's ability to complement Weissen's aspirations. In the face of mounting concerns, Major Baltzar must walk a tightrope to win over the Baselland's people.
Although a fictional world, Gunka no Baltzar has a historical footing in the military and political intrigue of Europe during the Napoleonic War period. Military alliances between nations with their own motives were a necessary evil for strong nations to build their empires. Highly rated among its readers, Michitsune Nakajima's manga lends itself to being a successful anime series.
---
5. Me and the Devil Blues: The Unreal Life of Robert Johnson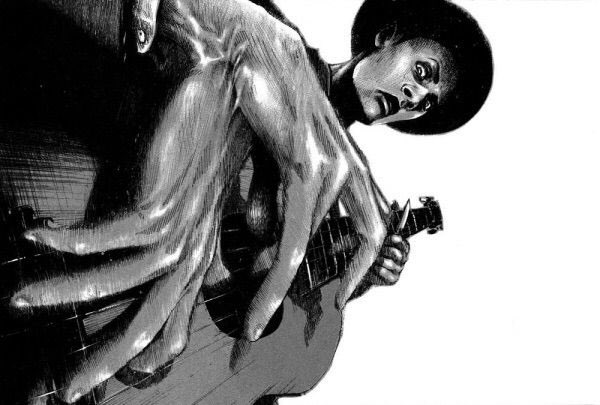 Published: January 2005 – Present
Theme(s): Historical, Psychological
Ore to Akuma no Burūzu or Me and the Devil Blues is a manga series written and illustrated by Akira Hiramoto. A talented blues musician, the psychological horror tale recounts the folklore surrounding Robert Johnson's deal with the devil. The story would appear in Kodanasha Monthly Afternoon before transferring to Young Magazine the 3rd.
An American Blues artist, Robert Leroy Johnson grew up in segregated Mississippi during America's Progressive Era. At a crossroads in Clarkdale, the failing musician propositions the devil to teach him the blues in exchange for Robert's soul. With the deal secured, Robert's talents begin to mirror his passion for music but the pact comes with a hefty price tag. Hardship follows the blues artist where ever he goes. Akira Hiramoto uses the tale to explore racial division and violence.
Ore to Akuma no Burūzu is not without criticism. There are issues with the tale's slow pacing, nonsensical plot devices, and unintended bigotry. In spite of some problematic elements, the series received the Best Reprint Publication at the 2009 Glyph Comics Awards. Produced by the right studio, Me and the Devil Blues could become the best historical anime adaptation in recent years.
---
4.  A Bride's Story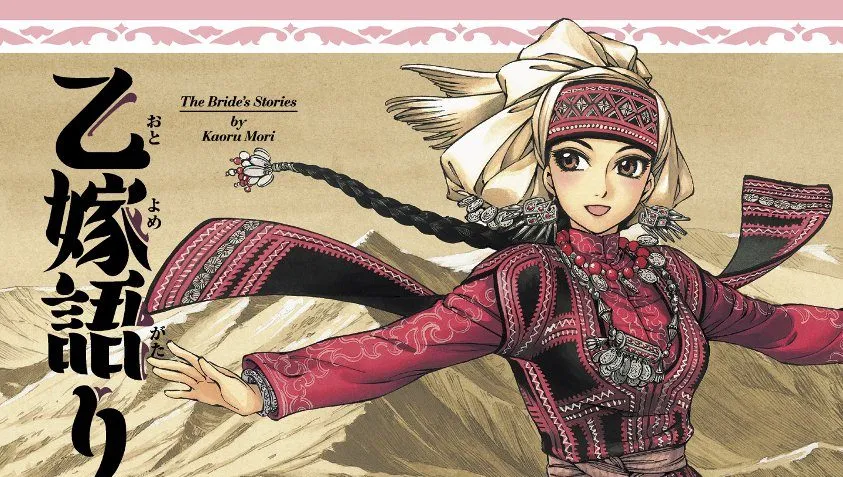 Published: October 2008 – Present
Theme(s): Historical
Winner of the Manga Taishō Award, Otoyomegatari or A Bride's Story is a historical romance manga series published by Enterbrain and Kadokawa. Kaoru Mori is the series's writer and illustrator. Her illustrations are renowned for character design, historical settings, and enriched backgrounds.
Otoyomegatari follows Amir Halgal, a kindhearted young woman from a Caspian Sea area tribal village. Athletic, she is a capable archer, hunter, and horseback rider. Amir leaves her village for an arranged marriage to a 12-year-old boy, Karluk Eihon. A Bride's Story shares with the reader the couple's blossoming relationship, as Amir and Karluk face life's uncertainties.
Kaoru Mori demonstrates an appreciation of the role of women in shaping culture and traditions, whether it is 19th century England or the Silk Road. This period of romance would earn Mori national and international acclaim, including the intergénérations prize at the Angoulême International Comics Festival. Combining a historical setting with a romance narrative, A Bride's Story is an excellent candidate for an anime version.
---
3. The Apothecary Diaries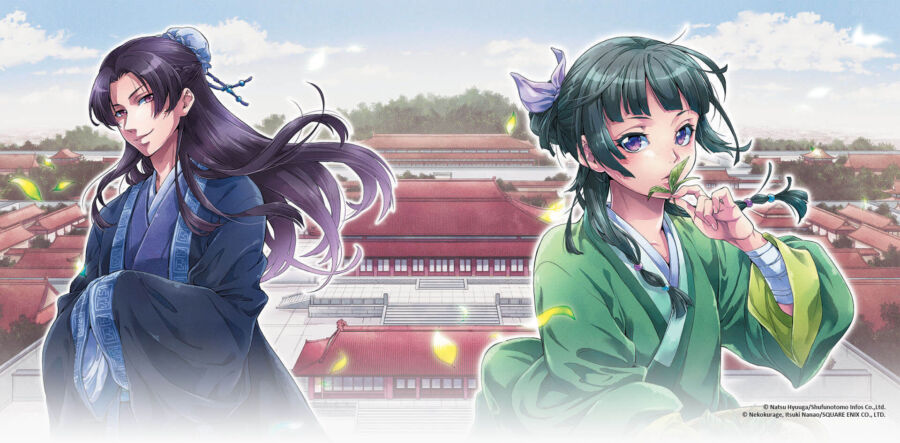 Published: May 2017 – Present
Theme(s): Historical, Medical
A Japanese light novel series, Kusuriya no Hitorigoto is a story written by Natsu Hyūga and illustrated by Touko Shino. The creators published their story on the online, novel publishing site Shōsetsuka ni Narō beginning in 2011. Square Enix's Monthly Big Gangan and Shogakukan's Monthly Sunday Gene-X would later publish a manga adaptation.
The Apothecary Diaries' backdrop is the inner Palace of Rii in ancient China. Held in captivity, Moamao is a low-level servant of the court who secretly studies the effects of medicinal herbs and poisons. An apothecary in the red-light district, she draws upon her experiences to secretly treat the emperor's two gravely ill infants. Her deeds and plant knowledge do not go unnoticed, resulting in the imperial court elevating Maomao's status. She uses her skills to heal others and solve medical mysteries.
Similar to Arte and Seijo no Maryoku wa Bannou Desu, Kusuriya no Hitorigoto deviates from the typical female anime troupes to give Moamao character depth. Along with the character development, Hyūga and Shino paint a rich narrative that invests the reader's interest. This is just one of many reasons why The Apothecary Diaries consistently land on lists of historical manga deserving an anime adaptation.  
A little update on The Apothecary Diaries: a fresh anime TV series, crafted by Toho Animation Studio and OLM, is scheduled to debut in October 2023.
---
2. Lone Wolf & Cub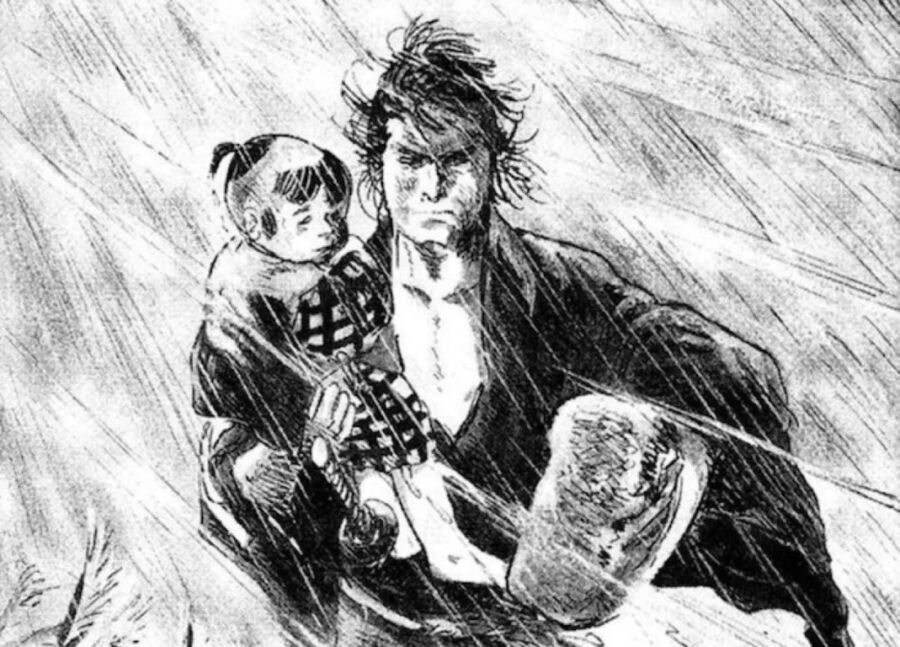 Published: September 1970 – April 1976
Theme(s): Historical, Samurai
Serialized in Weekly Manga Action, Kozure Ōkami or Lone Wolf and Cub is a historical epic set within the Tokugawa era. Kazuo Koike wrote the story, with Goseki Kojima providing its artwork. The series spanned 28 volumes, selling 8.3 million copies in Japan and 11.8 million worldwide (1980).
A master swordsman and executioner, Ogami Ittō embraces the ideals of a noble Japanese warrior. Yagyū Retsudō, leader of the Ura-Yagyū clan, will set in motion events leading to branding Ogami a criminal. With his wife murdered and fleeing a death sentence, Ogami and his young child wander the countryside seeking retribution. Within the manga, Ogami's final encounter with Yagyū Retsudō is one of the medium's longest fights.
Kozure Ōkami is a successful manga series, prompting several live-action television series and referenced in Bob's Burgers. A violent series, its prospects of receiving an anime series in the 1970s were doubtful. But in light of similarly violent franchises like Berserk and Golden Kumay, this is a perfect time for an anime release of Lone Wolf & Cub.
---
1. Vagabond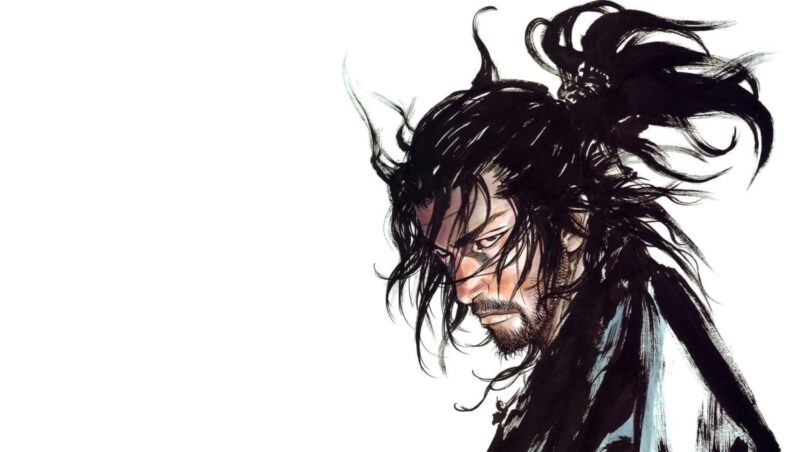 Published: September 1998 – May 2015
Theme(s): Historical, Samurai
Written and illustrated by Takehiko Inoue, Bagabondo or Vagabond is a retelling of the renowned 16-century Japanese 'Sword Saint.' The series was a staple of Kodansha's seinen manga magazine Morning, until taking an extended hiatus in 2015. Viz Media distributed the manga's thirty-seven-volume English translation to North American readers.
Set during the late Sengoku period, Shinmen Takezou and his friend desire fame and glory so they are in the Toyotami army. The Tokugawa Clan's decisive victory at the Battle of Sekigahara decimated Toyotami Hideyori's forces and ambitions, and the two friends narrowly escape death. Returning home, Shinmen finds himself accused of his friend's murder. Captured and sentenced to death, a traveling monk frees Shinmen and sets him on the path to becoming an enlightened warrior.
Vagabond is a fictional account of Musashi Miyamoto, Japan's most renowned 'Sword Saint.' This historical manga would receive several awards, leading it to become one of the best-selling series of all time. Takehiko Inoue' Bagabondo is a character-driven, historical masterpiece deserving of an anime adaption.