Shoujo anime is one of the most popular genres—it may not be as well-known as shounen, but it contains numerous masterpieces worth streaming.
What does shoujo exactly mean?
it's a genre of anime/manga aimed at a teenage female target-demographic readership
it can cover many narrative styles, from historical drama to science fiction, often with a focus on romantic relationships and feelings
In order to appeal to a wide audience, the following shoujo anime includes elements from a variety of genres, including mystery, fantasy, romance, action, and history.
I decided to create a comprehensive list based on actual user ratings, so I took MAL's top 10 best-rated and top 10 most popular anime to compile a list of the 20 best shoujo anime of all time.
*The featured picture image is by sp lesstw.
Last Update: 26/01/2023. Each year, there is more quality shoujo anime airing. As a result, I decided to add more shoujo titles to make this article as helpful and comprehensive as it can be, considering new shoujo anime as well.
---
Most Popular Shoujo Anime
10. Vampire Knight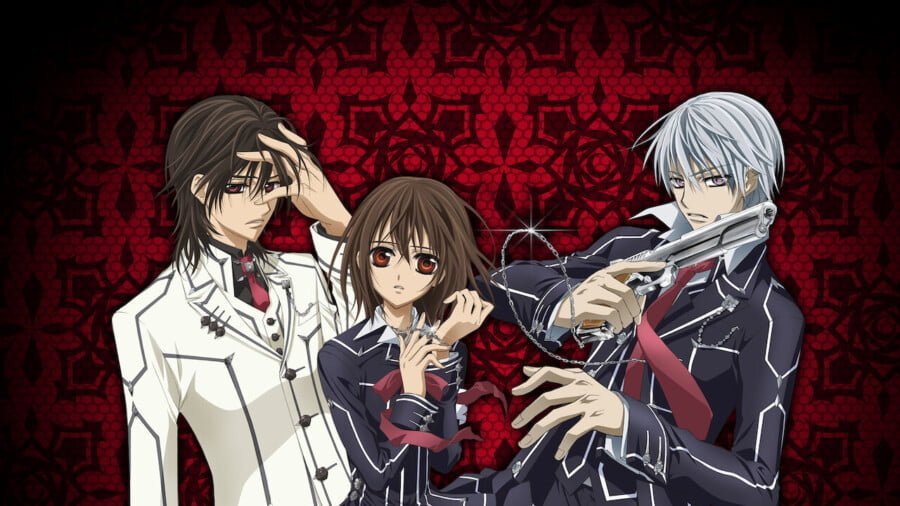 Genres: Drama, Mystery, Romance, School, Shoujo
Episodes: 13
MAL rating: 6.89
In the Vampire Knight's world, vampires and humans coexist unknowingly with most humans. The story follows high school student Yuuki Cross, who attends a school that separates vampires and humans through a "Day Class and Night Class" system. She and her stepbrother Zero Kiryuu are prefects for the Day Class, working to keep the Night Class students' identities hidden. Yuuki sees this as an opportunity to meet her crush, Kaname Kuran, while Zero finds it a nuisance.
The anime explores the question of whether humans and vampires can truly coexist peacefully.
Vampire Knight is one of the few anime series that includes both vampires and romance in its plot. Vampires come in a wide range of personalities; some are as thirsty as animals, while others have far greater control over their desires.
The show is noted for its compelling plot despite being a soft reverse harem. The animation, in my opinion, is also very impressive, especially given that it was made in 2008. The characters are intriguing and well-developed, with a mysterious backstory; the anime does a fantastic job of revealing Yuuki's past.
---
9. Say "I Love You."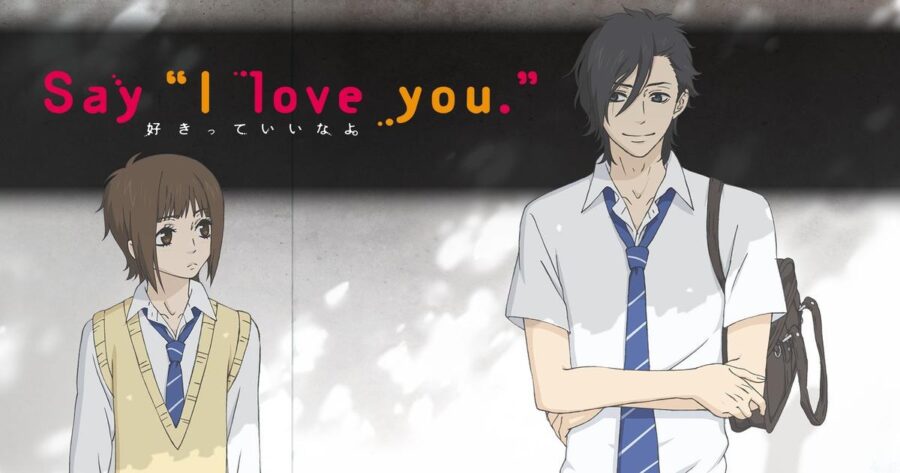 Genres: Drama, Romance, School Shoujo
Episodes: 13
MAL rating: 7.42
Say "I Love You." is a beautiful shoujo anime with relatable characters and a realistic portrayal of the ups and downs of teenage romance.
Mei Tachibana has always been a lone wolf, never making any friends or having a boyfriend due to some painful past experiences. But when the popular student Yamato Kurosawa shows interest in her, she starts to open up and their relationship grows stronger as they get to know each other better.
---
8. Snow White with the Red Hair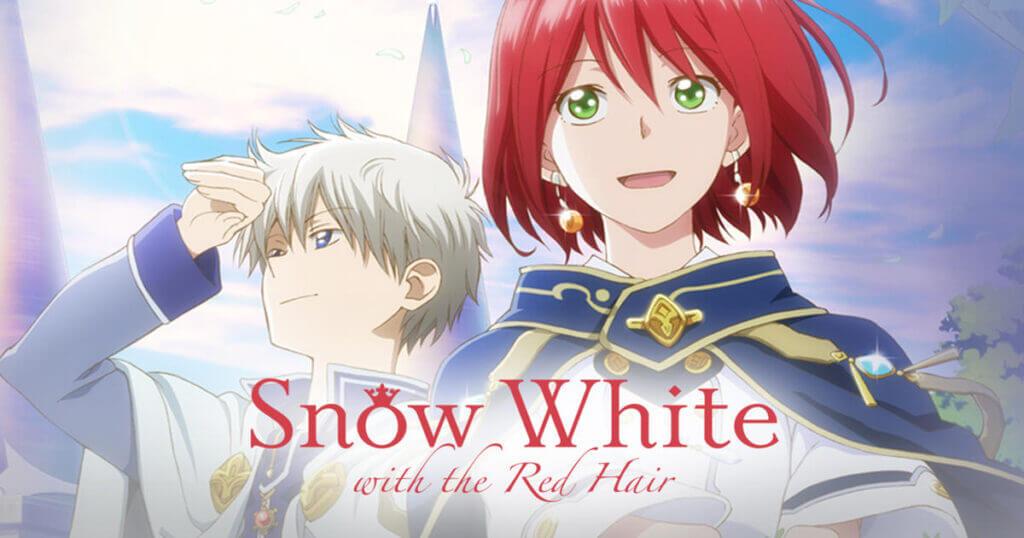 Genres: Drama, Fantasy, Romance, Shoujo
Episodes: 12
MAL rating: 7.97
Shirayuki is a herbalist with bright red hair, who is sought after by the prince of her country. She decides to leave her home to avoid being forced to marry him and meets Zen Wistalia, the prince of a neighboring country.
As she becomes a court herbalist and starts to have feelings for Zen, Shirayuki must navigate through many challenges that involve her and her loved ones.
You gotta love a strong-willed and independent heroine, and Shirayuki is exactly that. Moreover, the series has beautiful animation and a well-developed romance that everyone can enjoy.
---
7. My Love Story!!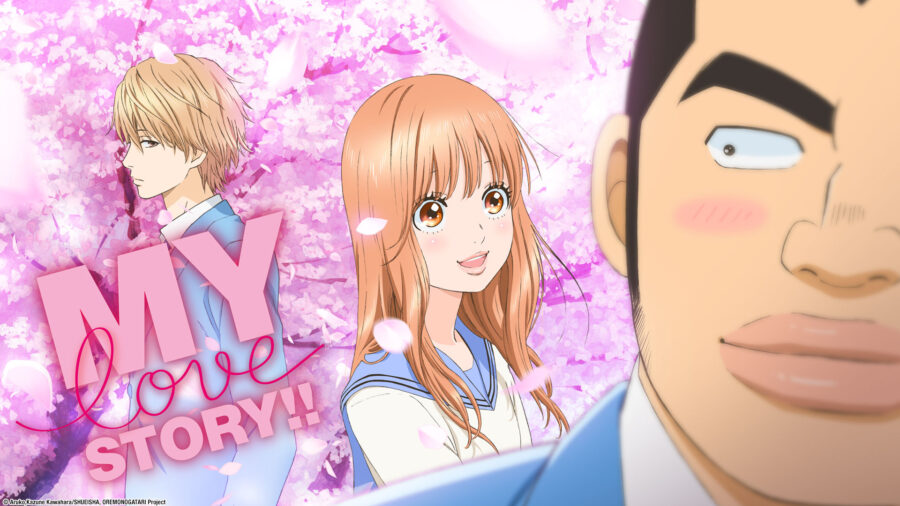 Genres: Comedy, Romance, Shoujo
Episodes: 24
MAL rating: 7.91
Takeo Gouda is a large and intimidating high school student who is often mistaken for a delinquent. To make matters worse, every girl he has ever liked fell for his attractive best friend, Makoto Sunakawa.
One day, he saves a cute girl named Rinko Yamato from a groper on the train, and she falls in love with him, starting a unique and unexpected love story.
This anime series is a romantic comedy that's known for its relatable and likable characters and the heartwarming love story of Takeo and Rinko.
My Love Story!! deals with themes of self-acceptance, self-worth, and true love. It also offers positive and uplifting messages, which have made it popular among a wide range of audiences.
---
6. Orange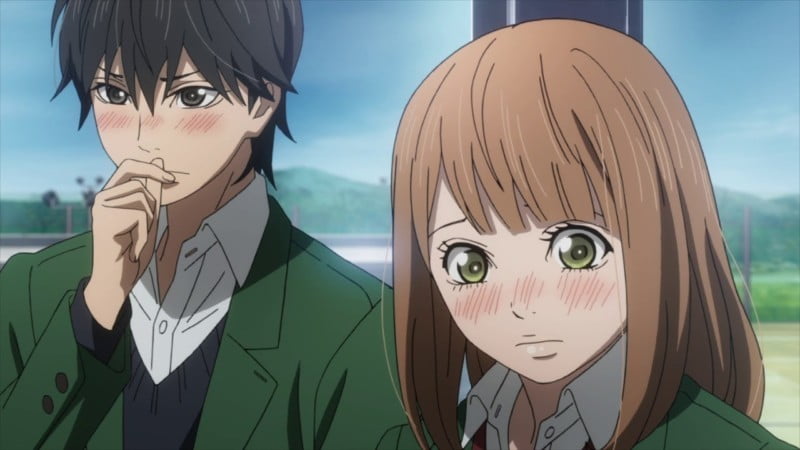 Genres: Drama, Romance, Sci-Fi, School, Shoujo
Episodes: 13
MAL rating: 7.62
Naho Takamiya is a high school student who begins receiving letters from her future self, containing instructions on how to prevent a tragedy that will occur in the future. Naho and her friends must navigate the complex issues of life and love as they try to change the course of their future.
Orange delivers a touching storyline, relatable characters, and exploration of the theme of fate and second chances.
---
5. Yona of the Dawn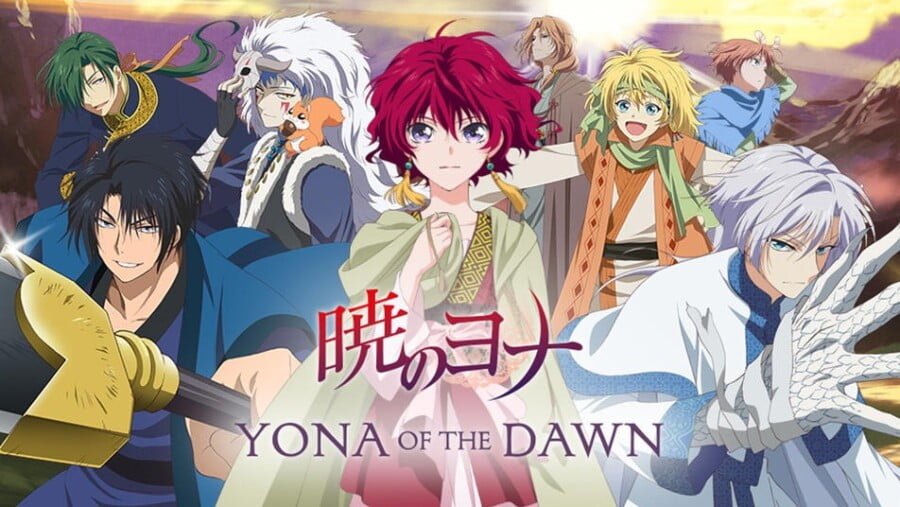 Genres: Action, Adventure, Fantasy, Romance, Shoujo
Episodes: 24
MAL rating: 8.03
Many adore Princess Yona of the Kingdom of Kouka for her childlike innocence. She spent her life protected within the royal palace, unaware of the dangers outside. However, her idyllic world is shattered when a betrayal threatens to destroy everything she holds dear, including her rightful claim to the throne. With only her childhood friend and bodyguard, Son Hak, to rely on, Yona is forced to flee the palace and confront the harsh realities of surviving in the wild while being hunted.
As she fights to reclaim her kingdom from those who have betrayed her, Yona discovers that her country is not the safe haven she once believed it to be. Determined to become strong enough to defeat her enemies, Yona and Hak set out to uncover the ancient myths that may hold the key to reclaiming her throne.
The protagonist of the story, Yona, is not your usual crybaby female protagonist. True, she is a very frail and privileged girl at the beginning of the anime and her princess mannerism is pure cliché. But when her father passes away, she is forced to leave her cherished palace. Moreover, she loses her status as a princess, which causes everything to shift. Despite the tragedy of her life, she develops into a stronger lady with new aspirations and objectives.
In conclusion, Yona of the Dawn is a beloved shoujo anime because of its interesting and well-written plot, beautiful art and animation, and well-rounded characters.
---
4. Kimi ni Todoke: From Me to You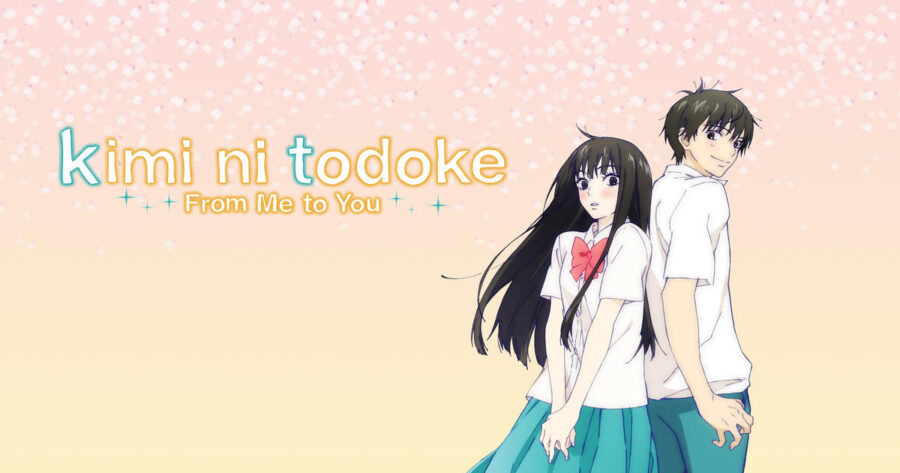 Genres: Slice of Life, Drama, Romance, School, Shoujo
Episodes: 25
MAL rating: 8.00
Kuronuma Sawako, who is known as "Sadako" by her classmates due to her resemblance to the ghost from "The Ring," is simply seeking friends and a typical high school experience. However, her peers find her frightening and misinterpret her shy and sweet demeanor as sinister. Sawako is drawn to Kazehaya, the most popular boy in class, because of his kind nature. When he approaches her, she is filled with hope for the friendship she has long desired, and possibly something more.
Regardless of how corny the story may appear, the execution was flawless. Others fear Sawako because they can't see her for the lovely and sweet person she is on the inside. Kazehaya is the only one who can see it, which leads to a friendship and, eventually, a romance. The anime avoids unneeded drama and sad occurrences in favor of telling a genuine romantic story with memorable supporting characters.
There is no harem or reverse harem here. The male protagonist is also not a conventional bishounen surrounded by 1000 females, and the female protagonist does not go for the "bad guy," but rather for a nice guy who is popular with both girls and boys.
---
3. Blue Spring Ride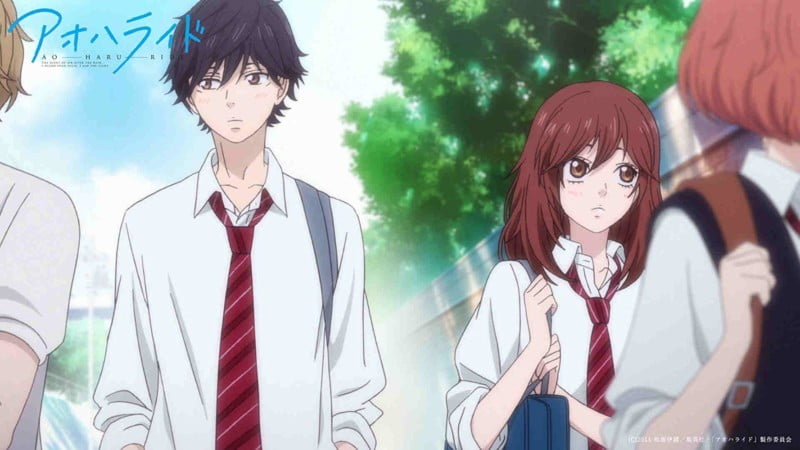 Genres: Comedy, Drama, Romance, School, Shoujo, Slice of Life
Episodes: 12
MAL rating: 7.64
Futaba Yoshioka is starting high school with a fresh start in mind. She wants to break away from her old self and change her image. But when she runs into the only boy she's ever liked, Kou Mabuchi, things get complicated. It turns out, he had similar feelings for her in the past, but now he says that's all in the past.
Futaba is now faced with a dilemma: she must figure out if there's any chance of rekindling the love they never even got to start.
The anime shines in terms of well-developed and realistic characters, excellent art and animation, and romantic situations that will have you cheering, sad, pleased, excited, and any other emotion you can think of. However, the plot isn't particularly insightful or creative.
The characters in Blue Spring Ride have personalities that reflect the perspectives of most high school students, making the anime one of the best rom-com shoujo out there despite having a simple plot and straightforward narrative.
---
2. My Little Monster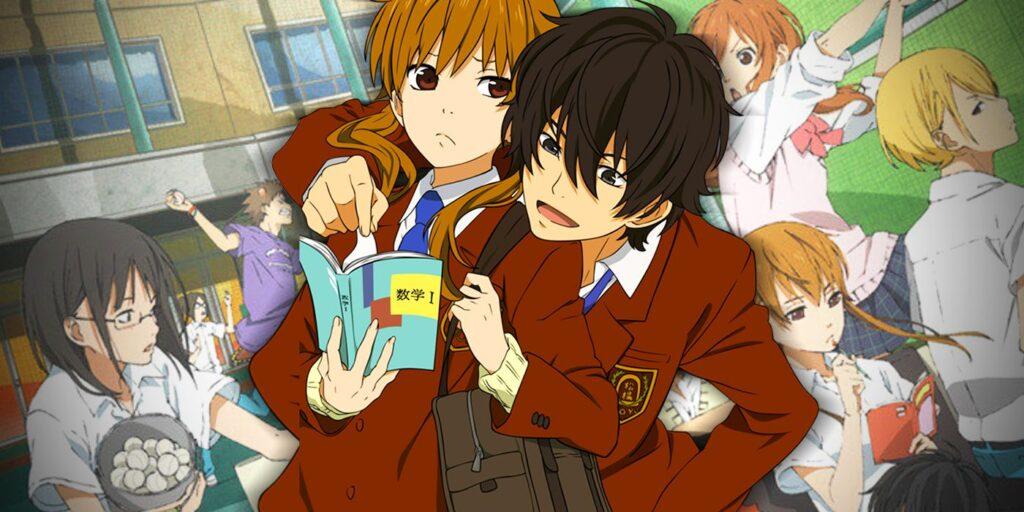 Genres: Comedy, Romance, School, Shoujo
Episodes: 13
MAL rating: 7.48
Everyone knows or remembers that one high school classmate who only cares about their studies. In this anime, it's Haru Yoshida, a studious and extremely reserved high school girl.
On the other hand, Haru Yoshida is a violent and unpredictable boy and his classmates think that he is a delinquent.
After a fateful encounter, their relationship develops as they spend more time together and they learn to understand and accept each other's quirks.
This tale of unlikely romance will make you feel like a high schooler again.
---
1. Kaichou wa Maid-sama!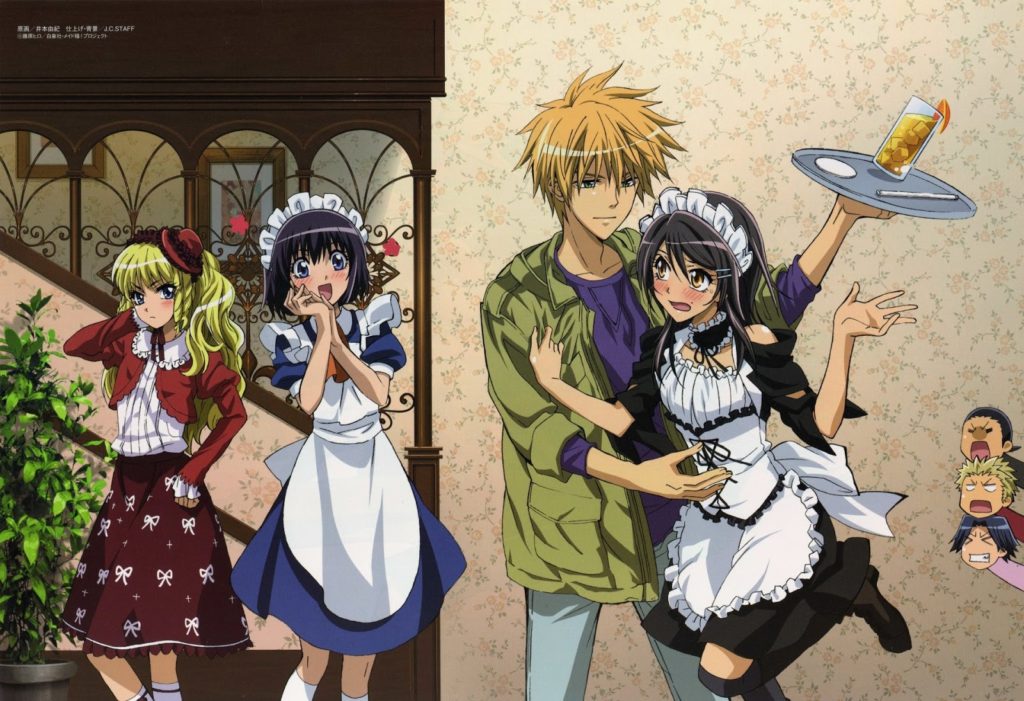 Genres: Comedy, Romance, School, Shoujo
Episodes: 26
MAL rating: 8.01
The most popular shoujo anime on MAL is Kaichou wa Maid-sama! with more than 1,175,848 members.
Misaki Ayuzawa is the first female student council president at her school, which recently transitioned from an all-boys to a co-ed school. She presents herself as ambitious and well-disciplined at school, but in secret, she also works at a maid café.
She keeps her double life hidden until some of her classmates discover her secret job.
This series proves that even an unoriginal and cliché premise can be successful if executed well.
There's something about Maid-sama that allures you to watch the next episode right after you finish the previous one. I'm not sure what it is; perhaps it's the development of Misaki and Usui's relationship, maybe it's the overall motivation you feel as a result of Misaki's determination, or it may be the uplifting and wholesome vibe it gives off. Whichever it is, I watch this series at least once a year because I can't help but love it.
---
Highest-rated Shoujo anime
10. Ouran Koukou Host Club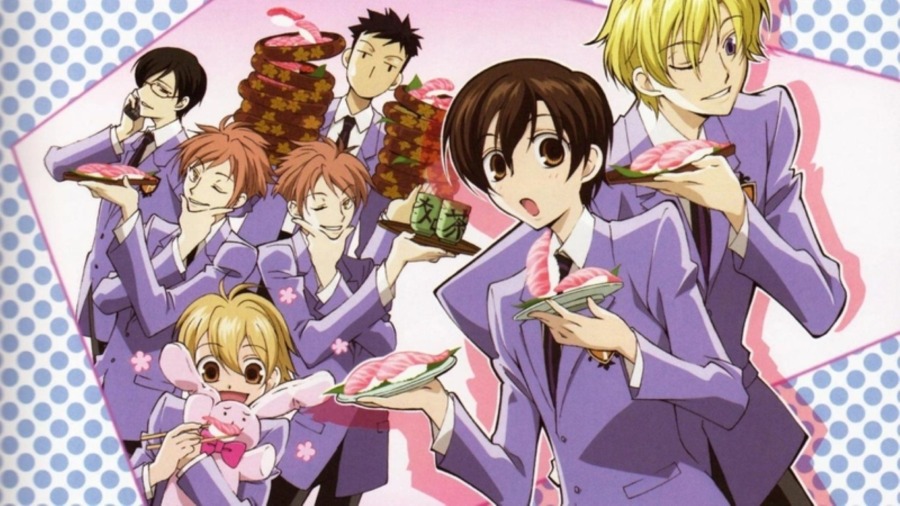 Genres: Comedy, Romance, School, Reverse Harem, Shoujo
Episodes: 26
MAL rating: 8.16
Haruhi Fujioka is a scholarship student at the exclusive Ouran Academy, who accidentally breaks a valuable vase belonging to the school's Host Club—a group of attractive boys who entertain female students.
To pay off her debt, Haruhi joins the club and poses as a male host.
Ouran High School Host Club is a comedy with a dash of romance. It has unique characters, clever humor, and witty commentary on gender roles. Its clever satire and dynamic and relatable characters earned it 10th place with a rating of 8.16 on MAL.
---
9. Cardcaptor Sakura (1998)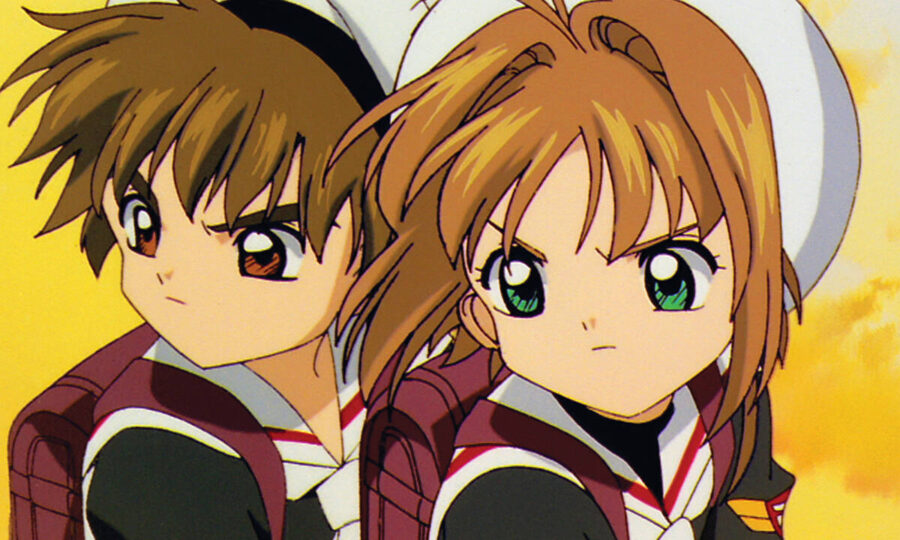 Genres: Adventure, Comedy, Romance, Fantasy, School, Shoujo
Episodes: 70
MAL rating: 8.16
Cardcaptor Sakura is popular thanks to its charming characters, heartwarming story, and beautiful animation.
The series follows Sakura Kinomoto, a young girl who discovers that she has the power to capture magical cards called Clow Cards. With the help of her friend Tomoyo and a guardian named Keroberos, Sakura must capture all of the Clow Cards before they cause any harm.
---
8. Whisper of the Heart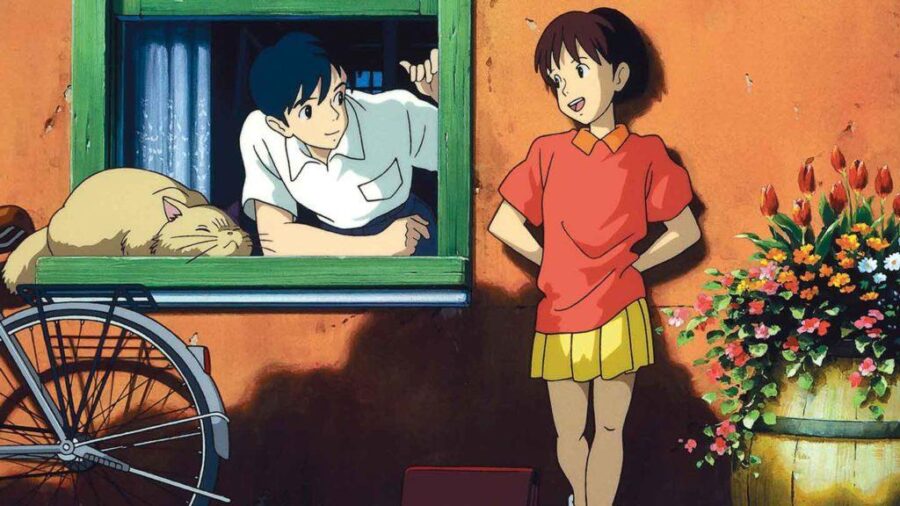 Genres: Drama, Romance, Shoujo
Episodes: 1 (Movie)
MAL rating: 8.22
Whisper of the Heart is a popular anime film directed by Yoshifumi Kondō, and written by Hayao Miyazaki. It was animated by Studio Ghibli for Tokuma Shoten, Nippon Television Network, and Hakuhodo.
The movie is popular among fans because of its relatable, heartwarming, and coming-of-age story, which is a realistic portrayal of teenage life.
Shizuku Tsukishima is a 14-year-old girl who loves to read and is interested in writing her own stories.
After she meets a boy named Seiji Amasawa, Shizuku learns about the importance of pursuing one's dreams and the power of self-expression.
---
7. Hotarubi no Mori e (The Light of a Firefly Forest)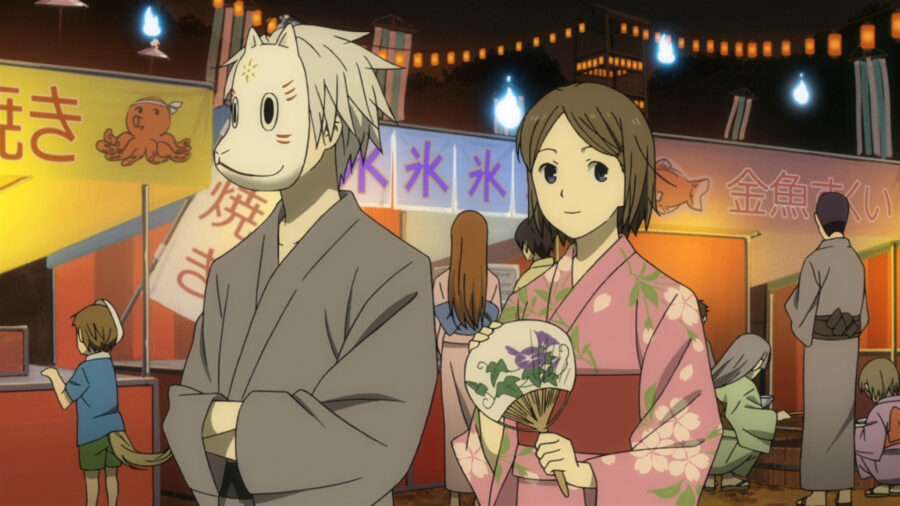 Genres: Drama, Romance, Shoujo, Supernatural
Episodes: 1 (Movie)
MAL rating: 8.29
Intrigued by the tale of a mountain god, six-year-old Hotaru Takegawa loses her way in the ancient forest while visiting her uncle. Exhausted and desperate for help, Hotaru is thrilled to find a masked forest spirit named Gin. She learns the hard way that she should not touch the boy, or he would disappear. Despite this, Gin leads Hotaru out of the forest and warns her never to return when she promises to come again with a gift.
Paying no heed to his cautionary words, and despite being separated by both distance and planes of existence, Hotaru and Gin become close friends as she visits him every summer. However, their relationship and resolve are put to the test, when romantic feelings conflict with the one and only rule.
Many fans of this anime will tell you that Hotarubi no Mori e can break your heart (in such a short time, yes). The story is touching and it explores much more than conventional romance can—what if you could not hold what you find dear? What if you love someone who can't be touched? What if you both want to hold hands, kiss, hug… and you simply can't?
They are together, but they are not. The philosophical concept of this anime is truly amazing—and the ending will surely make you cry.
The anime teaches us how precious love is and how little it takes to lose something we hold dear.
---
6. The Rose of Versailles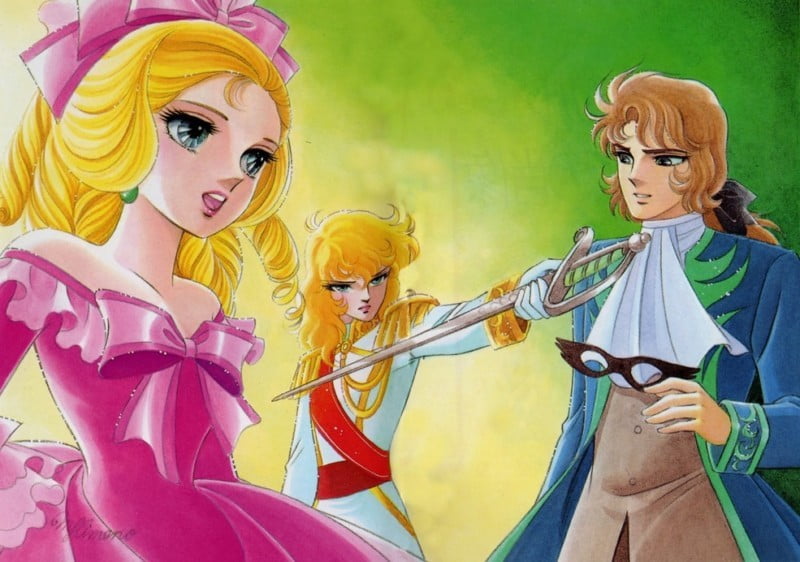 Genres: Military, Historical, Drama, Romance, Shoujo
Episodes: 40
MAL rating: 8.33
Marie Antoinette, born in Austria in 1755, is raised in luxury but is sent to marry the crown prince of France at the age of 15.
Oscar, on the other hand, is a girl born in France in a family of Royal Guard commanders. Due to her father's disappointment in not having a son, she is raised as a man. Oscar is trained to lead the Royal Guards but must come to understand the difference between the queen's will and the people's well-being.
The anime is portraying a realistic, romantic, tragic, and compelling historical story about the events leading up to the French revolution in the 1700s.
Even if you are not typically interested in history, it becomes fascinating thanks to this anime. If you enjoyed Marie Antoinette (the actual movie), you'll probably enjoy this one too.
Fans regularly praise a fantastic array of characters with distinct personalities, a strong female lead, and great character design despite the fact that it is so old (1979).
---
5. Kamisama Kiss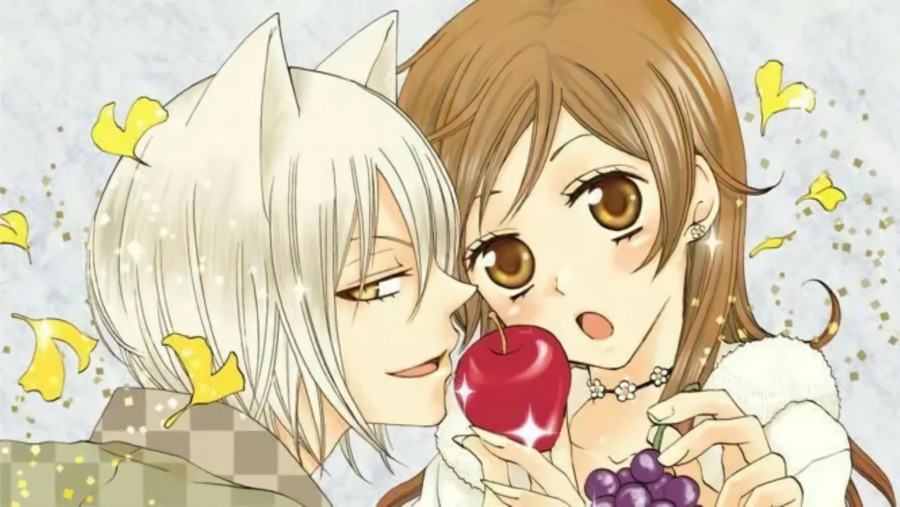 Genres: Comedy, Demons, Supernatural, Romance, Fantasy, Shoujo
Episodes: 13
MAL rating: 8.39 (Kamisama Kiss: Kako-hen OVA)
After saving a stranger, Nanami is kissed on the forehead and becomes a land god. Because of her father's debts, she was left homeless and reluctantly accepted the stranger's offer to live in his home as a gesture of gratitude. When she arrives at the address, she finds out that the supposed house is actually a shrine, inhabited by shrine spirits and a familiar named Tomoe.
You've probably heard of the popular shoujo anime Kamisama Kiss by now. The character design and animation are excellent, the plot is intriguing and original, and you are surrounded by youkai, deities, and shrines despite the fact that it is situated in the real world and features everyday activities like going to school.
Because love development isn't hurried, you can't predict what will happen next, so you just keep binge-watching. This anime is the perfect example of what a superb rom-com should be.
I can't forget to mention that Tomoe, the most alluring fox youkai in Kamisama Kiss, would make the ideal boyfriend.
---
4. Banana Fish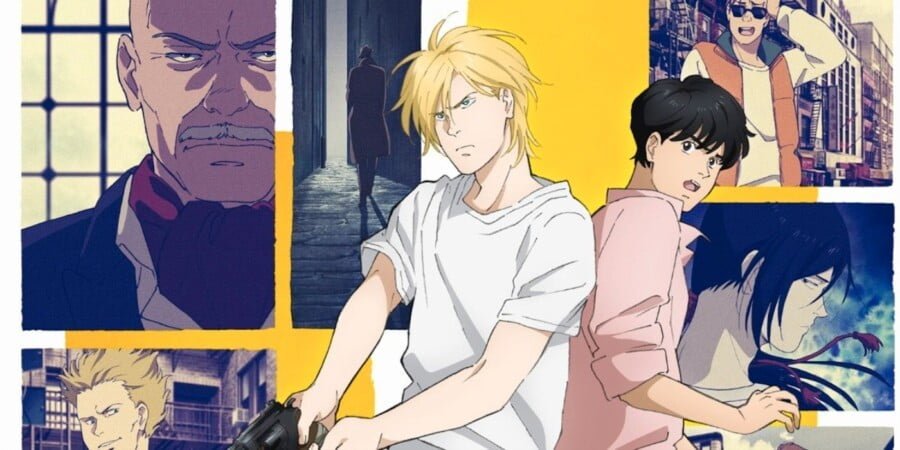 Genres: Action, Adventure, Drama, Suspense, Shoujo
Episodes: 24
MAL rating: 8.49
Banana Fish is a popular anime and manga series due to its complex and mature storytelling, well-developed characters, and intense action sequences.
The story follows Ash Lynx, a teenage gang leader in New York City who becomes embroiled in a conflict involving a mysterious and dangerous drug called "Banana Fish."
As Ash delves deeper into the criminal underworld to uncover the truth behind the drug, he forms unlikely alliances and confronts difficult moral dilemmas.
The series deals with themes such as violence, corruption, and the search for identity, and has been praised for its realistic and nuanced portrayal of these issues.
---
3. Nana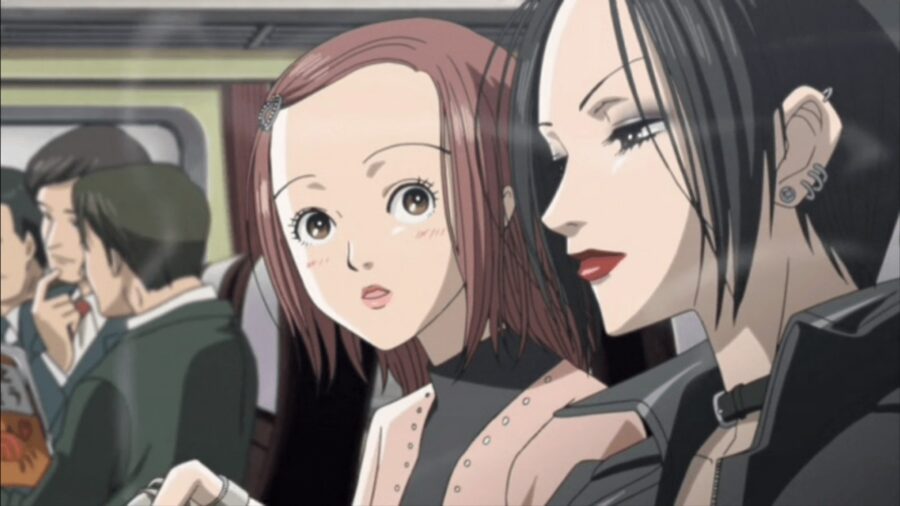 Genres: Music, Slice of Life, Comedy, Drama, Romance, Shoujo
Episodes: 47
MAL rating: 8.53
20-year-old Nana Komatsu is a vulnerable, naive girl who is prone to falling in love and becoming dependent on those close to her. Even while she harbors lofty aspirations of leaving her rural upbringing and discovering her true destiny, she ultimately decides to visit Tokyo for the modest purpose of pursuing her present boyfriend, Shouji Endo.
Alternatively, Nana Osaki, a proud and enigmatic punk rock vocalist from a comparable rural upbringing, nurtures the ambition to become a professional singer. She takes the same train to Tokyo as Nana Komatsu, leaving her career in a pretty well-known band (and her intense affair with one of its former members) in the past.
The young women with the same first name are drawn together through a chance encounter on their way to the city, setting off a series of events that finally lead to them living together in an apartment. As their friendship grows, the two make an effort to support one another through good times and bad. Their lives are intricately connected and are filled with romance, music, difficulties, and heartbreaks that will ultimately put their supposedly unbreakable link to the test.
If you appreciate having an emotional connection with anime, this is the one for you. You'll probably identify yourself in Nana's characters, and the setting is depicted realistically so that you may relate to them based on your own real-life experiences. Additionally, there is a lot of character growth.
Every character in Nana has a compelling backstory, distinguishing traits, and an underlying secret or mystery.
---
2. Natsume's Book of Friends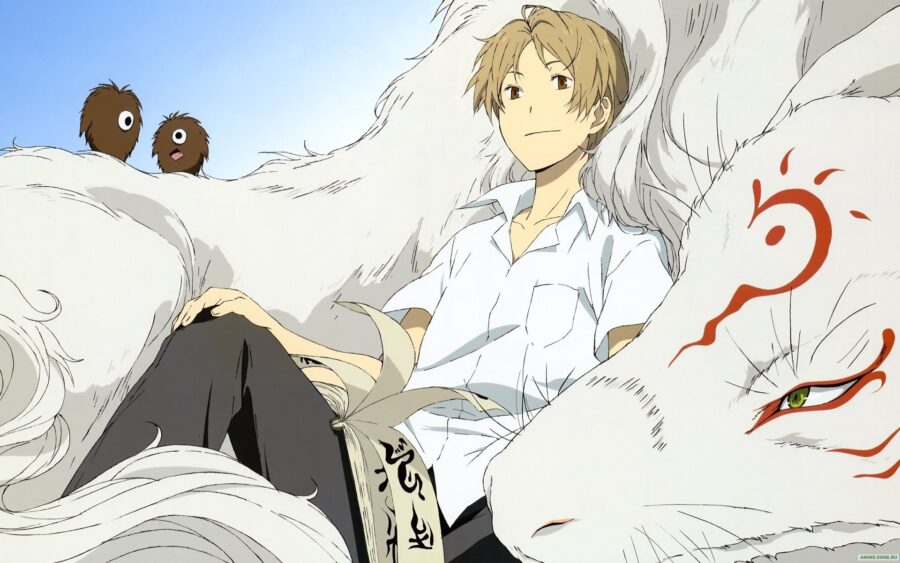 Genres: Slice of Life, Demons, Supernatural, Drama, Shoujo
Episodes: 13
MAL Rating: 8.65 (4th season)
Season 4 of Natsume Yuujinchou is ranked as the second-best shoujo anime of all time by MAL users. The other seasons are also highly rated and considered some of the best shoujo anime out there. Fans love the show for its strong storytelling, lovable characters, and its ability to bring out emotions. Plus, it's got a good balance of heartwarming and lighthearted moments.
The story follows Natsume, a 15-year-old boy who's been chased by youkai his whole life. He discovers that his late grandma left him a "Book of Friends" containing sealed youkai hoping to get their freedom back.
With the help of Madara, a lucky cat, Natsume sets out to free the youkai bound by his grandma's contract.
---
1. Fruits Basket (2019)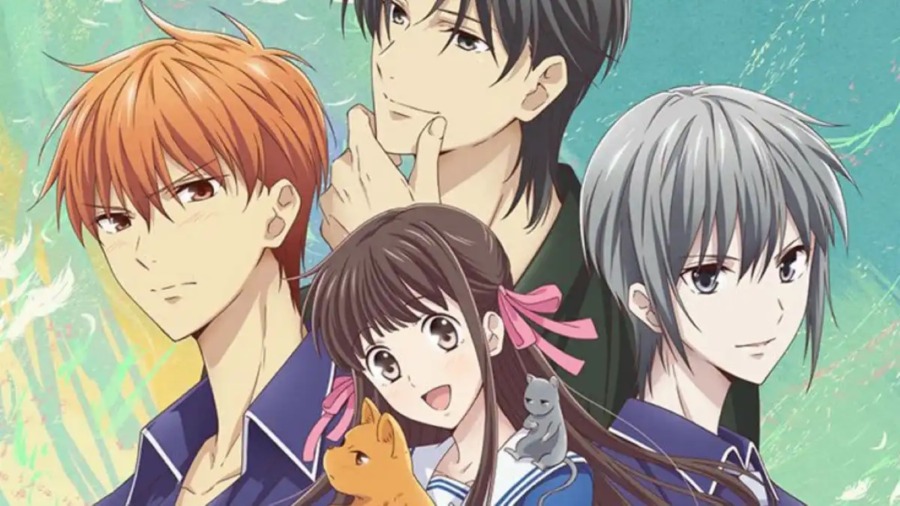 Genres: Romance, Supernatural, Drama, Shoujo
Episodes: 25
MAL Rating: 9.01 (The Final Season)
The queen of shoujo anime is currently Fruits Basket. The final season (3rd season) of the series is rated 9.01, which is incredibly high. This places the series in 12th place among the top anime of all time on MAL.
The show has a diverse cast of relatable and likable characters, each struggling with their own personal issues such as family problems, self-doubt, relationship issues, and acceptance.
Another reason for its popularity is the unique and intriguing concept of the "zodiac curse". This adds a layer of fantasy and mystery to the story.
Fruits Basket focuses on Tohru Honda, a teenage girl who lost her mother and lives in a tent. She meets the Soma family and learns about their curse: whenever they're hugged by someone of the opposite sex who is not a Soma, they turn into an animal from the Chinese zodiac. Tohru decides to live with the Soma family to keep their secret and help break the curse.
Along the way, she discovers the true meaning of family, friendship, love, and understanding. The anime also touches upon deeper themes like mental health, healing, and forgiveness.