Guest post by Christian Flores, founder of The Anime Historian.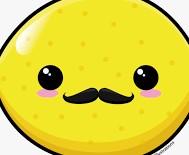 ---
Released in 2020, A Whisker Away is one of the most recent anime films that I've watched as I've recently plunged into the archives of 80's anime and Momotaro. Produced by Studio Colorido, Toho Animation, and Twin Engine. Directed by Junichi Sato and Tomotaka Shibayama, the film was released on June 18, 2020, on Netflix in Japanese.
This movie encapsulates the problems of a lot of our generation these days, maybe it's even the reason why it's become such a hit. The kind of problems and challenges that the children of the 21st century face. Depression, anxiety, the thirst for validation, and good old young romance. It's actually quite the surprise that with all of the overused tropes every single Netflix feature series or film about "teen life", is still able to remain relatable and relevant. It didn't fall into the endless abyss of try-hard corporate attempts to gain relevance in the modern world.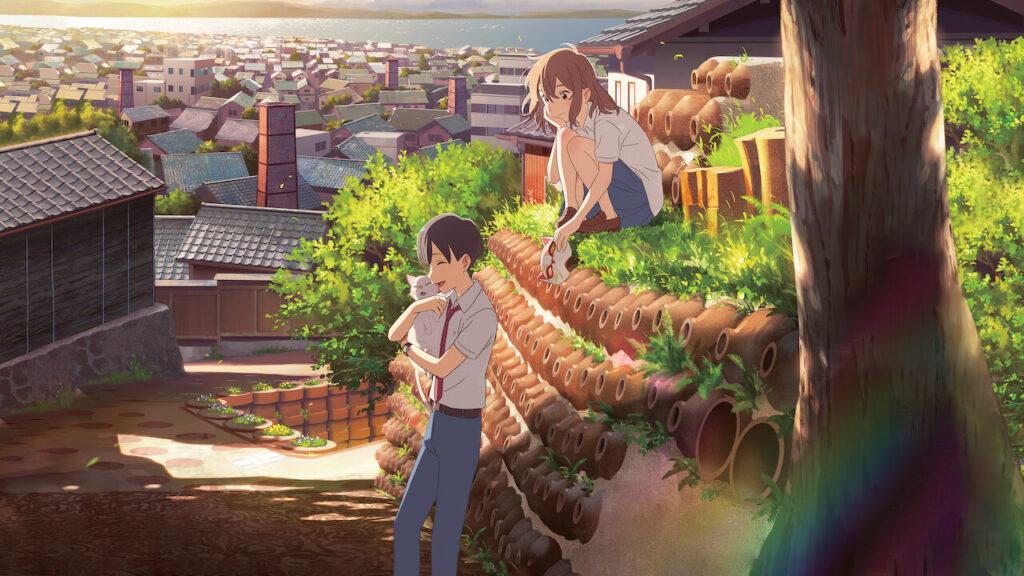 With that being said, the first thing to say about A Whisker Away is how good it is. It manages to bring up common problems that many of our youth go through while still retaining that childish playfulness and fantastical wonders, and naiveté makes this such a fun movie to watch.
An entire flick is a balancing act, it goes onto tragedies and traumas of the modern child all the while not being too serious that it can be labeled as a young adult movie. It has its serious moments and has its fair share of drama too but it also has beautiful sequences that make me realize how beautiful it is to be young and carefree. The playful grace of the movie is a good example of how a good children's movie should be made.
Thankfully the plot isn't about a girl having an existential crisis because she's a high school junior wearing size 13 Nikes. Men's size 13 Nikes. All the while she is 6 feet tall—which is just the average height for Americans.
---
It tells the story of Miyo Sasaki, living in the town of Tokoname, a young girl who accepts a deal from a suspicious cat that offers her a mask that can turn her into a cat whenever she wears it. The catch is that if she doesn't return it, she will be one forever.
She uses this to be with her crush Kento Hinode. Miyo takes on the persona of Taro, and while in this cat form, she manages to spend more time with him which in turn allows her to get to know his struggles, something that she can't do while being her real self.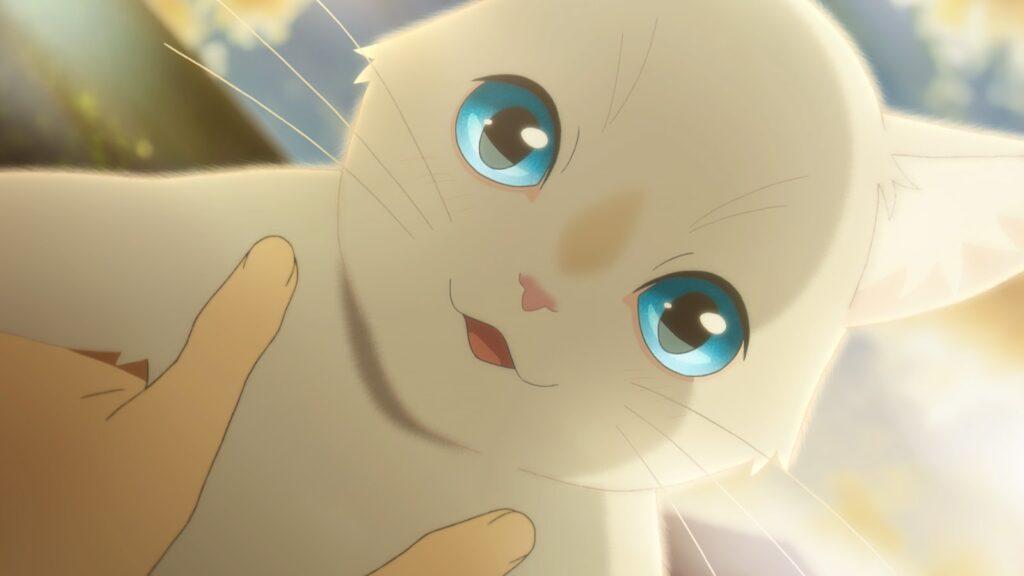 What stands out the most about A Whisker Away is the progression of the story. It has a similar progression to Kiki's Delivery Service where it starts as this picturesque story where coincidences brought by unexpected situations cause a problem that can make the story progress and in the middle where everything suddenly becomes serious and the lack of music gives a looming sense of emotional dread. The consequences of their characters' actions have great value thus creating huge stakes in their choices. Then the ending where everything picks up for a huge climax.
"Will Hinode continue his dreams?"
"Will Miyo stay as a cat at the expense of everything else?"
It's interesting how these questions are introduced as it adds up to the ending, which is one of the most high-octane sequences that I've ever seen in a recent anime movie.
The build-up is amazing, the visuals are breathtaking and the soundtrack sends shivers down my spine.
I have to admit that it was very romantic when Miyo and Hinode are holding each other's hands side by side facing against time and the world. They went through so much pain and suffering and cowardice and fear but now they are ready to face it all head first.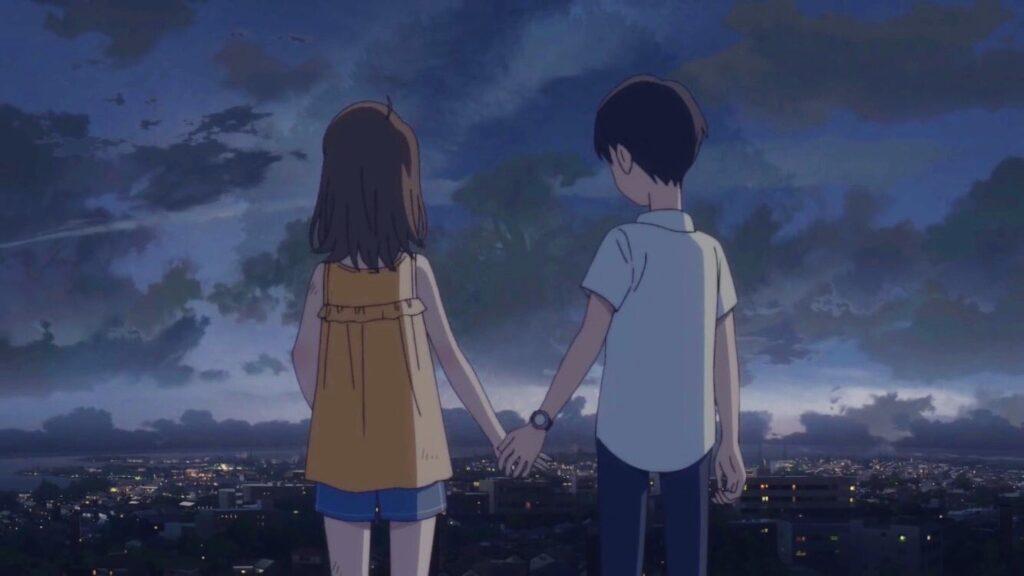 As they stood in front of the big bad cat, my heart was racing and I was on the edge of my seat I couldn't help but cheer up the 2 heroes, but just how are they going to defeat the big bad guy? The question itself is a good reason to be excited.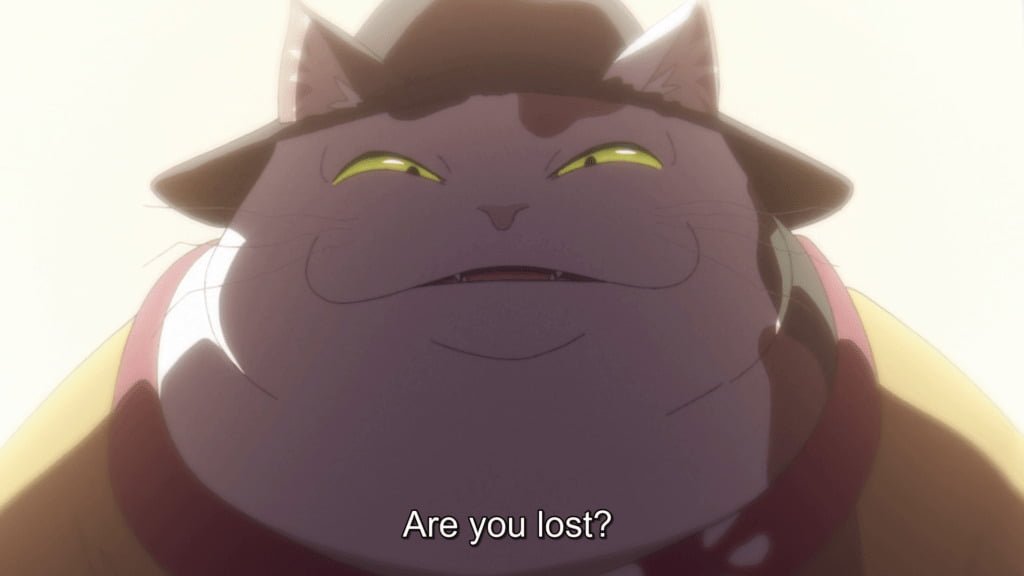 But then cat power rangers showed up.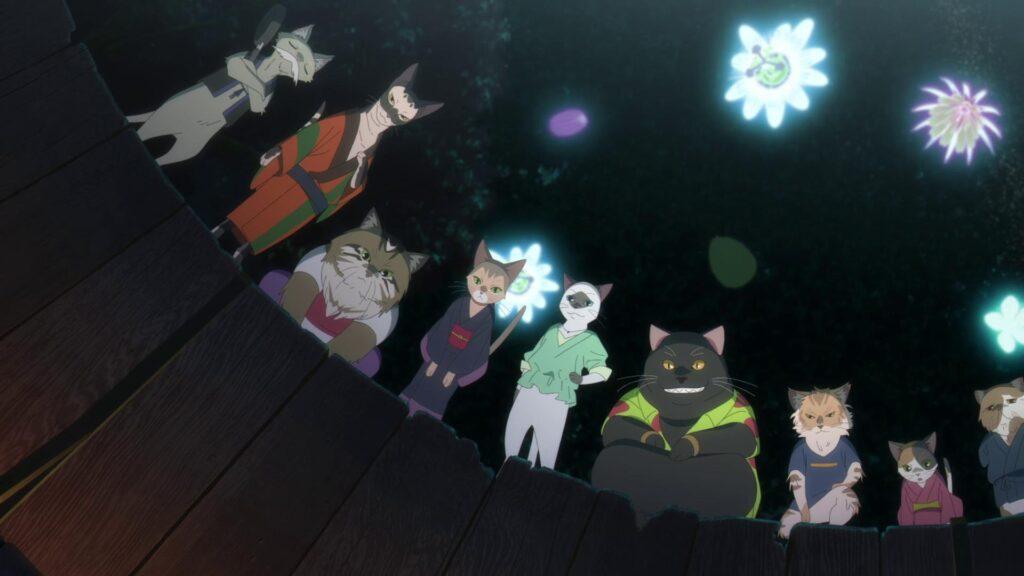 I never thought that this one scene could have such a negative impact on the entire film. It's such a letdown. The reason is that throughout the movie they've been through the struggles themselves and they've stood strong and resilient about it but in the end, they're treated like hopeless Mary Sues by the writers where all the pies just fall in place and everything just works.
This might be due to the limitations on the side of production when it comes to screen time just like what I think caused the downfall of Ocean Waves, in this movie's case I think it's because of the aftermath of the story in the credits which I'm not a big fan of because I think its the result of lazy writing that fails to give an absolute conclusion to the storyline so they have to wrap it up in the credits instead.
---
"An excuse for an incomplete story"
As I would like to call it, this is especially prevalent in recent works like Her Blue Sky, something which gives me the feeling of putting salt and vinegar on a wound every time that I think about all of the time that I wasted trying to watch the movie.
But I guess this movie can have a pass because the aftermath isn't the result of an inconclusive ending but just to give an insight of what happened in the future, kind of like a goof rail, which I have to admit is pretty cute, and the theme song that's playing which is made by Yorushika is very catchy.
As expected from the same group who made me dance to a song about depression and anxiety because it has a very upbeat melody, just like what they did to Say It and Hitchcock.
This storyline isn't as original as it's been due to death over, and over and over again in children's stories and movies. But A Whisker Away brings a fresh perspective to an old children's storyline, by adapting it to modern times. The features of alienation, struggling to fit into the usual norms and facing the status quo of society, struggling to find validation, anxiousness, and facing pressures from family, one can say that A Whisker Away is a modern-day fairy tale, and I can't agree more.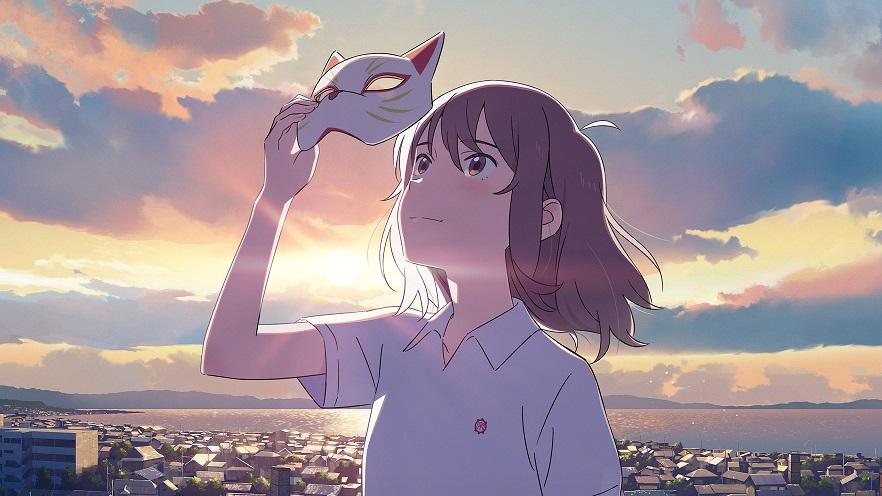 Like all great children's movies, there is always a great deal of fantasy in the form of grandiose visuals and that is especially prevalent in this movie. The moment when taro jumps from roof to roof while basking in the moonlight is ever so satisfying to watch but unlike movies from illumination—the company that produced the minions series of movies, sing, the secret life of pets and other such monstrosities—it doesn't sacrifice grandiose visuals at the cost of the soul of the narrative because unlike most children's movies these days that try to distract its audience from its soulless cash grab tactics made to trick children to watching an endless loop of uninspired, unnerving, endless franchise installments.
Think of it as something kind of like the fast and the furious franchise but for children.
---
A Whisker Away is a testament to how modern children's movies should be made, a movie filled with stunning wonders but still has valuable meaning behind it that will leave a lasting impression on its impressionable audience. A moral story that can shape a person.
Remember, it's rated E for everyone, not E for 7-year-olds.
In the end, A Whisker Away is still a lot of fun to watch. Despite its awful ending battle, the script is filled with character and soul, it's crisp and funny, but is also dramatic and emotional when it needs to be, something which the writer, Mari Okada, could use a raise for. She could also use a little talking-to about that ending battle too.