Greetings! This post continues our series of identifying the best characters in anime based on their birth month. There is also the second part of anime personalities who have a birthday in November (16-30).
Anime is overflowing with a host of iconic protagonists, antagonists, and support characters. The depth of their diversity makes the task of selecting the best a challenging endeavor. Hours of thoughtful introspection and research went into the process of creating a pretty good list of anime personalities. The result of this undertaking is a list that provides an equal representation of anime characters across multiple genres who, according to their creators, have a November birthday.
As you review the post, please feel free to let me know if I overlooked your favorite anime or manga character. Leave a comment below and let me know your picks.
---
10. Chi-Chi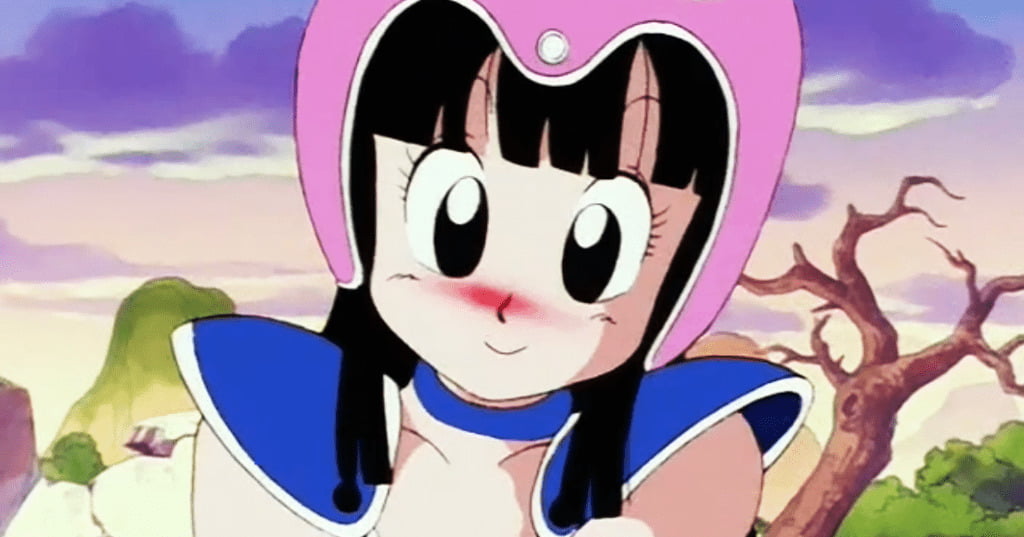 Birthday: November 5
First Anime Appearance: Dragon Ball Ep. 7 "The Ox King on Fire Mountain" (1986)
A Fire Mountain princess, Chi-Chi is an influential character within the Dragon Ball franchise. Her timid childhood introduction would give way to a confident warrior-woman in adulthood.
The daughter of the Ox-King, Chi-Chi's motivations centered on her father's happiness. She would act well-behaved around him and become a warrior. Her mastery of fighting was instrumental in taking down a rampaging dinosaur. The Ox-King would send Goku to deliver Chi-Chi to his mentor. His mission would cement the pair's future, leading to their eventual marriage and family together. She is a loving wife and parent, whose abilities manage to keep her sons and Goku on their toes.
Since her anime introduction, Chi-Chi's life and adventures span nearly forty years. Her longevity reaches near iconic status, equal to the franchise's protagonist. Her staying power make Chi-Chi a sure bet that she will continue to grace fan' best anime character lists for years to come.
---
9. Noelle Silva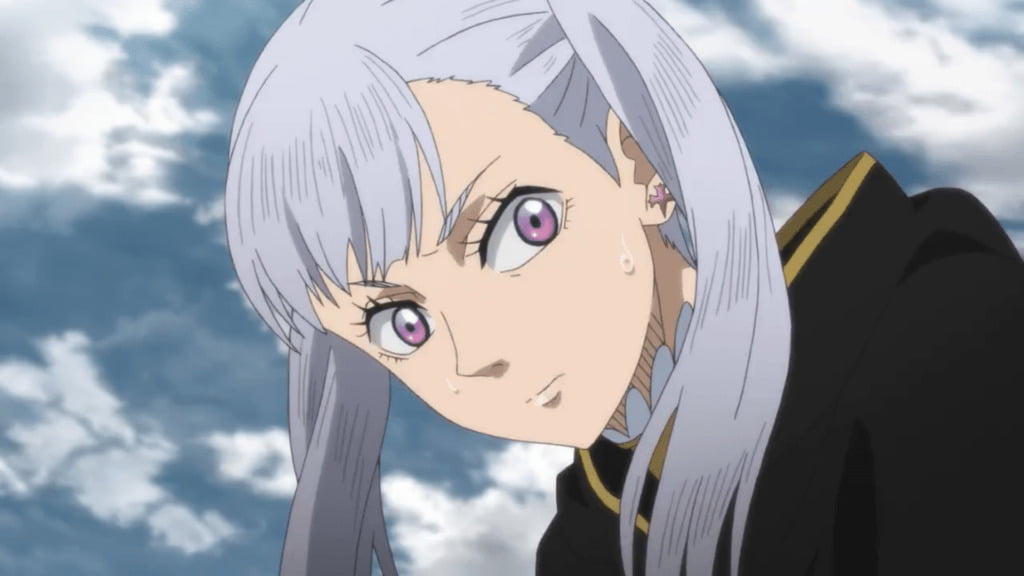 Birthday: November 15
First Anime Appearance: Black Clover, Ep. 4 "The Magic Knights Entrance Exam" (2017)
A fan-favorite Black Clover character, Noelle Silva is a popular anime girl with a November birthday.
A combination of himedere and tsundere, Noelle Silva is the second daughter of the noble House Silva. Insecurities fostered by an inability to live up to expectations, she settles with becoming a member of the Clover Kingdom's least disciplined protectors rather than joining her brother's Silver Eagles.
Due to the nature of her mother's death, the Silva children found an easy scapegoat to blame in Noelle. Their deep-seated resentment created an inferiority complex in the young girl, with the result being her inability to properly use magic. With limited options, Noelle reluctantly became a member of Captain Yami Sukehiro's Black Bulls. The squad's over-the-top personalities and unorthodox approach to kingdom protection made the perfect nurturing environment for Noelle to become a powerful water mage. Her maturity combined with magic skills would earn her the title of Sea Goddess and reconciliation with her siblings.
Noelle Silva's character arc is one about personal growth. This only happens because she moves outside her comfort zone and starts to trust in others, especially Asta and Yami. A perfect Black Bull, Noelle Silva is a great support character and one of November's fan favorites.
---
8. Alois Trancy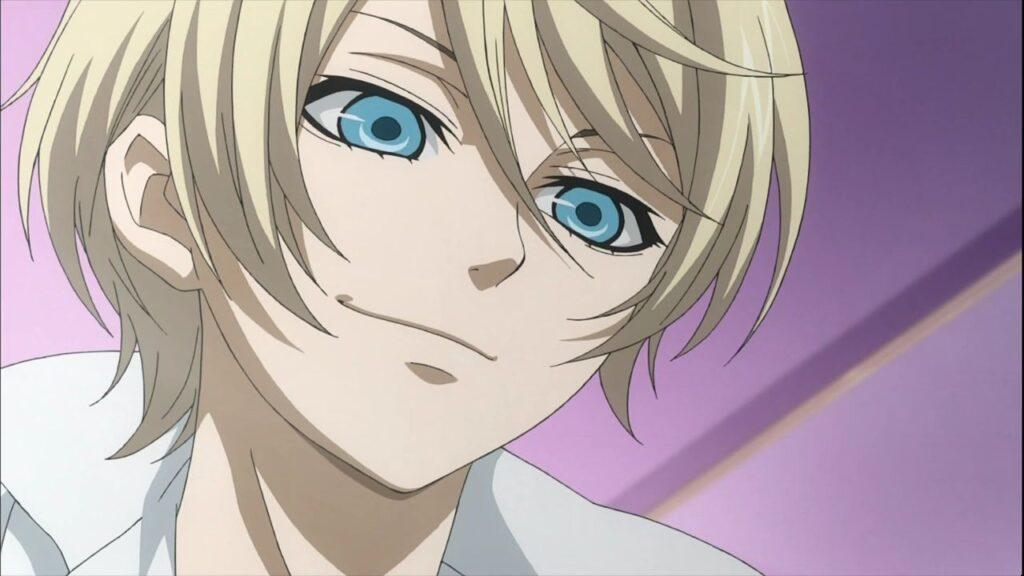 Birthday: 5 November 1874
First Anime Appearance: Kuroshitsuji, Ep. 2:1 "Clawed Butler" (2010)
Earl Alois Trancy is one of the series' primary antagonists. A wealthy noble, this teenager's erratic temperament shifts wildly from cheerful and approachable to violent outbursts.
Orphaned and living on the streets, Jim Macken experienced many tragedies and hardships. This included suffering physical abuse at the hands of the Earl of Trancy. Without an heir, the Earl adopted Jim and renamed him Alois Trancy. As the Earl of Trancy, Alois would enter into a contract with a demon to the party responsible for killing his younger brother. The truth sets him on a collision course with the story's protagonist.
Alois Trancy is a dynamic villain, whose backstory draws us into empathizing with his cause. Specifically, his motivation is founded on the need to right the wrongs put upon him by others. These principles resonate with anime fans to make him a favorite character with a birthday in November.
---
7. Tadashi Yamaguchi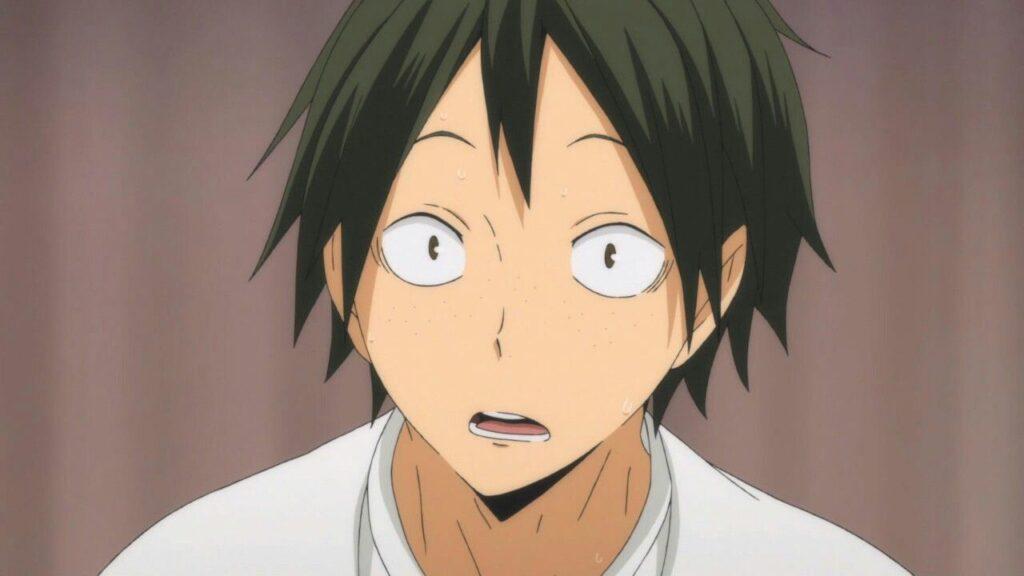 Birthday: 10 November 1996
First Appearance: Haikyū!!, Ep. 3 "The Formidable Ally" (2014)
Tadashi Yamaguchi is the Karasuno High School volleyball team's pitch server. His shy, follow-the-crowd persona masks his eventual rise to the role of team captain.
An awkward freckled-faced child, Tadashi's appearance was a source of bullying by his peers. Their taunts molded the adolescent into an insecure teen. His self-doubt would see him joining Karasuno's volleyball team, as he felt soccer and basketball players were "big and scary." With his performance in volleyball combined with the encouragement of teammates, Tadashi would overcome his crippling timidity. Leaving the game behind, he would go on to attend college after graduation.
Being preyed upon by others is an emotionally and physically scary event. In any other anime series, this would result in the character becoming a villain. Fortunately, Tadashi Yamaguchi is able to overcome this trauma to become a prized leader of the Karasuno High School volleyball team.
---
6. Kagura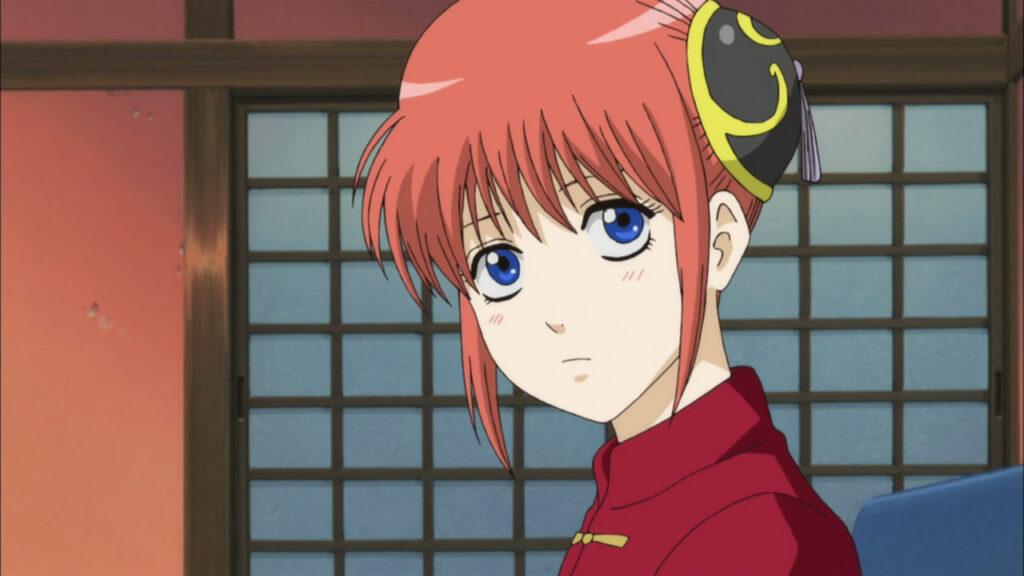 Birthday: November 3
First Anime Appearance: Gintama, Ep. 1 "You bastards!! Do you even have a silver soul!" (2006)
Kagura is the series' female protagonist, whose only desire is to live a normal life. Her desire is almost unattainable, as Kagura's pint-size frame disguises one of Yorozuya's strongest fighters.
Living on another planet, Kagura lived in the slums alongside her parents and younger sister. The desire to be normal would see her leave them behind and take up residency on Earth. Upon her arrival and witnessing her fighting abilities, a local gang tricked her into protecting their criminal enterprise. Her little sister's charm combined with superhuman strength serves as the glue in Kagura's relationship with Sakata Gintoki.
Within the Gintama universe, Kagura is a dynamic character. Her motivation to establish her own path in life resonates with us. This sometimes leads to a conflict with the desire that has not caught up to reality. Kagura's journey to be her own person is one of many reasons why she is a favorite among fans and one of our picks for the top character with a birthday in November.
---
5. Ami Kawashima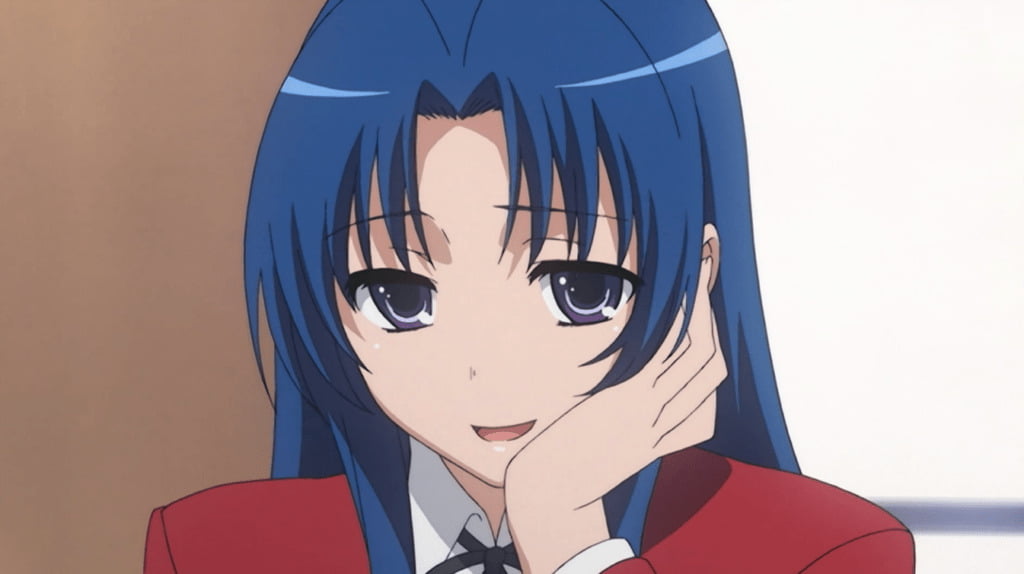 Birthday: November 9
First Anime Appearance: Toradora! Ep. 5 "Ami Kawashima" (2008)
Ami Kawashima is a statuesque, pretty young girl at Oshashi High School. She is the final main character introduced in the series.
Ami is the daughter of a famous actress, Anna Kawashima. A full-time model, she took a career sabbatical to attend high school. She unapologetically uses her celebrity status and approachable personality to manipulate classmates. Her scheming goes as far as attempting to destroy the protagonist's romantic relationship. Ami's behavior would earn her an unflattering nickname, "baka-chi."
Ami Kawashima is a young woman, who is definitely winning at the game of life. Her motivations center on the notion of what is best for her. A self-centered young lady, Ami Kawashima is November's fifth favorite character in anime.
---
4. Sōma Yukihira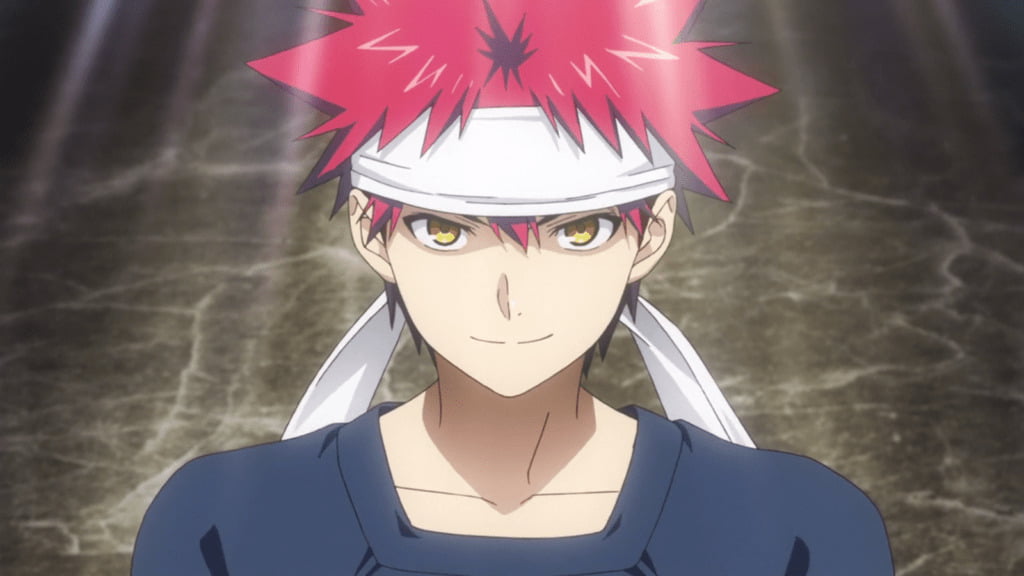 Birthday: November 6
First Anime Appearance: Food Wars!: Shokugeki no Soma, Ep. 1 "The Endless Wilderness" (2015)
Sōma Yukihira is a 92nd Tōtsuki Generation alum and series protagonist. His unconventional approach to the culinary arts set him apart from his traditionally trained peers.
An energetic youth, Sōma is the son of Jōichirō and Tamako Yukihira. Working the family restraint, his passion for cooking started at an early age. Jōichirō would challenge his son by having the two create new dishes, called Yukihira Style recipes. Their competition would often result in failure, with unsuspecting customers choking down some nasty combinations. Unhampered by classical techniques, Sōma's eccentric approach would earn him 1st seat on Tōtsuki Academy's Elite Ten Council.
Sōma Yukihira's journey to becoming a chef is one of passion while being true to one's nature. He is exuding self-confidence but his certainty never gets in the way of seeking others' advice. These qualities and overall personality make Sōma Yukihira one of the anime's favorite characters with a birthday in November.
---
3. Azusa Nakano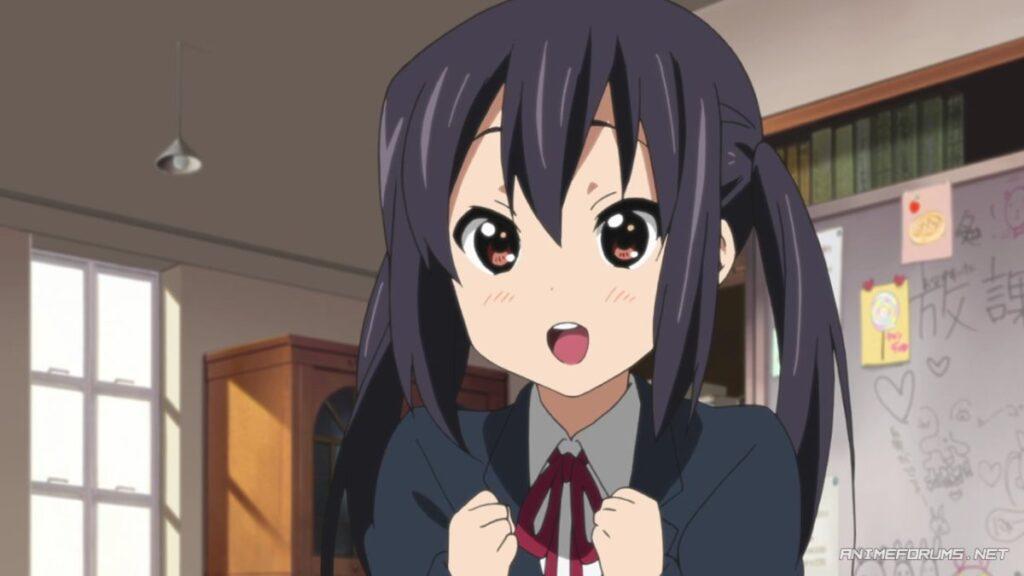 Birthday: 11 November 1992
First Anime Appearance: K-On!, Ep. 8 "Freshman Reception!" (2009)
Azusa Nakano is a student at Sakuragaoka High School and is one of the five main characters in the series. A disciplined and talented guitarist, her drive often conflicts with her carefree bandmates.
The daughter of talented jazz musicians, Azusa-chan is modest about her own musical talents. Attending Sakuragaoka High, she seeks out the Light Music Club following their performance at the student festival. The club's relaxed nature quickly calls Azusa to question her decision. Her apprehension gives way to making lasting relationships, as club members share their love of music and tea time. She goes on to become a lead guitarist and vocalist following the group's graduation.
Forrest Gump famously stated that "My mom always said life was like a box of chocolates. You never know what you're gonna get." This statement has many parallels to Azusa-chan's journey of personal growth with the Light Music Club. Azusa Nakano's is what makes her a favorite slice of life character.
---
2. Shota Aizawa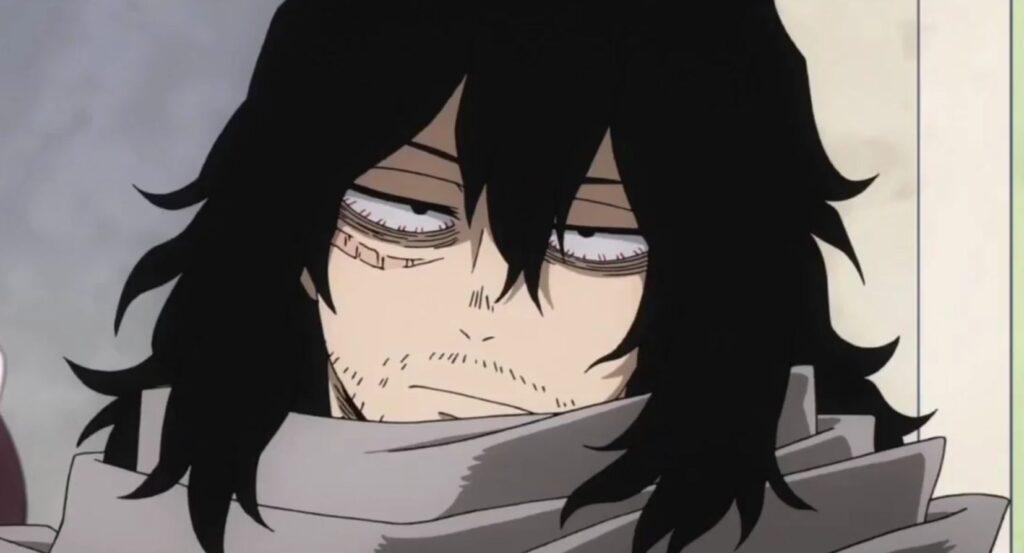 Birthday: November 8
First Anime Appearance: My Hero Academia, Ep. 5 "What I Can Do for Now" (2016)
Shota Aizawa is the series' titular educator of the ambitious students of Class 1-A at U.A. High. A no-nonsense teacher, his interactions can seem cold and insensitive to the casual bystander.
Except for being born in Tokyo, the series gives very little insight into Shota's upbringing or family. He would come to attend U.A. High, becoming the Pro Hero Erasure Hero: Erasure Hero. His quirk uses sight to nullify an opponent's ability, which deactivates whenever he blinks. As an educator, the Erasure Hero does not mix words or actions but his Spartan manner belies a deep desire to see successful students and future Pro Heroes.
In spite of a prickly personality, Shota Aizawa is a capable and caring educator. These qualities have endeared him to fans, who consistently rate the Eraser Hero within their top ten My Hero Academia characters. A well-crafted character, Shota Aizawa is one of our most popular anime personalities with a birthday in November.
---
1. Armin Arlert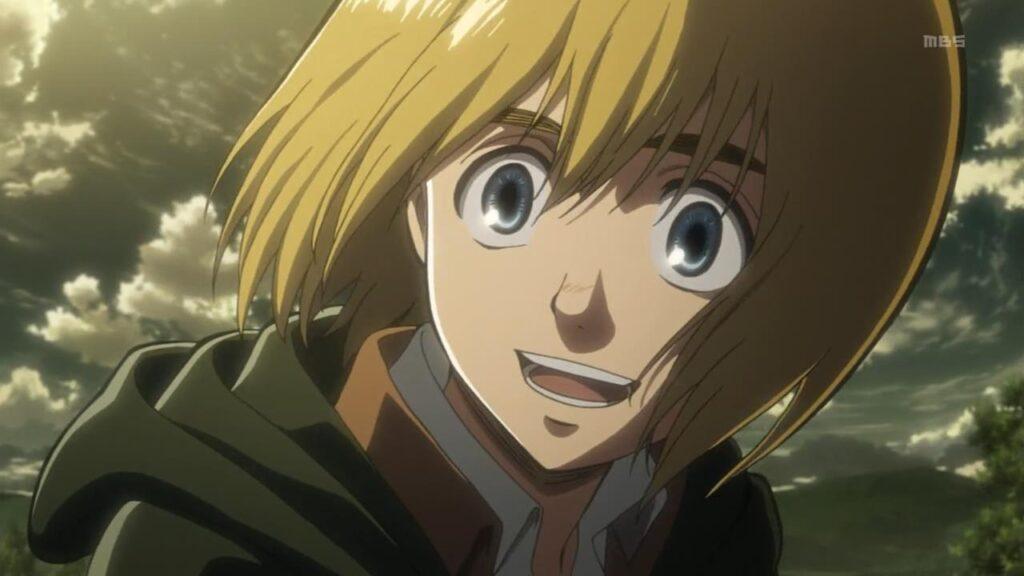 Birthday: November 3
First Anime Appearance: Attack on Titan, Ep. 1 "To You, in 2000 Years: The Fall of Shiganshina, Part 1" (2013)
The king of anime characters with a birthday in November is the 15th Commander of the Survey Corps, Armin Arlert. He is one of the series' two deuteragonists. Armin's leadership and keen strategic analysis will become critical to bringing peace to Paradis.
A physically weak child, Armin was a target of bullies until he befriended Eren and Mikasa Yeager. After their district fell to the titans and having reached the age to enlist, the three join the 104th Training Corps. An average fighter, Armin's strength comes from his strategic analysis skills. His comrades look to him to assess their adversaries and direct their actions. With him possessing the world-ending Colossus Titan, Armin is always optimistic that conversation rather than violence can resolve problems.
Armin Arlert is one of the few Attack on Titan characters to remain true to themselves. A kind-natured individual, his priority is protecting friends, comrades, and the community. Armin's noble aspirations are one of many reasons why he is our favorite character with a birthday in November.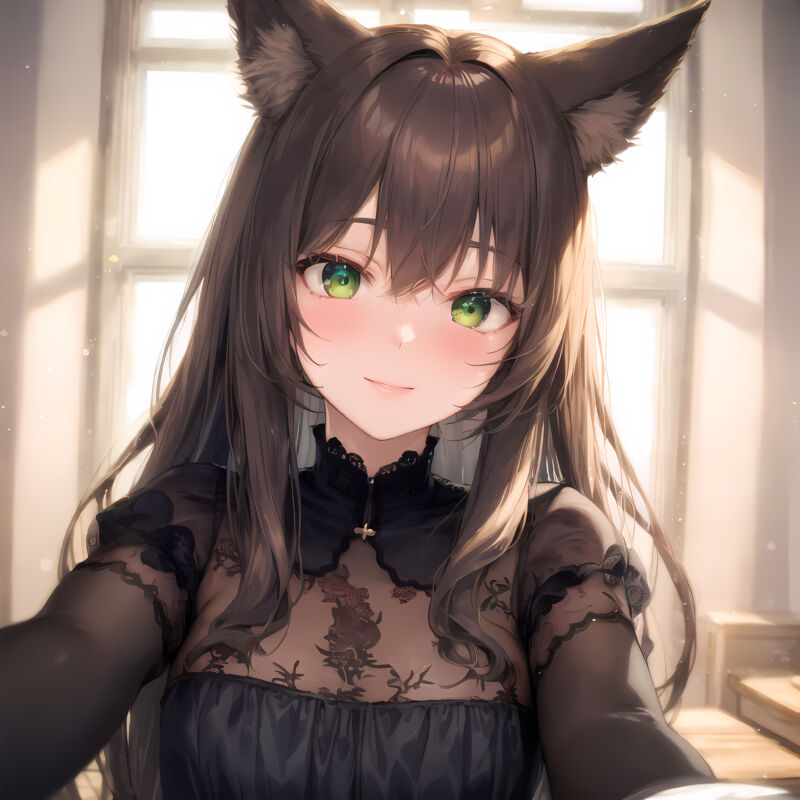 BEFORE YOU GO...
Thanks for reading my article!
If you enjoyed it, please consider supporting me on Patreon. As a Patron, you'll gain access to exclusive perks like stunning AI artworks that are not shared anywhere else, personalized AI-generated art pieces, and the ability to shape the future of this blog by suggesting topics you'd like me to cover.
Your support means everything to me and enables me to keep creating content that I'm passionate about. ✨

Also, you're welcome to join our 9 Tailed Kitsune Anime Discord community. We'd love to have you there! 🙌