The Ice Guy and His Cool Female Colleague is one of the freshest additions to the fantastic Winter 2023 anime that you need to watch. Fans of super cute anime shows also shouldn't miss out on watching Kubo Won't Let Me Be Invisible and The Angel Next Door Spoils Me Rotten. So, are you ready for more wholesome and lighthearted anime like The Ice Guy and His Cool Female Colleague? Because I might have just what you need! 😉
For people unfamiliar with this anime, The Ice Guy and His Cool Female Colleague is pretty self-explanatory: it's an innocent love story between an unusual office worker with icy abilities and his sweet and calm female colleague.
Here is a list of 10 Kawaii Anime Shows Like The Ice Guy and His Cool Female Colleague (Koori Zokusei Danshi to Cool na Douryou Joshi).
Disclaimer: This post contains affiliate links. If you use these links to buy something, I may earn a small commission, without any extra cost to you. As an Amazon Associate, I earn from qualifying purchases. Thank you!
---
10. The Angel Next Door Spoils Me Rotten

The Angel Next Door Spoils Me Rotten is a highschool based romance comedy that will make your heart melt with its cuteness.
It centers on Amane Fujimiya, a slob high schooler who lives alone in a small apartment. It's an understatement to say that he is messy. His place is completely littered with trash and he doesn't have a healthy lifestyle either, which reflects negatively on his appearance.
On a rainy day, he encounters Shiina Mahiru, a stunning classmate, sitting lonesomely on a swing while the raindrops fall on her. She has no umbrella. Because he doesn't want her to catch a cold, Amane offers to lend her his umbrella. Little does he know that this "transaction" is a start of an unusual next-door relationship between them.
---
9. Ganbare, Douki-chan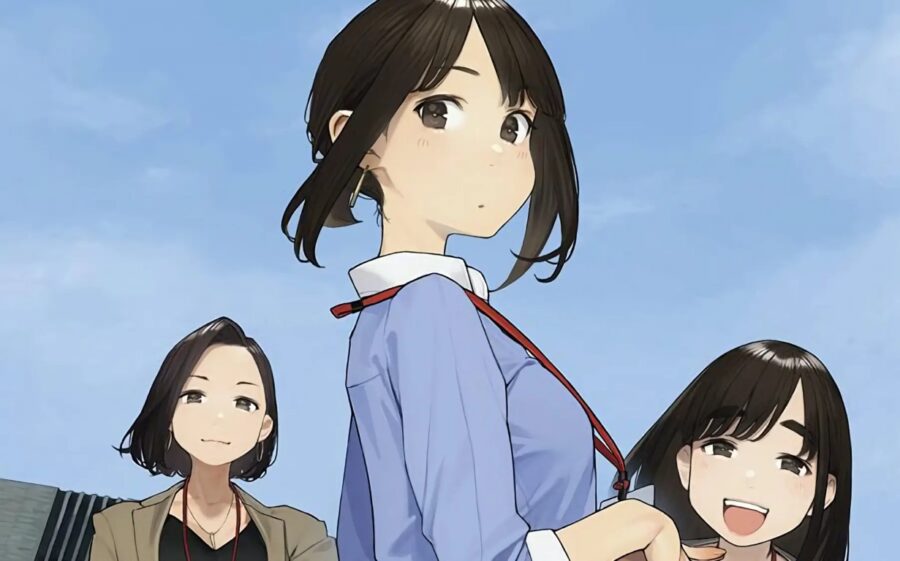 Ganbare, Douki-chan is a definition of lighthearted yet heartwarming and charming anime. In less than 6 minutes per episode, we can see observe the lives of office workers working, drinking, interacting, and doing a plethora of other activities outside the workplace. You don't have to focus too much and can just lie down and turn off your brain. On top of that, there is a lot of fanservice for your new wallpapers. I have them on my Instagram if you are interested. 😉
The show focuses on the daily lives of office workers, particularly Douki-chan, who is in love with her coworker. She finds it difficult to confess her feelings because of her shyness and insecurity. To make things worse, two additional gorgeous coworkers, Kouhai and Senpai, have a thing for her love interest too…
---
8. When Will Ayumu Make His Move?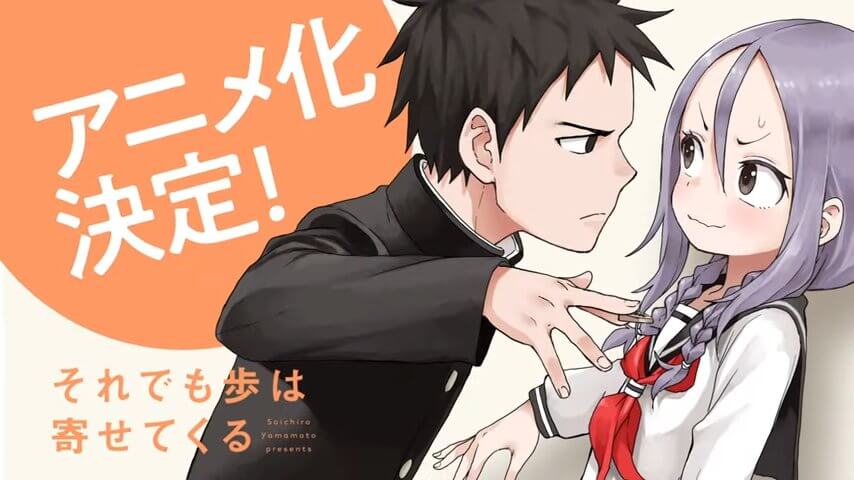 When Will Ayumu Make His Move? centers around two members of a shogi school club: Ayumu Tanka, a freshman, and Urushi Yaotome, the club's president and master of shogi. Ayumu is aware of his feelings for Urushi, but he decides to wait to confess his love until after he has won at least one game of shogi. Unfortunately, that is still a long way off!
Like The Ice Guy and His Cool Female Colleague, When Will Ayumu Make His Move? is a sweet, relaxing romantic comedy with no harem.
---
7. My Dress Up Darling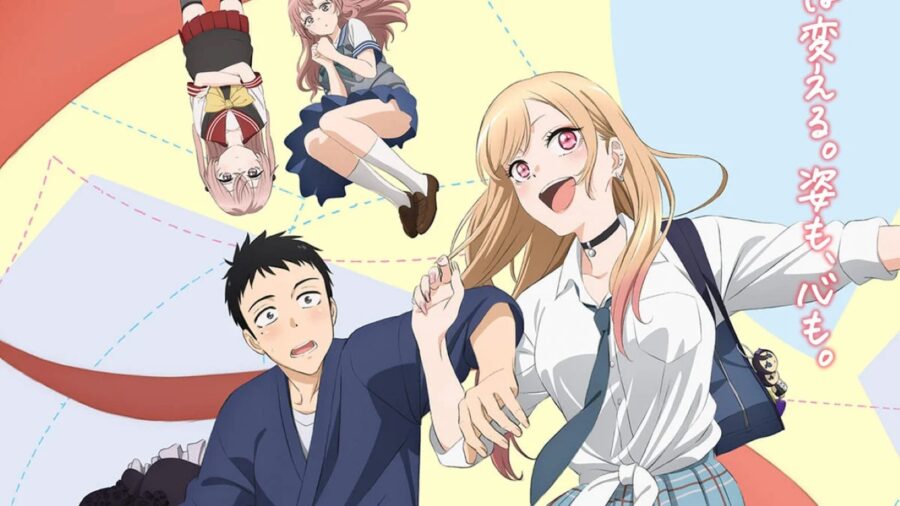 My Dress-up Darling is a high school romance comedy but it reminds me of The Ice Guy and His Cool Female Colleague in more ways than one. Both have an eccentric couple that has believable chemistry, and we are here to kick back and watch their antics as they develop their feelings.
Wakana Gojou is a reclusive high school student with no friends and a secret love for hina dolls. If you ask what's preventing him from making friends, it's a deeply rooted trauma from his past when a childhood friend who found out he likes dolls called him a freak. But after a popular gyaru classmate, Marin Kitagawa accidentally learns of his sewing prowess, his lonely high school life starts to change for the better.
---
6. Working!!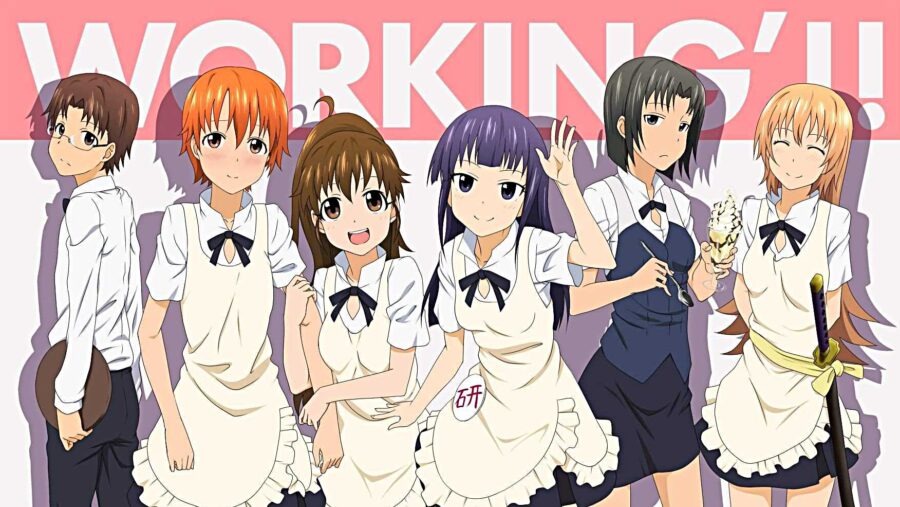 Another soothing slice-of-life romance anime set in a workplace just like The Ice Guy and His Cool Female Colleague is Working!!.
Working!! is a hilarious comedy that features a witty dialogue between the quirky restaurant staff members. If you are looking for an actual plot, you won't find it here. This show is entirely episodic.
My favorite love pairing from this series is Mahiru Inami, a 17-year-old androphobic waitress, and Souta Takanashi, her 15-year-old responsible colleague who is supposed to help her overcome her intense fear of men. At the end of the series, they indeed become a couple.
---
5. Servant x Service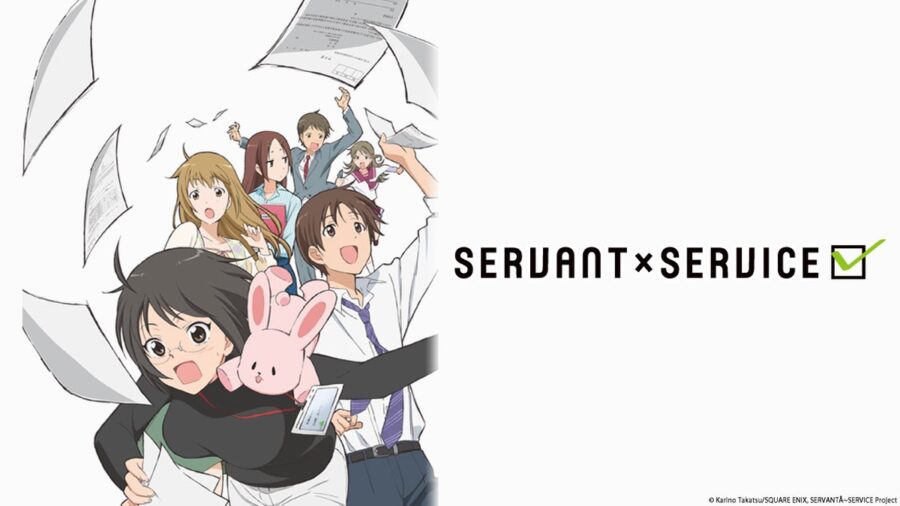 As it follows the many civil servants as well as their eccentric families and friends, SxS certainly belongs in the episodic category. In addition to the wacky day-to-day office activities, there is office romance going on, particularly with coworkers Ichimiya and Chihaya.
Similar to The Ice Guy and His Cool Female Colleague, Servant x Service is a romantic comedy involving young adults working in the office. This series is a light and enjoyable watch that doesn't take itself too seriously.
---
4. Horimiya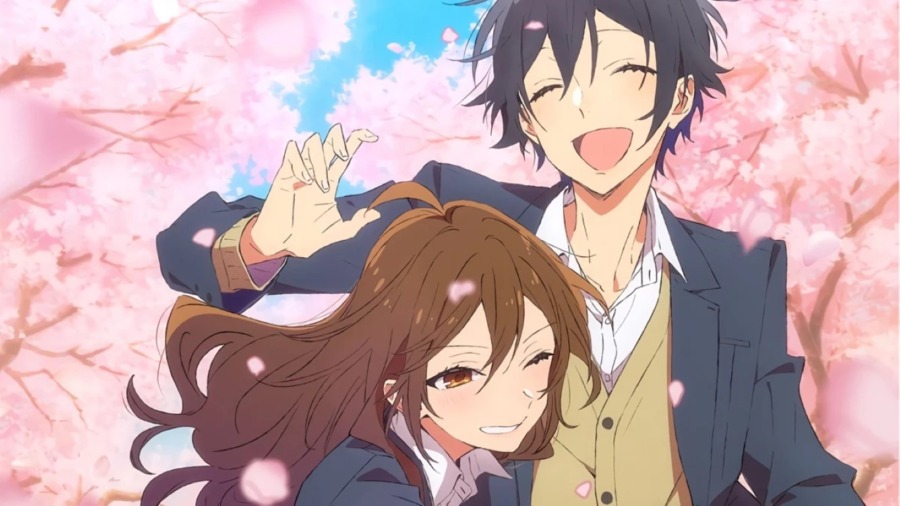 Fans of chill romantic comedies like The Ice Guy And His Cool Female Colleague will love Horimiya as it's a slice-of-life rom-com with amusing moments, relatable characters, and a really adorable couple. It will make you wish you had a significant other as they do.
Horimiya centers around two high schoolers who have a fake persona going on at school. When they leave school, they become "different people". This is, however, unknown to their classmates. But when these two distant classmates bump into each other while being their real selves, things are never going to be the same as before.
---
3. My Senpai is Annoying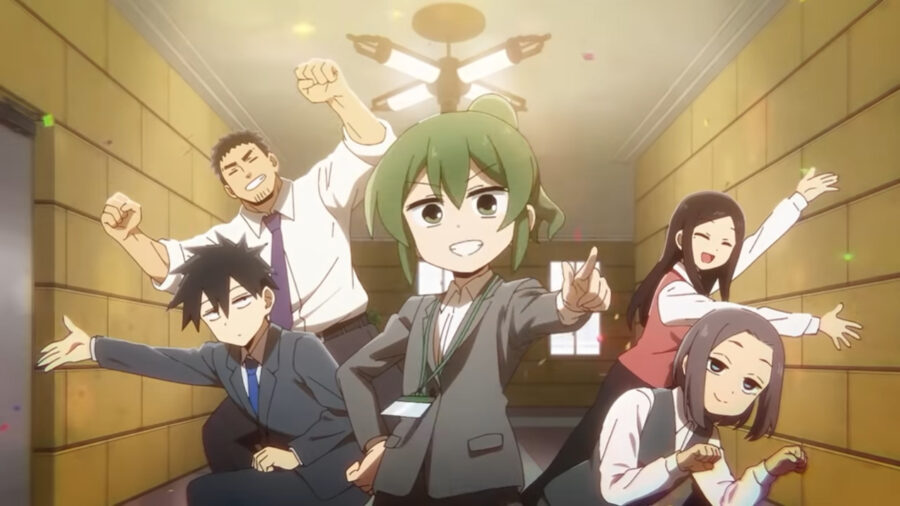 In this anime, we are introduced to the world of a petite junior office worker and her senior, who is hilariously big in comparison to her. After that, viewers are left to watch the mainly predictable plotlines unfold.
My Senpai is Annoying is cut from the same cloth as The Ice Guy and His Cool Female Colleague. Both anime shows are romantic comedies in an office environment that give off the same vibes.
---
2. Recovery of an MMO Junkie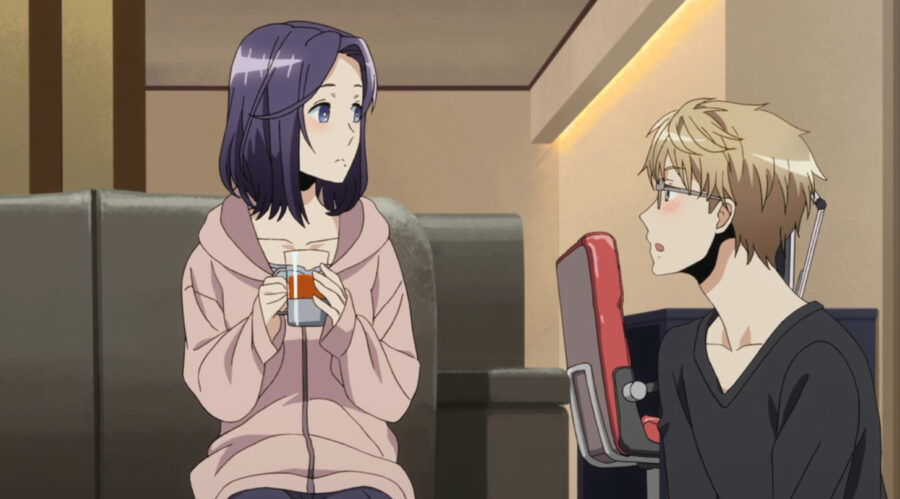 Recovery of an MMO Junkie follows Morioka, who has given up work and going outdoors to become a NEET by choice who plays an MMO. Her avatar is a male and she is partnered in the game with a healer called Lily. However, everything changes when on her way to the convenience store she runs into a man named Sakurai.
(Source: 100 Word Anime)
In the same vein as The Ice Guy And His Cool Female Colleague, Recovery of an MMO Junkie explores a romance between two working adults and makes for a funny and relaxing experience.
---
1. Wotakoi: Love is Hard for Otaku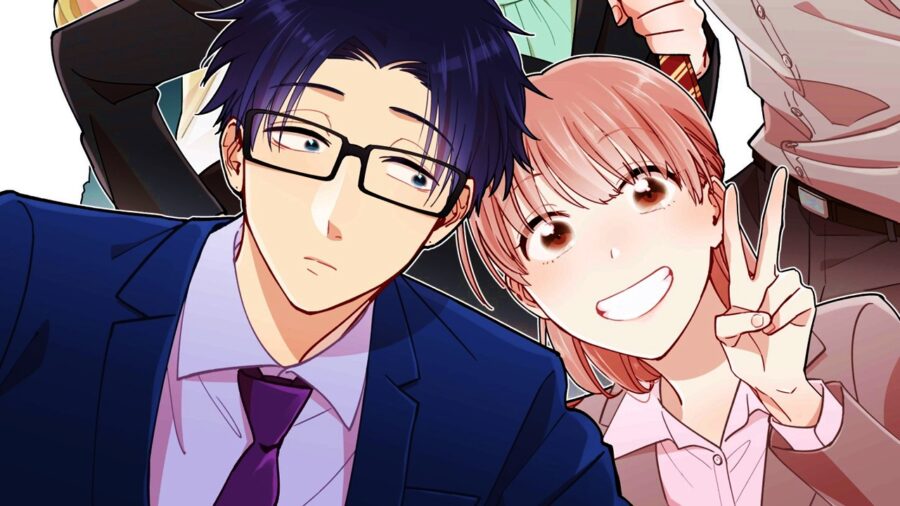 Wotakoi is the most similar anime to The Ice Guy and His Cool Female Colleague. It's also a workplace romance with a lovable set of adult characters and heartening and funny moments to enjoy.
Many otakus will agree that finding love as an otaku is hard. It's not different in the case of Narumi Momose, a cute but hardcore closet otaku who enjoys Yaoi. After an ugly breakup, she quits her old job and joins a new company. To her surprise, her childhood friend, Hirotaka Nifuji, also works there. And he is a gaming otaku!
Fortunately for them, the attraction to one another is mutual. As the atmosphere settles between the two after an awkward confession, they'll have to learn to navigate a life of work, anime, games, cosplay, socializing, and secrets.