Horimiya is one of the hottest anime of 2021. If you're into cute and cheerful anime like Horimiya, the shows below are a must-watch.
This piece of work has an interesting backstory. Before Horimiya was created, there was only a Japanese shounen web manga Hori-san to Miyamura-kun, written and illustrated by Hero.
In 2011, Daisuke Hagiwara adapted the manga under Hero's supervision under the title Horimiya. An anime adaptation of Horimiya premiered in early January and is still airing.
Hori and Miyamura are two high school students who conceal their actual identities from their friends. When the two of them unexpectedly run into one other outside of school, they unintentionally reveal their real selves. After this encounter, a peculiar relationship grows.
All of the anime I chose are school romance anime series with no fantasy elements.
Here are 8 anime similar to Horimiya!
Disclaimer: This post contains affiliate links. If you use these links to buy something, I may earn a small commission, without any extra cost to you. As an Amazon Associate, I earn from qualifying purchases. Thank you!
---
8. Kimi ni Todoke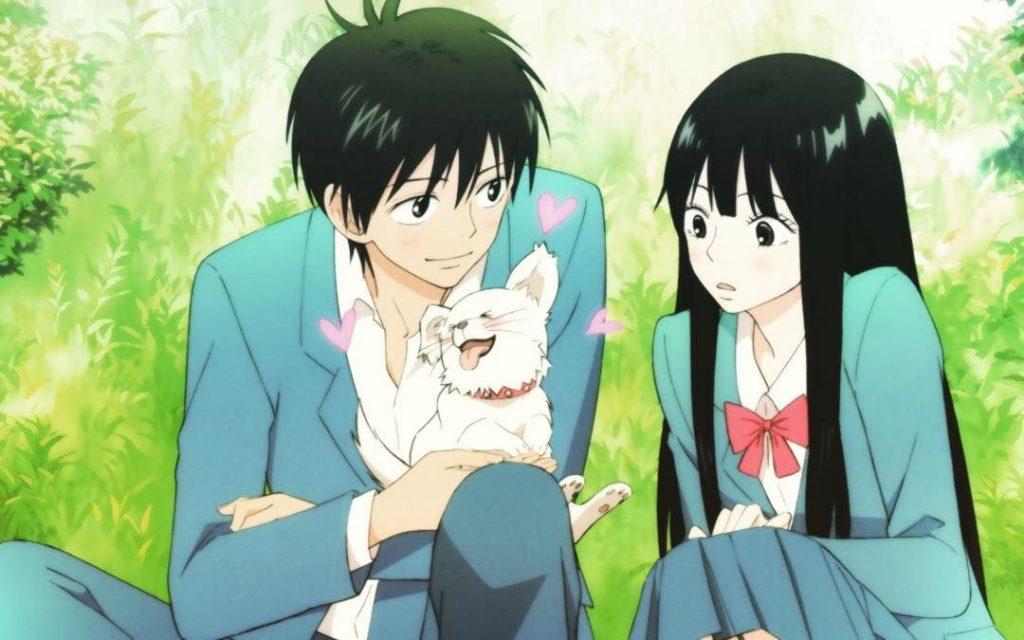 Buy/Watch on: Amazon, Crunchyroll
Genres: Slice of Life, Drama, Romance, School, Shoujo
Episodes: 25
Similarities
Horimiya & Kimi ni Todoke both show how young love can blossom.
The story is set mainly at school and the protagonists fall in love despite having vastly different personalities (and popularity ranking!).
Synopsis
Kuronuma Sawako, also known as Sadako (the ghost girl from "The Ring") by her classmates, just wants friends and a normal school experience. Unfortunately, her peers think she's frightful and interpret her shy, kind manner as malicious.
Sawako is automatically drawn to Kazehaya-kun, the most popular student in the class, because of his upbeat personality. When Kazehaya-kun approaches her, she becomes optimistic that she will find the friendship she has been looking for—and maybe even more.
---
7. Nisekoi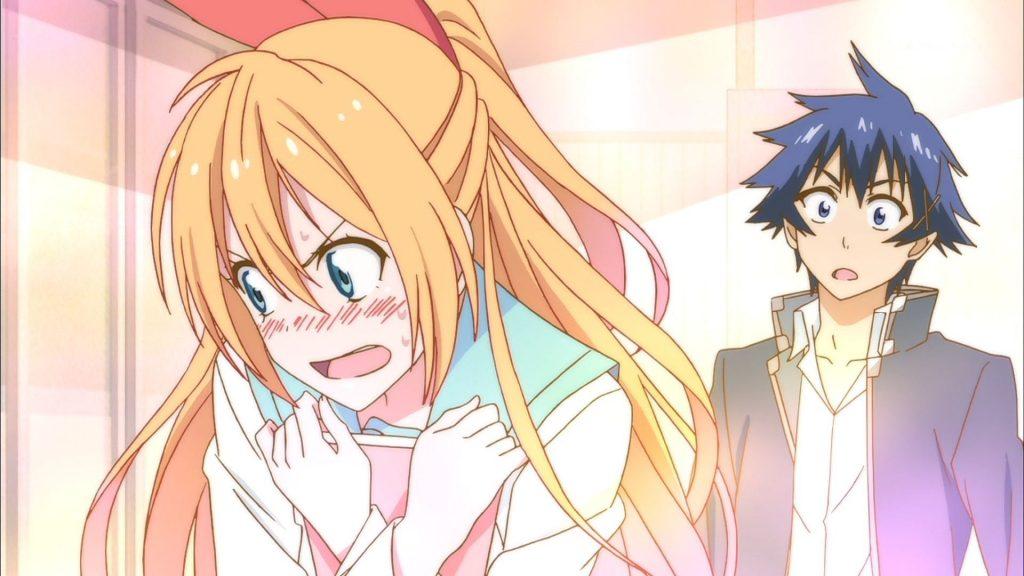 Buy/Watch on: Amazon, Crunchyroll
Genres: Harem, Comedy, Romance, School, Shounen
Episodes: 20
Similarities
Nisekoi is another rom-com anime set in high school like Horimiya.
The main characters are both keeping a mutual secret and bond over it.
Synopsis
Much to their displeasure, the Yakuza family's heir is compelled to date the daughter of a gangster family in order to keep the peace between the gangs.
---
6. Lovely Complex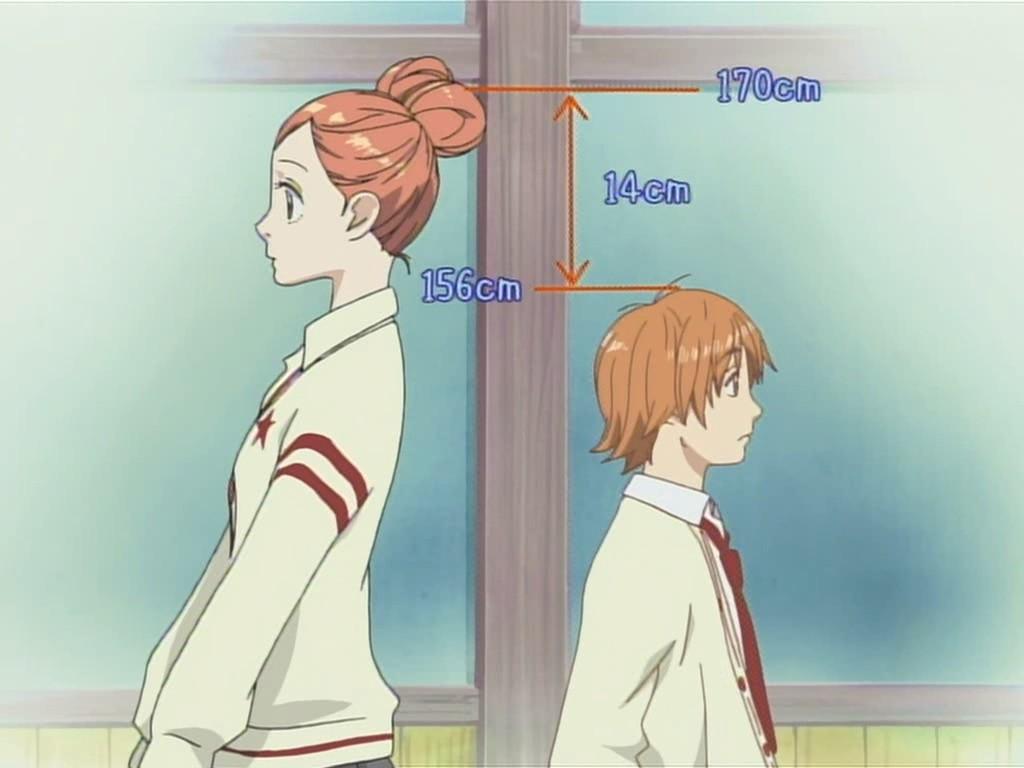 Buy/Watch on: Amazon
Genres: Comedy, Romance, Shoujo
Episodes: 24
Similarities
These two are both sweet & glamorous anime.
Male and female protagonists are both very different from one another (or at least perceived as such by their classmates). Since they both have something they are conscious about (height in Lovely Complex and secret personality in Horimiya), they have a really excellent understanding for each other.
Synopsis
Two high schoolers who are massively different in height become great friends, and one of them falls in love quite soon.
---
5. Kaichou wa Maid-sama!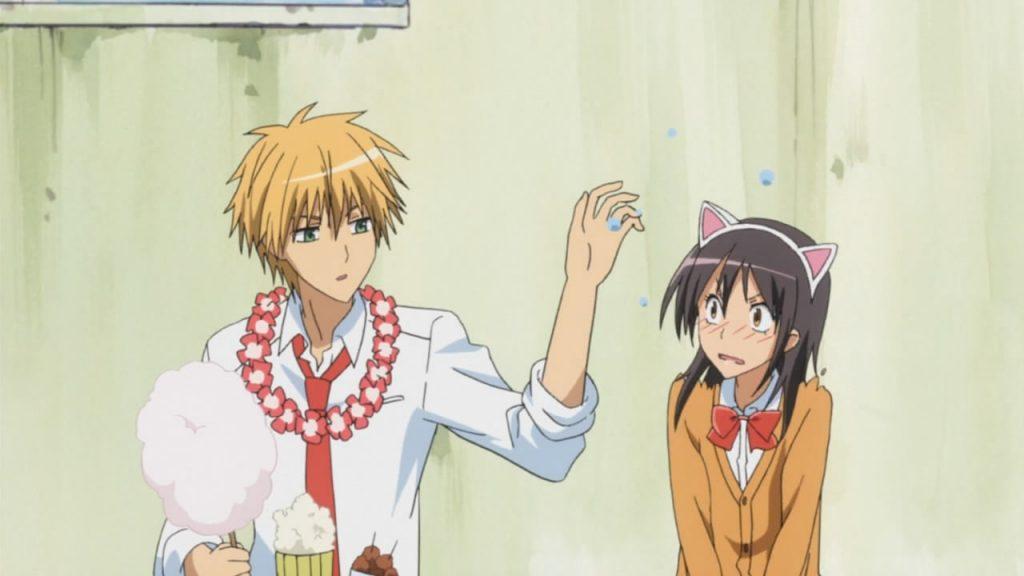 Buy/Watch on: Amazon, Crunchyroll
Genres: Romance, Comedy, School, Shoujo
Episodes: 26
Similarities
If you enjoy a good heartwarming high-school romcom, look no further!
The female protagonists are both hiding something embarrassing about themselves behind their classmates' backs, and the male main character finds out by accident.
The understanding between the main characters in both anime is beyond kawaii.
Synopsis
When a high schooler Misaki Ayuzawa doesn't study or scold the boys in the recently co-ed high school, she works part-time as a maid at a maid café. This is her little secret that she keeps hidden from everyone at school. All they think when they see her is that she is an overly ambitious and strict female student council president.
However, peace doesn't last for too long. During one of her working days, a bunch of her classmates arrives at the maid café where Misaki is serving customers!
Recommended: 7 Cute Anime Like Kaichou wa Maid-sama!
---
4. Tonari no Kaibutsu-kun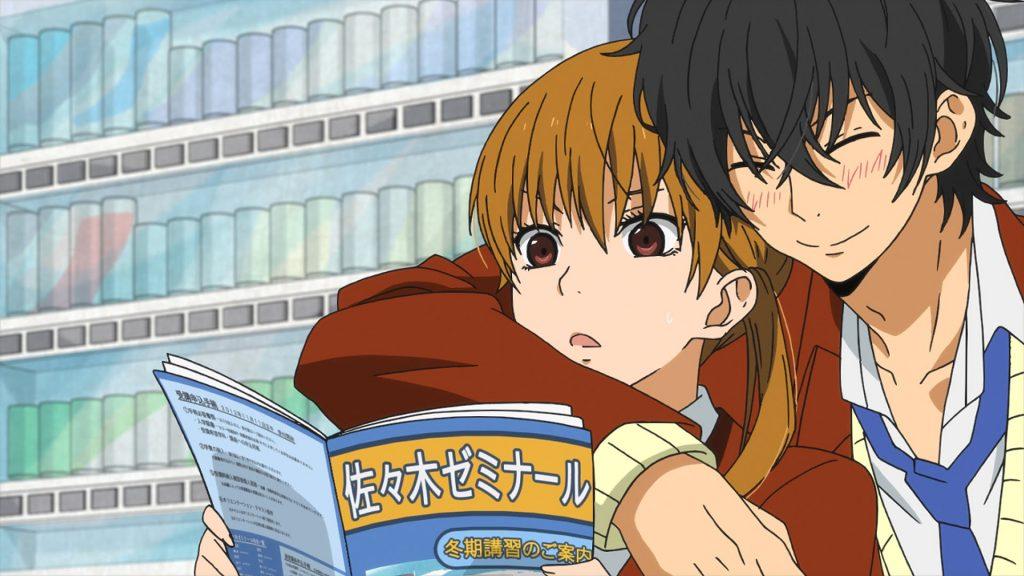 Buy/Watch on: Amazon, Crunchyroll
Genres: Slice of Life, Comedy, Romance, School, Shoujo
Episodes: 13
Similarities
Apart from both being school romcoms, they both center around an unlikely friendship of two seemingly different high schoolers. The female protagonists are both smart & introverted girls, while the male protagonists are (or can be) badass.
Synopsis
Shizuku Mizutani is an unsociable high school girl who only cares about her grades. This pathetic view of life changes after meeting Haru Yoshida, a real troublemaker who confesses his love for Shizuku the first they meet and drags her into a world full of feelings and colors.
---
3. Toradora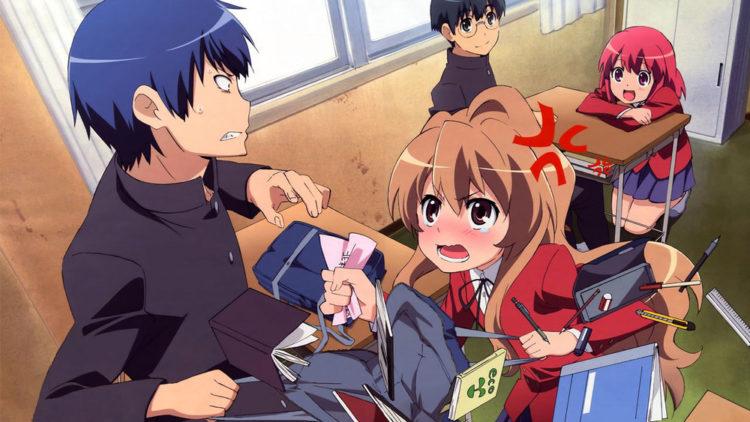 Buy/Watch on: Amazon, Crunchyroll
Genres: Slice of Life, Comedy, Romance, School
Episodes: 25
Similarities
Both are high school rom-coms.
They showcase characters in their everyday lives and the main characters are viewed as something they are not just based on their looks & behavior at school.
After the two become friends, they reveal their real selves to each other.
Synopsis
Ryuuji Takasu is a gentle high school student with a love for housework; but in contrast to his kind nature, he has an intimidating face that often gets him labeled as a delinquent. On the other hand is Taiga Aisaka, a small, doll-like student, who is anything but a cute and fragile girl. Equipped with a wooden katana and feisty personality, Taiga is known throughout the school as the "Palmtop Tiger."
One day, an embarrassing mistake causes the two students to cross paths. Ryuuji discovers that Taiga actually has a sweet side: she has a crush on the popular vice president, Yuusaku Kitamura, who happens to be his best friend. But things only get crazier when Ryuuji reveals that he has a crush on Minori Kushieda—Taiga's best friend!
(Source: MAL)
---
2. Kanojo, Okarishimasu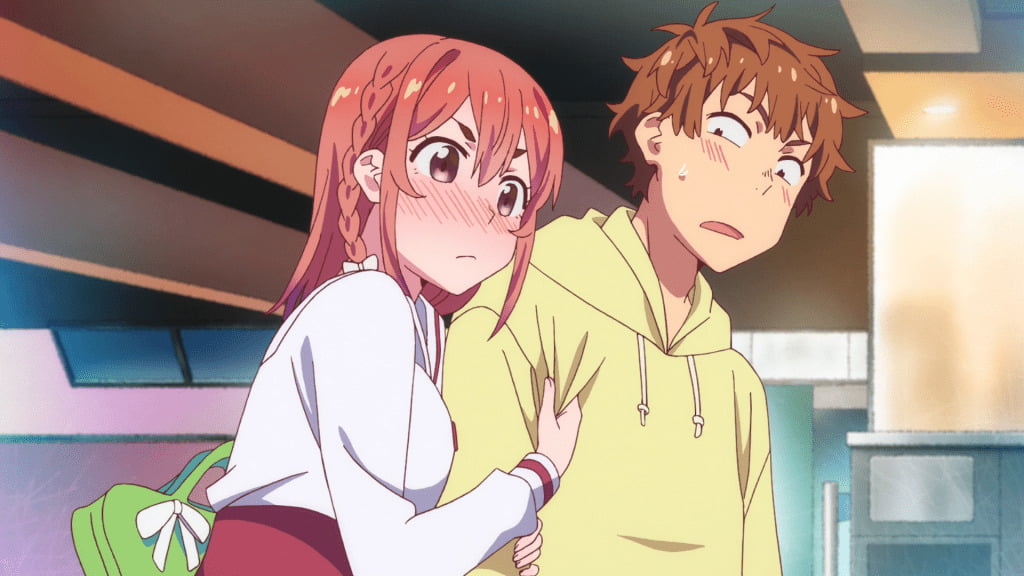 Buy/Watch on: Crunchyroll
Genres: Comedy, Romance, School, Shounen
Episodes: 12
Similarities
Both are about young individuals who form an unlikely friendship after keeping a mutual secret.
Synopsis
A college student who has been dumped by his girlfriend uses a dating service to "rent" a girlfriend who, unbeknownst to him, is also his neighbor and a fellow student.
Related: 7 Must-See Anime Similar To Kanojo, Okarishimasu
---
1. Kareshi Kanojo no Jijou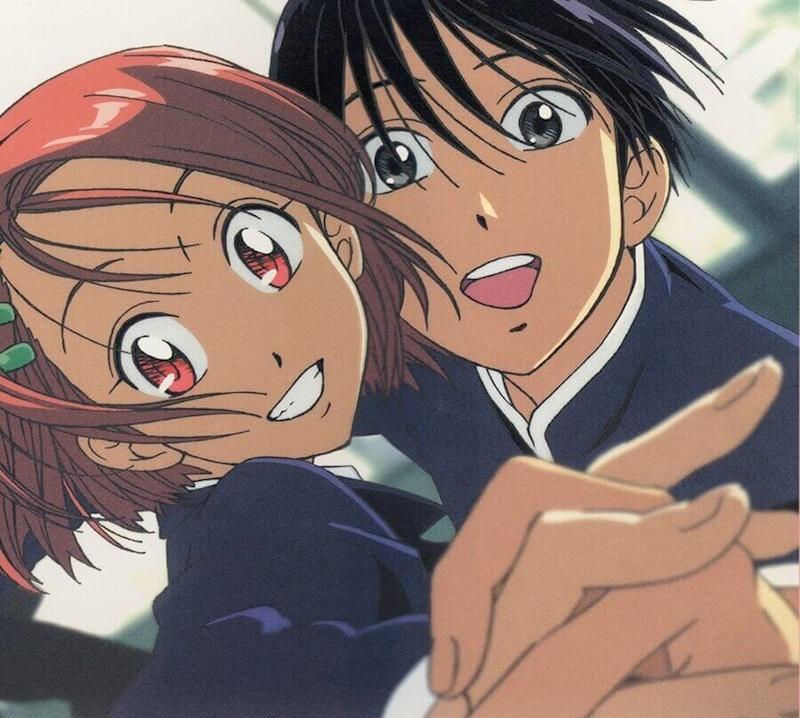 Buy/Watch on: N/A
Genres: Comedy, Drama, Romance, School, Shoujo, Slice of Life
Episodes: 26
Similarities
My favorite pick of them all and the most similar anime to Horimiya is Kareshi Kanojo no Jijou.
This adorable school romantic comedy features a girl who is completely different at home vs at school & a boy who has his own secrets too.
After the boy discovers the girl's secret, the two start to spend more time together, and eventually, love blossoms.
Synopsis
Yukino Miyazawa seems to have it all: top grades, looks, and popularity despite being a freshman at her high school.
The reality is that she works vigorously to maintain her athletic figure and top grades only to end up as the second-best compared to her biggest rival and classmate, Soichiro Arima. On top of that, she is not the person she is portrayed to be in school at all. In fact, it's all an act.
The life of Yukino is about to turn upside down – Soichiro will coincidentally find out her secret.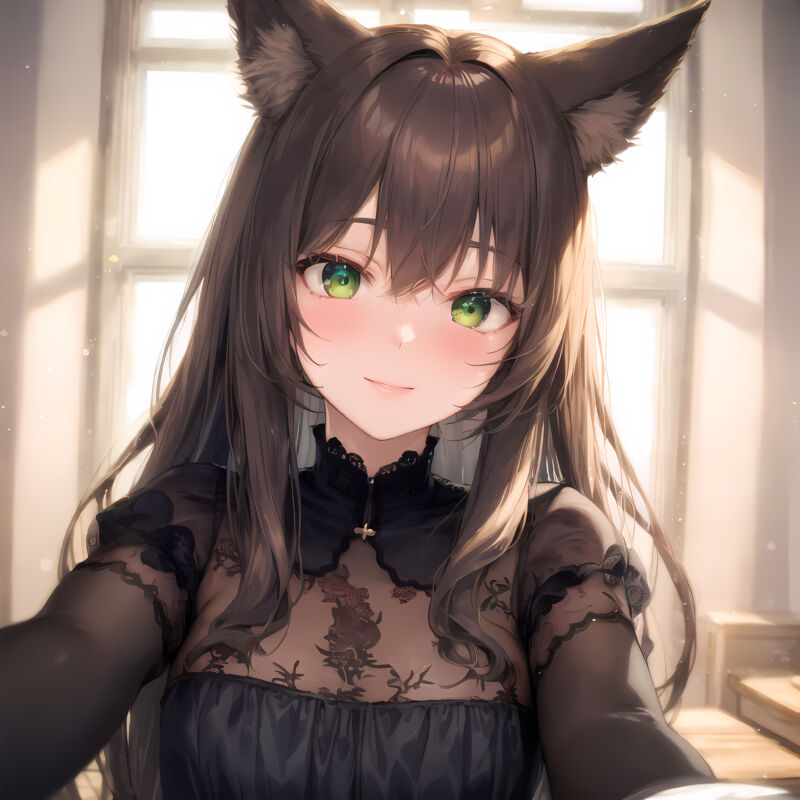 BEFORE YOU GO...
Thanks for reading my article!
If you enjoyed it, please consider supporting me on Patreon. As a Patron, you'll gain access to exclusive perks like stunning AI artworks that are not shared anywhere else, personalized AI-generated art pieces, and the ability to shape the future of this blog by suggesting topics you'd like me to cover.
Your support means everything to me and enables me to keep creating content that I'm passionate about. ✨

Also, you're welcome to join our 9 Tailed Kitsune Anime Discord community. We'd love to have you there! 🙌