7 Cute Anime Like Kaichou wa Maid-sama!
Kaichou wa Maid-sama is one of the cutest shoujo anime set in the real world I have ever seen.
Maybe it's just me having a thing for sweet anime school girls getting their slice of romance, but I just love the whole atmosphere, plot, and development of Kaichou wa Maid-sama.
There is no doubt that there is something magical about it that will make you crave for more.
The characters are beyond likable! Usui is a perfect example of how a boy should act and Misaki is easy to relate to.
The whole setting is set in the school so it brings a lot of memories back for people who are out of the school or makes you dream about how things could be if you are still visiting one.
That's precisely why I chose Kaichou wa Maid-sama and tried my best to come up with 7 cute anime like Kaichou wa Maid-sama! so let's take a look.
7. Kaguya-sama: Love is War (2019)
Genres: Comedy, Psychological, Romance, School, Seinen | Episodes: 12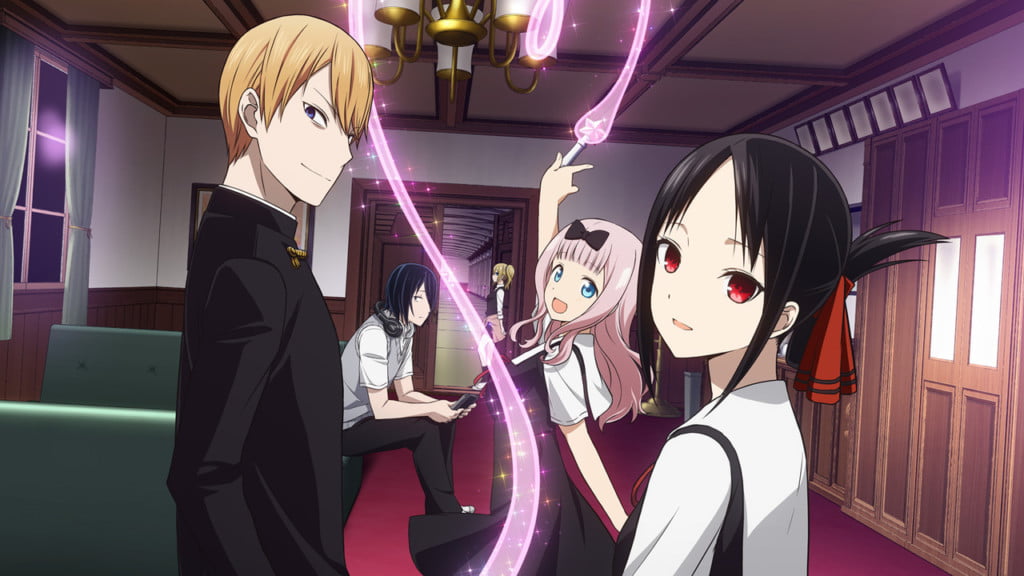 Similarities
Both anime are high school comedy romance series with a female protagonist who is a very stubborn student council representative refusing to admit her feelings for the male lead.
Plot Summary
The story revolves around two top-ranked student council representatives, Miyuki Shirogane and Kaguya Shinomya who are both respected by their peers for their grades and elegance.
The two could be considered a perfect couple, but even though they have developed feelings for each other they are also both determined to manipulate the other party to confess their feelings first and win the love war they have started.
6. Kareshi Kanojo no Jijou (1998-1999)
Genres: Comedy, Drama, Romance, School, Shoujo, Slice of Life | Episodes: 26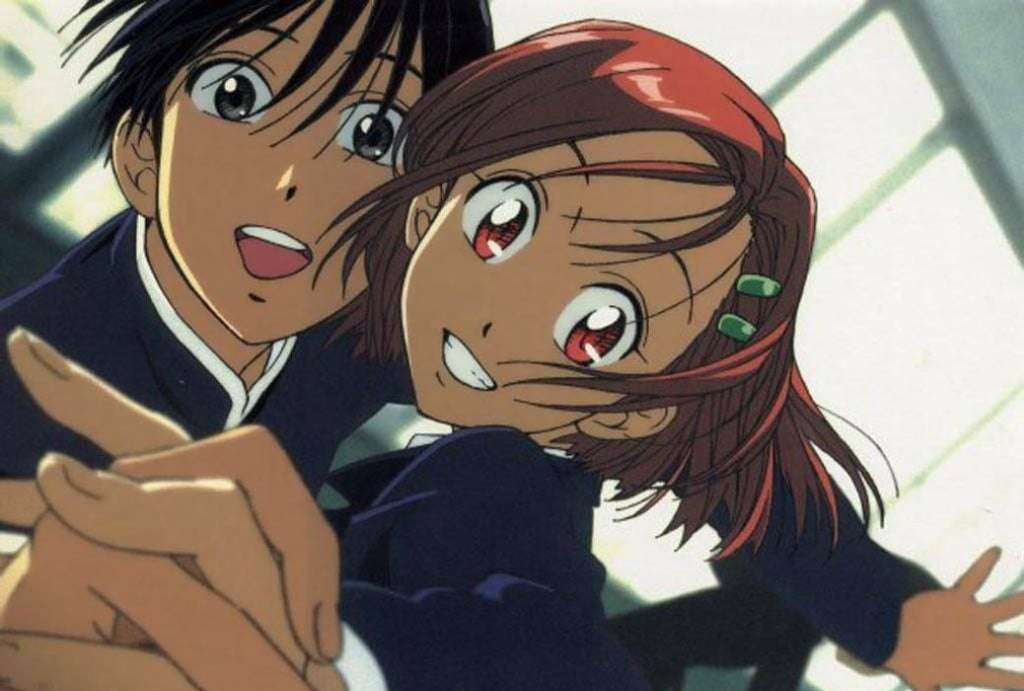 Similarities
They both revolve around the main female protagonist who is a hard-working, independent girl with an embarrassing secret she is trying to protect.
The male lead of Kareshi Kanojo no Jijou, Soichiro Arima, is similar to Usui – he is an attractive, popular, athletic, "has it all" type who finds out the secret of the female lead and this secret will bring them closer to each other resulting in love.
Plot Summary
Yukino Miyazawa seems to have it all – top grades, the looks, and popularity despite being a freshman at her high school.
The reality is that she works vigorously to maintain her athletic figure and top grades only to end up as the second-best compared to her biggest rival and classmate, Soichiro Arima. On top of that, she is not the person she is portraying to be in school at all. In fact, it's all an act.
The life of Yukino is about to turn upside down – Soichiro will coincidentally find out her secret.
5. Kamisama Kiss (2012)
Genres: Comedy, Demons, Supernatural, Romance, Fantasy, Shoujo | Episodes: 13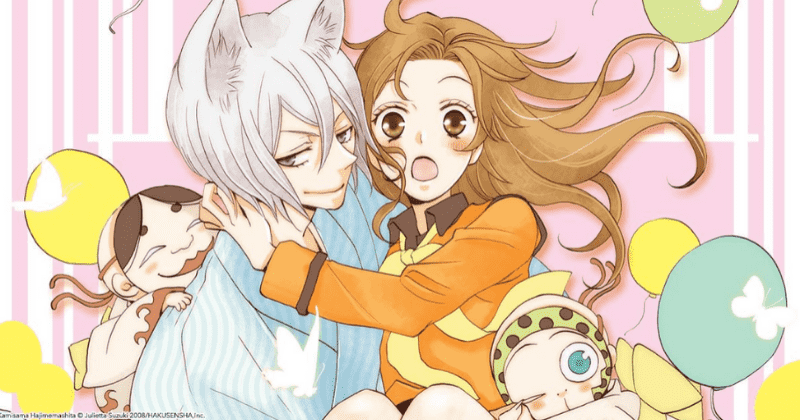 Similarities
Both anime are romantic/comedy shoujo with likable characters.
The female main characters are strong and independent girls experiencing hardships in life due to the financial situation, while the male lead of Kamisama Kiss, Tomoe, is strikingly similar to Usui with his charming appearance and the habit of teasing the female lead.
Plot Summary
The main heroine, Nanami, becomes a land god after getting kissed on a forehead by a stranger she had saved. She is homeless of her father's debts so she willingly accepts the stranger's offer to live in his home as his gratitude for saving him.
So-called home is, in fact, a shrine – filled with shrine spirits and a pretty familiar, a fox yokai named Tomoe. Will Nanami be able to fulfill her tasks as a god?
Related: 7 Anime Like Kamisama Hajimemashita 
4. Tonari no Kaibutsu-kun (2012)
Genres: Slice of Life, Comedy, Romance, School, Shoujo | Episodes: 13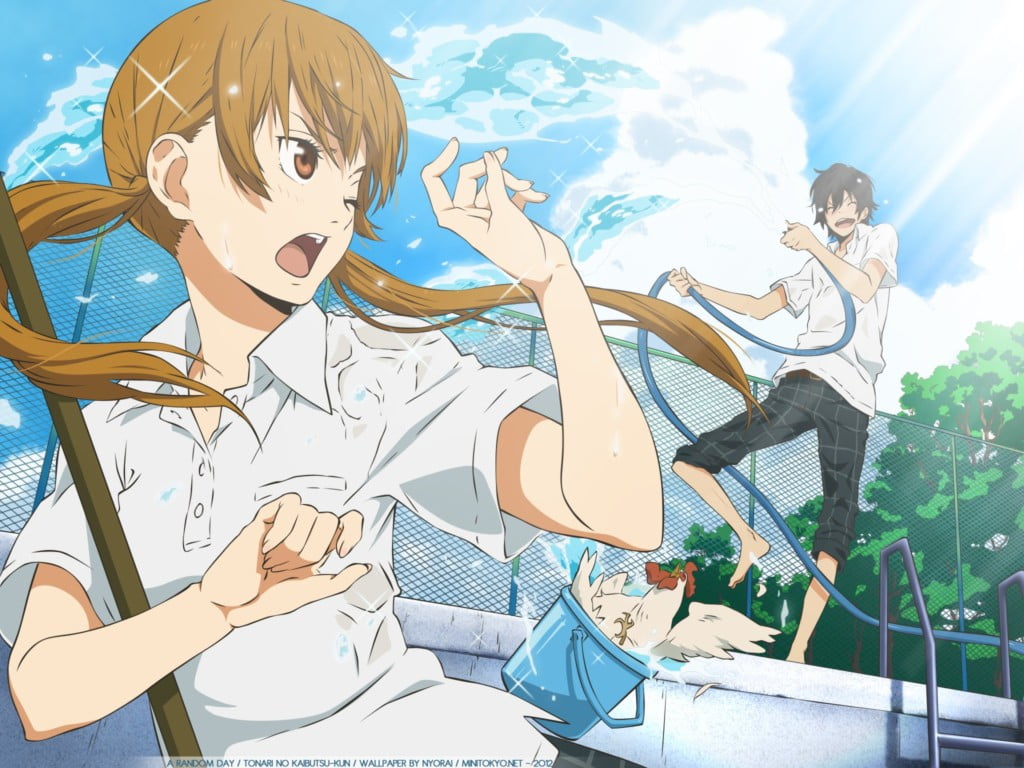 Similarities
Both anime are romantic comedies and are set mainly in the school.
Haru (the main guy character in Tonari no Kaibutsu-kun) will remind you of Usui – they both tag along with the female lead and act weirdly around her in order to show her that they like her.
The female protagonist of Tonari no Kaibutsu-kun, Shizuku is a tsundere high schooler who puts studies before friends and social life and is very stubborn, exactly like Misaki.
Plot Summary
The story centers around Shizuku Mizutani, an unsociable high school girl who only cares about her grades. This pathetic view of life changes after meeting Haru Yoshida, a real troublemaker who confesses his love for Shizuku the first they meet and drags her into the world full of feelings and colors.
3. Ookami Shoujo to Kuro Ouji (2014)
Genres: Comedy, Romance, School, Shoujo | Episodes: 12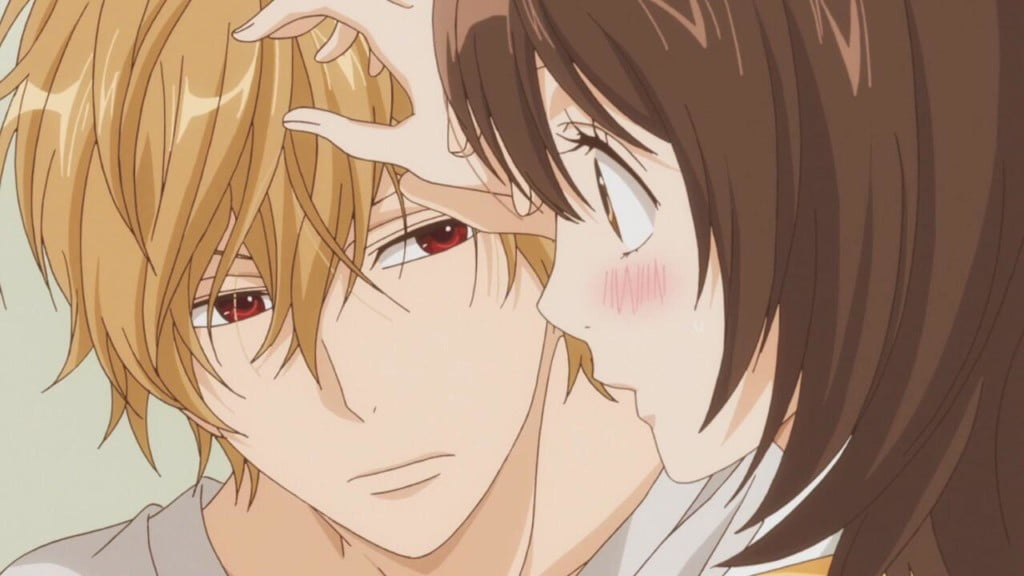 Similarities
Both anime focus on a typical school life and comedy/romance genre.
Sata Kyouya (OOkami Shoujo to Kuro Ouji) and Usui look extremely similar and also share other similar traits – they are extremely popular in the school, know an embarrassing secret of the female protagonist and can blackmail her anytime + tease/ annoy her.
Plot Summary
Erika Shinohara gets caught in a web of lies after taking a pic of a pretty stranger when asked to show a picture of her boyfriend to her "friends" at high school. Too bad that the handsome stranger is no one else than popular Kyouya Sata who is also attending the same school as her.
The rollercoaster of pretending to be a couple, discovering each other's personalities and falling in love begins.
2. Ouran Koukou Host Club (2006)
Genres: Comedy, Romance, School, Shoujo | Episodes: 26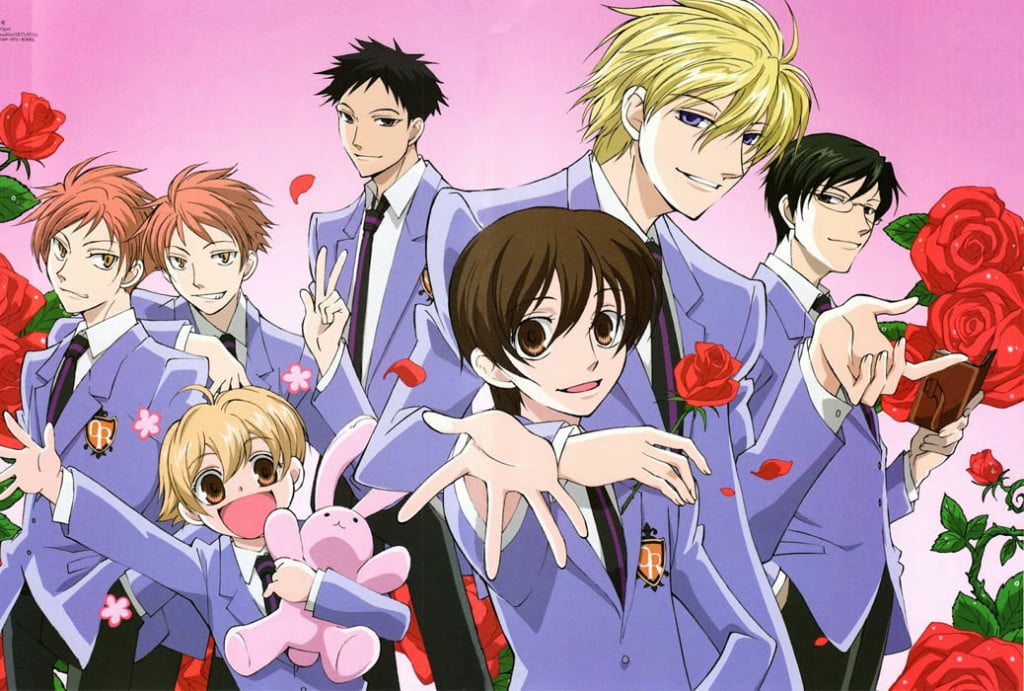 Similarities
Both anime are high school romance/comedy with a female protagonist who is independent and a top student but struggles financially and works part-time as a waitress/hostess while attracting a lot of attention from guys, particularly from a blonde-haired boy.
Plot Summary
The main protagonist, Haruhi Fujioka is an overachiever attending a prestigious school for wealthy kids despite having no title or rank, let alone wealth. One day when Haruhi looks for a good place for studying she opens the door of Music Room #3, a place where the Ouran Academy Host Club, a group of six handsome male students, gathers to entertain female "clients" with sweets and tea, and incidentally breaks an expensive vase.
To pay off her extremely huge debt she is hired as an errand host boy to repay it… but Haruhi is female! Can she pull it off?
1. Special A (2008)
Genres: Comedy, Romance, School, Shoujo | Episodes: 24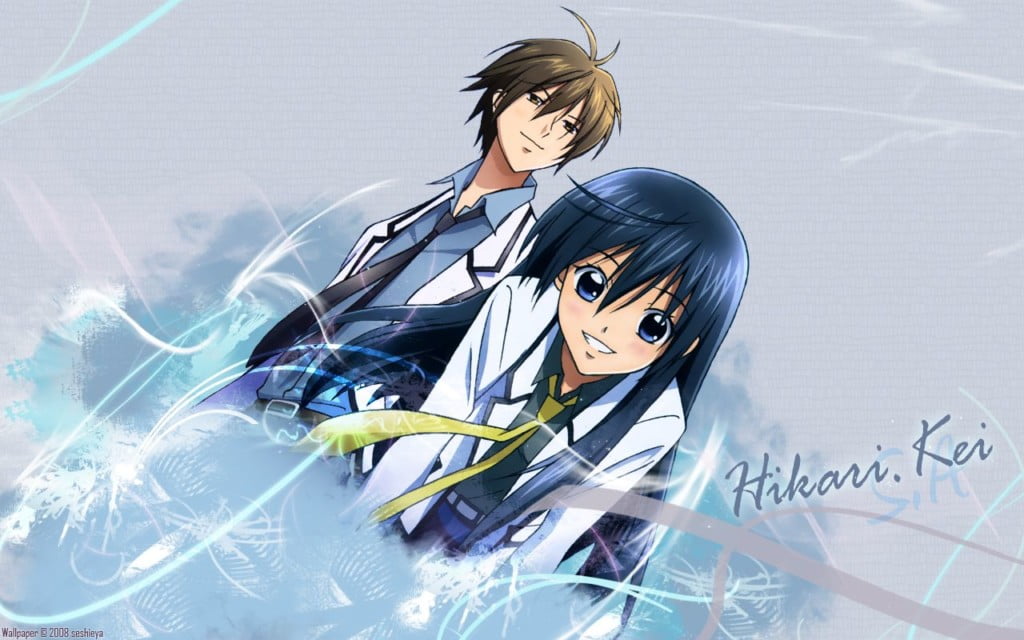 Similarities
Both series are romantic shoujo comedies with a determined, independent and competitive female lead who does not realize her feelings until later in the series.
The male lead of Special A, Kei, is similarly to Usui very rich and good at everything he does + popular, while Hikari (the female protagonist of Special A) and Misaki are average citizens who have to work hard to achieve their goals.
Plot Summary
Hikari Hanazono had been unbeatable at everything until she met Kei Takishima, a boy in her age who beat her at everything – ranging from academics to athletics. Hikari has made up her mind – she is going to enroll in the same school as Kei and try to be on the top again.
While Hikari is blinded by her goal she completely fails to notice that Kei has developed feelings for her. The two become a part of a club called Special A, consisting of only the top 7 students and deal with friendships, competition, and of course, love.