Tsukimichi: Moonlit Fantasy is a Japanese isekai light novel series written by Kei Azumi and illustrated by Mitsuaki Matsumoto. An anime TV series adaptation by C2C premiered in July 2021. Fans were totally into the anime for its laid-back and fun take on the isekai genre, even though the story was pretty generic. So, people are on the hunt for more anime like Tsukimichi and we've put together a killer list that's got you covered no matter what you're looking for!
But before we start, here is the synopsis for those not familiar with it:
Tsukimichi follows a young boy who gets whisked away to another world, but instead of starting out as a hero, he gets the short end of the stick from a not-so-great goddess and gets dumped on the outskirts of her world.
Here are 10 Anime like Tsukimichi: Moonlit Fantasy (Tsuki ga Michibiku Isekai Douchuu).
Disclaimer: This post contains affiliate links. If you use these links to buy something, I may earn a small commission, without any extra cost to you. As an Amazon Associate, I earn from qualifying purchases. Thank you!
---
10. Arifureta: From Commonplace to World's Strongest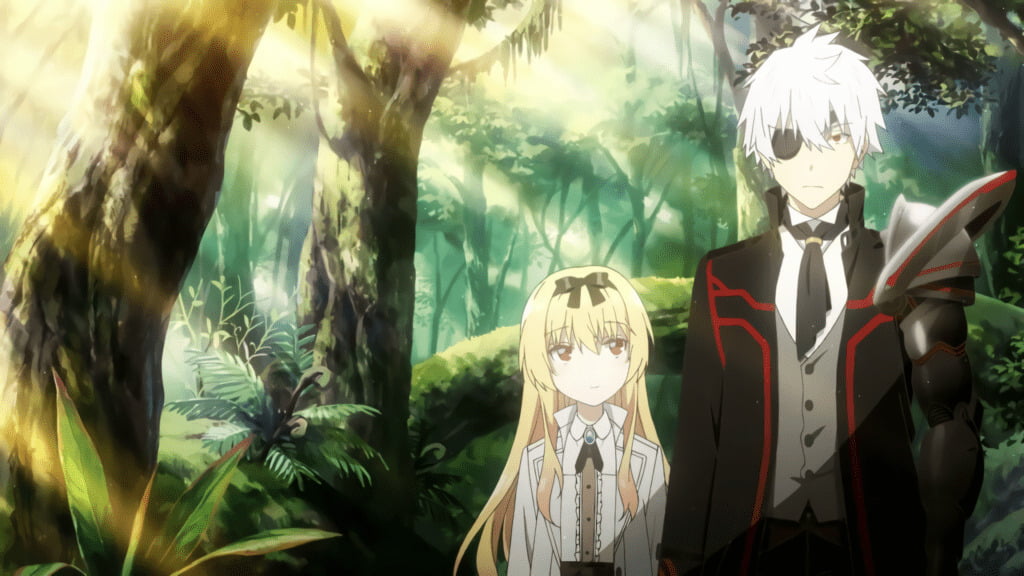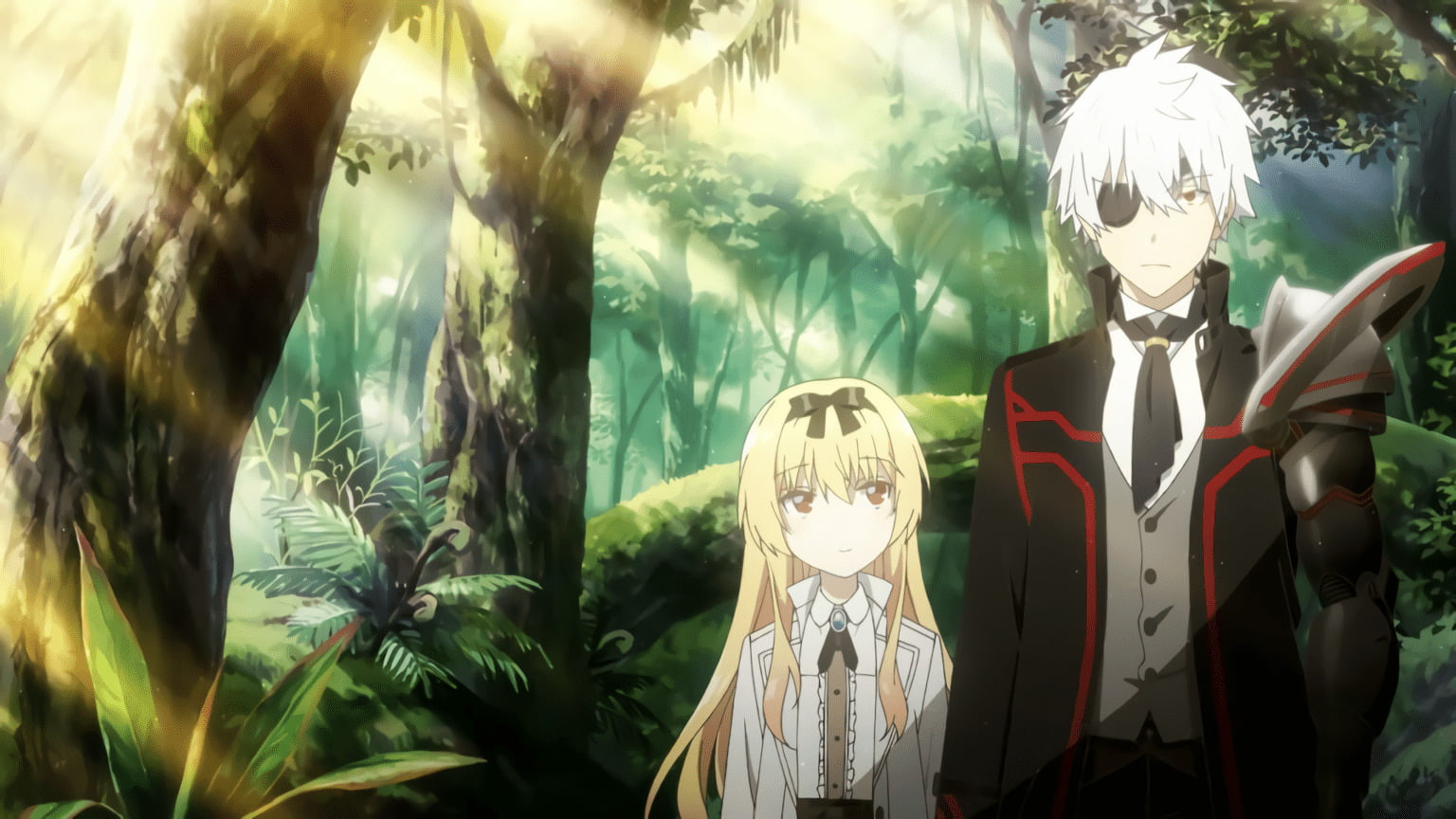 Genres: Action, Adventure, Harem, Fantasy
Episodes: 13
Similarities
Both of them are about an isekai'd hero who ends up having some disadvantage in the new world. In the case of Makoto, it's him not being able to speak the human language, in the case of Hajime, it's not having good abilities from the start. They also both end up accompanied by beautiful girls.
Synopsis
Hajime Nagumo, an ordinary 17-year-old otaku, gets summoned to a fantasy world along with his classmates. They are tasked with saving mankind and all except him are gifted with powerful abilities. After getting betrayed on an expedition by his classmate, he ends up barely surviving the fall to a deep abyss where all kinds of monstrous creatures reside.
Desperate to survive he does not give in and eventually bumps into Yue, an imprisoned vampire, and a bunch of others who are also seeking to escape the labyrinth. And thus, the journey to survive and return back home begins.
---
9. BOFURI: I Don't Want to Get Hurt, so I'll Max Out My Defense.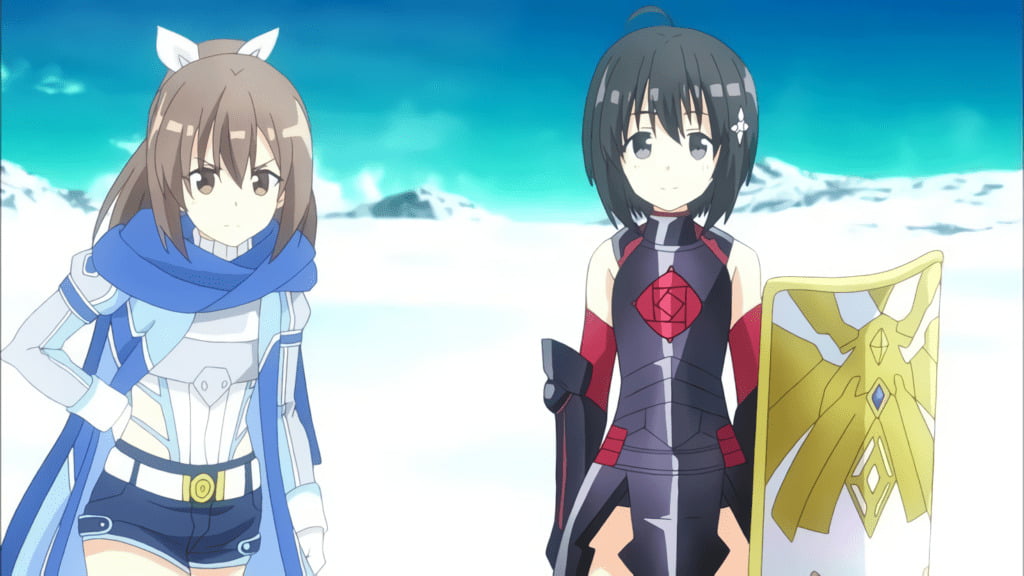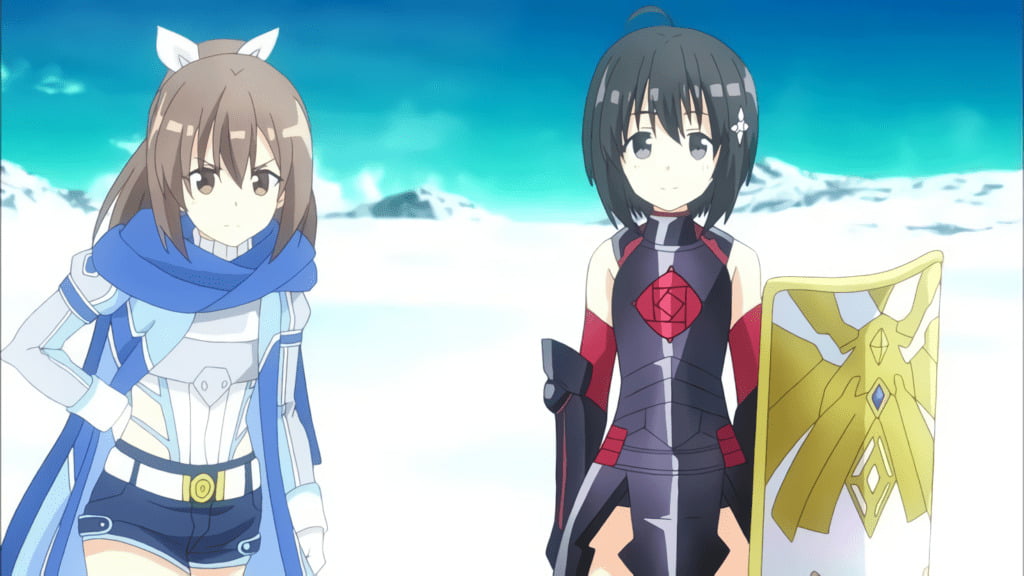 Genres: Action, Game, Sci-Fi, Adventure, Comedy, Fantasy
Episodes: 12
Similarities
BOFURI: I Don't Want to Get Hurt, so I'll Max Out My Defense. is a lighthearted comedy just like Tsukimichi: Moonlit Fantasy. The heroine ends up being overpowered in the new fantasy world but not in a conventional way.
Synopsis
The story centers around Kaede Honjou, a young girl who had never played any games until she purchased the VRMMORPG NewWorld Online after being urged by her close hardcore gamer friend. Being extremely afraid of being hurt, Kaede chooses a shield-class character which she names Maple, and puts every status point into vitality (defense).
This might seem like a rookie mistake until Kaede obtains a skill known as "Absolute Defense". Now, having an overpowered spell that can nullify all damage, she is ready to go off to adventures NewWorld Online has to offer.
---
8. So I'm a Spider, So What?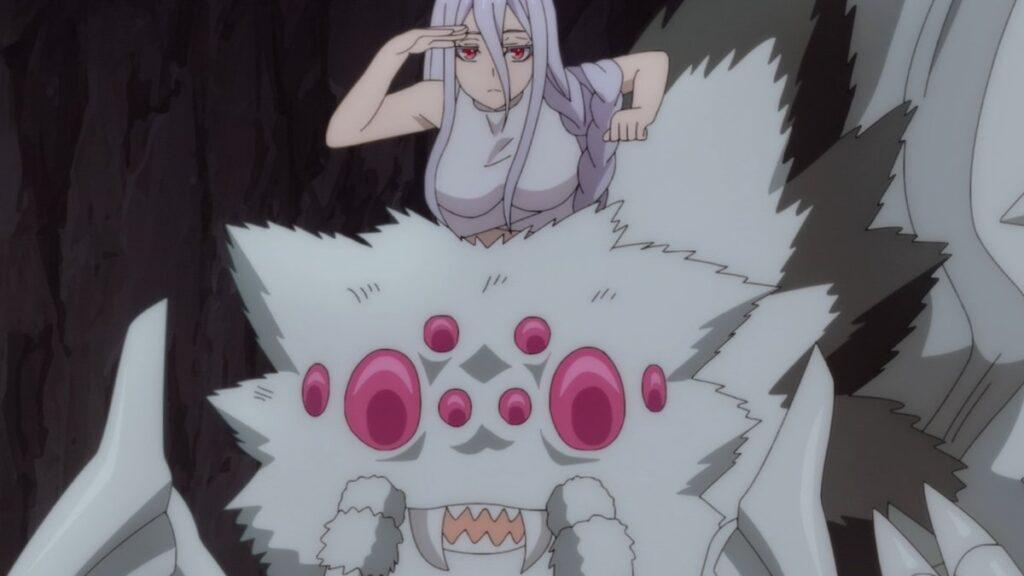 Genres: Action, Adventure, Comedy, Fantasy, Magic, Mystery
Episodes: 24
Similarities
So I'm a Spider, So What? is also an isekai anime like Tsukimichi with a main character who is overpowered. However, the MC faces challenges early on to spice it up a little.
Synopsis
The story follows Kumoko as she's reincarnated as a spider (literally the title). But she's not the only one! It seems that her entire class has also been isekai'd!
---
7. Overlord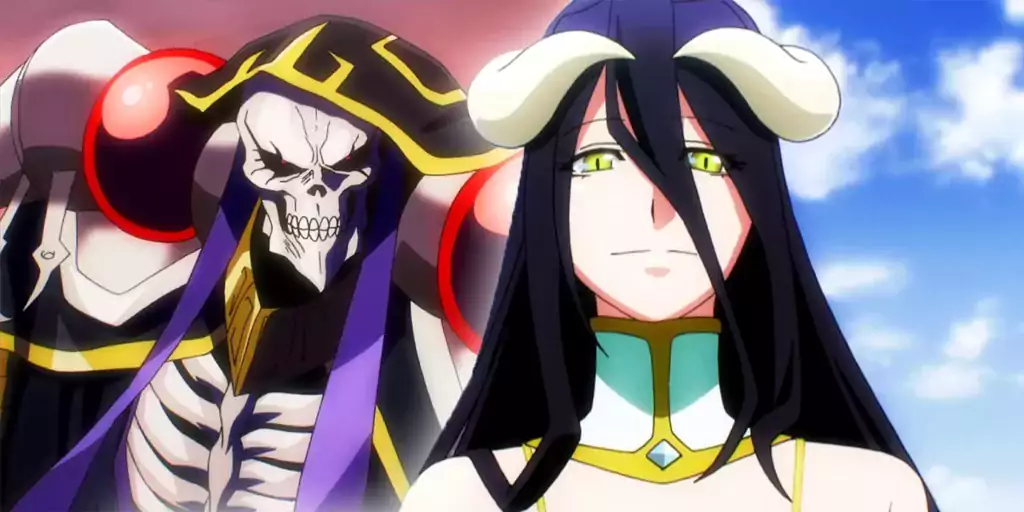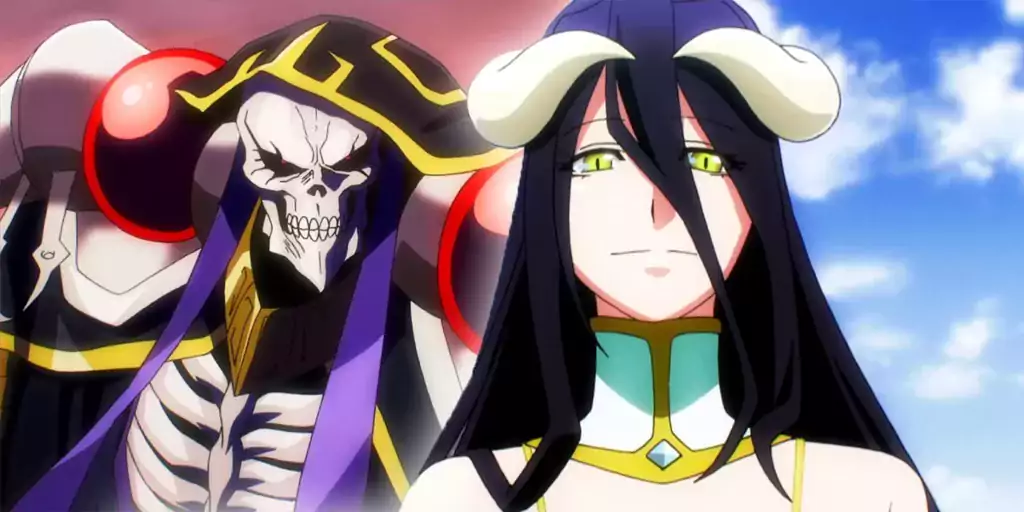 Genres: Action, Adventure, Fantasy, Game, Magic, Supernatural
Episodes: 13
Similarities
Another case of being transported to a fantasy world (in the case of Overlord, the protagonist is stuck in a game).
The protagonist is clearly overpowered and this causes all sorts of creatures to be attracted to him in both platonic and non-platonic ways.
Synopsis
The final hour of the popular virtual reality game Yggdrasil has come. However, Momonga, a powerful wizard and master of the dark guild Ainz Ooal Gown, decides to spend his last few moments in the game as the servers begin to shut down. To his surprise, despite the clock having struck midnight, Momonga is still fully conscious as his character and, moreover, the non-player characters appear to have developed personalities of their own!
Confronted with this abnormal situation, Momonga commands his loyal servants to help him investigate and take control of this new world, with the hopes of figuring out what has caused this development and if there may be others in the same predicament.
(Source: MAL)
---
6. Wise Man's Grandchild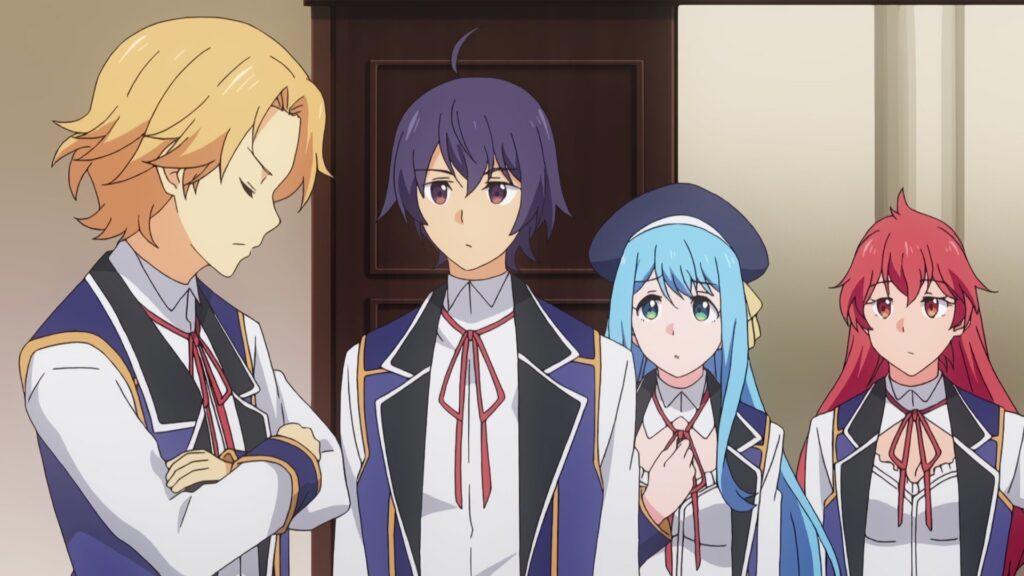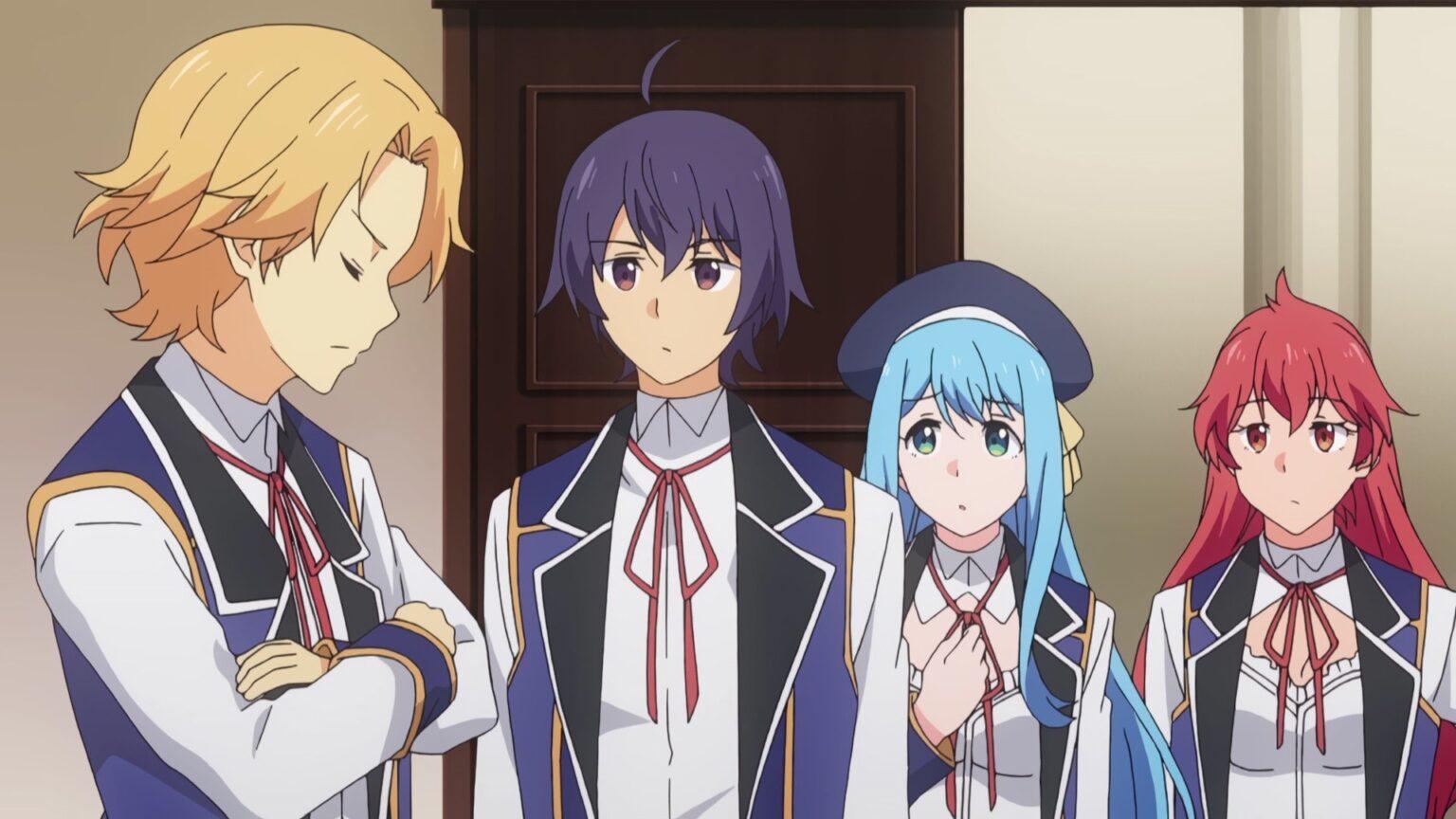 Genres: Action, Comedy, Magic, Romance, Fantasy
Episodes: 12
Similarities
Both are magical isekai with a heart-warming & relaxing atmosphere.
Synopsis
A recently deceased young man is sent to another world and is taught magic by master Merlin. He quickly masters everything he is taught. However, he has one fatal weakness, common sense.
(Source: IMDb)
---
5. Isekai Cheat Magician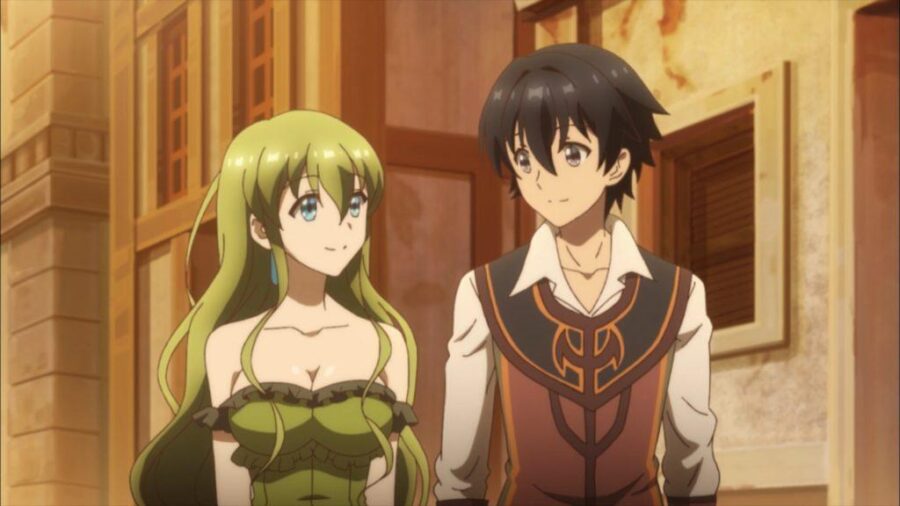 Genres: Action, Adventure, Fantasy
Episodes: 12
Similarities
Just like Tsukimichi, Isekai Cheat Magician is a pretty generic isekai anime with a character who starts off OP.
Synopsis
In Isekai Cheat Magician, two childhood friends end up transported to a fantasy world full of magical creatures.
Upon their arrival, they are attacked by a beast. Luckily, a group of kind adventurers saves them and directs them to the Guild where they can get evaluated for their magical aptitude. The results are shocking—they both possess extraordinary powers that far surpass the standard mage!
---
4. How Not to Summon a Demon Lord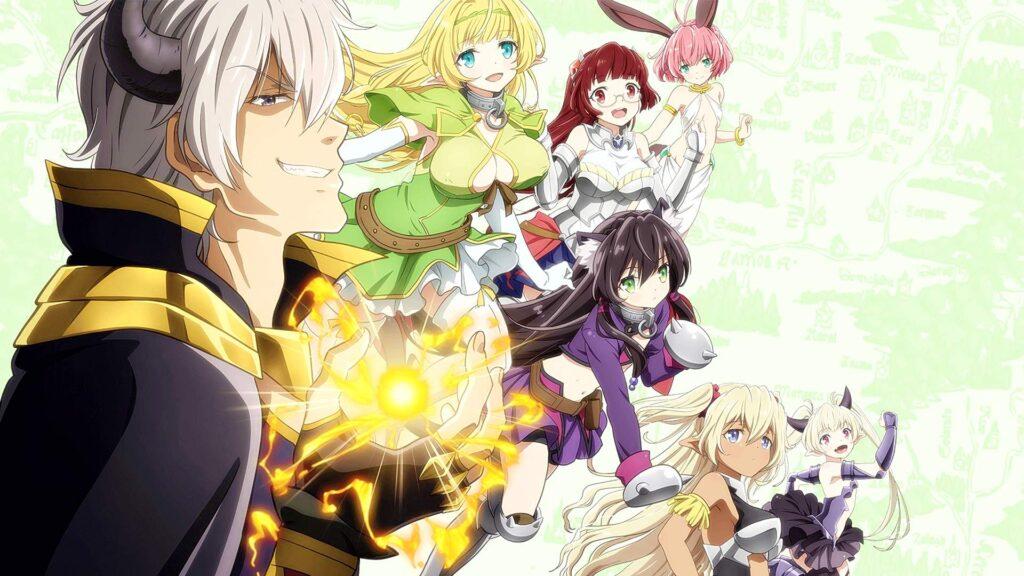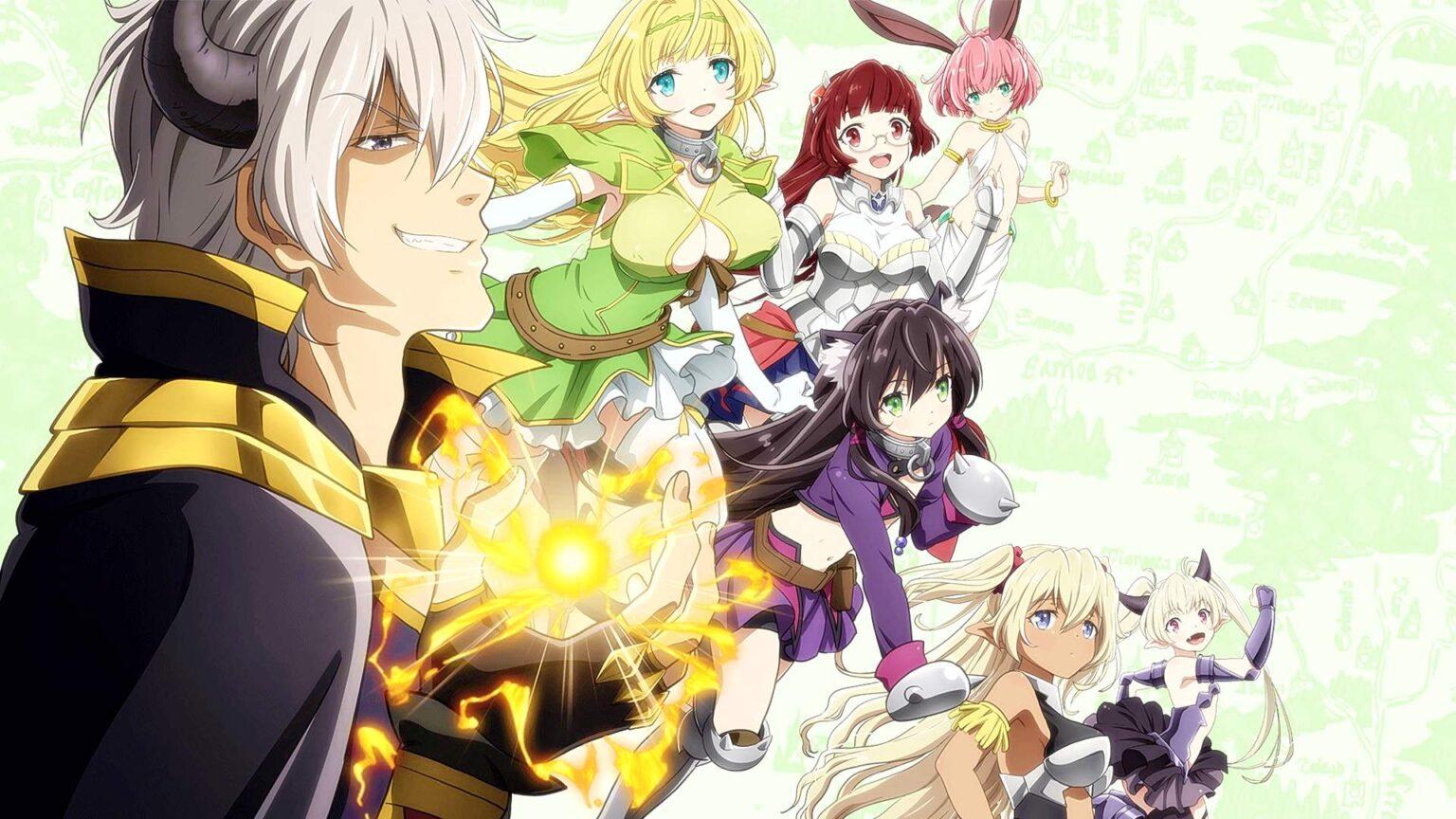 Genres: Comedy, Ecchi, Fantasy, Harem, Magic
Episodes: 12
Similarities
Another isekai harem anime like Tsukimichi is How Not to Summon a Demon Lord. The protagonist ends up 'enslaving' or 'contracting' beautiful girls.
Synopsis
Takuma Sakamoto is a gaming introvert who dominates the MMORPG game "Cross Reverie" as the character "Demon King Diablo".
One day, he suddenly finds himself transported to a fantasy world as the Demon King from the game. Two hot ladies try to enslave him, but the plan backfires and they end up becoming his slaves. After hanging out with them, he joins them on a quest to break the slave contract.
---
3. The Rising of the Shield Hero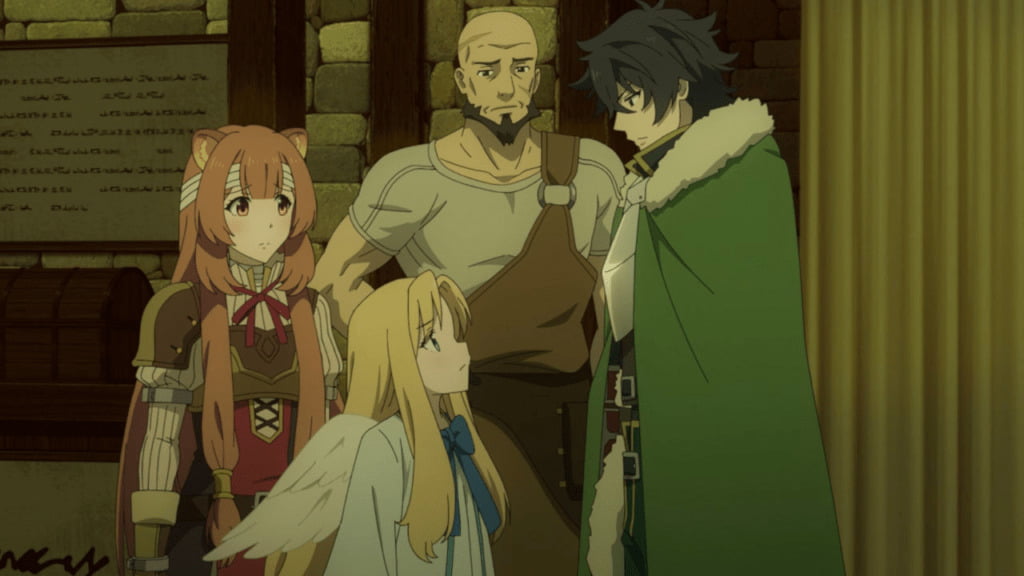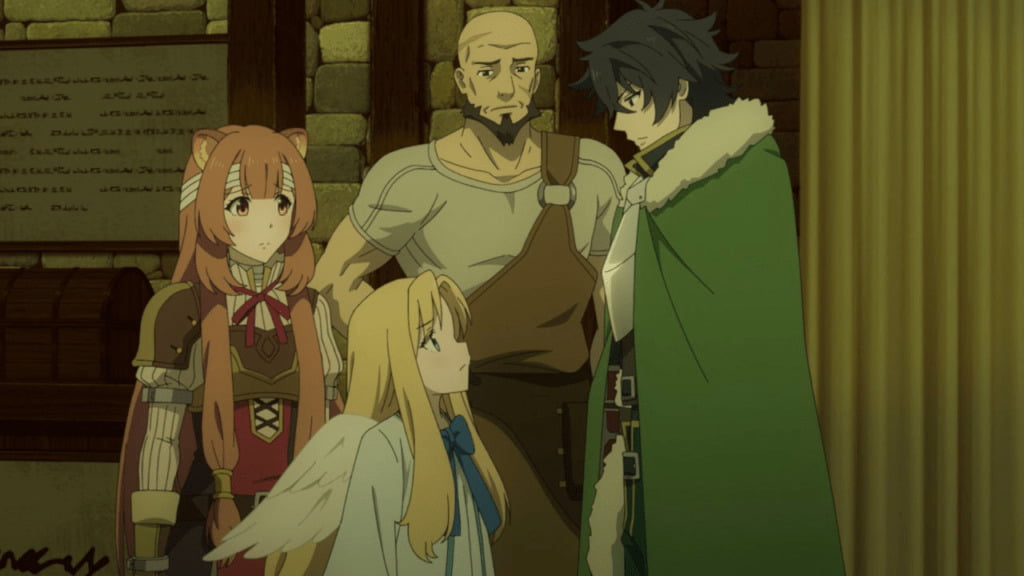 Genres: Action, Adventure, Drama, Fantasy
Episodes: 25
Similarities
In both anime titles, the main character teleports to another fantasy world. However, it's not exactly great there from the start, more harsh. He has to perform various tasks and work his way up to find a place in this new world. Luckily, he ends up having loyal demi-human companions!
Synopsis
Naofumi Iwatani, an ordinary Japanese boy, gets summoned to an alternate world as a "Shield Hero", the weakest out of the four summoned heroes. Their sole purpose in this world is to fight inter-dimensional hordes of monsters called Waves.
Unfortunately, not all that glitters is gold. Not only is his equipment the weakest, but he also gets betrayed by the sole companion that agreed to follow him on his journey. The future looks grim until he stumbles upon a tanuki demi-human girl and a mysterious egg that later hatches into a bird-like creature.
The three form strong bonds and work together while also trying to save the world from the Waves.
---
2. KonoSuba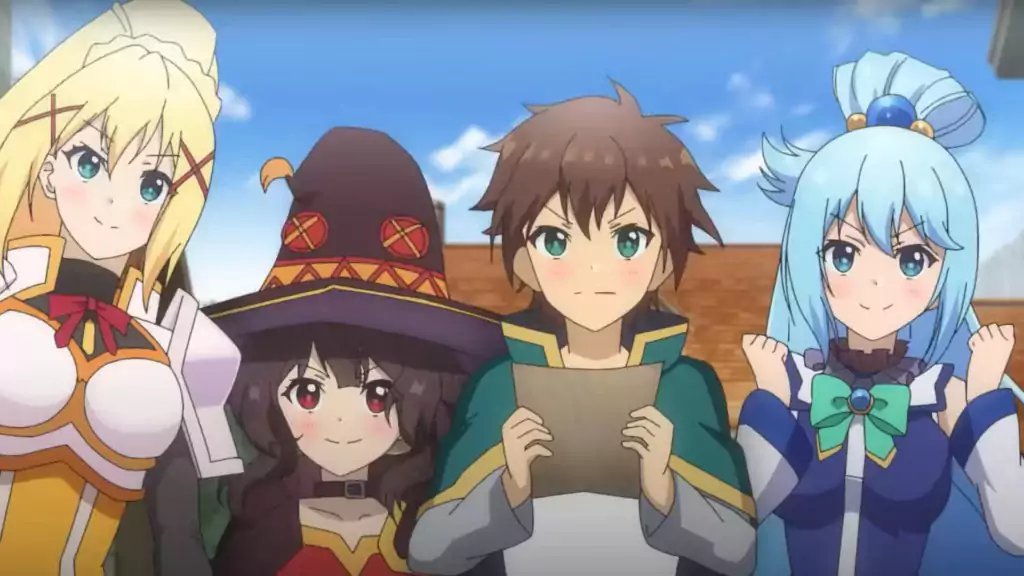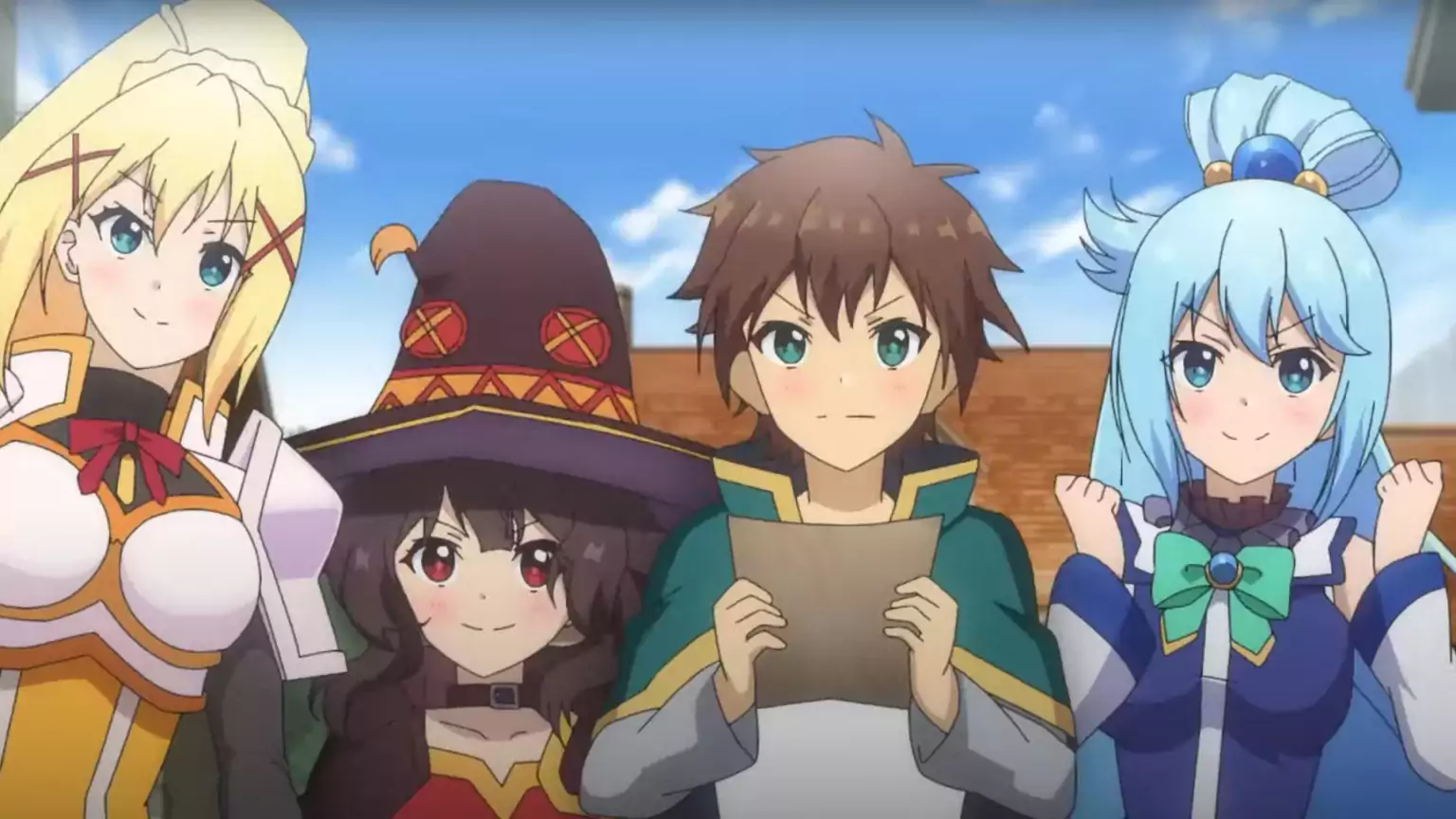 Genres: Adventure, Comedy, Parody, Supernatural, Fantasy
Episodes: 10
Similarities
KonoSuba must have been an inspiration for this anime since they literally start with the same scene—the protagonist is greeted by a mean goddess who mocks him before he is dropped into a fantasy world. Although KonoSuba handles this way better than Tsukimichi: Moonlit Fantasy, they both rely on a parodic approach to the isekai genre and fanservice-filled scenes.
Synopsis
A teen boy dies a shameful death and is brought before the goddess Aqua who offers him a new life with his memory intact. However, there is one catch—he will be reincarnated in a magical world with the task of defeating the demon lord!
---
1. That Time I Got Reincarnated as a Slime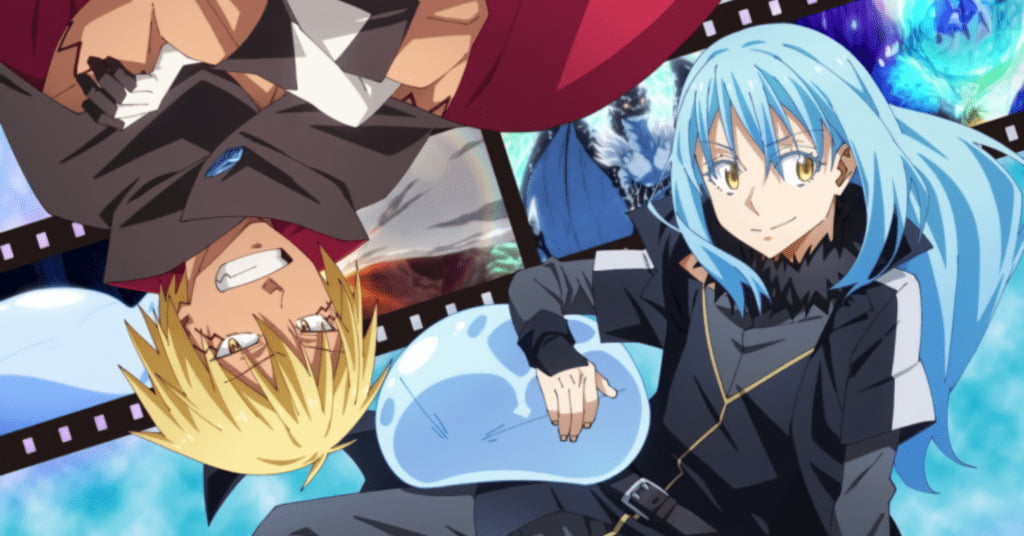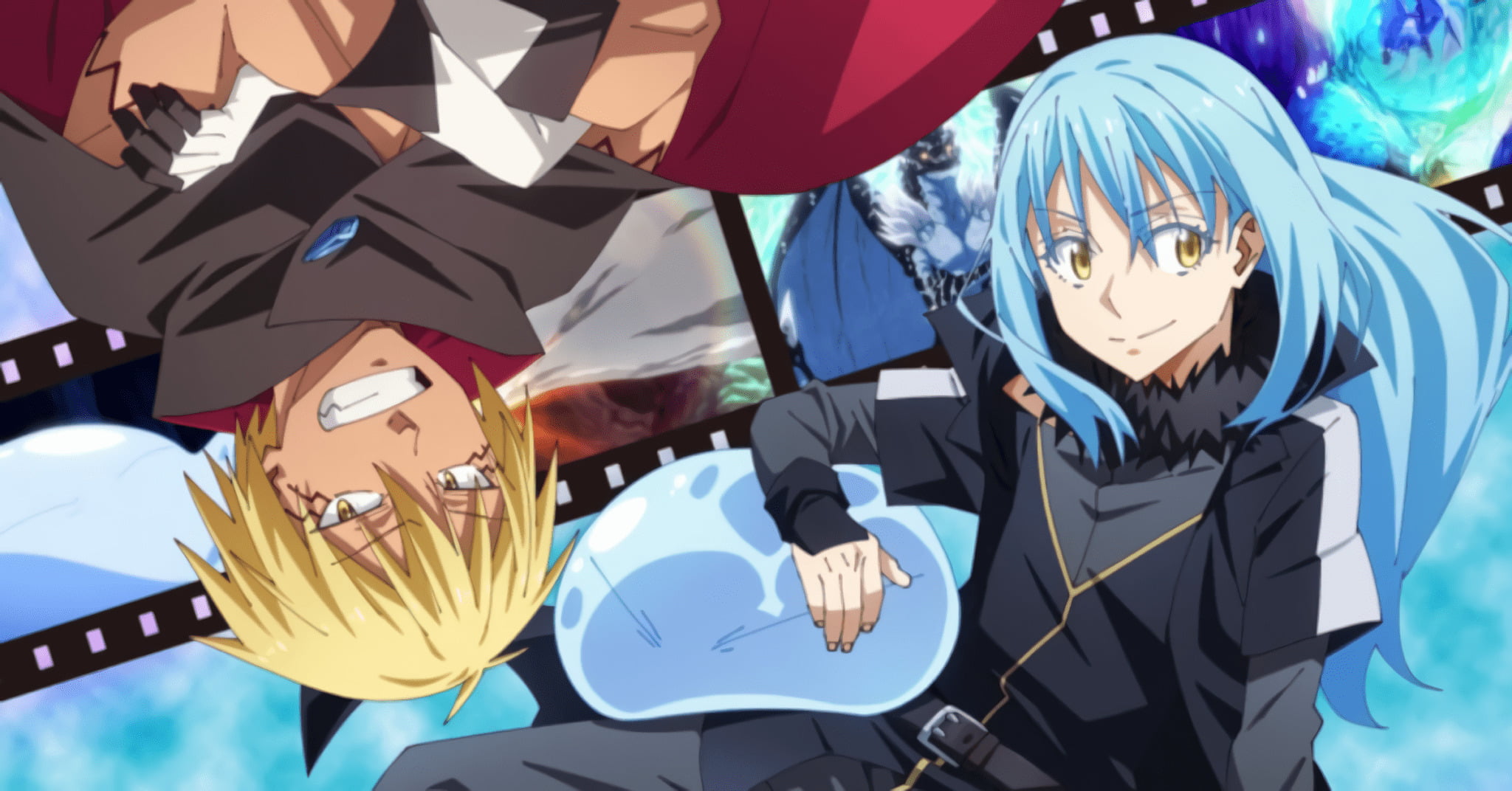 Genres: Action, Adventure, Comedy, Demons, Magic, Fantasy
Episodes: 24
Similarities
That Time I Got Reincarnated as a Slime is probably among the most similar anime to Tsukimichi as they are almost identical in certain aspects.
The main character is overpowered, he allies a dragon who can also take a human form, and also there is the town-building element because he helps demi-humans build their lives.
Synopsis
An average 37-year-old corporate worker dies after being stabbed to death by a passing robber and reincarnates as a genderless slime in a fantasy world.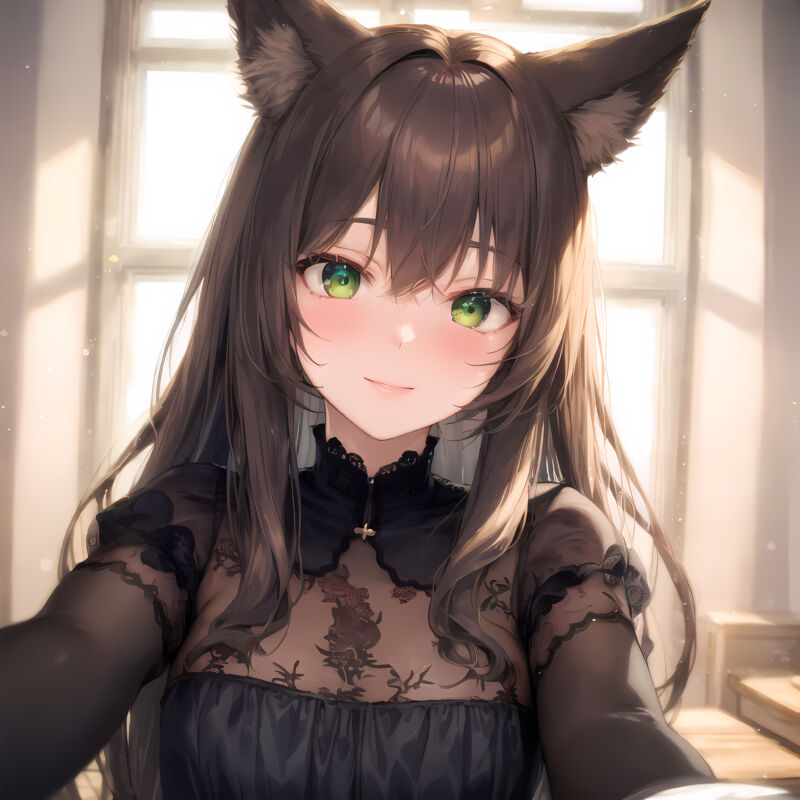 BEFORE YOU GO...
Thanks for reading my article!
If you enjoyed it, please consider supporting me on Patreon. As a Patron, you'll gain access to exclusive perks like stunning AI artworks that are not shared anywhere else, personalized AI-generated art pieces, and the ability to shape the future of this blog by suggesting topics you'd like me to cover.
Your support means everything to me and enables me to keep creating content that I'm passionate about. ✨

Also, you're welcome to join our 9 Tailed Kitsune Anime Discord community. We'd love to have you there! 🙌