Guest post by Leon Collier.
Leon is a UK-based professional writer working for a popular academic essay writing website that provides help writing college papers to students from worldwide colleges. He loves to think out of the box in order to leave readers satisfied with the quality of work. His hobbies include playing tabletop games with his buddies and reading history books. You can get in touch with him via Twitter @LeonCollier12.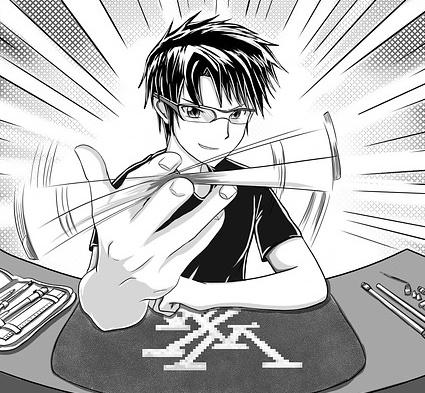 ---
What does it mean, "Ai Shiteiru"?
It means, "I love you" in Japanese—you might answer.
Yes. But what does "I love you" mean?
To find the answer to this question is not that easy. And to find it is the life goal of our hero, Violet Evergarden, the main character of the animated series by Kana Akatsuki.
The anime received a lot of praise for its soundtrack, graphics, and indomitable ability to make its viewers cry. It is considered one of the best anime series out there. But what made this series so impactful? Let's find out.
A Girl and a War Machine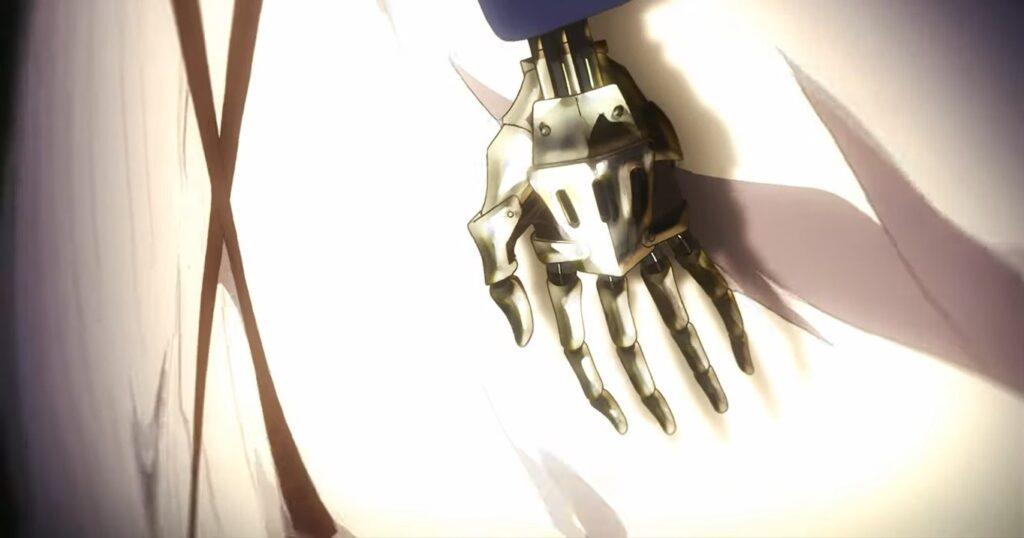 Violet's story is dramatic to an extreme. An orphan trained for war she was stranded on a beach to be later found by the military of the opposing side. Major Gilbert Bougainvillea felt petty for her and adopted Violet as his protegee. Together they formed one of the most effective military units in the army. In the final action of the War, they get under a heavy artillery attack. "I love you", says Gilbert before an explosion takes him away from her. As well as both her arms.
This all takes place in a pseudo-historical steampunk world that resembles a XIX century Europe. Violet finds herself in a hospital with a pair of new mechanical arms. Being a war machine on practice she now also literally became a machine. But something else changed as well.
War and Peace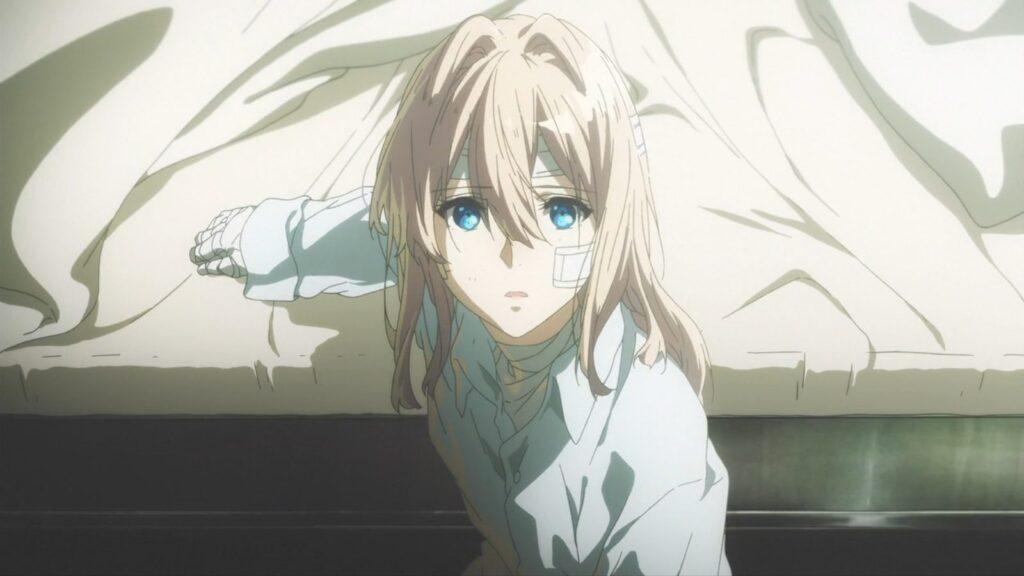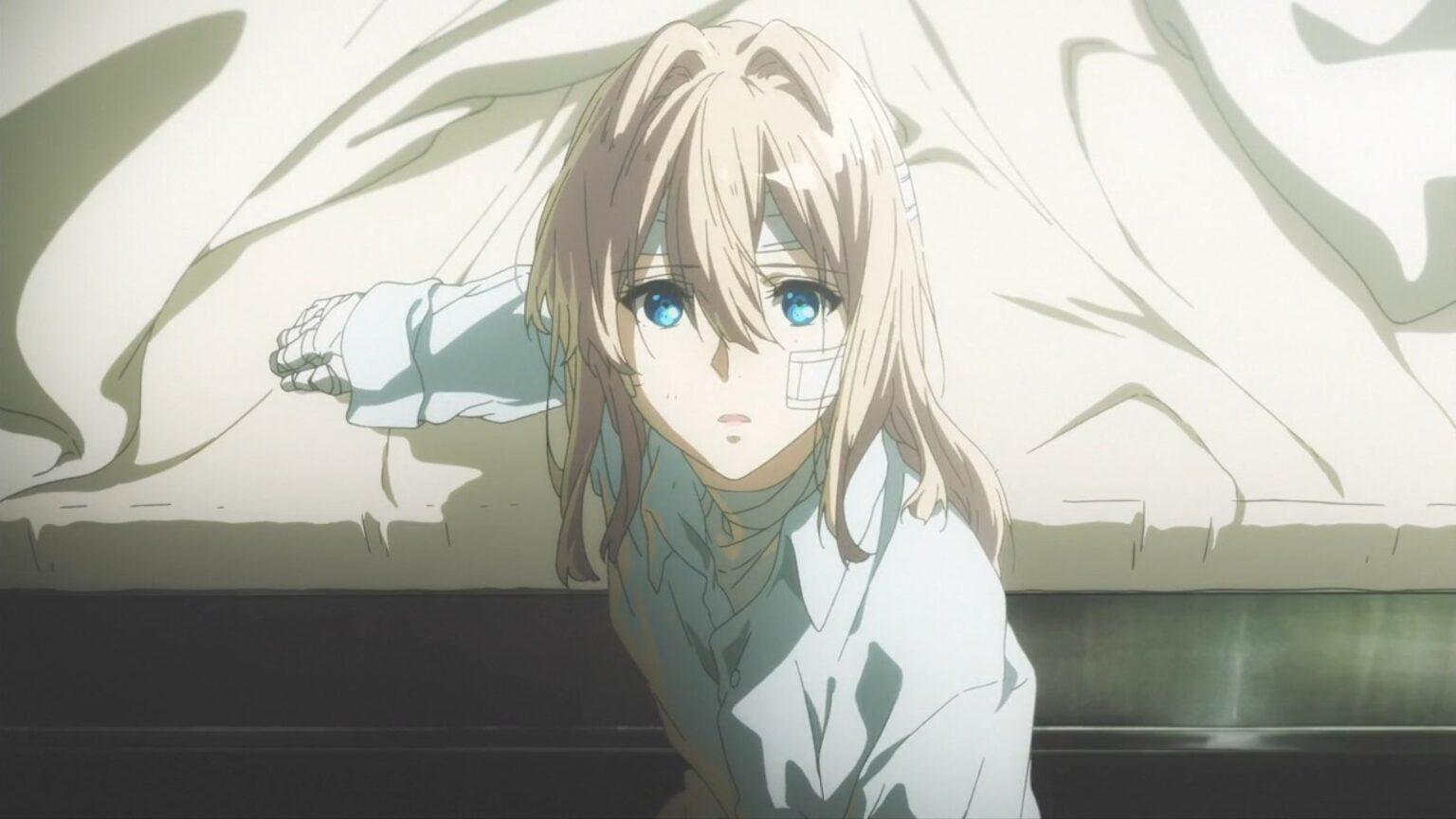 Our hero leaves the hospital and moves under the custody of another officer who has become a head of a postal office of sorts. He gives her a job of an Auto Memory Doll—a special type of people, who help others to convey their feelings on the text and send it as a letter. Not unlike a dissertation help. It's not an easy task. And Violet, as you might have guessed, has even more difficulties conveying feelings due to her fractured childhood and a soul-purging war experience. But she manages to surprise her colleagues thanks to a burning desire to find the meaning of the term "Love".
Love means always being honest, right?—This is her first attempt to solve the question that ended up as a disaster. A client asked her to write a letter to her cavalier. After a straightforward response to a man, Violet sees her client in tears and understands that she's everything messed up. Yes, the woman said that she didn't like him, but it doesn't mean that she wanted to fend him off. Even less, to let him know what she thinks!
Her character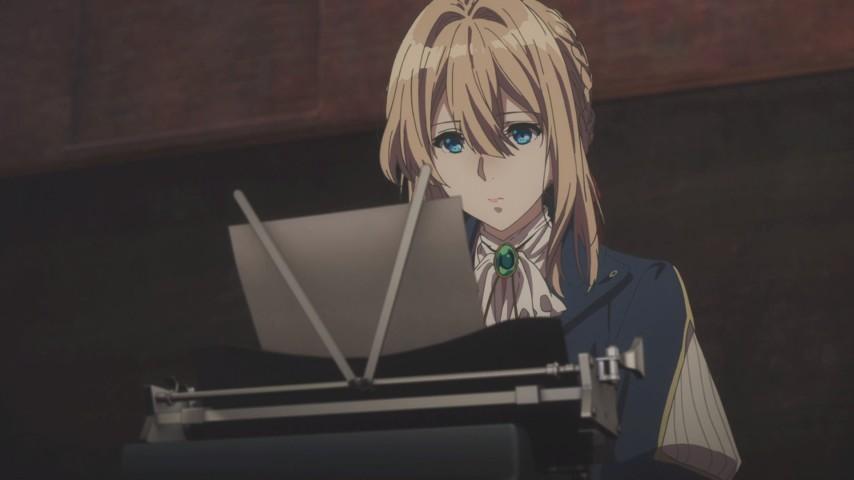 This was just a first step on her pass through a peaceful world of convoluted personal relationships. Through the lens of other people feelings, thoughts and situations she gathers pieces of a bigger picture. It's like an exam, a final task given to her by Gilbert—who is nowhere to be found after the war ended. And she righteously believes that it is her duty to solve this task.
Violet is a great character to follow. Always honest, always straight, diligent and dutiful she never complains and constantly sacrifices her comfort to help others. Her personality is perfect for this philosophical experiment. People quickly understand how precious her character is. Violet's pure and naive nature serves well to a lot of clients who seek help from her company because she's always ready to go an extra mile for a stranger in need.
Her dream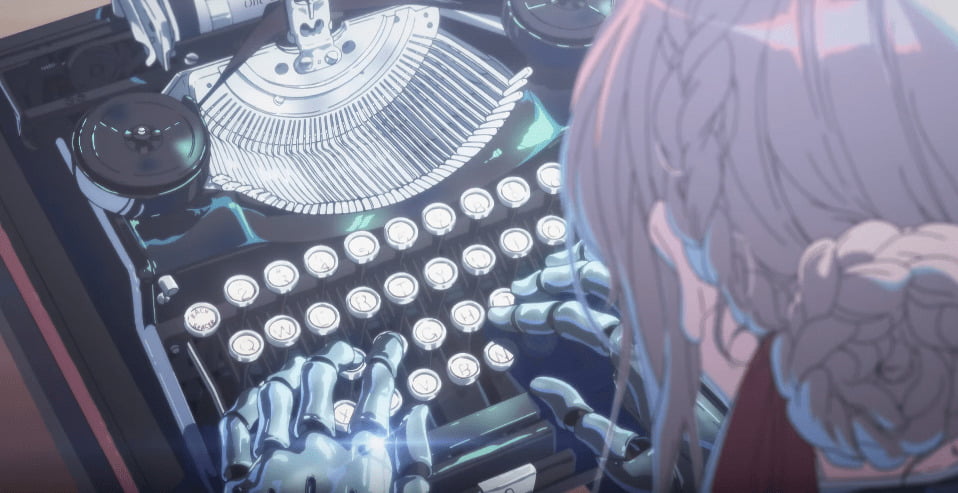 The series consists of separate self-contained episodes about Violet interacting and helping her clients. It is a movie about myriads of personal dramas expressed in a dialogue between a client and the main hero, as her metallic fingers run across the typing machine. These dramas teach her a lot about love, but her ultimate goal never escapes her focus—to finally meet her mentor major Gilbert.
The creators of the film manage to convey deep and utterly emotional stories that are nested in the bigger picture of Violet's path to understanding human feelings.
One assignment makes her write dozens of letters for an ill woman whose child is constantly nagging for attention. The little girl doesn't understand how her mother—who is certainly to die soon—can waste their precious time on such unrelated matters as letters. Only in the end, we understand that these letters were written to the daughter herself—as a birthday gift for the next fifty birthdays this girl would meet without her mother.
Placed in such a situation Violet is doing her best to take care of the emotional state of both the mother and the daughter.
How it ends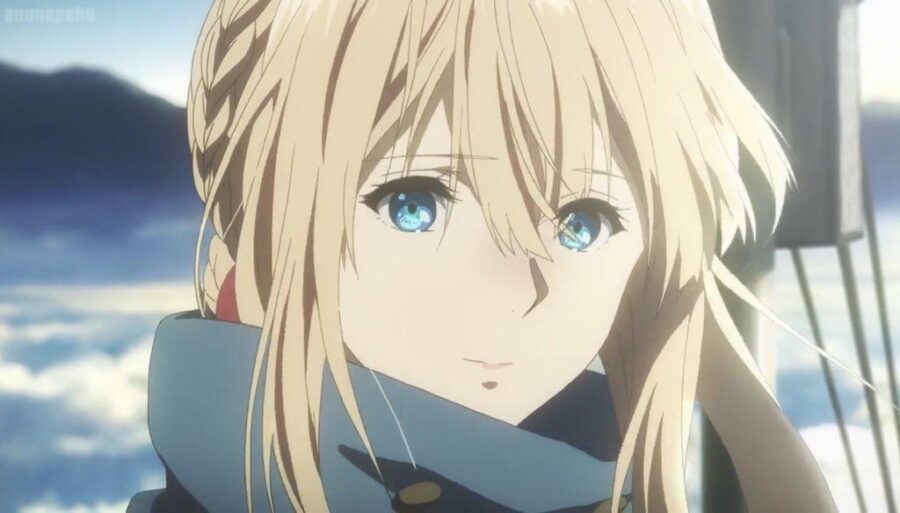 In the end, the series manages to hold the attention of a broad auditorium. There are action scenes for those who love battles with cool moves and tension. And there are emotional stories that would sway the heart of any viewer alike.
Violet learns a lot by working at the company as a thesis writer in the emotional field. She was always a strong woman with rigid self-discipline. But now these qualities combine with a deep understanding of human emotions. Does she get to meet the most important person of her life? For many years the ending of the series stayed unresolved. And we won't spoil it. You should see everything for yourself. Because the path Violet has accomplished is as much important as the destination—no matter which it was.
Conclusion
Kyoto Animation studio is known for its quality work and a high level of attention to detail. It received a Diversity Award from Women in Animation for their fair treatment of their employees. But the studio has seen dramas in real life too. In 2019 one of their offices had suffered an arson attack that killed a lot of people working for the studio, including two directors.
Notwithstanding the hardships, they underwent these people released a full movie in 2020 that concludes the story of Violet Evergarden. What makes this title so great? The dedication to quality, details of everyday life, and the ability to tell deep, mature personal stories. If you want to see a high-level story that will stir your ability to feel, look no further than the story of Violet Evergarden!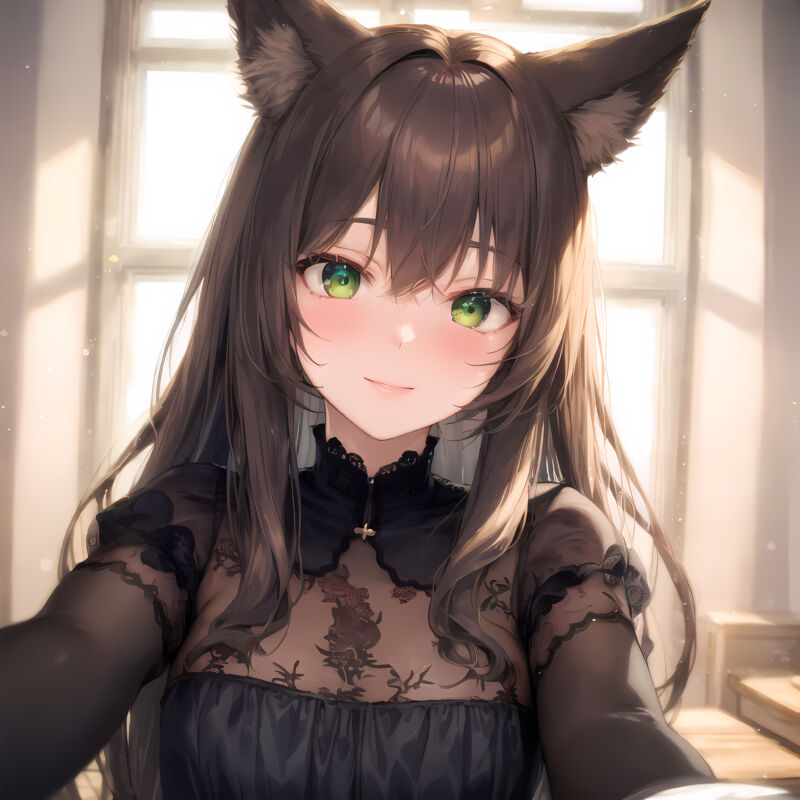 BEFORE YOU GO...
Thanks for reading my article!
If you enjoyed it, please consider supporting me on Patreon. As a Patron, you'll gain access to exclusive perks like stunning AI artworks that are not shared anywhere else, personalized AI-generated art pieces, and the ability to shape the future of this blog by suggesting topics you'd like me to cover.
Your support means everything to me and enables me to keep creating content that I'm passionate about. ✨

Also, you're welcome to join our 9 Tailed Kitsune Anime Discord community. We'd love to have you there! 🙌