If you find yourself with extra time on your hands and want to break up the boredom, you can nip your monotony in the bud with these solid anime to watch when feeling bored.
There's no excuse for boredom when you can watch anything at any time. Instead of sitting around on your phone getting lost in social media and news, you can watch these Iconic animes.
You want an anime that offers something different, and easy to watch. You also want a series that's full of depth but is still easy viewing that you can watch with no pressure. We've rounded up the best anime to watch when you're bored, many of which are exciting to watch from start.
Our list of the ideal anime to watch when bored includes a wide range of genres, so there's something for everyone. Come along with us as we help you fill out your queue with some perfect bored anime playlist.
---
1. Daily Lives of High School Boys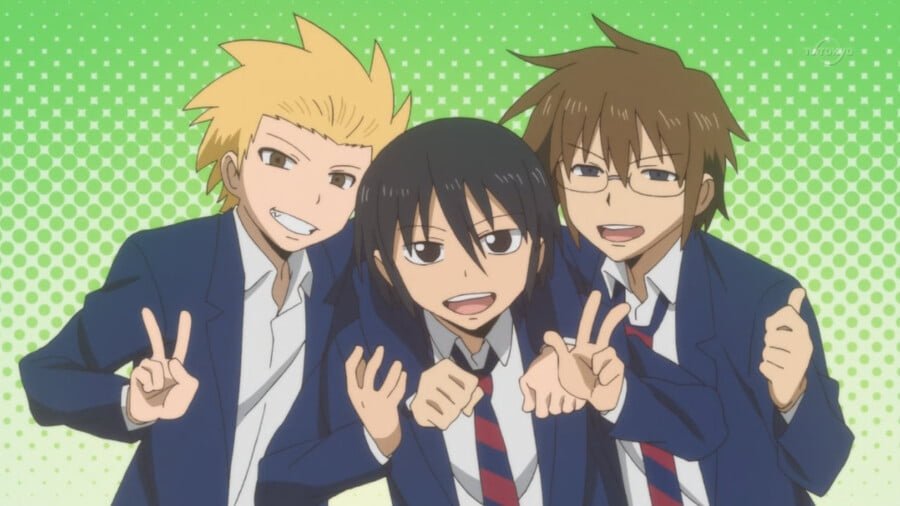 Genres: Gag Humor, School
So I just started watching this anime recently without knowing anything about it, damn it's the real deal—every episode has epic shit to watch. I laughed my ass off watching this series specially the skirt scene episode will always be fun no matter how many times I watched it.
Daily Lives of High School Boys is a treasure of a comedy anime, iconic for its unique blend of surreal jokes and badass characters. The series follows a group of high-school boys' day-to-day lives. There isn't much of a story plot just normal human life. It's a normal high school comedy, the creators of the show really had fun with each episode.
---
2. Demon Slayer: Kimetsu no Yaiba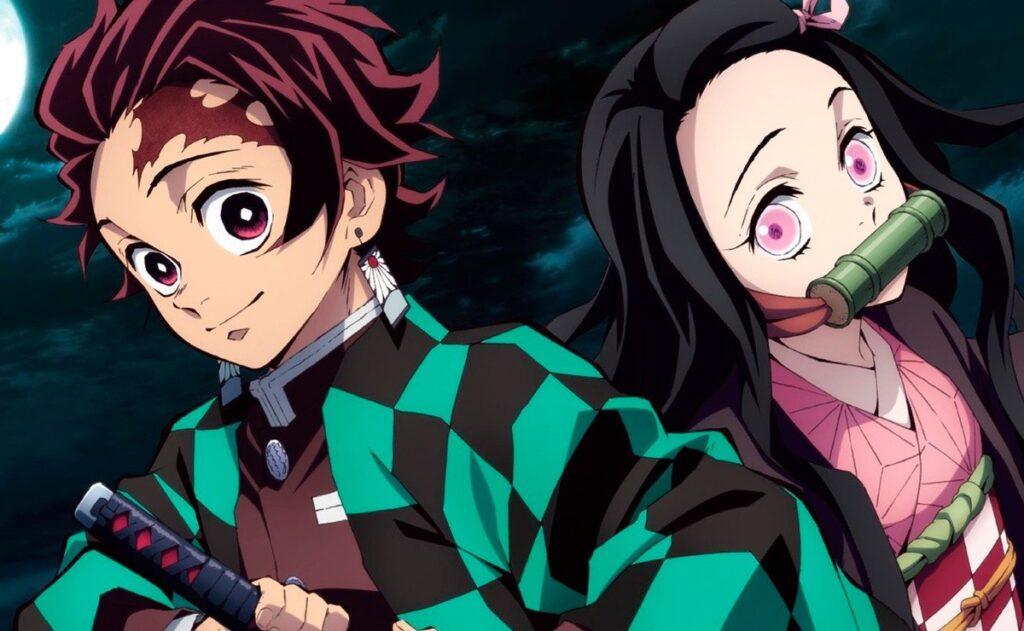 This anime has a special place in my heart. Demon Slayer has a great story. In short, it's about a boy named Tanjiro and his sister who was the unique survivor of a demon attack on his family. She turned into a demon and it's Tanjiro's mission to find a way to return humanity to his sister.
Demon Slayer has completed 2 seasons with one movie named Mugen Train while 3rd season is officially confirmed. Give it a try, you would watch one of the most intense fight scenes you have ever watched in Anime. I actually had goosebumps while I was watching this real masterpiece.
---
3. Naruto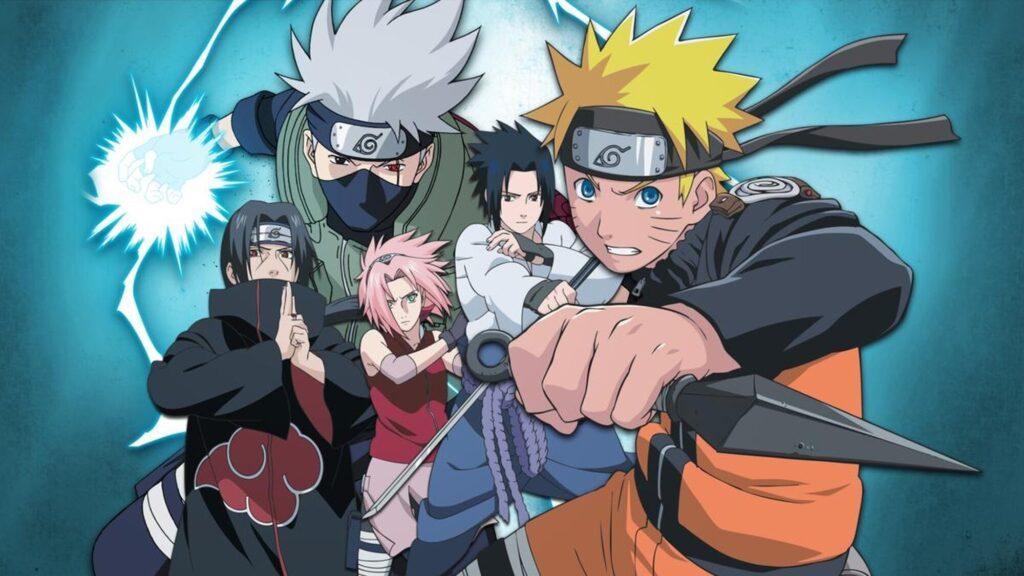 Genres: Adventure, Action, Fantasy
Naruto and Naruto Shippuden is my all-time favorite anime series. It is not just an anime, it's the meaning of life. I had the best time of my life watching this show even though the Naruto world never existed I feel a strong connection, an escape from reality. Whenever I feel bored, I just open any arc or filler episodes and when I have done watching, I feel so refreshed and down to the earth. I'm sure everyone who has watched Naruto feels the same.
This whole Naruto series became an escape for me. It helped me to get out of depression. 💗 The music, the characters, the storyline—everything is a perfect match. It really is one of the best anime series to watch when you're bored with lots of spare time.
---
4. Monster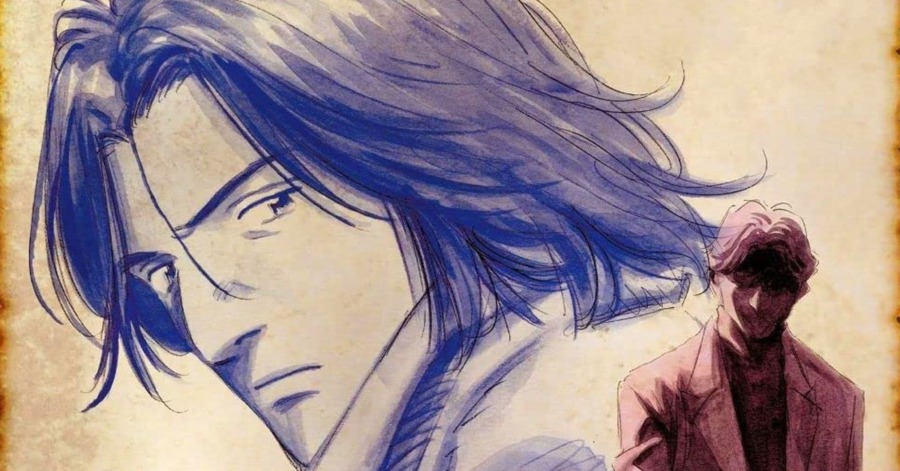 Genres: Suspense, Mystery, Psychological
Let me introduce you to the most iconic anime—Monster from 2004. It's an engrossing psychological drama that is heavily driven by its thrilling story. The story is packed with so many interesting topics and dialogues that it's ridiculous.
Monster has gotten more notice over the years, but there was a time when this anime was for sure underrated and unknown. Still underrated though, but I'm glad that it isn't that popular—I'd rather monster stay a true hidden gem that appeals to a niche audience. I hope the creator knows how much their fans appreciate this masterpiece.
This is the anime you looking for when you feel empty and eagerly want to watch something different. Words cannot describe how incredible it is, all I can say is I'm glad to have watched such a masterpiece.
---
5. Don't Toy with Me, Miss Nagatoro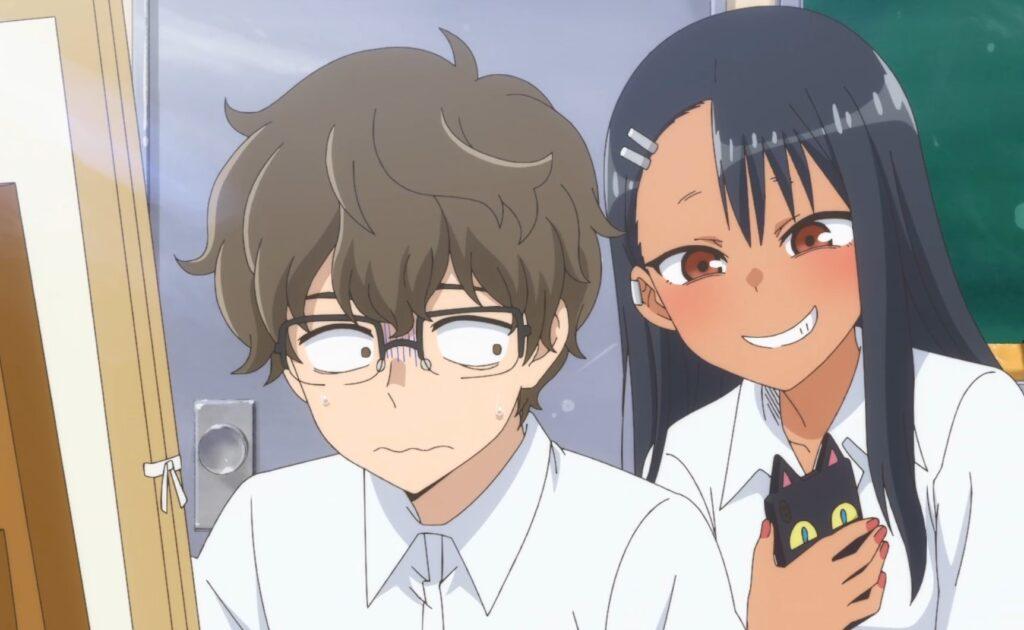 Genres: Gag Humor, School
Don't Toy with Me, Miss Nagatoro is a silly funny anime you could watch. It's weirdly fun to watch, and I'm genuinely in love with the characters in it.
This short has plenty of laughs. It was the kinkiest anime that I have watched in a long time. Our shy senpai got mentally, physically, and sexually harassed and bullied in a cute fun way by Nagatoro. All of the characters in this series are entertaining in their own way and none are as cruel as they first appear.
The female character Nagatoro reminds me of a girl who used to tease me in high school and would constantly play with my emotions maybe that's the reason I put this anime on this list, lol. The animation and character designs are good. Overall I'd certainly recommend this anime series to those who want to have nice humor…I just wish there were more episodes.
It's one of those animes that few know about, but it has a good storyline and characters if you can get into it.
---
6. Detective Conan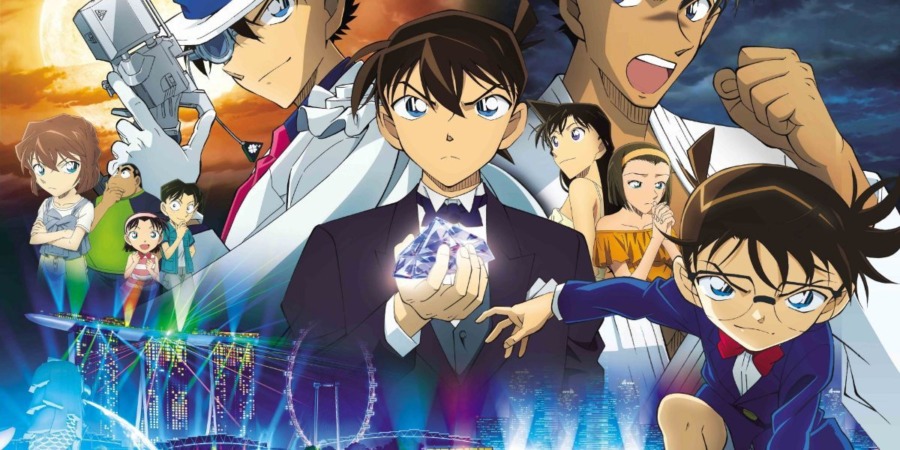 Genres: Detective, Comedy, Mystery
It's impossible for anime fans to not know of the existence of Detective Conan. Detective Conan is one of the longest-running anime of all time, featuring intriguing crimes that need to be solved by the mind of Conan who's turned into a 7-year-old boy after consuming a mysterious poison.
I seriously love to watch this show when I feel bored. I remember watching it for the first time on TV. A series is still ongoing for its huge popularity among all ages. Don't let the number of episodes scare you, you can even watch any random episode that suits your mood. It will definitely be worth it.
---
7. Asobi Asobase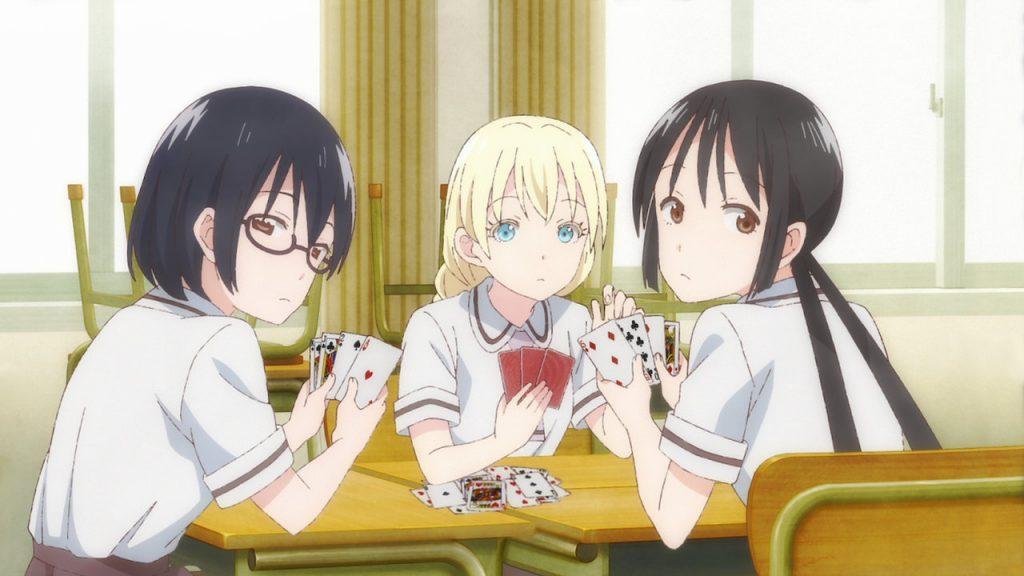 Genres: Gag Humor, School
Started watching this series on Netflix and I'm currently into the last episodes as I write this. Man, how could I miss this gem for so long time…? It's the most hilarious anime you can watch.
Throughout this series, I laughed so loud at some points that my dog started giving me funny looks. The show follows the three girls of the Pastimer's Club—they're short, sweet, and painfully funny. It's very hard to talk about this anime because the Comedy is very lunatic, but on point, featuring hilarious reactions that are Meme-worthy.
---
8. Spy x Family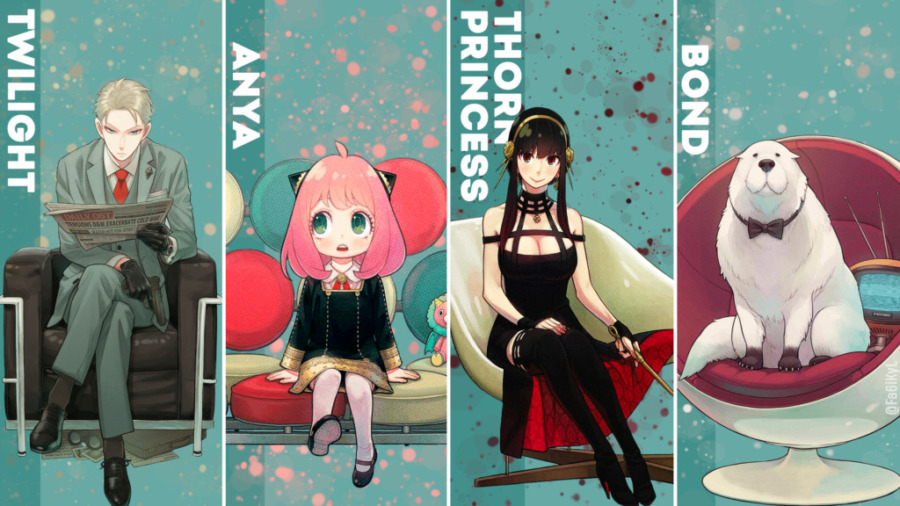 Genres: Action, Comedy, Childcare
No matter how boring your day might be, it's difficult not to smile after watching this show. Spy x Family is the most popular show in Japan actually for the 12th week running according to the GEM Standard.
What's so special about this show is that it was trending for months back to back, well this anime definitely is a must-watch for all of us. We don't always need animation like Demon Slayer or a story like AOT, sometimes all we need is heartwarming adventure anime like Spy x Family. This is the perfect wholesome anime to watch in you're bored, it follows the story of a spy named Twilight who gets married and adopts a kid to go undercover for a mission.
---
9. No Game No Life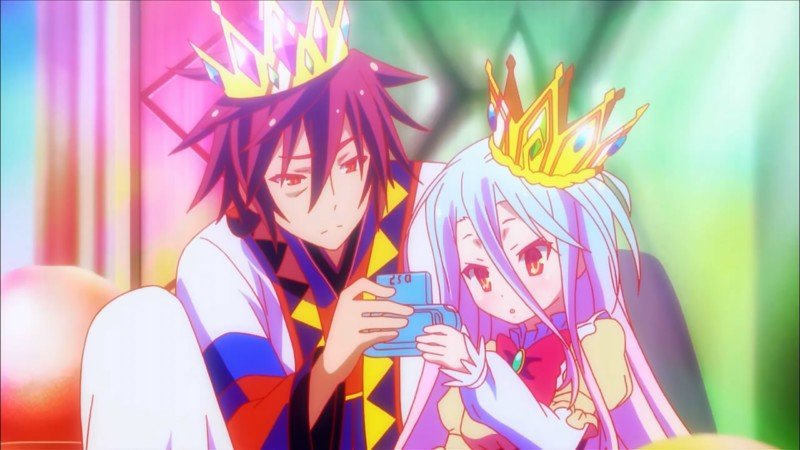 Genres: Comedy, Fantasy, Ecchi
Sora and Shiro, commonly known as "Blank"—the team that has never lost in any online game—are two shut-in siblings. God challenges them to a game of chess, and so their adventure starts!
They are taken to Tet's world where the pieces on the chessboard stand in for the inhabitants of that world. Can they defeat the God of Games and take over as the new Gods of the game-dominated world?
NGNL is one of the most binge-worthy anime series to watch when you are bored. You'll finish this isekai anime series in one sitting because of its captivating plots and broad array of characters.
---
10. Yuru Camp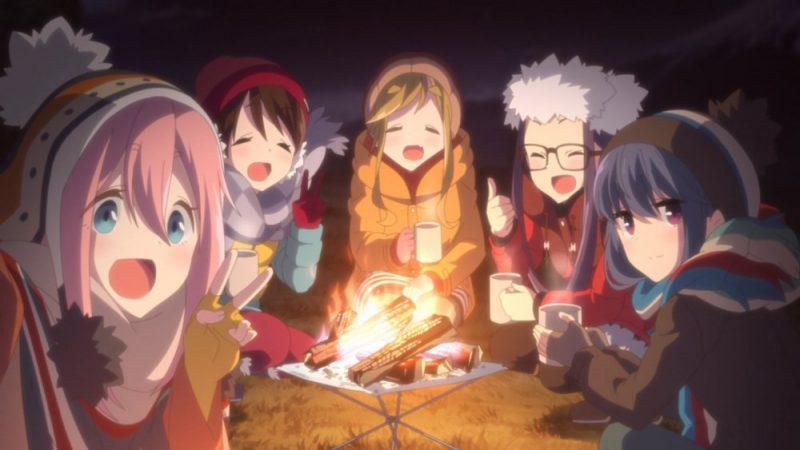 When Rin, who enjoys camping, meets a new girl, the two become friends and eventually enjoy camping together. After that, more girls join, and they all enjoy camping adventures together.
Yuru Camp is a straightforward yet masterfully crafted tale that hits all the right notes. Fans of SoL are sure to enjoy the girls' interactions because they are all so endearing and humanlike, and they all seem to click. Just recline, unwind, and admire Yuru Camp's beauty!
---
Wrapping up: Animes to Watch When You're Bored
That's it, the list can go on with more animes that you could watch in your spare time but this recommendation is enough to kill your boring time. Well if you're still confused between these animes I would personally recommend watching Asobi Asobase, it's really worth your time.
Do you have a lot of free time and nothing to do with it? Nip your boredom to the bud with these 10 fantastic anime to watch when bored!