Disclaimer: This post contains affiliate links. If you use these links to buy something, I may earn a small commission, without any extra cost to you. As an Amazon Associate, I earn from qualifying purchases. Thank you!
This post was created in collaboration with Keni. He is the owner of The Anime Basement.
You can check his bio below the post.

---
Yuri, also known as a Girls' Love is a Japanese jargon term for explicit lesbian relationships in anime or manga. The genre was originally targeted toward girls, but there is a male-targeted branch as well.
Today, we are joining forces to bring you the ultimate list of the best yuri anime. 🙂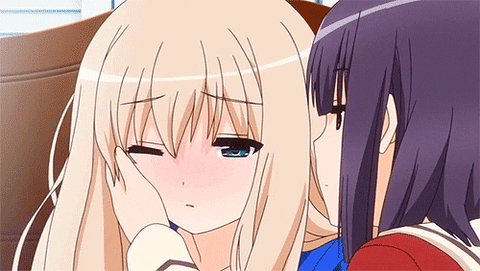 ---
The Anime Basement's Top Yuri Choices
1. Yuru Yuri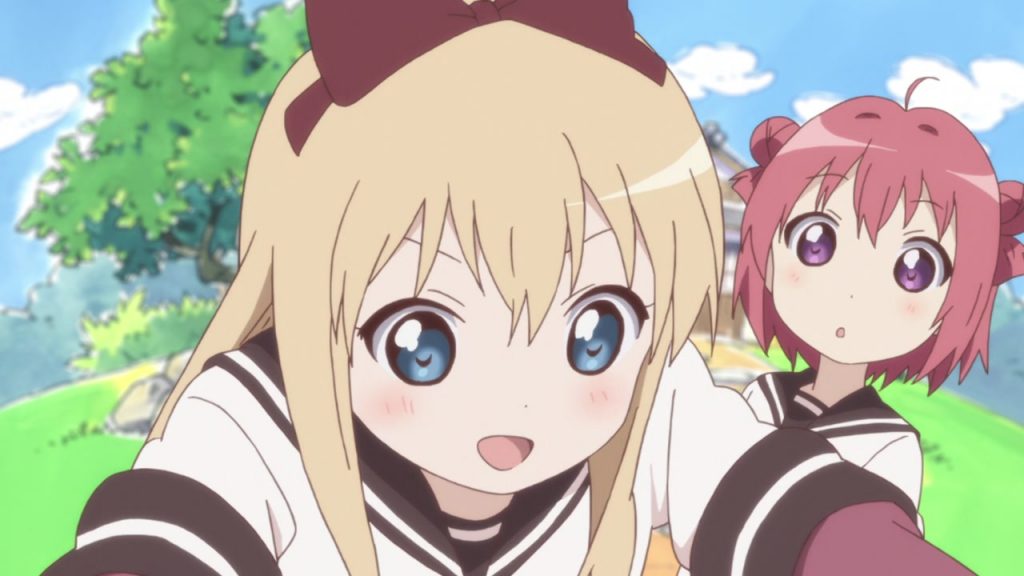 Genres: Slice of Life, Comedy, School, Yuri
Episodes: 12
Yuru Yuri revolves around the daily lives of five high school girls. The series contains numerous highly silly and ridiculous scenarios that will definitely give you an enjoyable time. Essentially, Yuru Yuri is a show featuring 'cute girls doing cute things'.
Despite not having explicit Yuri fan service scenes, there are plenty of implications of the Yuri genre itself. Thus, for Yuri fans craving some epic Yuri's actions, you will find that it all boils down to your wild imagination.
---
2. Aoi Hana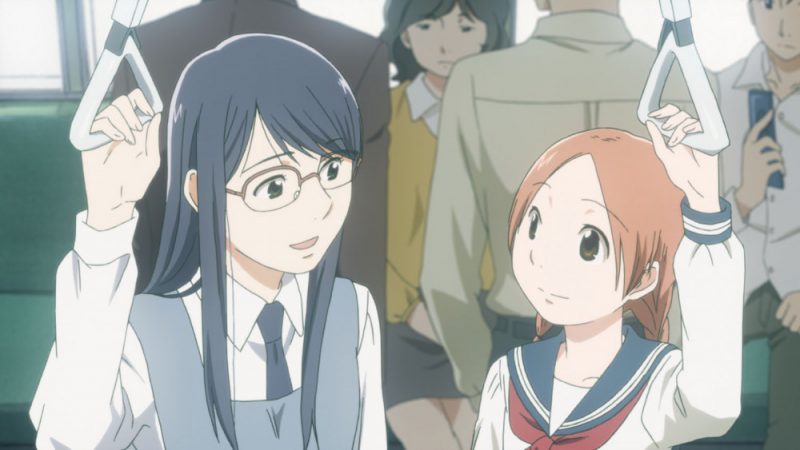 Genres: Romance, Slice of Life, Yuri
Episodes: 11
Friends reunions are also unpredictable. That was how Fumi Manjoume felt upon seeing her best friend in elementary school, Akira Okudaira, once more. Following the surprising reunion, Fumi realized their relationship wasn't exactly the 'same' as before.
Aoi Hana is a sweet and dramatic Yuri series about friendships blossoming into romance, and most importantly, about self-acceptance. In fact, it's true that all relationships encounter hardships along the way. Fumi, dazed and confused, learned this the hard way as she tries to mend a fragile friendship with Akira while choosing to ignore her own feelings.
---
3. Maria-sama ga miteru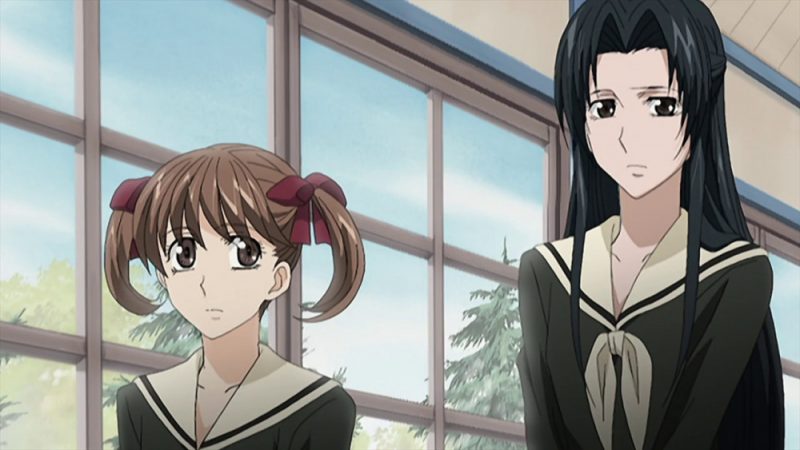 Genres: Slice of Life, Drama, Romance, Shoujo, Yuri
Episodes: 13
As Yumi Fukuzawa enrolled in the Lillian Girls' Academy, she never would have imagined herself catching the attention of Sachiko Ogasawara, the most beautiful and popular upperclassman. However, as much as Yumi likes Sachiko, the idea of being the center of the school's attention is slightly off-putting.
Featuring a Slice of Life story-telling, Maria sama ga miteru showcases the daily struggles of the cat and mouse relationship between Yumi and her beautiful senpai, Sachiko. While there is occasional plot progression here and there, the show is rather episodic as a whole. However, for Yuri fans, the constant reference to the Yuri theme in this anime will definitely quench your needs.
---
4. Inugami-san to Nekoyama-san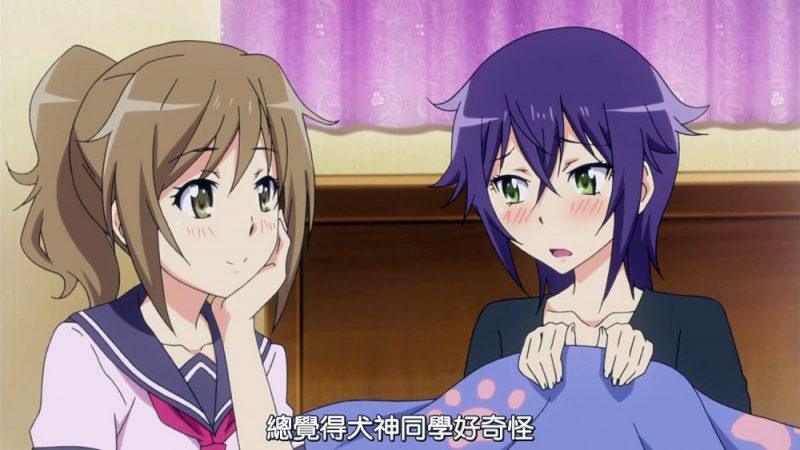 Genres: Comedy, School, Yuri
Episodes: 12
When cat-lovers and dog-lovers fall in love, there are often times some 'interesting' effects. This was what happened when cat-lover, Yachiyo Inugami, and dog-lover, Suzu Nekoyama, abruptly fell for one another. Thus, began an 'interesting' cat and mouse relationship between the two.
Inugami san to Nekoyama san revolves around the school life of a witty and dynamic couple. If you are a Yuri fan, come check out this fun and relaxing anime that would provide you with tons of Yuri content.
---
5. Netsuzou TRap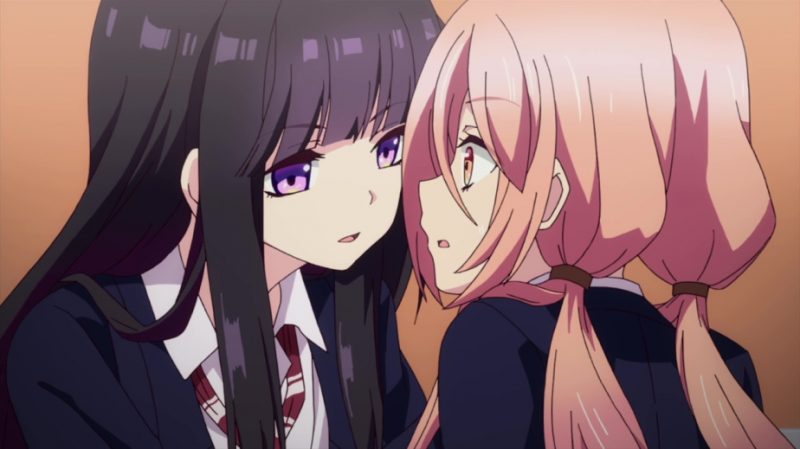 Genres: Drama, Romance, Yuri
Episodes: 12
High schoolers Yuma Okazaki and Hotaru Mizushina are close childhood friends who do everything together. However, one day, as they went on a date once with their respective boyfriends, Hotaru makes an unexpected move against Yuma. Thus, began an erotic drama relationship.
Netsuzou TRap features a spicy and forbidden yuri relationship between two close friends. It features a seemingly taboo relationship where both must struggle to find happiness. If a great drama is what you're looking for in a Yuri, then come check out Netsuzou TRap.
---
9 Tailed Kitsune's Top Yuri Choices
6. Bloom Into You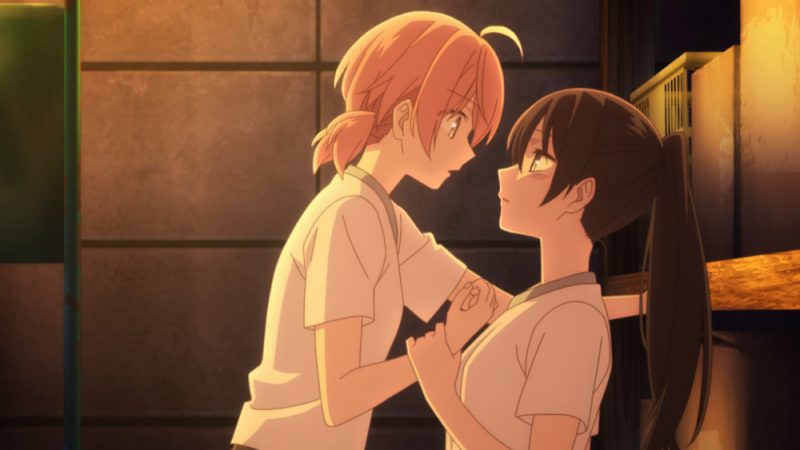 Genres: Romance, School, Yuri
Episodes: 13
Dreaming of a perfect shoujo romance? You are not alone! Yuu Koito, an avid shoujo manga fan and a freshman in high school might be on a track to one after meeting Touko Nanami, a flawless student council president who confesses her feelings for her.
If you are looking for a touching, intimate, and real story of a relationship, look no further. Not only it is well-written and well-directed, but it's also having emotionally complex characters that are relatable. Dodging all unnecessary drama and clichés, you will surely fall in love with this anime.
---
7. Strawberry Panic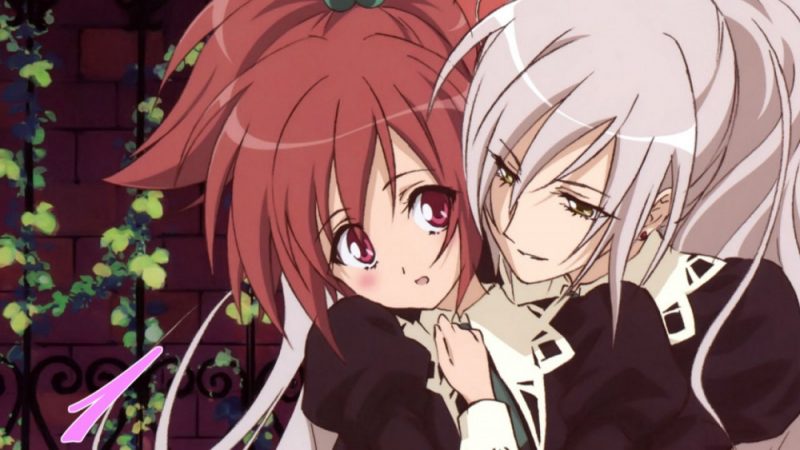 Genres: Drama, Romance, School, Yuri
Episodes: 26
The plot of Strawberry Panic! story revolves around a new student, Nagisa Aoi, who transfers to a prestigious Catholic-only girls school. Shortly after, a beautiful silver-haired Etoile girl, Shizuma Hanazono, finds herself drawn to this red-haired cutie. As the two get to know each other better, Shizuma decides that it's time to face her troubled past.
While the description might sound like it's one-sidedly focused only on one yuri relationship, there are also other yuri pairings.
As you would (not) expect, all students are lesbians. The whole anime is heavily relationship-oriented. While there are many moments that are truly touching, the majority could be described as a light-hearted romance, so expect a good laugh.
---
8. Citrus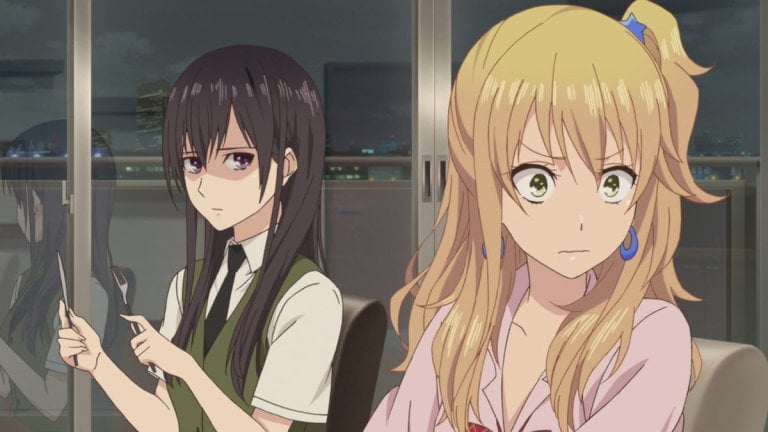 Genres: Drama, Romance, School, Yuri
Episodes: 12
You never know what happens if your parent remarries. That's exactly how carefree Yuzu felt when she started developing feelings for her newly-acquired stepsister, Mei.
This story follows the development of the romantic relationship between two teenage girls who are the polar opposites of themselves. After becoming a family (not by the blood), unexpected sparks fly, and an unlikely romance blossoms.
---
9. Valkyrie Drive: Mermaid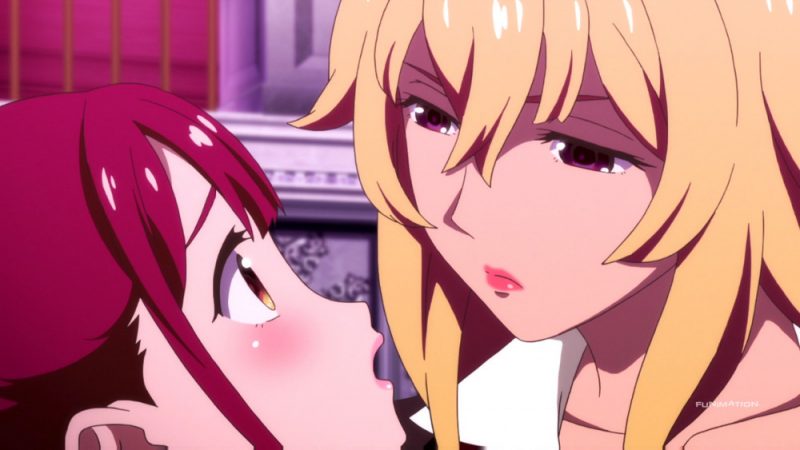 Genres: Action, Ecchi, Fantasy, Yuri
Episodes: 12
As a new and mysterious virus known as the A Virus arises, the girls who are infected by it are divided into two classes; Extars who can transform into weapons when sexually aroused, and Liberators, who have the power to wield an Extar's weapon form, through a process known as Drive. The infected girls are brought to a secluded island and until the island's Observervers deem them ready, they are not allowed to return to society.
Mermaid focuses on a partnership between an Extar, Mamori Tokonome, and a Liberator, Mirei Shikishima. If they want to survive on the island, they need to be in sync and cooperate.
Since its primary genre is ecchi, you can expect a lot of lewd yuri scenes and tons of fanservice.
---
10. Sakura Trick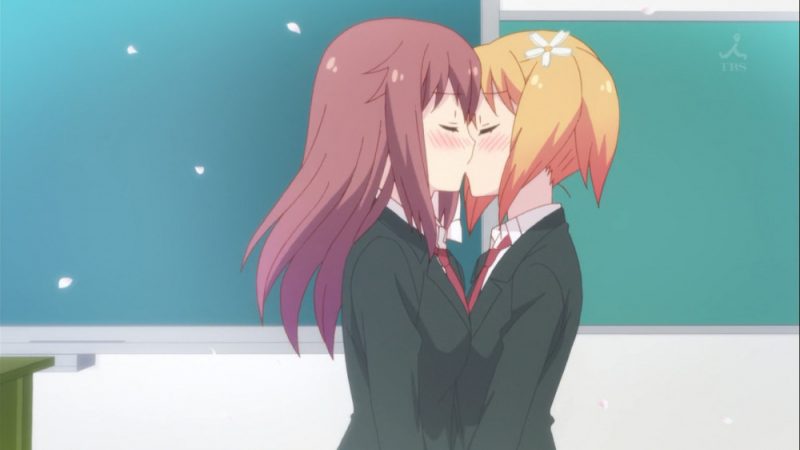 Genres: Slice of Life, Comedy, Romance, School, Seinen, Yuri
Episodes: 12
Haruka and Yuu have been best friends since middle school. But after starting high school together and bonding with new people too, the two decide to make their relationship special by sharing a unique and secretive moment together: a kiss.
The beauty of Sakura Trick lies in its simplicity. It's a cute, lighthearted story about teenagers on the path to self-discovery.
If you a pure yuri fan with a love for fanservice, this is the right thing for you! You really don't have to wear Yuri goggles to make Yuri couples here.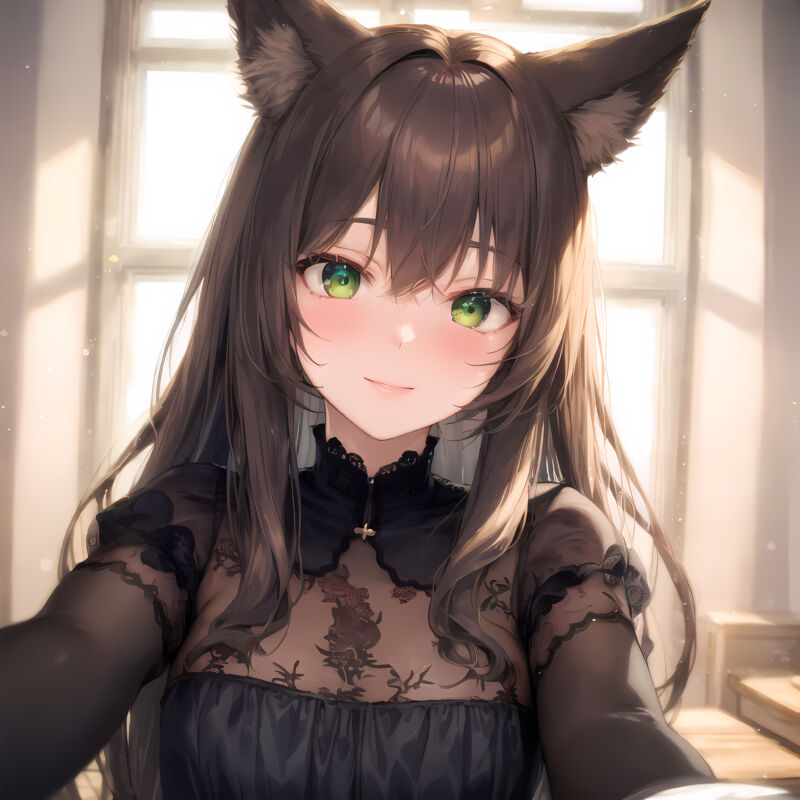 BEFORE YOU GO...
Thanks for reading my article!
If you enjoyed it, please consider supporting me on Patreon. As a Patron, you'll gain access to exclusive perks like stunning AI artworks that are not shared anywhere else, personalized AI-generated art pieces, and the ability to shape the future of this blog by suggesting topics you'd like me to cover.
Your support means everything to me and enables me to keep creating content that I'm passionate about. ✨

Also, you're welcome to join our 9 Tailed Kitsune Anime Discord community. We'd love to have you there! 🙌