This is that time of year when everyone inundates our feeds with their version of their favorite scary anime lists. Largely, these lists include the same reordered anime from over the past decades. Another, Parasyte, Perfect Blue, Tokyo Ghoul, and other staples of the genre grace their reviews. These are great series but I feel we sometimes fail to notice the diamonds in the rough. Looking to change things up, we will go off the beaten path to compile a list of some great but overlooked horror anime.
The history of horror anime begins in the fall of 1967, with the release of Adventure Boy Shadar. A tale of a young boy who is on a quest to save the world from Ghostar. Since the late sixties, hundreds of horror anime have graced our screens. Some great, some good, some bad, and some meh. Judging by the comments, most of us feel the majority of the horror anime fall into the bad and meh range. I feel we put together a pretty good sample of good and overlooked horror anime.
As you review the post, please feel free to let me know your favorite horror-themed anime. I would love to hear from you.
10.

Kyuuketsuhime Miyu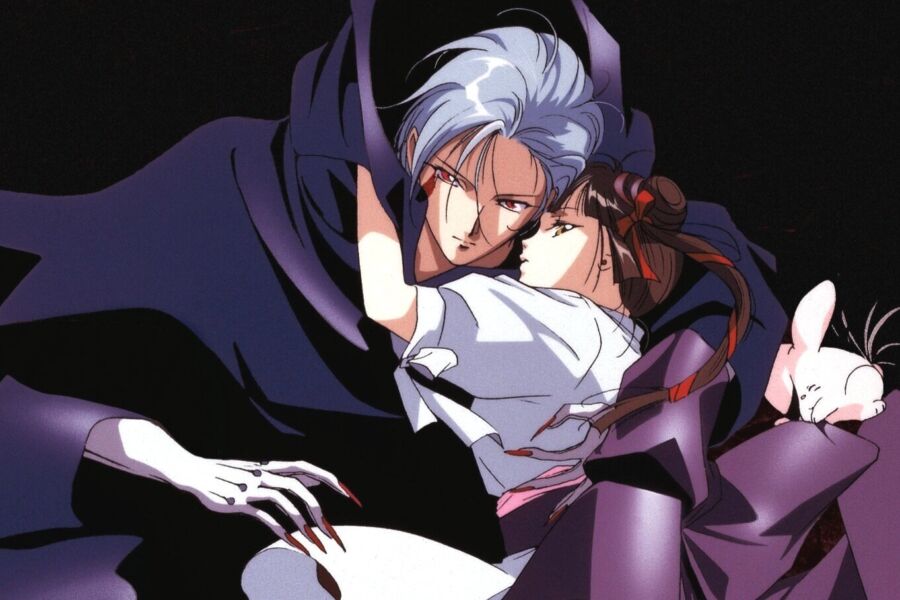 Genres: Action, Drama, Horror, Supernatural
Premiered: Fall 1997
Studio: AIC
The first anime on our list is a bit of old school. Kyuuketsuhime Miyu, also known as Vampire Princess Miyu, is the sequel to the OVA. A twenty-six-episode series, the story follows a mysterious schoolgirl. Miyu Yamano is a vampire, tasked with protecting Earth from evil Shinma. These monsters attack and possess people. Aided by Larva and Shiina. She takes on Shinma and offers their victims peace in the afterlife in exchange for their blood.
The anime's concept came from a manga of the same name. Created by Narumi Kakinouchi and Toshiki, Vampire Princess Miyu had a ten-volume run spanning over a decade. During this time, the pair teamed up with AIC studios to create a four-episode OVA. The story's success prompted the team to work on expanding the world of the vampire princess. Their efforts led to a 26-episode anime, which launched in October 1997.
Like many pre-2000s anime, fans tend to shy away from the earlier series. Whatever the reason, this older anime shines in its character and world-building. These are just a couple of reasons why you should add Vampire Princess to your Halloween screening list.
9.

Gegege no Kitarou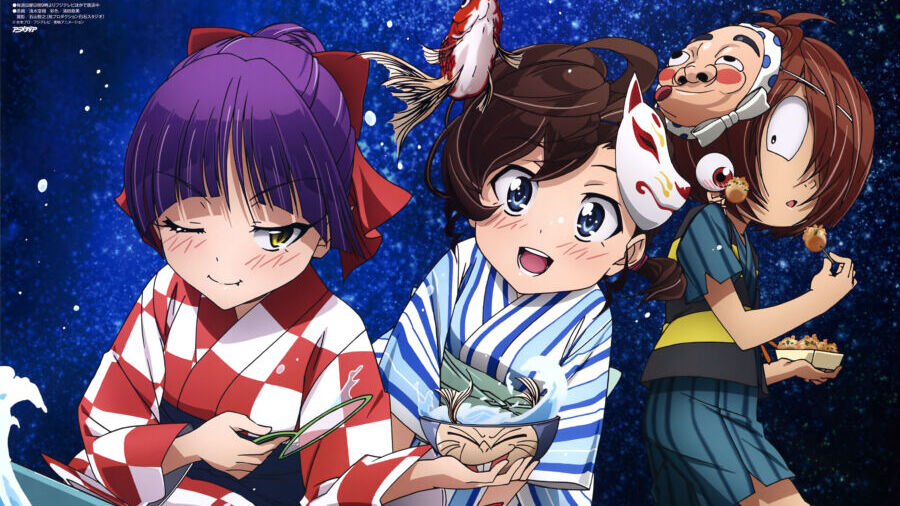 Genres: Comedy, Horror, Supernatural
Premiered: Spring 2018
Studio: Toei Animation
Gegege no Kitarou is our longest running series. This tale follows Kitarou, the last member of the Ghost Tribe, and his journeys across Japan. These adventures put him in contact with the supernatural. His party includes the remains of his father, a rat-man and cat-girl. Kitarou's group seeks to wed the mystic and human worlds to live in harmony. The series does not limit itself to Japan but features creatures from around the world.
Kitarou's story has its roots in Japanese folklore. Shigeru Mizuki's manga would lend a modern voice to the old tales. Toei Animation adapted Mizuki's tale for a 65-episode anime. Their series aired at the start of the Winter 1968 season. Toei would go on to produce six additional seasons. With their seventh release coinciding with the property's fiftieth anniversary. Since its debut, the series received 536 episodes.
Gegege no Kitarou is a perfect blend of comedy and horror. The key drawback is how long the series has aired. Earlier episodes may be difficult to access and watch. No need to be downtrodden as you can jump between seasons without missing the story elements. If you love folklore and history, Gegege no Kitarou is the anime for you.   
8.

Pet Shop of Horrors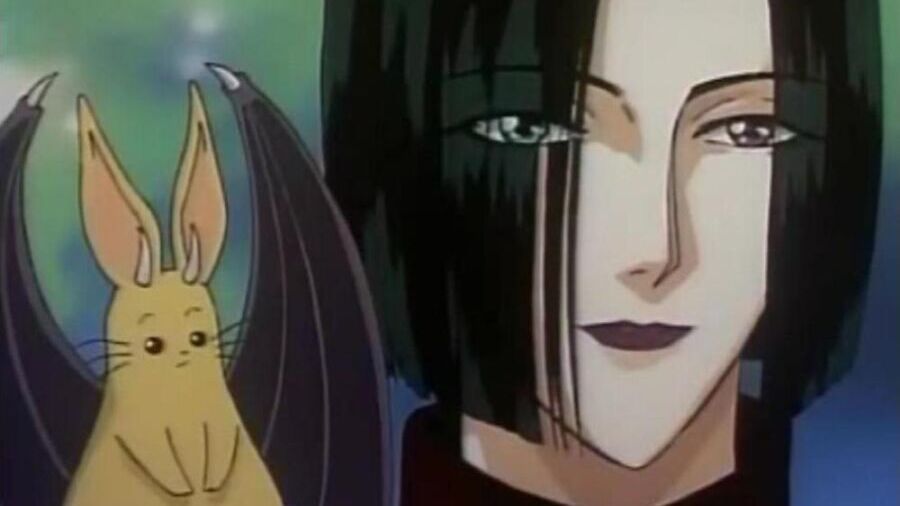 Genres: Horror, Mystery, Supernatural
Premiered: Winter 1999
Studio: Madhouse
If you are a fan of the Twilight Zone series, this next anime may be right up your alley. Pet Shop of Horrors lays bare the pitfalls of the human psyche. Pet shop owner, Count D sells rare 'pets' to customers with unique desires. These sales come with very special 'pet' care requirements. Failure to abide by the instructions could lead to disastrous results.
Pet Shop of Horrors is a four-episode anime based on Matsuri Akino's manga, of the same name. Toshio Hirata, known for work on Death Note and Metropolis, would direct Studio Madhouse's retelling. Pet Shop of Horrors is not a fright-fest but an anime that eases the viewer into its uncanny world. The one key drawback is the series' dialogue, which is a product of its time and may turn off some viewers.
Pet Shop of Horror will never be the all-time greatest horror anime of all time. In spite of this, the series' artwork and storytelling make it worth checking out. If you are looking for a good horror anime but twelve episodes are too much, give Pet Shop of Horror a view. You might be pleasantly surprised.
7.

Sankarea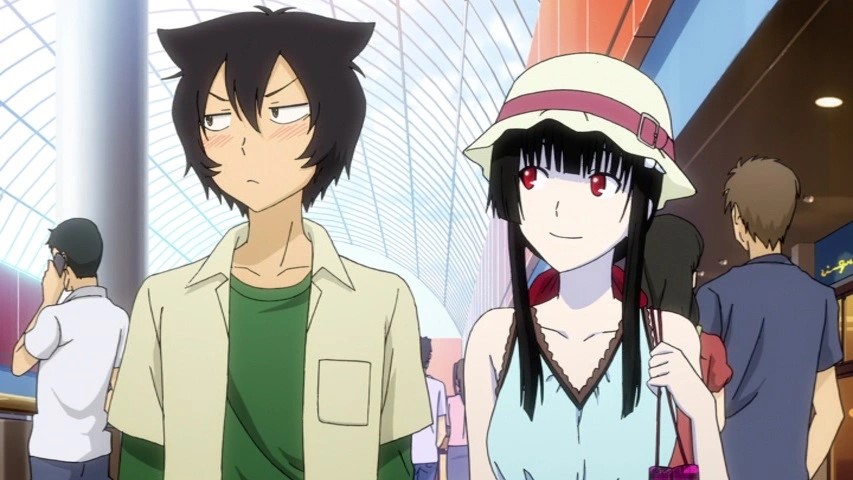 Genres: Comedy, Ecchi, Horror, Romance, Supernatural
Premiered: Spring 2012
Studio: Studio Deen
Are you looking for a series about a guy falling in love with a zombie? Well, Sankarea might be the anime for you. A high school student, Chihiro Furuya is obsessed with zombies. With this in mind, he sets out to resurrect his cat but his actions backfire. The potion he created was accidentally taken by a girl who wishes to die. This mistake would turn Rea into a zombie. Now, Chihiro and Rea must learn how to adjust to the new paradigm shift.
Sankarea: Undying Love is a manga by Mitsuru Hattori. The comic had 11 volumes spanning a five-year period. Studio Deen picked up the story's rights for an anime adaptation. Storyboard artist and director, Shinichi Omata headed the project. Yukari Hashimoto would lend her talents to the series' music arrangement and composition. Sankarea had a 12-episode run, which began airing in April 2012. The series' success led to an OVA and anime special.
This is one series that is heavy on romance and light on its horror aspects. However, this does not detract from it being a great viewing. Sankarea is perfect for couples looking for a horror romance for the season.
6.

Dark Gathering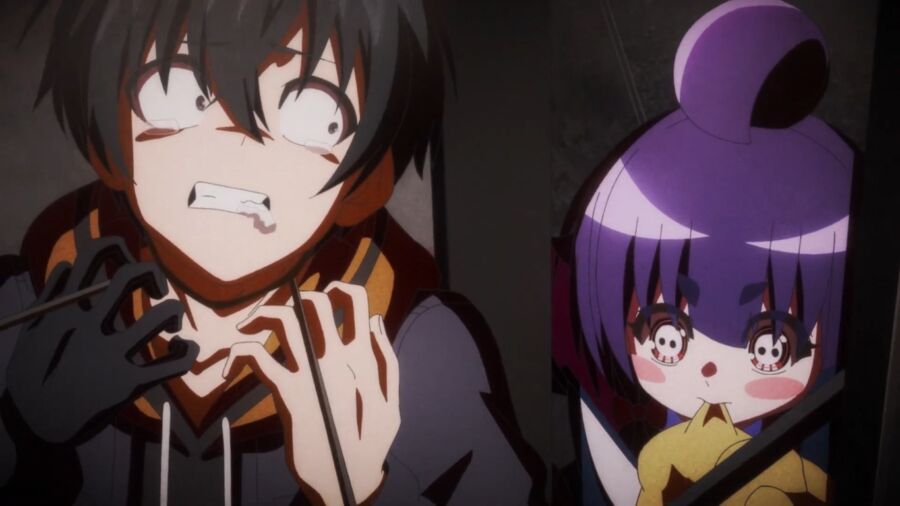 Genres: Horror, Supernatural
Premiered: Summer 2023
Studio: OLM
Dark Gathering is the Pokémon of horror anime. The story introduces us to Keitarou Gentouga, a cursed college student who attracts spirits. As a youth, he accidentally cursed his childhood friend. This caused him to isolate himself from the world to prevent others from getting hurt. His cursed friend, Eiko Houzuki, and her exorcist niece would pull him out of his slump. The trio travels across Japan combating and trapping specters. Their goal is to find a way to lift the curse and put the niece's mother to rest.
Studio OLM adapted Kenichi Kondo's popular manga, by the same name. Hiroshi Ikehata, director of Tonikawa: Over the Moon for You, would helm the adaptation. The production team stayed faithful to Kondo's story, visually and in tone. The voice work complements the story and draws the viewer into the series. Dark Gathering gives us a delightfully strange world, with its blend of comedy and horror. However, some viewers may find the tonal shifts to be off-putting.
With only half of the series dropped, it is hard to say if it will stick to the landing. However, the early reviews are largely favorable. With great expectations, Dark Gathering will see its popularity grow over the years.
5.

Mieruko-chan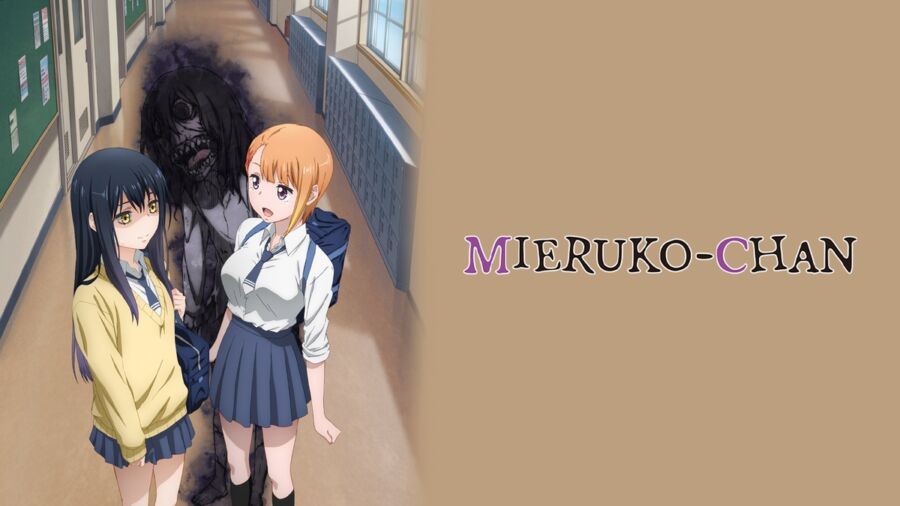 Genres: Comedy, Horror, Supernatural
Premiered: Fall 2021
Studio: Passione
Mieruko-chan, or The Girl Who Can See Them, is our next hauntingly good anime. Miko Yotsuya is a schoolgirl who can see spirits. These specters are everywhere but nobody seems to notice them. She desires to be normal so Miko ignores them. Compounding the issue is her clueless friend, Hana Yurikawa. She just so happens to be a ghoul magnet. Will Miko muster the courage to face her fears?
The Girl Who Can See Them is a manga written and illustrated by Tomoki Izumi. This story has ample comedy to balance its horror elements. Studio Passione picked up the rights to the manga to create an anime. They selected Yuki Ogawa, of Interspecies Reviewers fame, to helm the effort. Overall, the sound and art teams did a wonderful job of bringing the story to life. Mieruko-chan would receive twelve episodes and began airing in October 2021.
Since the last episode aired, fans have asked when will the studio give them a second season. The internet is silent on the matter. As someone who enjoys both anime and manga, the lack of any news does not bode well. In spite of a lack of a season two, Mieruko-chan is well worth the watch or checking out again.      
4.

Jigoku Shōjo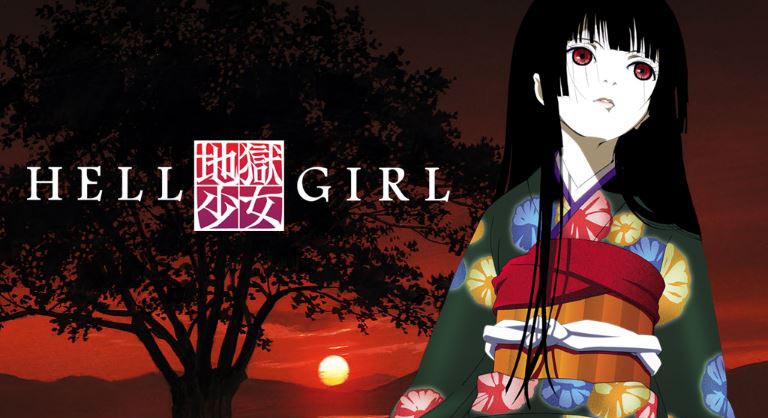 Genres: Horror, Mystery, Supernatural
Premiered: Fall 2005
Studio: Studio Deen
What if you could wish revenge upon someone who did you wrong? In turn, the only drawback is that you will go to hell. Is the squeeze worth the juice? This is the question the question that the 2005 anime, Jigoku Shōjo attempts to answer.
Jigoku Shōjo, also known as Hell Girl, is the creation of Hiroshi Watanabe. Studio Deen would produce the anime's first season. This largely episodic series explores the concept of revenge and how payback stains the soul. Ai Enma, or Hell Girl, encounters a victim of some sort of mental or physical violence. She gives them a doll, with instructions to pull the doll's string if they desire to even the score. Their decision could win everyone a one-way ticket across the river Styx.  
Hell Girl is both beautiful and brutal. The series' success would lead to three more seasons and live-action adaption. Jigoku Shōjo is a great anime and is perfect for your Halloween watch party.
3.

Memories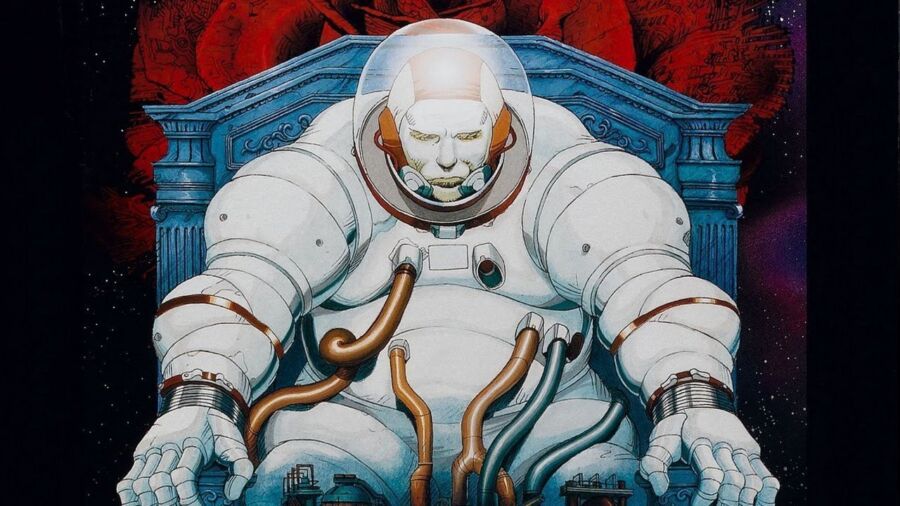 Genres: Award Winning, Drama, Horror, Sci-fi
Premiered: December 23, 1995
Studio: Madhouse and Studio 4o C
The next series on our list is not for everyone. In many respects, one might categorize this anime as an art house film. Memories is a film that is actually three anime one-shots. The horror mixed with sci-fi stories are: Magnetic Rose; Stink Bomb; and Cannon Fodder. Magnetic Rose, a murder mystery in space, often receives credit as the best of the three stories. Stink Bomb tells of a scientist who takes a pill and becomes a weapon of mass destruction. The last episode follows a cannoneer who takes the blame for a mistake and must answer for the actions of others.  
Madhouse and Studio 4o C came together to create this film. Katsuhiro Otomo served in the role of executive producer. He also oversaw the direction of Cannon Fodder. His efforts would land him an Ofuji Noburo Award at Tokyo's Mainichi Film Concours. Koji Morimoto would direct Magnetic Rose, with Tensae Okamura helming Stink Bomb. Otomo's short story manga served as the film's source.
This film is a beautiful work with some abstract concepts. However, the main drawback to this film is its adult themes. In spite of this shortfall, Memories is worth an hour and a half of your time.
2.

Ghost Hunt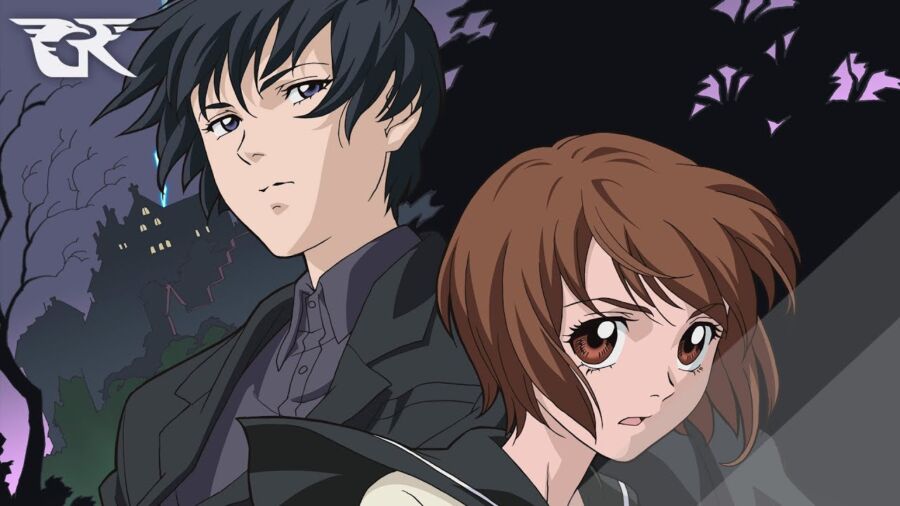 Genres: Horror, Mystery, Supernatural
Premiered: Fall 2006
Studio: J.C. Staff
Ghost Hunt is a seasonal anime favorite. Mia Taniyama is a schoolgirl who loves telling ghost stories to friends. One day, a mysterious young man comes into her life to show her that the supernatural exists. After a series of events, she joins the Shibuya Psychic Research Company to help the team explore hauntings and put spirits to rest. 
A light novel, J.C Staff would adapt Fuyumi Ono's supernatural tale. The studio would task Akira Mano to direct the project. Ghost Hunt drew inspiration from elements of Japanese folklore and history. This series shines with its visuals and script. Ghost Hunt is a superbly rendered series, with visuals that immersive the viewer in its late nineties feel. The only drawback is that this is not a hardcore horror story so some fans may be disappointed.
Upon its release, several critics took aim at the story's basic narrative. Largely, the fandom drowned out the naysayers to make Ghost Hunt a classic horror anime. This is one series that is fun to watch, regardless of the time of year.
1.

Tasogare Otome x Amnesia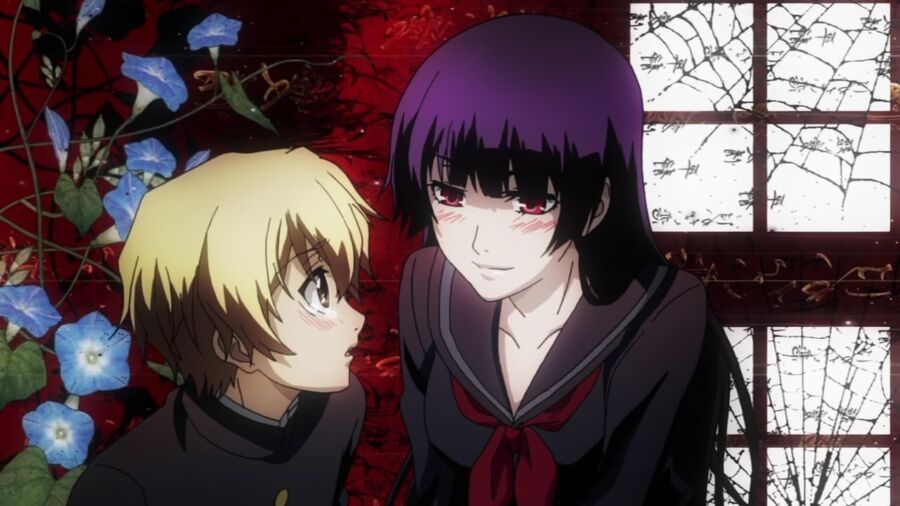 Genres: Horror, Mystery, Romance, Supernatural
Premiered: Spring 2012
Studio: SILVER LINK
The mix of mystery and horror genres is a staple within anime. In our opinion, Tasogare Otome x Amnesia has the perfect blend of these themes. This is a tale of Yuuko, a former student who now haunts the halls of Seikyou Academy. With little to do in the afterlife, she heads the school's Paranormal Investigations Club. The group's members focus on finding the truth behind the school's Seven Mysteries. Will their search uncover the reason behind her death? This is one of the questions the series exposes.
The duo wrote and illustrated Dusk Maiden of Amnesia manga. Square Enix published the series, which launched in 2009. SILVER LINK studio would pick up the story for adaptation to anime. The studio picked Shin Oonuma to oversee the project's direction, with Yukiko Ban directing the animation. Yumi Hara and Tsubasa Yonaga would lend their voices to the lead characters. The anime received a 12-episode run, with an OVA adding to the story.
Generally, the anime received favorable reviews. A few folks took aim at the fan service and rushed the story. In spite of their concerns, Dusk Maiden of Amnesia is our number one pick for your seasonal viewing.