The visual appeal of food is one of the most blogged-about subjects in anime. At least once a day, someone is posting a pick of their favorite dish. If you don't believe me, just look over your Instagram or Twitter feed. We, the fans, rarely give credit to the sources of these great dishes.
Blindly, we often overlook anime's restaurant settings. From the fine dining to the coffee house experience, these eateries are more than an anime backdrop. This is the place our favorite characters gather to enjoy great food and commune. Through these visual experiences, we share in the character's fellowship.
This month I thought it might be nice to recognize some of anime's dining establishments. Specifically, I wanted to write faux restaurant reviews for places I wish I could visit. Unlike a top ten list, there are no best of the best places. These are places I feel have great food and friendly environments.
With this understanding, let's jump into five restaurant reviews for places I wish I could experience. As you read this post, comment below about the anime eatery you wish you could visit.
Western Restaurant Nekoya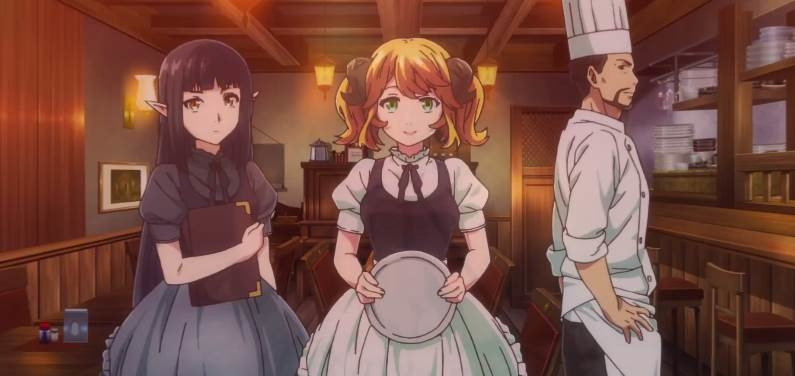 Anime: Restaurant to Another World
Restaurant Theme: Family Style
Opening its doors in the early-1970s, the Western Restaurant Nekoya is a quaint family-style restaurant nestled in Tokyo's business district. The original owners retired, with the new holder being their grandson. Chef Tensu specializes in Japanese and yōshoku dishes. Closed on weekends and holidays, the eatery opens its doors each Saturday to patrons in another world.
The restaurant to another world has a lively atmosphere, with groups of customers sharing samples of Nekoya's fine meals. This is a place where vastly unique cultures can come together and commune over great food. Elves, humans, lizard people, and the like can explore new tastes or stick with their tried and true orders. Chef Tensu's years of experience
Aletta, a demon girl, and Kuro, a dragon, are Nekoya's kind and helpful staff. Through them, Chef Tensu adjusts his menu offerings to fit customers' dietary needs. Diners rave about the chocolate parfait, minced meat cutlet, rice omelet, and tofu steak.
Great atmosphere and pleasant staff, the Western Restaurant Nekoya is the place where you should be going to eat great meals.
MgRonald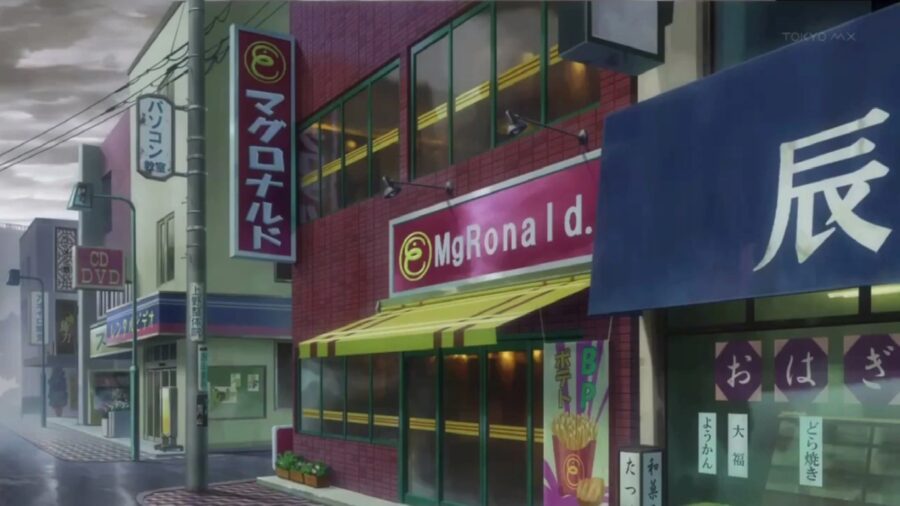 A fast food chain, the MgRonald near Tokyo's Hatagaya Station is unique among its peers. The chain first came to Japan during the 1970s, evolving to become the country's burger-making powerhouse. MgRonald's standard menu and futuristic look it is easy to see that Tokyo's Hatagaya Station store is maybe a cut above the rest.
Mayumi Kisaki is the manager of this store. She is honest with the brand and customer satisfaction. Her work code welcomes everyone who walks through MgRonald's doors. Store employees embrace her loyalty to the brand, which shows in their interactions.
Sadao Maou, a demon lord, and Chiho Sasaki, a high school student, are MgRonald's standout workers. They bend over backward to make the customers happy. Whether serving a Big Mig Meal or Happiness Set, the couple seem to enjoy their work.
A large franchise chain may cause pause for concern, but this establishment has the charm of a local diner. If you are looking for a quick bite on the go, please check out Mg Ronald near Hatagaya Station.
Rabbit House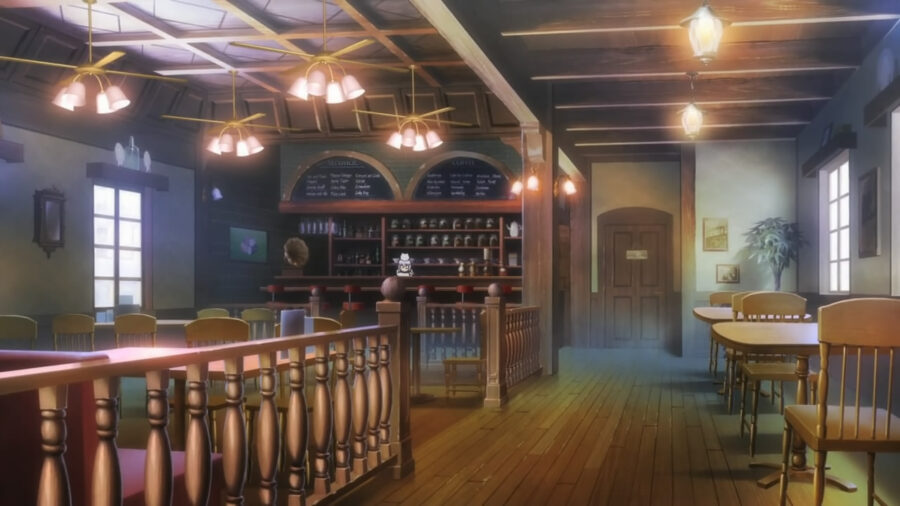 Anime: Is the Order a Rabbit?
Restaurant Theme: Cafe
Within this quaint European town, sits a French-style café. The Rabbit House is the essence of comfort and cozy. From flower boxes in the windows to cute signage, the Kafū family placed a lot of care into making their eatery inviting.
The Rabbit House's interior is just as charming. With a desirable floor plan, the café has a bar and dining area. During the day, the owner's granddaughter manages the coffee bar. The Rabbit House serves coffee, cakes, and sandwiches. In the evening, the owner's son comes in to tend the bar. Chino Kafū and her father's attentiveness keep the customers coming back.
The Rabbit House employs two part-time workers, Cocoa Hoto and Rize Tedeza. These part-time workers cheerfully greet and serve the customers their favorite blends of coffee. The café also has a mascot, an Angora rabbit named Tippy. A lively place, the owners and staff make you feel like family.
The next time you're in town, drop by the Rabbit House. Reasonably priced menu, their Mocha Matali is to die for.
Restaurant Yukihira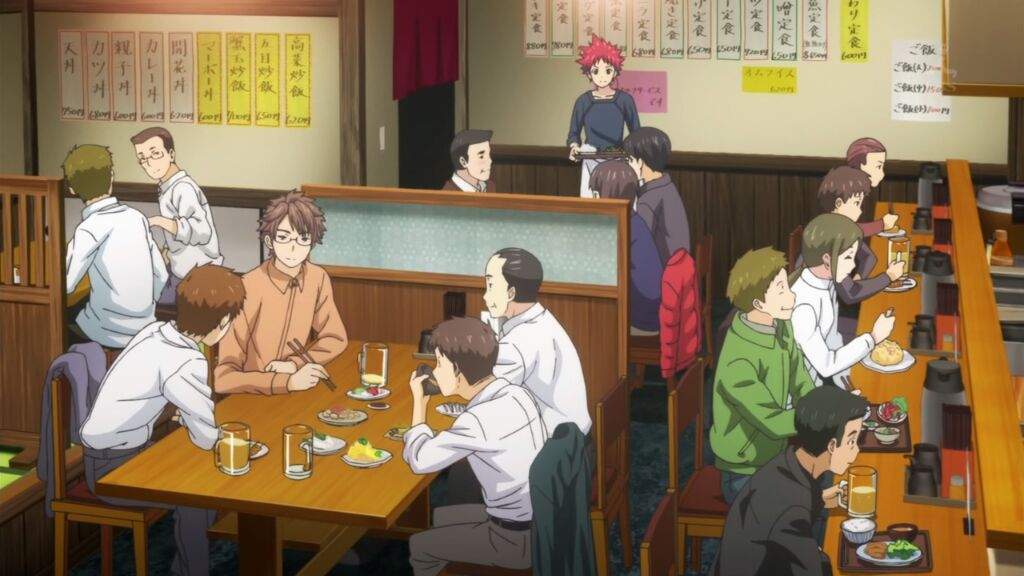 Nestled within the Sumiredōri Shopping District, there sits a restaurant without peers. Restaurant Yukihira is a lively, Japanese-style special-of-the-day diner.
Kazusato Yukihira was the restaurant's original owner and chef. Upon retirement, the diner transferred to his son-in-law. Jōichirō Yukihira, a Tōtsuki Culinary Academy graduate, expanded the daily specials menu. A culinary master, Jōichirō expanded the menu but kept the original owner's philosophy about food bringing people together.
Inspiring chef, Soma is the eatery's sous cook and Jōichirō's son. He and his father create regular and experimental dishes. These experiments offer a sort of trial and error for the owner and his son. The downside of their exotic dishes is some customers may become test subjects for some gnarly foods, but everything is all in good fun. Their ability to think outside the box leads to some innovative menu items, such as using potatoes to make meatloaf.
If you are not afraid of trying new things, I highly recommend paying Restaurant Yukihira a visit. You might find it a pleasing experience.
Ramen Ichiraku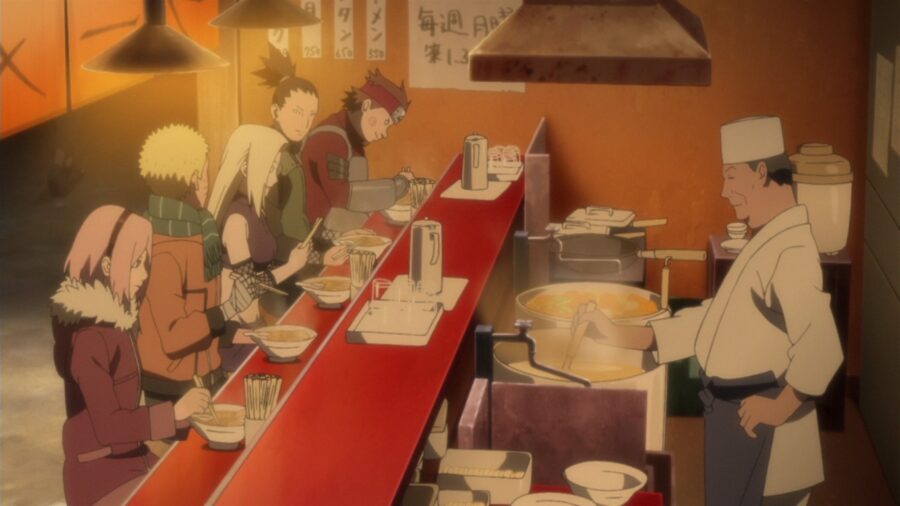 Anime: Naruto
Restaurant Theme: Fast Casual
There are few dishes that scream comfort food or cash-strapped college student than ramen. If you are looking for a great noodle dish, might I recommend Ramen Ichiraku. This unassuming, fast casual dining experience is a highlight of any visit to Konohagakure.
Teuchi founded Ramen Ichiraku over thirty years ago. His name means 'making noodles by hand,' which seems fortuitous. A kind and jovial chef, Teuch's ramen preparation is clearly an art form. In any other cook's hands, Ramen Ichiraku would cave under the mountain of noodle shops doting the country. However, Teuchi pairs the noodle's taste with an awesome selection of toppings.
The restaurant uses a variety of fresh toppings, like seaweed and boiled eggs. If you are looking for meat, check out the char siu. This Cantonese-style barbecued pork is to die for. The narutomaki is not half bad either.
Ramen Ichiraku is a favorite destination for locals and shinobi. Craving outstanding noodle cuisine, make sure to drop by Teuchi's friendly Ramen Ichiraku. He will make you feel like family.