Kaguya-sama: Love is War Synopsis
Kaguya-sama: Love is War is back. Season 3 takes the popular romantic comedy anime back to prime form. This time the series is Ultra Romantic.
Here's a brief recap of what the series is all about: At Shuchiin Academy, student council president Miyuki Shirogane and vice president Kaguya Shinomiya seem to be amicable colleagues. Kaguya is a rich kid. Miyuki is a smart kid. Also, he is poor.
Although they secretly like each other, both refuse to tell the other their feelings. A classic boy-girl likes each scenario. The story is about their nearly daily machinations to force each other to confess their love.
The antics ramp up in season three Ultra-Romantic.
If you never liked Kaguya-sama: Love is War, nothing in this third season will change your mind. If you heart the series, you shall adore this season.
Kaguya-sama: Love Is War – Ultra Romantic Blossoms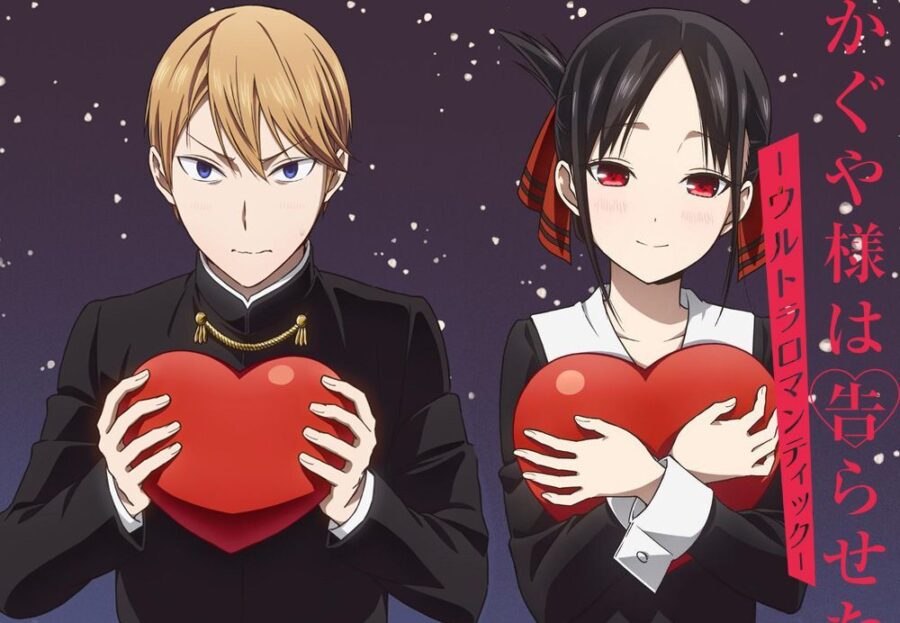 Yes, you're awesome.
You're trying so hard.
You're perfect the way you are.
This is a quote from an affirmation recording Miko Lino, a student council member plays while studying. All three statements describe Kaguya-sama: Love is War in one aspect or another.
Kaguya-sama is awesome. The series tries so hard to adhere to its principle that love is war. Ultimately, the series needs to remember the lesson from season 1 – you are perfect the way you are.
Awkwardness and wackiness continue from the opening scene. Mostly from not being straightforward and saying their honest feelings, intentions, or thoughts. This series runs on cringe.
Also, war. And war requires deception. Draws, losses, and victories mount because of the lies.
For much of season 3, the only winner in this war appears to be the narrator.
Returning characters return. The cast fans of the series know, and love is here.
The dual plot between Ishigami's desire to confess to Tsubame picks up steam – strangely, faster than the Hirogane's and Kaguya's tit-for-tat.
Affections abound in this third season. A good thing is that the story doesn't suffer for it. In fact, each of the characters is over the top.
Animation is exaggerated as in prior seasons. The "battle" scenes fill to the brim with emotion, well-drawn facial expressions, and over-the-topness this series is known for displaying every season.
The mundane becomes hyperreal to illustrate a point of humanity: We make situations bigger than what they are or need to be. Humans blow things out of proportion.
Hell Starts Casually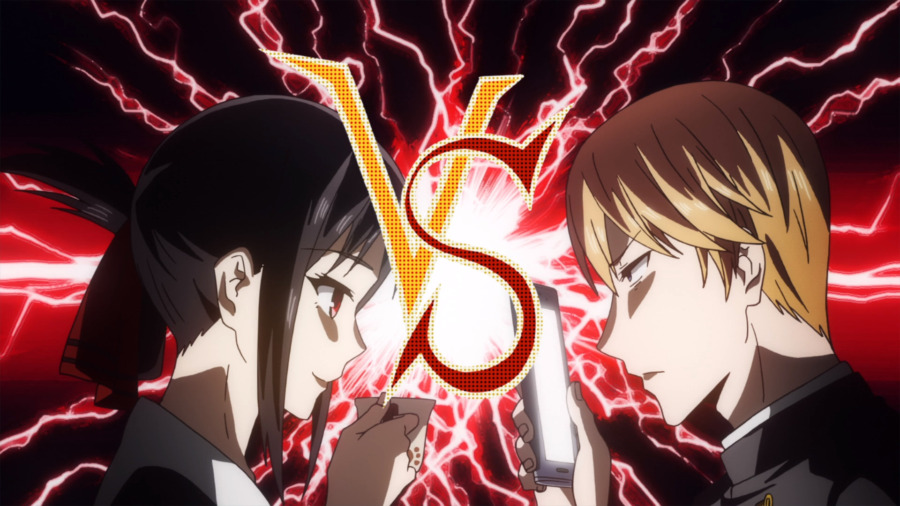 One character asks amid Fujiwara's latest antic in the last quarter of the season: Does hell start so casually? If love is war, as Kaguya-sama posits, then yes, war starts casually.
We finally get insight into the start of Shirogane's infatuation with Kaguya. A flashback reveals some of Shirogane's insecurities about being the poor kid in a school of rich kids. Then being amazed by Kaguya's determination and will. I think most people experienced something similar in life – whether in school or adulthood.
This love-is-war setup is epitomized by the ending song/credit for the series – a literal battle to reach the one you love. In this case, the Kaguya-Shirogane pairing is described.
"Every festival can do with a little commotion," Shirogane intones as mundane chaos washes over the school and its festivities.
The clashes between Shinomiya and Shirogane are what make Love is War, Love is War. That is the core of the series. The skirmishes make the series great. So it was a great solace to see Season 3 return to the basics. It almost erases the unwanted diversions in Season 2. In short, season 3 is the season 2 we should have gotten – antics and all.
Beautiful Lies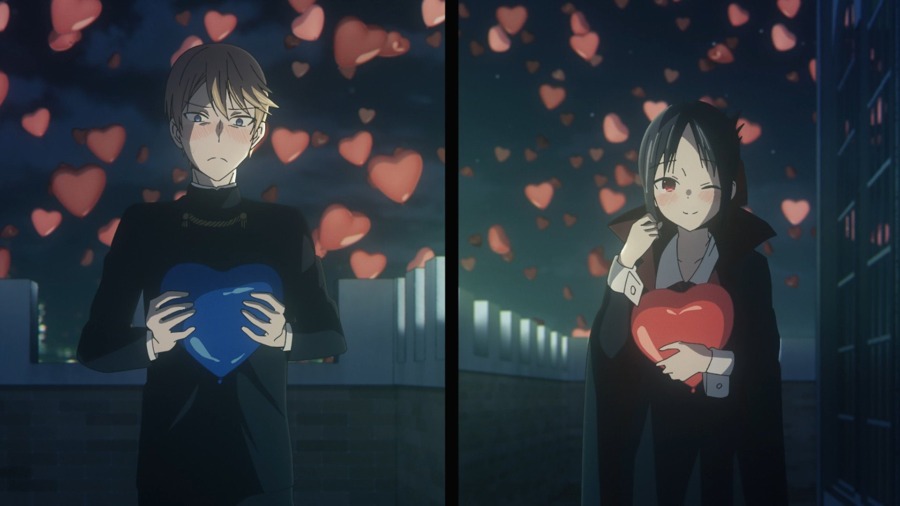 Hayasaka: It's better not to put on an act?
Shirogane: Well…
Hayasaka: That's a lie.  No one will ever love you unless you are acting. You have to envelop and hide your weakness and ugliness inside that act or you won't be loved…That there's no way that anyone will love you as you are.
Shirogane: That's not true.
This interaction in Episode 2 at the Karaoke bar "networking event" is a key pillar on which this season, Kaguya-sama: Ultra Romantic, is built.
Season 3 does not waste its time on fluff episodes. It progresses the paper-thin storyline it has and focuses on its strongest points: love battle scenes and wackiness and over-the-top reactions. What helps is the series' blend of the ordinary and the absurd. This mixture amplifies the wackiness found in Japanese animation today.
No anime has brought me to tears with laughter as much as Kaguya-sama: Love is War – Ultra Romantic. This season is no slouch in that regard.
Whether it is bad rapping, misinterpreted situations, or antics, these themes are building blocks for the season finale. The assumed BIG moment.
The Sounds of War
Kaguya-sama: Love is War always had catchy music. Season 3 is no different. No dour music here. Love-themed and upbeat pop songs appear in the intro and outro The opening, Masayuki Suzuki – GIRI GIRI feat Suu, will have your head bopping even if you don't understand a single word sung.
Heart wa Oteage by Airi Suzuki is an upbeat pop song with a similar sound to the previous opening and ending songs for the series.
Both tracks pair well with the opening and ending respectively.
The Final Bout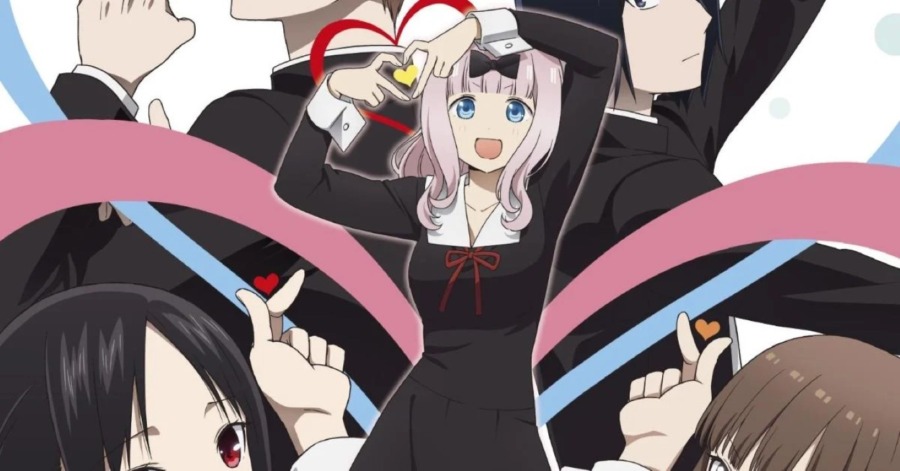 Kaguya-sama's season three is a joy to watch. This season in particular contains all of what makes Kaguya-sama great. For me, personally, Kaguya-sama is the only series to laugh a lot, tear up a little, and left me guessing until the very end.
Whether it is trying to destroy a classmate's relationship, learning how to rap, or questioning whether you should reveal your true self to others or keep up the act – Kaguya-sama: Love is War – Ultra Romantic is a roller coaster of emotions.
I didn't think the series would or even could accomplish such a feat. But here we are. And I think it is for the best. The series remains lighthearted when delving into deeper topics of life without beating the audience over the head with a belief system.
P.S. Never forget the read receipt system. It can destroy relationships. Regardless of your social class. Beware.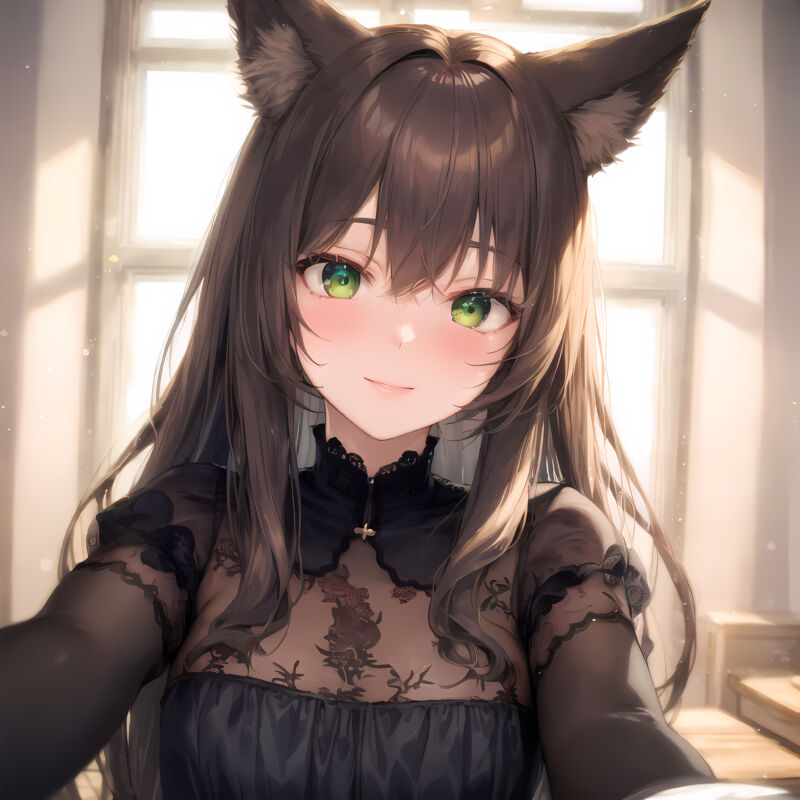 BEFORE YOU GO...
Thanks for reading my article!
If you enjoyed it, please consider supporting me on Patreon. As a Patron, you'll gain access to exclusive perks like stunning AI artworks that are not shared anywhere else, personalized AI-generated art pieces, and the ability to shape the future of this blog by suggesting topics you'd like me to cover.
Your support means everything to me and enables me to keep creating content that I'm passionate about. ✨

Also, you're welcome to join our 9 Tailed Kitsune Anime Discord community. We'd love to have you there! 🙌