Top 6: Best Anime Like Ishuzoku Reviewers
Disclaimer: This post contains affiliate links. If you use these links to buy something, I may earn a small commission, without any extra cost to you. As an Amazon Associate, I earn from qualifying purchases. Thank you!
Ishuzoku Reviewers (Interspecies Reviewers) and I have this strange relationship. I dropped this anime, but I fully understand its appeal.
I have seen a few episodes of it and even made an article about whether it's really that good in the past.
The story is set in a world where various species coexist together and brothels, where all kinds of interspecies girls work, seem to be very prevalent. Furries, birdmaids, octopus-human hybrids, elves, succubuses, fairies…
Every species you have ever thought of taking a cute human hybrid form can be found there.
These 6 anime are similar to Ishuzoku Reviewers.
Related:
---
6. To LOVE-Ru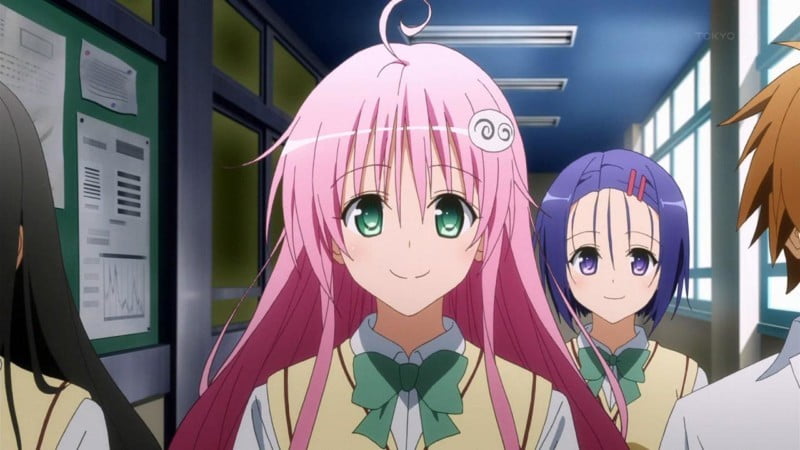 Genres: Sci-Fi, Harem, Comedy, Romance, Ecchi, School, Shounen
Episodes: 26
Similarities
Both of them share the experience of the protagonist "experimenting" with multiple beautiful demi-human girls. You can expect tons of fanservice, ecchi scenes, and jiggly boobs.
Synopsis
Yuuki Rito, a timid high-school boy seems to be unable to confess to the girl he has been dreaming of since junior high, Sairenji Haruna.
One fateful day when he is sulking in the bathtub, a mysterious, naked devil-tailed girl appears out of nowhere. Her name is Lala Satalin Deviluke, and she is the runaway crown princess and the only heir to the throne on a planet called Deviluke.
Despite her father's attempts to bring her back home and marry some of the fitting marriage candidates, Lala decides to stay on Earth and live with Rito.
Rito befriends not only Lala, who quickly falls in love with him, but also his dream girl, Haruna, and a colorful bunch of alien and human girls while also having to fight off Lala's antagonistic alien suitors.
Buy / Watch on: Amazon, Crunchyroll
---
5. Shinmai Maou no Testament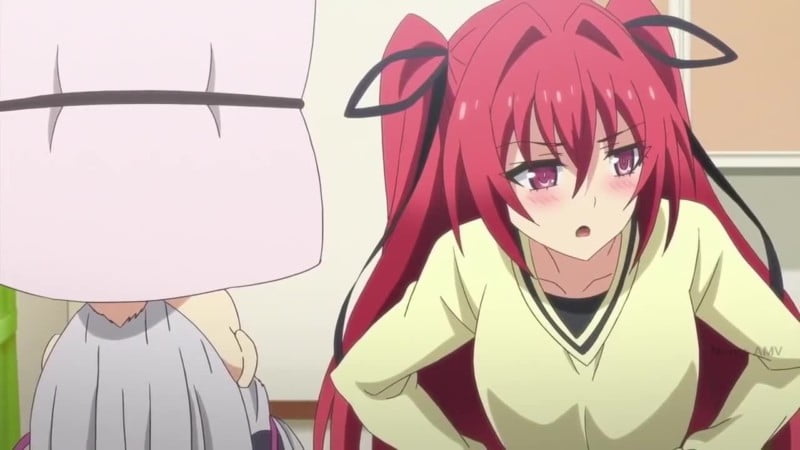 Genres: Action, Ecchi, Fantasy, Romance, Harem, Demons
Episodes: 12
Similarities
Both anime are packed with charming demi-human girls and a lot of ecchi/fanservice content. Oppai for days (weeks?).
Synopsis
Running into your new stepsister in the bathroom is not the best way to make a good first impression, which Basara Toujou learns the hard way. When his father suddenly brings home two beautiful girls and introduces them as his new siblings, he has no choice but to accept into his family the Naruse sisters: busty redhead Mio and petite silver-haired Maria.
But when these seemingly normal girls reveal themselves as demons—Mio the former Demon Lord's only daughter and Maria her trusted succubus servant—Basara is forced to reveal himself as a former member of a clan of "Heroes," sworn enemies of the demons. However, having begun to care for his new sisters, Basara instead decides to protect them with his powers and forms a master-servant contract with Mio to keep watch over her.
With the Heroes observing his every move and the constant threat of hostile demons, Basara has to do the impossible to protect his new family members. Moreover, the protector himself is hiding his own dark secret that still haunts him to this day…
(Source: MAL)
Buy / Watch on: Amazon, Crunchyroll
---
4. High School DxD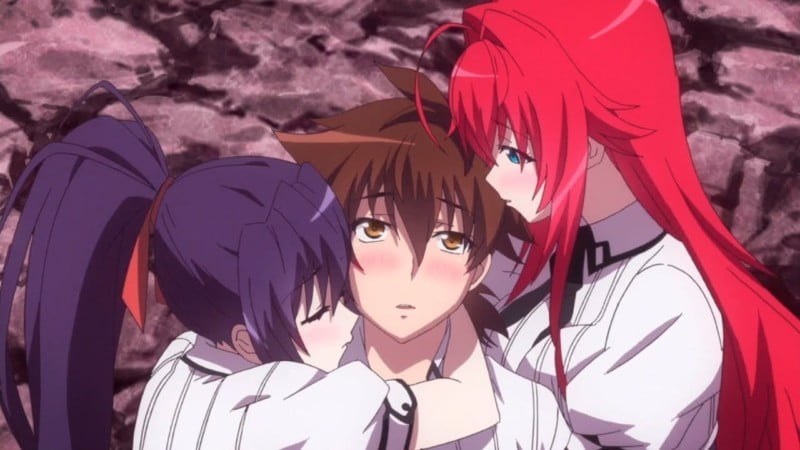 Genres: Comedy, Demons, Ecchi, Harem, Romance, School
Episodes: 12
Similarities
These anime revolve around a fantasy/comedic plot, paired with beautiful demi-human girls and a lot of fanservice and lewd scenes.
Synopsis
Issei Hyodou is an unproductive high school student and a huge pervert, often peeping on women and dreaming of having his own harem one day.
His life seems to be heading in the right direction when he gets asked out on a date by a beautiful girl, but he ends up killed by her because she is a fallen angel.
However, Issei gets a second chance at life thanks to a charming senior student Rias Gremory, a top-class devil, who decides to revive him as her servant at Occult Research Club.
Buy / Watch on: Amazon, Crunchyroll
---
3. Rosario to Vampire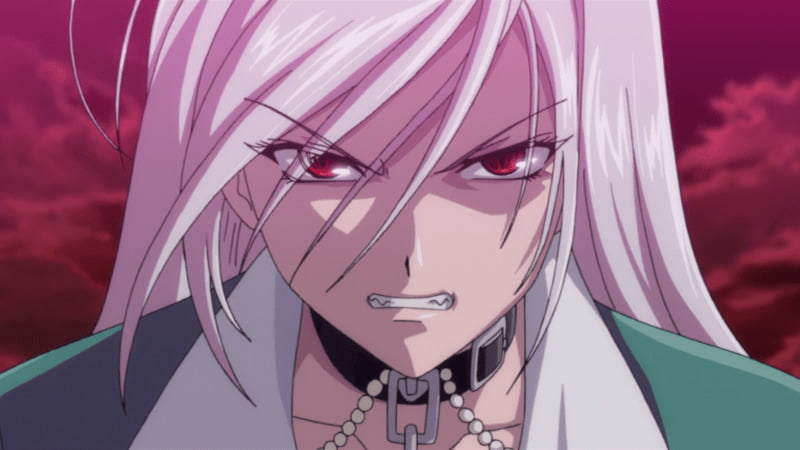 Genres: Comedy, Ecchi, Fantasy, Harem, Romance, School, Vampire
Episodes: 13
Similarities
Both shows involve a plot full of ecchi scenes with beautiful monster girls (and a lot of fanservice). One of the main protagonists in Ishuzoku is a human, similarly to the main character from Rosario.
Synopsis
Youkai Academy looks like a normal boarding school from the outside, but in reality, the Youkai Academy's students are monsters learning to coexist with humans. They attend normal classes in their human forms, studying various subjects, ranging from literature to foreign languages. However, there is one strict rule at Youkai Academy – all humans found on school grounds are to be executed immediately.
Tsukune Aono is a young boy with really bad grades, making him unable to get into any high school. His parents decide to enroll him at Youkai Academy, as the last resort to secure his education and bright future.
Tsukune unknowingly enters the new world full of monsters and bumps into the most beautiful girl on campus, Moka Akashiya. The two become friends and eventually befriend other "monsters", who end up fighting over Tsukune's affection as friendly rivals.
Buy / Watch on: Amazon, Crunchyroll
---
2. Hataage! Kemono Michi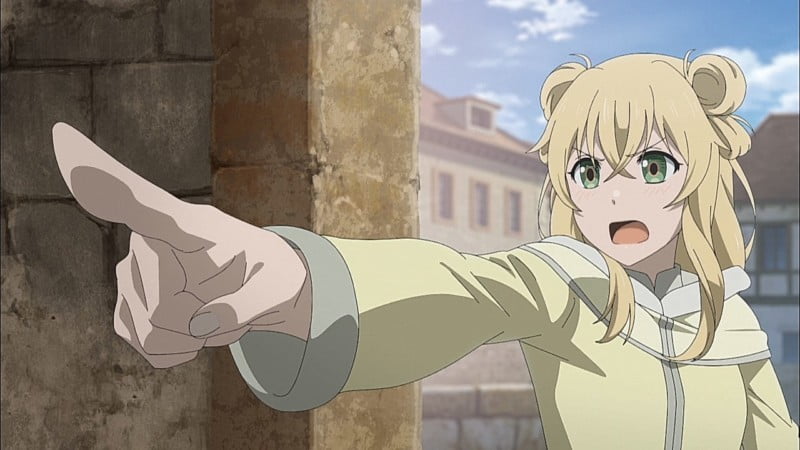 Genres: Harem, Comedy, Romance, Ecchi, Fantasy, Seinen
Episodes: 12
Similarities
Ishuzoku Reviewers and Hataage! are both packed with weirdness, mainly when it comes to sexual fetishes.
Synopsis
The story centers around Genzō Shibata, a famous pro wrestler who gets the night of the match for the title of World Champion teleported into a fantasy world. He got summoned by a princess, who requests his assistance as a beast killer in order to free the kingdom from the evil beasts who live in the forest.
Genzō is a true animals lover and decides to leave the castle with the first chance he gets.
While he wanders alone in the new world, he meets a wolf-girl Shigure and they even join a local guild. In the end, Genzō intends to become a beast hunter.
However, his goal isn't to kill them but to befriend and capture as many monsters as possible to fulfill his biggest dream – to become the owner of a pet shop.
Buy / Watch on: Amazon
---
1. Monster Musume no Iru Nichijou (Monster Musume)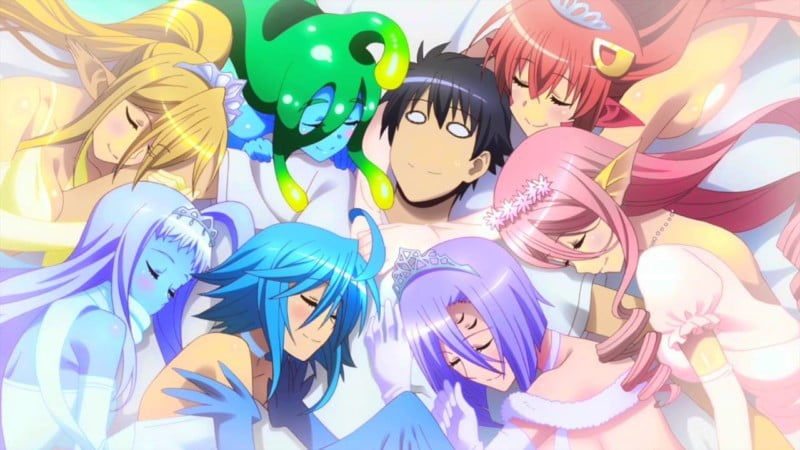 Genres: Harem, Comedy, Romance, Ecchi, Fantasy, Seinen
Episodes: 12
Similarities
These two are extremely similar when it comes to demi-human girls (monster girls) and heavy nudity combined with lewd scenes. The fan service is strong with both of them.
Synopsis
With his parents abroad, Kimihito Kurusu lived a quiet, unremarkable life alone until monster girls came crowding in! This alternate reality presents cutting-edge Japan, the first country to promote the integration of non-human species into society. After the incompetence of interspecies exchange coordinator Agent Smith leaves Kimihito as the homestay caretaker of a Lamia named Miia, the newly-minted "Darling" quickly attracts girls of various breeds, resulting in an ever-growing harem flush with eroticism and attraction.
Unfortunately for him and the ladies, sexual interactions between species are forbidden by the Interspecies Exchange Act! The only loophole is through an experimental marriage provision. Kimihito's life becomes fraught with an abundance of creature-specific caveats and sensitive interspecies law as the passionate, affectionate, and lusty women hound his every move, seeking his romantic and sexual affections. With new species often appearing and events materializing out of thin air, where Kimihito and his harem go is anyone's guess!
(Source: MAL)
Buy / Watch on: Amazon, Crunchyroll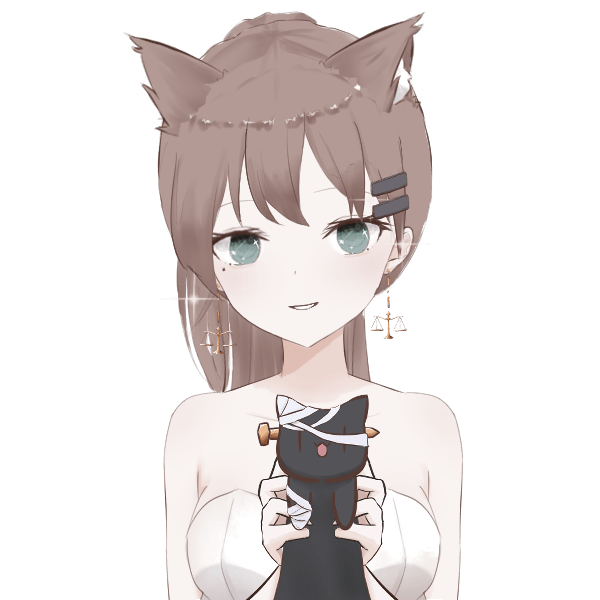 Hi, my name is Mia, and I am the founder of 9 Tailed Kitsune. I am a big fan of esports, games, and anime. When I was around 7 years old, Phantom Thief Jeanne sparked my fascination for anime, and it has never faded!