7 Anime Like Kamisama Hajimemashita (Kamisama Kiss)
Kamisama Hajimemashita is one of the light-hearted, soft reverse harem anime which will make you feel warm and fuzzy without cringing. I personally recommend this anime mainly for the female audience, but thanks to the variety of its genres it can easily slide for males who are into supernatural/romance genres.
It's truly hard to find any anime matching the Kamisama standards – the reverse harem aspect is not annoying –  our main heroine, Nanami does not show any romantic feelings towards anyone else than her familiar, Tomoe and the sweet, romantic development of their peculiar relationship is exactly what you need when you want to fill the void in your heart during rainy days in the autumn.
The following list is the best I could come up with a good conscience (bear in mind that I made up the list according to the overall quality too).
---
7. Inu X Boku SS (2012)
Genres: Comedy, Romance, Supernatural, Shounen | Episodes: 12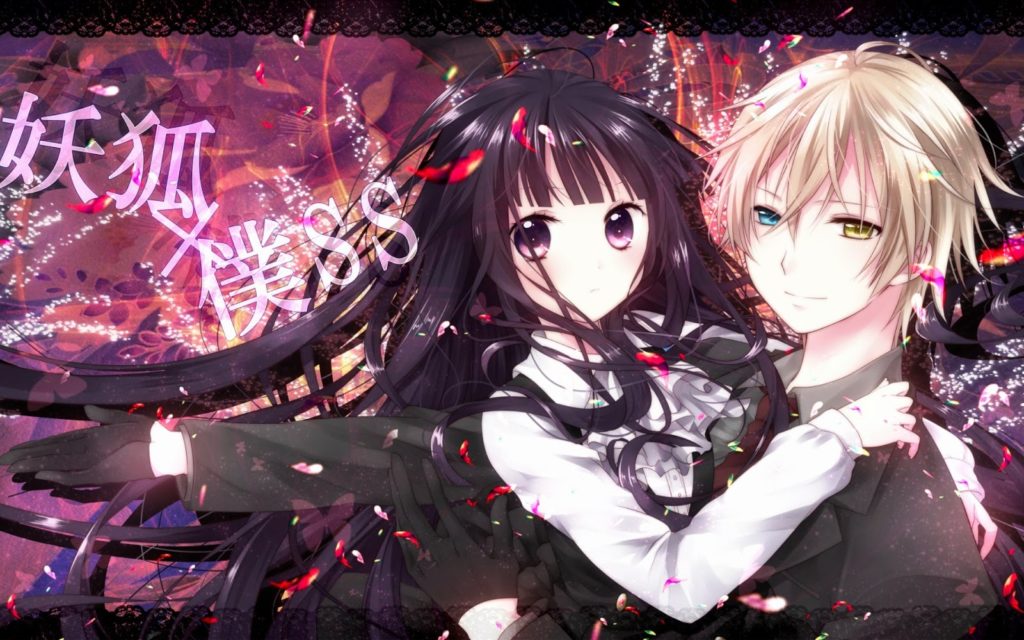 Similarities
Both share the setting where the female lead is a high school girl that ends up living in the building with her servant (a fox youkai) and other youkai. The youkai become close friends with the female main character and the female lead falls in love with the male lead (the fox youkai).
Plot Summary 
The main heroine, Ririchiyo Shirakiin is the daughter of a renowned family. Two things you notice about Ririchiyo at a first sight: petite, Lolita-like body and arrogant, patronizing attitude.
With some help from her childhood friend, Ririchiyo moves in a residence in Maison de Ayakashi, a secluded high-security apartment complex. The Maison de Ayakashi is a home for many bizarre people and each inhabitant of this complex is half-human and half-yokai.
The condition which must be met to live in the complex is to be accompanied by a Secret Service agent. Ririchyio's agent is named Soushi Miketsukami and he is a bit… let's say special. He is treating Ririchiyo as his queen and ultimate master, almost like he is her dog. Ririchiyo's new life begins and she has to learn how to communicate and get along with her supernatural neighbors, her partner Soushi and her own insecurities.
6. Ookami Shoujo to Kuro Ouji (2014)
Genres: Comedy, Romance, School, Shoujo | Episodes: 12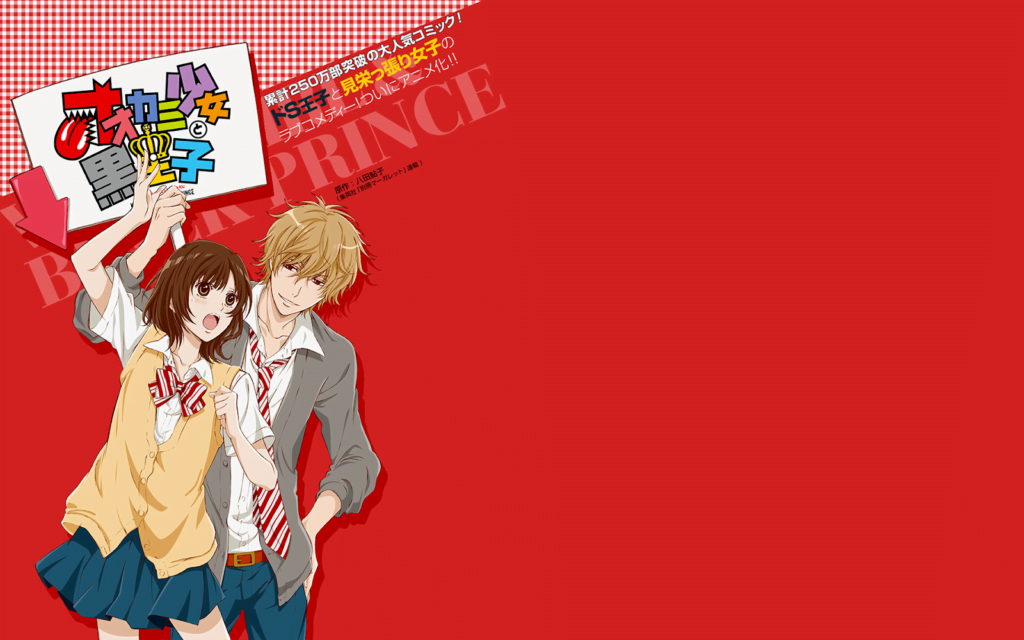 Similarities
Both stories revolve around a happy-go-lucky high school girl falling in love with a bad boy who teases her a lot despite the obvious attraction/love.
Plot Summary
Erika Shinohara gets caught in a web of lies after taking a pic of a pretty stranger when asked to show a picture of her boyfriend to her "friends" at high school. Too bad that the handsome stranger is no one else than popular Kyouya Sata who is also attending the same school as her.
The rollercoaster of pretending to be a couple, discovering each other's personalities and falling in love begins.
5. Fruits Basket (2019)
Genres: Romance, Fantasy,  Shoujo, Drama, Slice of life, Comedy | Episodes: 26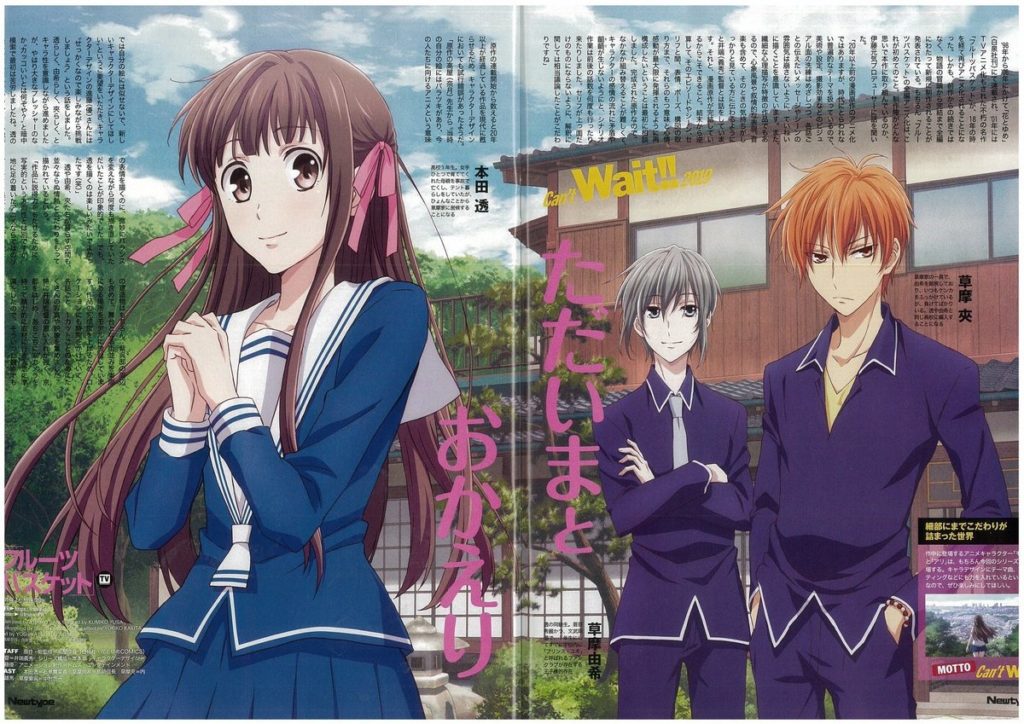 Similarities
Both anime focus on a troubled female protagonist with a sad past, who ends up meeting a boy willing to protect her.
They also include male characters who turn into animals under certain circumstances.
Plot Summary
The main character, Tohru, is a hard-working and sweet girl who had lost both of her parents and was forced to live in a tent until she moved with three seemingly normal guys (who happened to be also very attractive) but in reality, the boys are possessed by zodiac animals.
How will this turn out?
4. Kamikaze Kaitou Jeanne (1999-2000)
Genres: Fantasy, Adventure, Comedy, Demons, Drama, Magic, Mystery, Romance, Shoujo | Episodes: 44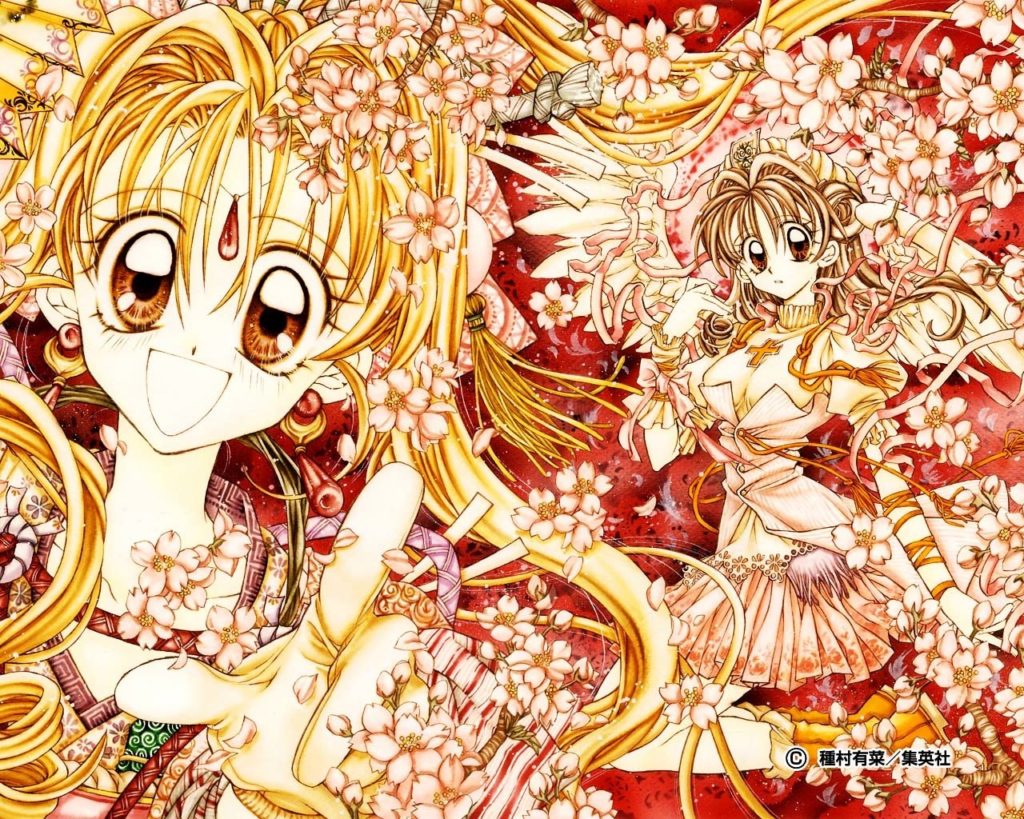 Similarities
The main female lead of Kamikaze Kaitou Jeanne is very similar to Nanami – a high schooler who might strike you as an ordinary girl but she can transform into the reincarnation of Jeanne d' Arc – similarly to Nanami who also seems like an ordinary high school girl but is, in fact, a human deity; both of them get abandoned by their parents and can use powers to interact with supernatural creatures.
The male lead is a strong handsome boy who is later going to reciprocate the heroine's feelings whilst willing to do anything he can to protect her.
Plot Summary
A young Japanese girl, Jeanne, discovers that she is the reincarnation of Jeanne d' Arc and takes on the task of destroying the evil possessing valuable art with the help of an angel.
Related: 7 Anime To Watch If You Like Kamikaze Kaitou Jeanne
3. Akatsuki No Yona (2014)
Genres: Romance, Fantasy, Action,  Shoujo, Adventure, Comedy | Episodes: 24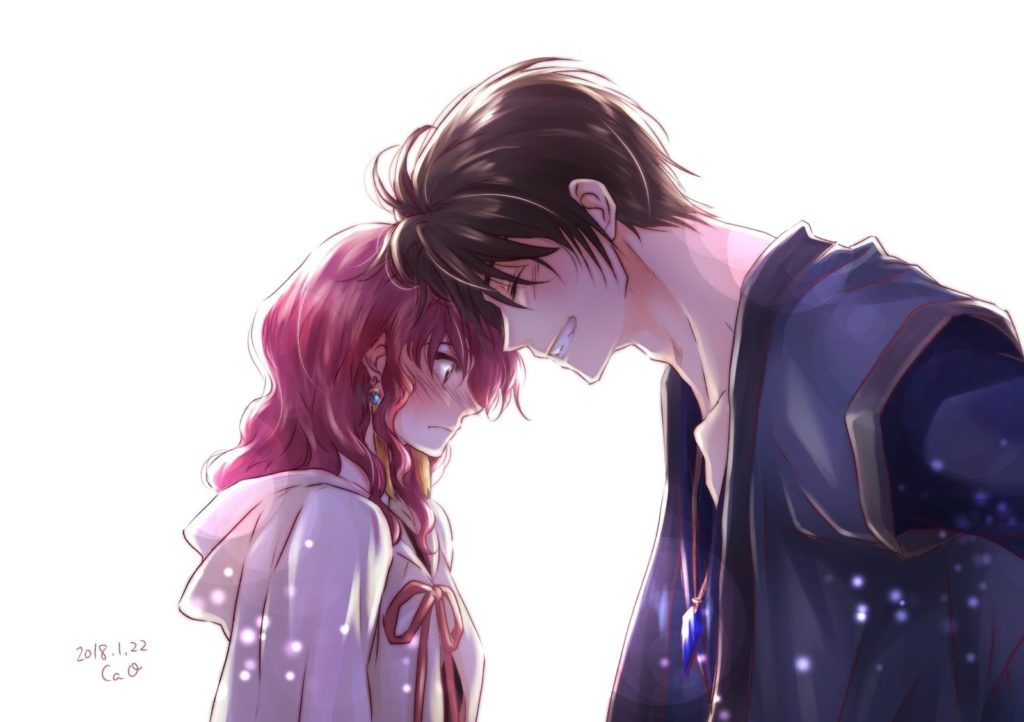 Similarities
Both have a concept of a hard-working heroine that ends up being "lost" (due to losing her home) and surrounded by males who want to protect her.
Plot Summary
The story revolves around princess Yona facing the harsh realities of the kingdom Kouka.
After the sudden murder of her father and the king preceded by the betrayal of her beloved cousin, she is forced to escape with her childhood friend Son Hak. The reality is rough – if Yona wants to get her kingdom back, she has to learn to fight and outsmart the forces of the new King of Kouka.
2. Kaichou Wa Maid-sama! (2010)
Genres: Romance, Comedy, School, Shoujo | Episodes: 26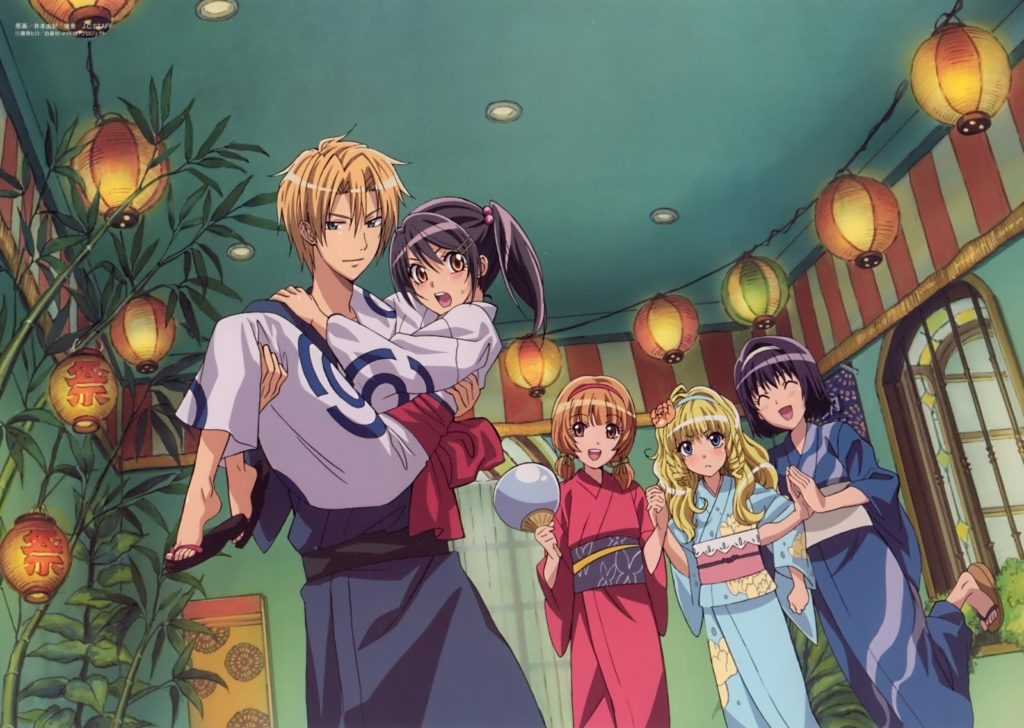 Similarities
A hard-working, independent, cute female lead? Check.
A handsome, relaxed and smart guy? Check.
They both have the high school comedy vibes and the whole sweet but not too clingy/annoying relationship.
Plot Summary
Misaki Ayuzawa doesn't have it easy – she is the first female student council president after her school just transitioned from an all-boys high school to a co-ed one. She might appeal ambitious and well-disciplined at school but also has another side – Misaki works part-time as a maid at a maid café to help her family financially.
Everything seems to be well hidden until one day her whole life turns upside down when some of the school's students visit the maid café where she works.
Read also: 7 Cute Anime Like Kaichou wa Maid-sama!
1. Akagami no Shirayuki-Hime (2015)
Genres: Fantasy, Romance, Drama, Shoujo | Episodes: 12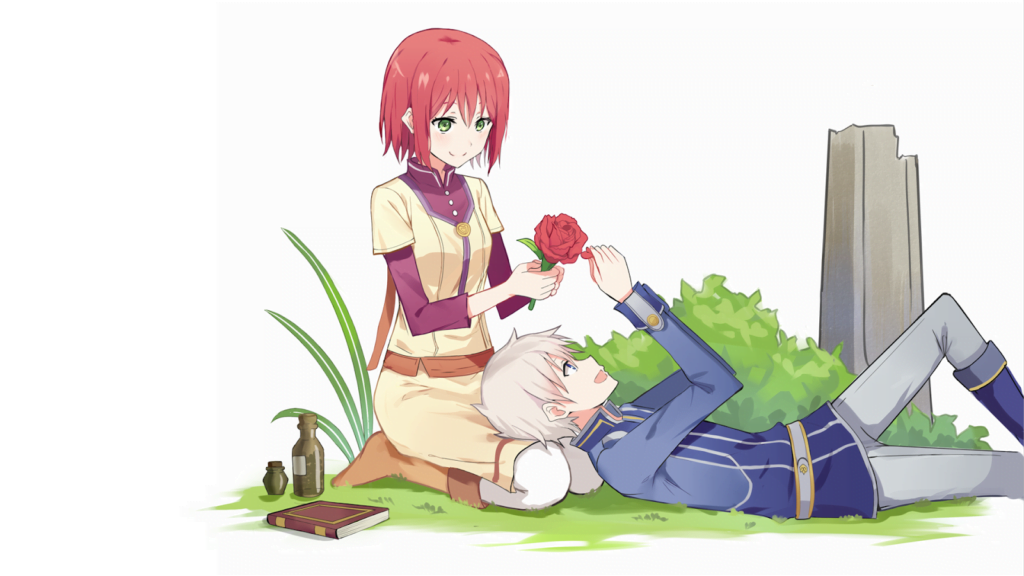 The verdict is final – the best match for Kamisama Kiss would be Akagami no Shirayuki-Hime.
Similarities
✔️ Both anime follow a story of independent, ambitious heroines who meet their love interest due to peculiar circumstances, move into a close area where their love interest lives and eventually their friendship develops into love,
✔️ Both couples are very supportive of each other and can lean on each other.
Plot Summary
The main heroine, Shirayuki, a teenage herbalist in the kingdom of Tanbarun is a cheerful girl with very unique red hair. Her life suddenly turns upside down when she gets noticed by a prince, who orders her to become his concubine.
Shirayuki refuses to do so, cuts her hair and escapes into the neighboring kingdom of Clarines. Whilst hiding Shirayuki runs into a prince named Zed who got poisoned by an apple meant for Shirayuki. She quickly aids the prince thanks to her knowledge of herbs, poisons, and antidotes.
Shirayuki joins the prince on his journey back to the Kingdom and decides to follow her own dream – to become a proper court herbalist without Zen's help.Can the two become more than friends with such a huge difference in their social status?